WatchESPN comes to Windows 8, never miss a live game again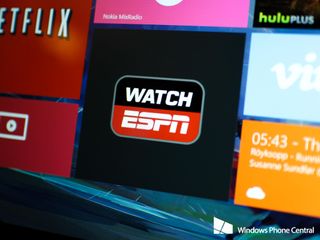 We've seen the Windows Phone Store fill out with some really nice apps this past year, but the Window Store hasn't been doing too shabby either. In fact, higher profile apps have been coming to Windows 8.1 on a more frequent basis. Today a highly anticipated app joins the Windows Store. WatchESPN is now available for Windows 8.
WatchESPN ​(www.watchespn.com (opens in new tab)) is a website where you can legally watch content from ESPN, ESPN2, ESPN3, ESPNU, ESPNEWS, ESPN Deportes and ESPN Buzzer Beater. You know, sports!
The new app for Windows 8 is pretty awesome. We're quite impressed with the app after just firing it up on our Surface 2, Surface Pro and Lumia 2520. You get access to live games, programming and video on-demand from all the above mentioned sport networks. You'll never be out of the loop with the latest sport news and video highlights.
You'll need to be a telco, satellite or cable customer if you want to access the live streaming. We signed in with our Verizon FiOS account and were able to catch the Michigan vs. Ohio State basketball game live! We're digging how we can browse the various channels and sports to find things to watch. It's also great having access to all the ESPN Originals programming.
Want to watch ESPN on your Surface and other Windows 8.1 devices? Then grab the app from the Windows Store (opens in new tab)!
Via: Windows Blog
Windows Central Newsletter
Get the best of Windows Central in in your inbox, every day!
It works great. Nice to have a game running on the SP2 while the kiddos watch cartoons.

Great App. Now I can watch Cricket Matches from around the world.
The App even allows you to add live events to your Calendar with a simple click. Now that's a app.

Plays great on my dell xps m1210. Patiently waiting for the Windows phone App. Just this app, and my WP life would be complete.

+Every Windows Phone ever made

Damn it. Thought this was for Windows Phone.

I'm guessing a Windows Phone 8 version is not far behind.

Only allows ONE attempt to get your id and password right....then locks you out forever. Now can never use it.

If you're on a surface, swipe right to left, go to setting and you should see an option to sign out.

Not on Surface.....on Desktop 8.1 Dont see any Settings anywhere....swiped from all sides and right clicked...no settings. Sent nasty note to their help desk....said to delete all cookies and cache.... Not going to do that...have hundres of sites ive signed into and not going to try and find all the id and passwords to sign back in. the ESPN app sucks with only allowing ONE attempt and no way to see how to reset it. Just like ESPN sucks in general anyway.

Hmm, I was able to log out and resign in. It's weird that they didn't make this step a lot easier. I also don't like the fact that they didn't include DirecTV as a provider. So, what I did on mu surface 2, I went on the right edge of the screen to bring up the device, clicked on settings while the app is opened. Once the settings bar comes up, on the very too it'll say something like log out. Once logged out, you can try again by clicking in any picture/video icon that has a lock icon on it and the log in window will appear.

Finally got in....just installed the metro app and reinstalled it.....now Im in. But they need to redesign their app and allow more than one attempt before they lock you out. Cox allows 3 attempts then locks you out for 30 minutes. But got it fixed now by uninstalling and reinstalling

Hu, I was going to suggest that too, but I definitely agree with you on having to cha he the way they allow you to log in.

There's no option for DirecTV??

I didn't see it either. Wtf?!

DirecTV are a holes when it comes to streaming stuff. Can't use Fox Now, FX Now or HBO Go on Roku.

I asked Directv and they said at this time no plans for it, they are a joke

DirecTV also won't carry the Pac-12 network. That's why I switched providers. Sooner or later they'll get the message and begin to offer customers what they want.


I can't believe they still don't have it! Many sports bars here were complaining about it, since they all pretty much use DTV. Wonder if the whole thing blew over and the bars got cable as well.

The bars where I live must have switched providers. I live in a Pac-12 town, so the bars have to be able to broadcast the games. When I cancelled my service, DirecTV tried to explain to me that I could watch most of the games I want to watch without Pac-12. They clearly don't understand the scheduling or the desires of Pac-12 sports fans. (This may be chauvanist. If so, I apologize in advance.) Most (all?) of the households that I know have a TV service that was chosen by the man of the family. Maybe it's because TV service is more of a "boy toy" that guys obsess over, whereas most women can usually find the programming they want on the traditional channels. Most guys who choose TV packages are pretty interested in the sports coverage. Why, then, would DirecTV not offer one of the premier sports networks that often has exclusive rights to games that interest the Pac-12 area, one of the largest TV audiences in the nation (Think: LA, SF, Denver, Arizona, Seattle)?

Yeah, funny you said that because my gf was all about keeping xfinity, I was hell no, they freaking suck. Then I convinced her by showing her how much I would save and how many more local sports (we watch lots of local and major pro sports mostly) we would get and bang, she was on with me.
IDK, I'm pretty happy with DTV except for the fact that they won't allow me to stream on my WP Nokia Lumia 920. But they'll allow it on iPhone. It's horse shit!

Just in time for World Cup. Now give us a WP version before summer and I'm all set.

I'm really hopeful that ESPN will fix their WP app. In it's current form, it's awful. The buffer is terrible and it stops at random times and I have to restart the app.

That's great for W8, but it would be nice to see ESPN support WP8 better.

UK user, anyone knows when Sky will come to W8 & WP??

It look nice, but Windows 8 bit difficult to manage man. http://www.gotowebsites.info/2014/02/watchespn-arrived-on-windows-8-with...

If you are on this site, hopefully you can figure it out. It is not difficult at all.

Big deal. It already works in the browser so what's the point? WP8 would have been a bigger deal....

Any word on a Comcast xinfinity app?

I have had this on my Android tablet for a long time, also on my Roku. Glad to see it finally come to the Windows 8 ecosystem. Any chance if it coming to the Windows Phones too? Might be a battery killer, but if not, it would be a welcome addition, especially once 8.1 is released and it can be stored on an SD card.

Well it'd be nice if we can stop worrying about what app is on what platform and if its in the windows store its available for all MS platforms. But this is a nice addition, wonder if its a response to NBC? But isn't NBC only the Olympics?

On other platforms, the NBC app works for others of their sports (Premiere League, NHL etc). Alas, not on WP8. Since the app seems to be universally hated on both iOS and Android (based on reviews), might not be much of a loss though.

Glad to have it. Hopefully they will update the scorecenter app for WP it needs it.

What qualifies as "telco?" Having a phone from AT&T? U-Verse Internet only?

You have to have a TV-subscription to ESPN in order to use this.

If you didn't read WP Central you would never know it was available because you have to dig through all the crap apps to get to the major ones.

It's why we do what we do.

Good I guess, but you could already access WatchESPN via web browser. They need to release this on Windows Phone...which does not have any type of access. Priorities people...priorities.

Awesome. Now, I and a few of us would like a MUCH better NASCAR experience on W8 and WP8.

Finally!! Just downloaded this for both my Surface 2 & Surface Pro and it works great! Would LOVE to see this app come to Windows Phone soon :-D

Me too. Its gotta be close now.:)

Where did the app go? I can't find it and theres no link to it

You mean the link that's been in the article since forever? http://apps.microsoft.com/webpdp/app/f5b84ed0-3681-4b75-8d62-164d3898763a :)

Yes!!! Only a matter of time before it comes to Windows Phone. Can't wait!

OK, what can I do on it without any subscription? Also, does it work outside of the USA? Thanks.

OK, just tried it. I couldn't before because I was at work. The app is VERY well made and runs very fast and fluid. It complies with Windows 8.1 standards. They now need to update the original ESPN app becuase it needs a little love. And to answer my own question: Without a cable provider subscription, everything works, except live streaming.

Does this broadcast English Premier League at all?


Great, but where is the Windows Phone App? I thought it was easy to design for both WP 8 and Windows 8.
Windows Central Newsletter
Thank you for signing up to Windows Central. You will receive a verification email shortly.
There was a problem. Please refresh the page and try again.