Waterlogue by Tinrocket – A fun, vibrant photo editor for Windows 10 and Windows 10 Mobile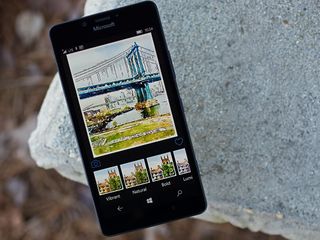 The number of photography apps in the Windows 10 and Windows Phone Stores may rival the number of dimples on a golf ball. Luckily, many of these offerings are fantastic editors and Waterlogue by Tinrocket hopes to catch your eye.
Waterlogue by Tinrocket is available in Windows 10 Store and offers you the ability to transform your digital images into paintings. You can edit existing images in your Pictures Hub or launch the camera app to transform new photos. While Waterlogue could use a little fine-tuning under the hood, it comes across as a solid photo editor for the times you want to give your photos an artistic, colorful twist.
Please keep in mind that Waterlogue is only available for Windows 10 and Windows 10 Mobile. It is not available for Windows Phone 8.x devices.
The interface with Waterlogue isn't very difficult to pick up on. The main page has your artistic filters lining the bottom of the screen. You will also find a camera button to choose your image and a heart button that will come into play during editing.
You have three options in choosing an image to edit. You can choose a photo from your image galleries, launch a camera app to capture a new photo or paste an image from your clipboard. Waterlogue also provides fourteen example images you can experiment with.
Once an image is loaded into the editor, you can apply one of the fourteen artistic filters. The filters are a wide range of illustrations and painting styles such as blotted, soaked and luminous. When you tap on one of the thumbnails, your image will be transformed from a digital photograph to a painting. If you want to see how another filter looks, just tap on it to pull up a smaller thumbnail of your image that you can use for comparison. If you like the thumbnail better, tap on it to convert the full image to that style.
If you scroll past the filter selections, you will find a few settings to fine-tune your filters. These settings include the line size, brightness levels and choosing a border option.
Now to the heart button on the editor. Once you have the image to your liking, tap the heart button to pull up several options that include:
Sharing the image
Saving the image
Copying the image
Printing the image
Setting the image as a lockscreen
Setting the image as your background
Access the settings
Waterlogue's settings cover the format you want to save the image in (JPEG or PNG) and the image size. You can save the image at a reduced resolution (small, medium or large) or the image's original resolution.
As far as printing is concerned, I couldn't get the feature to work at all from my Lumia 950 Windows Phone. The app would search for a printer and then crash. The Windows 10 version yielded different results, relying on the local printer drivers to send the image to the printer.
Speaking of the Windows 10 version, it can be a tad temperamental. There were occasions where the app would not allow me to open any of the menus as if the application was frozen. When it did hit on all cylinders, the app performed admirably converting your digital images into artistic paintings.
Keep in mind that Waterlogue lacks editing tools such as cropping, exposure adjustments, etc. It is solely a conversion app and likely not an editor you will use on a daily basis. Having said that, it's a solid photography app to have in your app library for the times you need to give your images an artistic flair.
Turning your images into Rembrandts
When we first noticed Waterlogue by Tinrocket, it came across as an attractive photo editor for those wanting to convert your photos into paintings. After using it for the past few days, the initial impression hasn't changed much.
The filter choices are strong enough to please most and I do like the options to fine-tune the filter application. The interface is simple and straightforward with very little opportunities for confusion. The filters do an admirable job of transforming your photos into illustrations and paintings.
As far as nits, the Windows 10 Mobile version's print feature crashes the app and there is a resolution issue present. Running Waterlogue on the Lumia 950, the bottom portion of the camera and heart button menus is cut off by the Windows Phone transparent buttons. I would think fixing this issue would be an easy fix for the developer. The Windows 10 version could use a little fine-tuning, but I believe those issues may be more complicated.
Another issue some may have with Waterlogue is that there isn't a trial version available for Waterlogue by Tinrocket. The full version of the app is running $2.99 in the Windows 10 Stores. On the plus side, it a universal app so you'll be able to enjoy the app on all your Windows 10 devices.
Is it worth the price of admission? While both versions could use a little fine-tuning, we liked what Waterlogue has to offer. A trial version would be ideal, but it is a nice app to invest in. If you have given Waterlogue a try, let us know what you think of things in the comments below.
Download Waterlogue by Tinrocket for Windows 10 and Windows 10 Mobile ($2.99) (opens in new tab)
George is the Reviews Editor at Windows Central, concentrating on Windows 10 PC and Mobile apps. He's been a supporter of the platform since the days of Windows CE and uses his current Windows 10 Mobile phone daily to keep up with life and enjoy a game during down time.
Everyday the treasure box of store is filling with new diamonds in form of new apps......#growing #lumialover

Wonder which phones will get win10 this month

All of them that get enrolled in the insider program. Otherwise, isnt it supposed to roll out to the first batch in Jan?

No....plz dont say that.. MS confirmed roll out starting December..for new lumias..

How does this compare to fresh paint in terms of creating paintings from your pictures?

Freshpaint doesn't allow tuning to tweak the image to your liking.

Fresh paint doesn't use filters. You have to paint it yourself. This one doesn't let you paint at all. Paint app vs photo filter app. Big difference.

Fantasia painter and camera360.. The best

Fantasia Painter, Camera360 Sight and Fotor are best for me.

When will Windows Central update the app and add the "download app" button for Windows 10 Mobile apps?

I have seen a few cases where the current app's Download app worked for a W10M app. That was also about the same time that View Links had links unpoluted by the DoubleTrader wrapping. Then the DoubleTrader link wrapping returned and the download links returned to being iffy at best. Seems like might be a backend server thing.

Hmmmm. Let me pay £2.29 and downloaded Waterlogue by Tinrocket. It might work like rocket on water..

I tried this app on a profile picture and the final result was a blob of colors. The outline of the details were there but the final result was completely different. I need to mess around with the app some more and try different images before I give my final thoughts.

It doesn't work that great on people. It's better for objects.

@MrSurfboard, thanks for the tip. I paid, edit my own picture, wasn't impressed. Now I will give it a try on objects. Let's see. Thanks

This app was on the iOS. Good to see it moving Windows too.

I thought it was an app that logs water intake. Can anyone recommend one.

There was a time when the "Photo Editing" concept was more than applying filters and rotating pictures

Yeah, but there's only so much you can do on a phone. I would like to see some more robust editing like multi layer and such on a universal app for tablet mode. If you have a pen on decent table, I see no reason these apps cant do 90% of what you get in Photoshop.

Well, there's Photoshop. Then there's fantasia painter, which has quasi layers, and a really good feature set, including painting. A UWP version of that app with pen support would be marvelous.

Wish we had VSCO. Best photo app ever.

@remmo, true man. Everybody is photographer in these days..Lol

The app keeps crashing. I contacted the developer and he said he is sending an update in for next week to fix the issue. It's a great app... When it works.

most of the great apps on my 930 was there and it is not free.

Please review Fused. It's great photo editor.

I have this app on the iPhone. It's great and worth the money. I'll probably buy it for my Windows 10 desktop as well.

There are between 330 and 500 dimples on a golf ball depending on the manufacturer.

And I hope one day, the number of photo editors in Windows Store surpasses this number, if it still hasn't.

What's wrong with the download links on the app, nowadays?

Are there any browser based photo/portrait editor? Doesnt the modern bowsers are good enough to handing photo editing tasks?
Windows Central Newsletter
Thank you for signing up to Windows Central. You will receive a verification email shortly.
There was a problem. Please refresh the page and try again.