We remember Atta Elayyan of MetroTube-fame, killed in Christchurch, NZ attack
MetroTube developer was one of the 50 victims lost this week.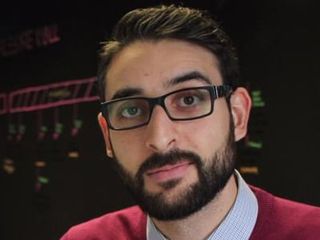 The world is full of tragedy lately, and this time it hit home a little directly. Lazyworm Apps CEO Atta Elayyan – best known for his work on MetroTube for Windows Phone years ago – was one of the 50 people murdered in the Christchurch, NZ terrorist attack.
Elayyan was just 33 years old, married, and recently became a father.
MetroTube used to go under the name LazyTube, which started around seven years ago and quickly became one of the banner apps for the growing Windows Phone ecosystem. It was an app that galvanized Windows Phone users at a time where Google was snubbing the platform.
Elayyan was one of the most enthusiastic MVP developers on Windows Phone and for Microsoft – he always interacted with the Windows Central community with passion and idealism.
Back in 2012, Elayyan was thrilled to give us a sneak peek of his team's work on MetroTube, and I remember having lunch with him multiple times to talk Windows Phone, Microsoft, and the app developer's life. He was smart, kind, and had his whole life ahead of him. Almost everyone knew him in the Windows Phone developer community.
Our hearts go to his family as well as the other 49 people who were senselessly killed in this tragedy. Please consider donating to the Christchurch Shooting Victims' Fund to help the families who have to endure this heartbreak.
Rest in peace, Atta. You will be missed.
Daniel Rubino is the Editor-in-chief of Windows Central, head reviewer, podcast co-host, and analyst. He has been here covering Microsoft since 2007 when this site was called WMExperts (and later Windows Phone Central). His interests include Windows, Microsoft Surface, laptops, next-gen computing, and for some reason, watches. Before all this tech stuff, he worked on a Ph.D. in linguistics and ran the projectors at movie theaters, which has done absolutely nothing for his career.
Ouch, loved metrotube and his constant support for it. My condolences to his family. R.I.P Atta.

Condolences to everyone that lost a loved one in that mindless act of violence.

Taken long before his time, may he rest in peace.

This tragedy really is messed up. The act literally contaminated the peaceful neighborhood with terror. I just hope that they can move forward in peace. الله يرحمهم

The Windows Phone days gave me many fond and fun memories, and his truly outstanding app was a good part of that. I'll think of him when I think back about those days. May he rest in peace, my condolences to his family.

RIP Atta. My condolences to you and your family.

Very sad.
My condolences to Atta's family and all involved in the attack.

Loved this app. Rest in Peace, Atta.

So sad. RIP Atta. Metrotube was my favorite app on Windows 8.

Never knew him but I used to use his Metro tube app so in a way he impacted me. That is so sad. And he died so young too

Very sad indeed, my condolences to alm the victims of this massacre

God damn it, remember him very well in the forums and feedback reports of the app. Jesus Christ, I feel even sadder now than when I first heard the news. Damn!!!! May he rest in perfect peace.

Yeah, I feel like I was punched now. The news was terrible in general but knowing of someone who was affected, feels like another level of things. Loved his app. RIP Atta.

Darn, it hit the gaming community too. Thank you for posting this. Rest in paradise.

Such tragic news for all those affected from this senseless act, it just shows that as far removed you think you are from the violence, it's such a small world and it can affect you in some way or another. I can only send my condolences to all those involed, the family, the friends, and anyone who feels touched by this tragic event, RIP Atta Elayyan and the 48 other souls taken from this earth.

Rest in peace. The tech community will not forget you.

That's sucks, but may he rest in peace and grace, love, blessings of God be with his family.

This, makes me sad. Inna lillahi oa inna ilayhi rajiun.

Indeed. Inna lillahi wa inna ilaihi rajioon.

Loved that app. RIP Atta.

There are no words that can describe these vile acts of violence and attrocities committed. It goes to show in this ever connected world, we are all are impacted in one shape or form by such unspeakable acts. My thoughts, condolences and prays to his family and those who have lost their loved ones. I've donated and kindly ask others to do the same In regards to the app, developed by Atta. It was one of the key highlights for Windows Phone for myself and many people.

R.I.P. to all the victims of this tragedy. Nobody should go this way, no matter the race or religion they are part of it... 😪

Thank you for sharing this on WindowsCentral Daniel. What a waste of a quality human being. RIP Atta.

God bless. Thank you so much for your great app. I remember and used the app on a regular basis. As a Jew and having experienced hatred, he did not deserve this. May his family find solitude. Salaam and Shalom

RIP Atta. This is truly sad news.

Rip Atta.. A young, talented man has had his life needlessly thrown away.. What a waste, such a tragedy..... So sad...

RIP Atta and condolences to your family....

Its a sad day for all Kiwis , I lived my better half of life in NZ, having settled in Australia now. Coming from a small island Nation of Fiji, I grew in love with NZ and its people. Things like these just don't happen there. What's worse, the perpetrator is an Australian. Now, unbeknown to him, he has put both countries in a situation that only breeds contempt just by sheer anger and resentment for other ethnic groups. It increases unnecessary tension between both countries. Never in my life had I thought, that my adopted home will suffer at the hands some coward, slaying people at the place of worship. Heinous individual. A dark, dark day for us.

"only breeds contempt just by sheer anger and resentment for other ethnic groups. It increases unnecessary tension" That was one of his goals.

That is very sad news. I still use that app on my Lumia 1020, as a matter of fact.

dang watching that video i would have never thought he was among those piled up its such a weird thing to think now
What's interesting about this event is that somehow it woke people in a certain imageboard up. I hear a lot of echoes saying something along the lines of
>it sucks that acting stupid and racist just to shoot the **** makes those who are genuinely stupid and racist think they're in good company
And I'm sitting here like..
>duh

Sad to hear this news. Atta was a genius as his MetroTube app was my go to app everyday. He will be missed. Gone but not forgotten. RIP

Wow! This is just sad. He was great. Thanks a lot for this article. May he rest in peace. May God give mercy to his soul, and all other victims of terrorism every where.

Without his work, MyTube! might never had been what it is today... Who knows… We all inspire and affect one another in one way or another. May peace find and follow y'all's family and may his soul find balance, whereever it is 🎑

My condolence to his family. His contributions to Windows Phone will always be remembered, RIP Atta.

It's always the worthless scum that take out incredible people like this. What was that racist offering to the world? Nothing but hatred. We don't need anymore of that. We lost someone that contributed to the community and someone lost a husband and someone else lost a father. So many people lost their lives because of this scum's warped beliefs in people being inferior because their ancestors were born over there and not over here.

Senseless is correct. This is so ridiculous I can't explain. Poor guy.

It's always a shame to loose people, but when it's in the wake of senseless violence, we can only pray that the family and friends are not discouraged be the actions of selfish individuals.

I was more of a myTube guy but his app was fantastic and this is tragic to hear

May his soul RIP.May his family find comfort.

Hi Windows Central Great and heart felt article. May he RIP

Any small help to Atta Elayyan's family is welcome... https://givealittle.co.nz/cause/help-atta-elayyans-family. Please help to share and thank you.

That is so sad. RIP. Can't let this stuff keep happening.

MetroTube was one of my favorites, and my go-to app when I was demonstrating that Windows Phone had BETTER than native apps available on it. Especially for how responsive he was as a developer, always trying to make his apps better for the users.
R.I.P.

That's terrible. I am so sorry for this and for his family.

That's terrible. I am so sorry for this and for his family.

Deleted my comment? How depraved.

I was a regular user of MetroTube. R.I.P.

My condolences, metrotube was a great Windows phone app. Such a senseless tragedy.
Windows Central Newsletter
Thank you for signing up to Windows Central. You will receive a verification email shortly.
There was a problem. Please refresh the page and try again.