Weather Channel for Windows Phone updated while Windows 8.1 app gets new UI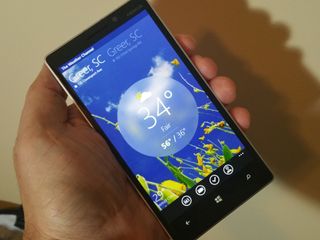 An update for the recently revamped Weather Channel app for Windows Phone is now available for download, while its Windows 8.1 counterpart now boasts the same new visual makeover as the Windows Phone version.
There's no change log for the Windows Phone app update for The Weather Channel, but we have been getting reports that the version released earlier this week has been crashing for some users. Hopefully this update will fix those problems. The Windows 8.1 version now shares the same UI and libraries with the Windows Phone port, making The Weather Channel the latest universal app.
Thanks to Michael and Dan for the tips!
Good new interface design. I didn't like the old design but still used it over other apps because of the information and provided. The new design takes advantage of the windows phone app design style.

I do really like the design and after another update the live tile now fully works. I would like to see one change, when opened the animation and details on the first screen are awesome, but the ... bar should show ... only, not the full bar as now. It takes away from the design, for me anyway.

Kinda looks like yahoo weather

No GPS from what I can tell either. Sticking with Amazing Weather.

Took mine a while to update too

I had the same issue and was about to delete the app but received an update and since then the live tile works. Will now keep.

Didn't news about the The weather channel's new look appear recently

Live tile is still acting funny. UPDATE - Works now.

Nope. It worked for about 2 hours, just like the version before.

How do you change your "home" location on this app? I couldn't figure it out. Lol

Yea that part seems to not be working correctly, it added two locations near me and I can't remove them :(, it's pissing me off!!

Bottom right corner. Locations.

Does not work for the home location.

This app is bomb. Much more informative. No we need a transparent tile

Whatever.... This app sucks in comparison to others. Then, there are ads in the middle of the page as you scroll down.

Looks just like ios version

Still, No Improvement In App. Ot Gets Crashed Even After This Latest Update.

Still crashing when opening the settings. Lumia 1520.

Same here. Also wish it showed the barometer, and its trend.

Weather to go is the best!

I hope it gets the lock screen feature soon

How do you activate the live tile?

Once you set your location it will activate itself.

Location is messed up for me, it added two locations near me and I can't remove them

Lower right hand corner hit the ... And you should be able to delete any location

Delete option is disabled.

I hope the Weather Network updates their app soon. It's the only one with accurate Canadian weather.

Works perfectly now. Live tile and all. I guess my only gripe is now when the tile flips it doesn't show the radar.

Anyone know how to change saved locations? I have two for my home town... One appears to be a Gps location. There is also one for Nee York City which I would like to delete as I already sound in and added my work zip code.

Yeah, I think the location stuff is a little wonky at the moment. No way to delete the first location I added. I did add a profile and the home and work locations can be affected somewhat by entering your location there, but no matter what address I use as home it always defaults to a generic location in the city I live in. I'd be fine that it doesn't point to my exact home, but then don't show the street address information - just show the town name and maybe zip code. Like I said, it's a little wonky. I'm sure it'll be worked out eventually.

Experiencing the same wonky behavior with locations. I'm forced to add a location when I launch the app for the first time (why can't it simply display weather for my current location based on GPS?) and then when the app launches, it does show weather for my current location, so now its showing weather for two locations. But it won't allow me to remove the location that I added at startup (I'd rather have one location only - my current location). And then when I pin the current location, exit the app and click on the tile, it shows two instances of my current location, besides that location that I added at startup. Very weird behavior. Uninstalled.

Again, feedback goes to a beta version of the app that normal users don't have permission to download.

The problem with this app is that it looks like iOS. I hated that style and design.

I have a question. Why does it require you to give them your home address and work address in the settings? Is it for routing information? Seems a little questionable that it tells you its not optional.

Worked fine before the update, NOW it crashes when I enter into settings. Lumia 928

Sorry weather channel, little too late. Sticking with Appy Weather.

This was the ONLY app that had a live tile radar outside of the US. The latest update still doesn't bring it back. Is there anyway to install the previous version before they broke the live tile radar?

Updated the app... But now there there are two Weather Channel app in my app list... And when I open both looks the same... Puzzled...

Using in Germany with German settings, units are set to "Deutsch" which results in Fahrenheit degrees. Habe to switch to "metric" to get Celsius degrees.

What features does this have over other spots such as blue skies? I've been using BS for about six months, and it's been stable, informative and have a great live tile.

Better since the last update. Running it next to Accuweather to see which one I like better. I ride a motorcycle so access to an accurate weather forecast is very important to me. So far they are neck and neck for accuracy. Kind of leaning toward the Accuweather because of transparent tile and the UI seems a bit more friendly. Accuracy and information available are neck and neck.
Windows Central Newsletter
Get the best of Windows Central in in your inbox, every day!
Thank you for signing up to Windows Central. You will receive a verification email shortly.
There was a problem. Please refresh the page and try again.