Weather On A String, a simple weather app that has potential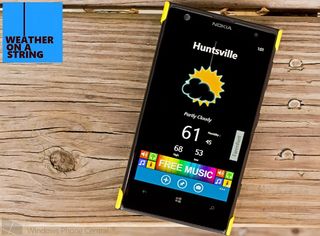 Weather On A String is one of the latest weather apps to hit the Windows Phone Store. The Windows Phone 8 app approaches things in a minimalistic manner with simple graphics and gesture based navigation.
Weather On A String does support worldwide forecast locations and has an interesting feature that is dubbed Umbrella Mode. While Weather On A String has mild appeal and decent potential, some may find it too minimalistic as your daily Windows Phone weather source. The app is worth checking out but its appeal may not transfer to everyone.
Layout
Weather On A String's minimalistic approach begins with the forecast page. Weather symbols dangle by a string from the top of your forecast page with a minimal description of the current conditions just below.
The current temperature and humidity level is displayed on the main page along with the forecast high and lows for the day. Three control buttons sit at the bottom of the screen to add a forecast city, pin the forecast city to your Start Screen and share the forecast via SMS, email, Tap+Send, etc. There is not a settings menu for Weather On A String but you can toggle between Fahrenheit and Celsius by swiping left or right across the screen.
As far as forecast locations, while the database of cities is global it is also lacking. I ran across several major cities that came back not found. Additionally, Weather On A String only supports one forecast city. While it isn't difficult to change out a city location, it would have been easier to have multiple location support and swipe down at the screen to rotate through your city list. If the app sticks with only supporting one forecast location, it needs to have location service support to base your forecast on your current location.
Weather On A String does have Live Tile support but as you would guess, in minimal fashion. The Live Tile for Weather On A String displays the forecast city, current temperature and conditions.
Umbrella Mode
Weather On A String's Umbrella Mode may be the app's one redeeming quality. In rotating your Windows Phone horizontally, the forecast page transitions to the Umbrella Mode that basically tells you if you need to grab your umbrella and the general feel for the day temperature wise.
The Umbrella Mode is a nice touch and easily accessible but it would have been nice if the Umbrella Mode information would have been reflected on the Live Tile.
Overall Impression
I really hate to be overly negative about a Windows Phone app and try to find some good in every app or game I run across. While I can see the potential in Weather On A String, the current version is just too lacking to allow the app to compete against other weather titles.
I like the graphic concept and the gesture based navigation but Weather On A String simply needs more beef. Such as throwing in a five-day forecast, weather radar, the ability to support more than one location, or maybe add the Umbrella Mode to the Live Tile. I also wouldn't mind seeing an option to get rid of the ad-support.
Overall, Weather On A String is worth trying but may not appeal to everyone. Some may see things differently but I see Weather On A String as a weather app that is a work in progress. A venture that has potential but just isn't there yet.
Weather On A String is a free, ad-supported app for Windows Phone 8 that you can find here in the Windows Phone Store.
Windows Central Newsletter
Get the best of Windows Central in in your inbox, every day!
George is the Reviews Editor at Windows Central, concentrating on Windows 10 PC and Mobile apps. He's been a supporter of the platform since the days of Windows CE and uses his current Windows 10 Mobile phone daily to keep up with life and enjoy a game during down time.
Devs need to stop making these stupid weather apps. There are already tons of them, and some of them are too good. Get on to other apps that the Windows eco system lacks!

that's because every dev needs to start somewhere and the weather app is like the new "hello world" program of choice. But I agree. There are so many more lacking apps in WP than weather.

Devs have different skill sets, so no need to criticize. Perhaps better apps will come with experience

Haha, you tell dev what they should do?! :D why dont you make apps yourself ? and make then what you want. Weather apps are like "take it or leave it" nobody threatens you to use it... And most of them are free so there is no reason to complain.

developers should stop making weather apps and wpcentral should stop reviewing them

Good Weather app is not about icons, animations and HD images. It's about meteorology knowledge, team in the background and mainly about the data source app is using and interpretates. That's the motto of Meteoservis, the best Czech weather app. (sorry, even in English it covers just CZ+Sk area, but will grow in the future...).

I haven't found one weather app that is "too good" in terms of accuracy and reliability. They're all in fact craps. Funny that they put so much attention and effort on how it should look, while completely forget what the app supposed to tell to its users.

I dont think you will ever find any weather app that is 100% or even 90% accurate. That is because weather prediction itself it not 100% or even 95% accurate.

I'm not expecting weather apps to be even 60% accurate, but when it tells me that it's gonna be a bright sunny day while in fact I got rain by 12pm of the day, I know it's crap. I live outside the US btw, maybe all weather apps is just optimized for US, idk.

Remember that it is still just the weather forecast and the application cannot affect the behavior of nature. Presented weather forecast is the output of numerical models which is not always 100% matching with reality. As example, occurence of the low cloud inverse cannot be reliably predicted. This is a local phenomenon, but which may significantly affect the temperature and so instead of + 5°C and Clear, the temperature may remain below zero and is Overcast.

The number of weather apps on WP is too damn high!

Leave it crap app...rate 1 to 10...this app rated 0.5...ridiculous..

Am I the only one that doesn't read weather app articles anymore?

Since we're on the subject and since WPCentral deliberately refuse to mention it, even when it is on offer, my Weather app, Weather To-Go, is currently FREE in the store (no ads). It does not lack cities, is not minimalistic, has live tile, lock screen, many options and configurations. Grab it and enjoy.

Sorry. Doesn't look like every other weather app.

Weather To-Go is my go-to weather app!

It feels like 50% of the apps in the store are weather apps!

Seriously starting to wonder how WPCentral chooses apps to write about...

How do we choose? Some of the apps and games we review are from suggestions from our readers. Some are suggested by the developer, some we run across and some are the major releases that come to the platform that are no-brainers.

Review my app! ;-) I'll make it free for a few days. So, no profit ;)

It's George Ponder. All he writes about is weather apps and photo apps.

Install
I saw ...
Uninstall
There are other far better ... !

WOW, so many people get so aggravated, so irritated by a simple app. Developers can code whatever app they want. We don't like them, we don't download them.

Agreed. The vast majority of Windows Phone buyers don't read the stuff posted here, Only the headlines.

I prefer simple weather apps...

Me too. Particularly on a mobile phone, I dont usually want the screen full of small lettered oinformation. Simple uncluttered info is good in a mobile device. I do want at least a 3 day forecast - 5 days in most cases is always inaccurate and too far to be any good.

I made my own YouTube app that's 99% like the IOS version. Emailed google and they replied they'll ask Microsoft to delete it if I release the app. But hey I like weather!

Damn... That gradient is so... Early 00's... And even back then it would've been fugly. I tend to agree with he general feelling around here. There are enough weather apps already. I'm not agravated by the presence of one more, but any new contender that wants to make it has some big shoes to fill. This one is just one of those that can't be deemed as finished. It's graphically poor (very much, in fact), lacks features and the ads are a turn-off. So I can't say I'll be trying it.

another Weather app. WP8 is platform for weather apps. :-)

This is the weather app for me. I only ever check the temperature and the Weather Channel and Bing apps take WAY too long to load.
Windows Central Newsletter
Thank you for signing up to Windows Central. You will receive a verification email shortly.
There was a problem. Please refresh the page and try again.