WeatherLive updated, adds Windows Phone 8 support and a pricing change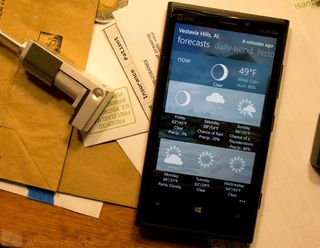 WeatherLive was recently updated to version 5.0 to add Windows Phone 8 support with includes wide live tiles with radar imagery. The good news is that with the update WeatherLive is now a free, ad-supported app. The bad news is if you want all the features of WeatherLive, you'll have to upgrade within the app. While the new live tile feature is nice, you may want to hold off on updating though.
The layout on WeatherLive remains basically the same (except for the banner ad) with pages detailing a ten day forecast, charting daily weather trends, viewing historical graphs, viewing an hourly forecast, viewing a charted temperature trend, animated radar, local webcams, and a moon phase page.
Settings cover managing your locations, choosing a theme (Metro, Metro Minimalist, and Glass), choosing your Live Tile refresh rate, and display options (Celsius vs. Fahrenheit, background images, etc.). Speaking of the Live Tile, it's a little on the plain side with the moon phase and temperature on one side and a two day forecast (weather icon and forecasted temperature) on the flip.
WeatherLive, at least the previous version, is a decent weather app for your Windows Phone but I couldn't help but feel in making the app free, the developer converted it into more or less a trial version. For $.99 you remove the ads and have access to all three themes (free version only lets you use the Metro Theme). For $1.49 you remove the ads, give you access to all three themes, and open up the option to put radar and satellite images on your Live Tile.
On top of having to end up paying for all the WeatherLive features, the app is a little on the buggy side. With no rhyme or reason the formatting of the pages would go off-center and the ability to swipe disappeared. Fixing the performance error was easily done by hitting the back button and everything returned to normal.
Again, we found WeatherLive to be a nice weather app for our Windows Phone but removing the paid app from the Windows Phone Store in favor for a limited functioning, ad supported, free version is a little bit of a head scratcher. A step backwards maybe? If you are already using WeatherLive on your Windows Phone, I would be very hesitant to update to version 5.0.
If you haven't installed WeatherLive and want to give it a try, you can find WeatherLive here at the (opens in new tab) Windows Phone Store. Oddly, at the time of this post version 5.0 was only available through the Windows Phone Store app. The older version, version 4.2 is still being shown through the online Store. It may take a bit for all the Windows Phone Stores to get on the same page.
Thanks, Michelle, for the tip!
George is the Reviews Editor at Windows Central, concentrating on Windows 10 PC and Mobile apps. He's been a supporter of the platform since the days of Windows CE and uses his current Windows 10 Mobile phone daily to keep up with life and enjoy a game during down time.
I absolutely HATED WeatherLive previously. It was slow, buggy, and horribly laid out. With such great options from Amazing Weather and Weather Flow, I see no reason to even consider it.

Ik, weather flow is awesome. And it got better with the WP8 update.

The integration of an animated weather radar is the only reason I would consider it. Weather Flow and Amazing Weather need to get their act together and give us a good weather radar inside of their respective apps. Other than that, I agree with you. From what I see so far, I much prefer their UI to WeatherLive.

I love my WeatherLive app, but this update seems go be horribly broken on my phone. Suddenly, ads. And nothing shows up.

Loving my amazing weather HD app and waiting for its next update to provide lock screen integration and mix-and-match live tile.

WeatherLive has been my go-to weather app for... well a long time now. I liked it because it updated your location as you traveled. But, I noticed the bugs of not being able to swipe left or right from some screens after update. I'm sure that will be fixed. My only issue is that I previously paid for the app, because I thought it was nice and wanted to support the dev.

But, now I have ads and I'm being asked to pay again to remove them? Also, if I do pay the $1.49 for radar and satellite pics on the live tile, which seems cool enough, it only last me 6 months before I have to pay again.

As stated by George, in the article, this is indeed a headscratcher and may come back to bite the dev in the booty as I'm already seeing several 1 star ratings for the update. It's still a nice app and may have been worth two bucks in the first place. But, to implement something [ads] that wasn't there before and ask customers who already paid for the app once to pay again to remove those ads is a very cable company thing to do.

I dropped WeatherLive for WeatherFlow (covered here recently) and it looks like I did it just in time.

I like the weather live layout better than the other apps. But I'm miffed that I had to buy another app (amazing weather) while weather live wasn't available, and now that it's here for wp8 they expect me to pay again?

A
already heard back. The algorithm he used to detect paid customers isn't working. Fix forth coming.
.

All, I am the dev. Sorry for the snafu. :)
I will fix the algorithm in short order and let you here know. Again, it is not my intention to make you pay once more.
On radar/satellite image charge, it is because I need to pay wunderground.com to fetch the images. As such, the volume could easily be tripled.

The fix is submitted. Stay tuned.

If the six month limit is because you have to pay for satellite, then the app should say so. Or the customer will just be pissed. If the reason is sound, the customer might live with it...

Good to know. I really like the app and have been using it since its release as my primary weather app. Your support of the app is stellar and I'd hate to see the app lose fans/customers because of this. Keep up the good work.

I respect devs such as yourself who go out to their customers to let them know what's going on at times like these. I like WeatherLive and I'm glad I paid for it, and I'll be sure to update once the fix has been applied (as long as I know it's actually been fixed!).

Hello I have a Lumia 920 and the app appears as not available for my version ... Why?? I'm in Spain. Thanks

The buggy version is removed now so you need to wait a little for the updated version.

Any idea how much longer? I need a weather app and yours has always been my favorite, but if I'm forced to purchase a different one while yours is down I probably won't be back. Not trying to sound like a jerk, but there it is.

I hope the paying extra money to remove ads was a goof up... Otherwise I highly un-recommend buying it or downloading it...

I am glad I didn't update to 5.0 and weather live tile works great

The app is not in my marketplace, scanning QR code tells me the app can't be installed on my device. I have Rogers Lumia 920 black

I just bought my wp8 , and now I can't access one of my favorite apps.
Windows Central Newsletter
Get the best of Windows Central in in your inbox, every day!
Thank you for signing up to Windows Central. You will receive a verification email shortly.
There was a problem. Please refresh the page and try again.