Weekly Xbox Upload Contest: Halo: The Master Chief Collection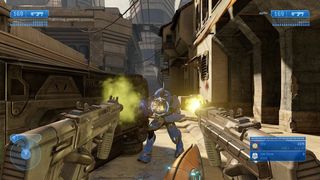 Have you said, "Xbox, record that" lately due to an epic kill? How about to some funny bug you encountered? Well, we want you to share those moments with us, and we'll give away some sweet prizes you for doing so. Each week, we'll pick one lucky winner for the week's theme on Xbox One.
Get ready for this week's edition of the Windows Central Xbox Upload Contest!
This Week's Contest
So here's what we want from you. This week we're looking for your best video from Halo: The Master Chief Collection on the Xbox One. We want you to submit your clip of either your most epic moment from the game or your best epic fail. That being said you can only submit one! Submissions go here.
The contest starts as soon as you read this post and all entries must be submitted before Saturday, April 4 at 11:59 p.m. (PST). Winners will be announced (with their winning video) in next week's contest post is up.
Before we get into this week's prizes, let's announce last week's winners!
Forza Horizon Winner
Graxiplon
Graxiplon managed to capture the complete essence of what Forza Horizon is in one pic. Great job!
The Prize
This week's prize is simple. Give us your best video from Halo: The Master Chief Collection and we'll send you a $10 Xbox card. This will also allow you to buy apps and games on Windows Phone and Windows 8.
Contest Rules
Entry must be submitted to the corresponding forum post which you can access, here.
Video must be submitted via a link from XboxClips.com or XboxDVR.com
You must have used a valid email address to register here at Windows Central, so I know how to contact the winner
ONLY one entry per week per person
If we have reason to believe the content isn't yours, we will contact the Gamertag via XBL for verification.
XboxClips.com and XboxDVR.com
XboxClips.com and XboxDVR.com are both an easy way for you to share your clips without you going through the hassle of uploading them to OneDrive or whatnot. In order to access your clips, simply go to xboxclips.com/(your Gamertag here) or xboxdvr.com/gamer/(your Gamertag here). For example, I access my clips at xboxdvr.com/gamer/kiddj55. Once your clips are selected, you can choose the embed button to the right of the video to copy and paste that embed link into our forums.
Submit your video HERE in our Xbox Forums
Good luck and have fun! But most importantly, don't forget to say "Xbox, record that!"
Man, congrats to Graxiplon! That is a fantastic shot from FH2!

Oh cool I won :) Thanks Windows Central.

No problem! Keep an eye out for a code in your inbox :)

Great shot! Sure is better then mine!

One thing that I asked in the comments for the FH2 contest was never answered. Is the credit going to be in USD only or will it be in the winner's local currency?

Because I think that is important information to have.
Windows Central Newsletter
Thank you for signing up to Windows Central. You will receive a verification email shortly.
There was a problem. Please refresh the page and try again.