Advertisement Feature
What display should you get for your business laptop?
Which panel is right for you?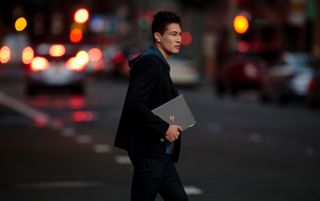 (Image credit: HP)
Making sure you have the right type of display on your business laptop is important, as some business productivity tasks pair better with FHD screens better than 4K ones and vice versa. Additionally, there are also useful features many displays come with to keep in mind as well, such as touch support and anti-reflective coatings. Brightness is very important to consider, too.
Here's a deep dive into the strengths and weaknesses of the two primary types of displays available on business laptops, as well as some of the features you should be on the lookout for with both of them.
1080p FHD: More with less
Displays with a resolution of 1080p are classified as FHD, and are mainly ideal for people who work with lots of text documents and word-heavy files during their average workday. The reason for this is that since you're not working with visual media much (if at all), standard HD resolution will be more than enough for you. It's also important to note that a big advantage of opting for a FHD display is that you'll have better overall battery life compared to a device outfitted with a 4K screen.
The downside of FHD displays is that they're not nearly as useful as 4K ones when it comes to viewing or editing visual media. This is because 4K displays look much sharper and also tend to have better color accuracy, meaning that on a 4K display, the image will "pop" more and more detail will be visible for admiration (or scrutiny).
4K UHD: Supreme quality
Displays with a 4K resolution are perfect for people who work with a lot of images or video for their business work. This is because the higher resolution helps you see the finer details in these forms of visual media, and that's useful if you need to tweak the way an image looks or add certain types of effects to your videos. 4K displays usually also have better colors, too.
The problem with 4K displays is that they drain battery life a lot faster than FHD panels do since the laptop's hardware has to essentially render four times as many pixels as it would have to for a FHD screen. Therefore, while all-day battery life is still achievable with 4K business laptops, the battery life is still generally going to pale in comparison to FHD laptops.
Other notable display features
While resolution is the most important factor to consider when picking a display for your laptop, it's not the only one. There are a handful of other important features and specs you'll want to keep in mind as well. The first is touch support, which is usually something you'll find in convertible laptops that can be used like tablets. Touchscreens give the user more flexibility, especially if they support digital pens. However, the downside to them is that they drain the battery more. Overall, touchscreens can be incredibly beneficial to folks who like to work on text documents the old-fashioned way or want to take an artistic approach to their visual media work.
Brightness is also an important spec to consider, too. Displays with a brighter maximum brightness combat sun glare and generally look better than dimmer options, but higher brightness also means faster battery drain. 250 nits of brightness is considered the baseline of what's good enough, while 400 nits or higher is considered ideal for peak glare resistance and image quality.
Finally, there's anti-reflective coatings, which are a universally beneficial feature. Anti-reflective panels nullify the effects of sun glare regardless of the display's brightness, making them very valuable.
What laptops have great displays to choose from?
While there are many business laptops available that have awesome displays, our favorite picks are the latest laptops from the HP Intel Evo line. This includes the budget-friendly HP ENVY x360 and the 13 and 14-inch variants of the premium HP Spectre x360. Both devices come with excellent 11th Gen Intel processors, strong Intel Xe graphics, and plenty of memory and storage.
The HP ENVY x360 is perfect for people who mainly focus on paperwork or text-heavy workflows on the web. This is because its FHD display is better suited for this work, and also because it has less powerful specs compared to the Spectre (though it's not "weak" by any means!). The display is also pretty bright at 400 nits, meaning that you'll never struggle to see your work.
The HP Spectre x360, meanwhile, is a great choice for people who work with visual media or people who work with both media and text. This is because its stronger specs and 400 nit 4K touchscreen display options are better for this type of workflow. The convertible nature of the Spectre is also great for people who like to be able to use their laptop like a tablet.
Affordable excellence
Superb performance for a mainstream cost

The HP ENVY x360 is your best bet if you're looking for a great balance between price and performance. It's capable, affordable, and features a sleek, attractive design that everyone will love.
Best-in-class
It doesn't get better than this

The HP Spectre x360 is the definition of high quality. It delivers even stronger performance than the HP ENVY x360 and features an even more attractive and premium chassis, all while still remaining fairly affordable (though it will set you back more than the ENVY will). It comes in 13-inch and 14-inch variants.
Get the Windows Central Newsletter
All the latest news, reviews, and guides for Windows and Xbox diehards.