What Richard's taking to Mobile World Congress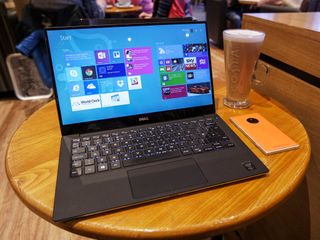 (Image credit: Windows Central)
It's that time again. The time to say goodbye to families, pack a couple of bags and hit the dusty trail for another major show. This time out it's Mobile World Congress, the annual gathering of the world's biggest and best that the mobile industry has to offer. For me, MWC is what I'd class as a home event after CES, with Barcelona a mere 2 hours away by plane.
The event may be closer, but to cover it properly for Windows Central and Mobile Nations as a whole I still need to take a fair amount of gear. So here's what I'll be packing for this years MWC.
Dell XPS 13 (2015)
It's so secret we're big fans of Dell's newest 13-inch Ultrabook, and that started right at the announcement in Las Vegas at CES. As a thing to look at it's stunning, but paired with a range of Intel's latest 5th-generation CPUs and the option for a QHD+ touchscreen, it ticks most of the boxes. But for someone who travels, the 13-inch laptop in an 11-inch form factor is amazing. It takes up less space in an already crowded gear bag, has a great keyboard and precision trackpad, and decent battery life even on the range topping i7 version. And it's tough, too, which is also super important for the hectic trade show.
It's my main laptop now, and will be for some time to come.
Nokia Lumia 830
The Lumia 830 is my current Windows Phone of choice. The Lumia 1520 is too big for me to use as my primary phone and I never really felt that happy with the Lumia 930 for whatever reason (though getting really hot didn't help, there.) The 830 is a great compromise of great design, solid camera and features such as Glance Screen. I didn't think I would miss Glance until I didn't have it any more. Now I have it back I know how much I appreciate it.
Sure, the internals don't compare to its bigger brother, but that doesn't concern me at all. Windows Phone is such a slick experience on even low-end hardware that I never feel like I'm missing out. It has Lumia Camera 5 (albeit without 4K recording, which I'd never use), and I'd not hesitate in saying it's my favorite current Windows Phone. And since it's European and unlocked, I should have no issues popping a Spanish SIM in there.
Microsoft Band
I really like the Microsoft Band. There are things I would change about it, sure, but on the whole I'm very happy with it. I love to see how far I'm walking at big events like MWC, and having something like the Band forwarding my notifications and allowing me to use Cortana for quick actions on the go, it's a great tool to have on the road. What I'd really like next is music controls so I can use it to change tracks without needing to pull my phone out of my pocket.
And in Europe you still get people asking about it. Because we can't buy it.
Microsoft Band - Everything you need to know!
Microsoft Band - Help, tips and tricks
Samsung NX3000
I recently moved away from using a DSLR for the same reason I last moved away from using a DSLR; size. Too bulky to carry comfortably in my gear bag of choice, and for my purposes, I've never used more than 10% of its capabilities anyway. So I went mirrorless again and landed on the Samsung NX3000. I like that it has onboard Wifi, I like that it's compact, and that it takes good pictures and didn't cost the earth.
And I still don't know how to use more than about 10% of it. OK, maybe 20%.
Buy Now - Samsung NX3000 - Amazon

(opens in new tab)
The bag - TYLT Energi Backpack+
I picked this bag up at CES and it quickly replaced my old bag. It's got tons of pockets, albeit it many are too small for anything substantial, and has safe places to stash my camera, phones, even a pair of sunglasses without them smashing. But the party piece is the included 10000mAh battery pack. The bag is designed in such a way that you can run cables through it and charge three of your devices while you're on the go. And at a show like MWC that's pretty much a day saver. It's not cheap though, but a good bag is a worthwhile investment.
RHA T10 earbuds
I'm reviewing these earbuds at the moment from RHA (coming up soon) so I'm using them wherever possible. I do really like them, though. They're comfortable, have a great all round sound and with passive noise cancellation do an OK job at blocking out the world around me. These ones were designed not to have an in-line remote since they don't work with all the phones, all the time. And as such have a slightly lower price than ones that do.
$189.95 - Buy now

(opens in new tab)
Moleskine and Cross
Old school tech. I still like to write things down from time to time, for personal or professional purposes. I usually write with a Fountain Pen but I don't like trying to travel with one, so I'm using a Cross rollerball on this trip. Notebooks will vary between Field Notes, Rhodia and Moleskine, but for this trip I just packed a 3 pack of Moleskine journals.
The pen was a gift, and one I've not had the chance to use properly yet, at that. Just hope I don't lose it.
I've tried to pack light (for once) and while other phones are in my bag for related work, this is what I'll be primarily using. Follow all the Windows Central and Mobile Nations coverage of MWC at our dedicated page here
Richard Devine is an Editor at Windows Central. A former Project Manager and long-term tech addict, he joined Mobile Nations in 2011 and has been found on Android Central and iMore as well as Windows Central. Currently you'll find him covering all manner of PC hardware and gaming, and you can follow him on Twitter and Instagram.
Hey Richard there is no need of Samsung camera...while having a Lumia phone... ! (;
Edit: Keep ur eyes open... U r going carry approx 2500$... :D (there should be a chance of theft)

I've been before. No worse than going to some areas of London ;-)

Don't forget to take your clothes and shoes.

i was going to say the same thing....personally, i might have also brought a change of clothes and a toothbrush, but I admire your commitment. ¡Viva MWC!

That camera has an awesome zoom though

As much as I love the camera in my 1020, it's no replacement for a dedicated camera, and definitely not when your job relies on getting the right shot quickly every time ;) That NX3000 is a good blogcam - APS-C sensors are terrific for poor/odd lighting conditions, and it's small/light/unobtrusive while still taking far better photos than any phone and most fixed lens compacts/p&s cams.

Why no iPhone 6 inside, haha.

Couz he is a window phone fan boy... (;

No, everyone interested in windows phone always have a hidden iPhone behind their pocket.

Richard say its wrong... :\ i don't want you to use iPhone or driods.... :3

Sure I've got one. A bunch of Android stuff too. Kinda essential in this job.

You just killed his hopes, dreams and the superhero image he had of you. However, I wouldn't say no to an iPhone either.

Not me. Posted via my HTC One M7

Everyone? Whoa, then I'm not counted as a Windows Phone enthusiast? This doesn't mean I wouldn't like to own an iPhone or Android, but generalization like this isn't good.

Never owned one. Never wanted one. Flawed theory.

I'm a Windows Phone fan boy, and I have a work-issued iPhone 5S (work s/w on it I have to use that only works on iOS). Hate it so much - the OS feels old and outdated and it's uncomfortable (and the camera sucks ;) ). Every time I have to use it for a work trip, it's a total relief to switch back to my 1020 when I get back home. I have to say the experience got a lot better when MS finally released Outlook for it, but WP still feels better to me.

You can give me an iPhone 6, a Nexus or HTC One or even a galaxy but I'd still have a Lumia as my main phone. The others will just be there for the hell of it or if I happen to run out of battery on the Lumia

Update, improve, skill up the features of lumia 1520 cuz it already has strong hardware design, lag of stability performance now.

Microsoft event in indian timing

You got this, I believe in you.

It's starting from 1.00pm IST.

Loving moment for Indians....!

Too bad my 12 boards exam begins that day!!! I wanna cry!!

Omg the Flawlessness. Even Rubino is acknowledging it.

I love the tech none the less. But that backpack intrigued me the most, 10k mAh is amazing! can't wait for your coverage at MWC

Strange that it seems to lack Qi.

Those are expensive ear phones. Mine were like 8 bucks.

The Cross pen will probably be the most reliable gadget there. Nice set up! (still rather have my 930, SP3 and Sony NEX though)

+++1 good choices, I concur.

Curious, if you're barely using 10% of that camera's capability why not use a basic point and shoot?

Because when I figure it out the results will be much better. Plus I actually bought this in the UK for the same price as a decent point and shoot. Less than some.

What's interesting is that you still use a fountain pen!

Viru S: Remember, life is a race. If you don't run fast, you'll get trampled. Let me tell you a very interesting story.. This is an astronaut pen. Fountain pens and ballpoint pens don't work in outer space. So scientists spent millions to invent this pen. It can write at any angle, in any temperature, in zero gravity. (3 idiots) remember..? ...(;

Yup, that was when I started using pencils, cheap and works in outer space. Also, you can rub out the mistakes... :D

You wouldn't use a pencil in space, too many particulates produced.

I still use a fountain pen as well. I find the experience of writing with them better than any other kind of pen

"What's Richard taking to Mobile World congress?"
Either a plane or a train, I presume...

Or driving to Barcelona! Much better experience if you can manage.

My workaround for music controls on the Band is use voice control.

That earphone looks awesome. Ps : Kinda jealous u got that XPS 13. Lol.

If you call flying first class a "dusty road" LoL couldn't agree more about the choice of 830 over 930, I feel the same! And hey, I also still put good old ink on paper all the time. ;)

LOL! Do we really have to hate Apple products to love Microsoft ones?
We, humans are really funny! :P

Nope we hate Apple products cause my last one burnt up it's graphics cards in less than a year of having it. Plus I could never force myself to actually use the OS, I found it terrible. It was a good windows machine until the end.

Oh there is a MacBook and iPhone going... Who else is going...

No Surface Pro 3? Surprised :p

If you read a post earlier this week you'll know what happened to my SP3 :(

A passport...now there's something I haven't seen in a long long time... (Ok, that's a lie, I saw it last time I went to Redmond, but that's basically it=P)

Nice collection! XPS 13 is great, have it now for 3 days. Love to see that you don't use Apple products:-)

I've still got some. But I'm moving away from it quickly. Kinda important round here, right?

I love to have the bag.
$170 is not at all expensive with that bag.

Same, would have been life saver. Funny story, had to walk all the way from north London took me 4 hours, phone died, had no money on my travel card and in a hurry for the interview I forgot my wallet lol. People wouldn't let me use their phones nor the stores.

That is so painful. Here in PH, you can use a phone if you pay. Make sure you are in a store in a mall.

Do a stage dive from me Richard.

happy journey to Barcelona :)
força barça

No Tripod or Monopod....? I wonder how will the Video works , especially that of Lumia 1330 and more...

Easy. We have Mark Guim for that ;-)

Video works of Windows Central is good . But if we get Tripod and Monopod typical camera movements..., it would be effective for us to watch

There are!! Read comments!!

Oh .. But those are not his favourite

It's like you're stuck at 12 years old.

Cool gadgets I have to agree with you on Lumia 830 I also prefer it over 930

Just bought my wife 830 orange. I have 920 and 1520, but 830 is just so nice and comfortable and runs everything, so I agree and understand your choice. One must first try out this phone, to understand, how nice it is. Add 32Gb card....

I'd have gone from the 920 to the 830, but got a steal on a 1020, so I'll ride that out till the W10 onslaught.

Where I can stream this mwc?

Looking forward to the articles. Enjoy :)

Oh Gawd, $200 for earbuds?

So the new XPS 13 cam out in CES, along with an updated XPS 15 (i.e. 4K display), do you know if they'll bring out a new version of the XPS 15 to match the style of the XPS 13?

I'd only trade out the Camera for a Nikon 1

Only thing good about dell products is their upgradeable to the extreme

Really nice gear, Richard! I'm really looking forward to the articles!

Looking forward to coverage! Hmm I might just get twitter just for the additional tidbits lol.

Nice choice on the Samsung NX, i have the NX300 and as much as i love my 1020 you just can't beat a dedicated camera in the hands of someone who knows how to use it. Roll on the NX500 unless MWC brings us some surprises from the MS stable.

What are you bringing for a bag? Timbuk2?

http://whatsinyourbag.com/image/109310844597

Don't take a HK Country Variant Nokia 1520 with you.. No Denim update yet again ....

"It's so secret we're big fans of Dell's newest 13-inch Ultrabook." You mean NO secret?

Richard, can you use the NX300's wireless capabilities in any meaningful way with the 830? As in, is it possible to transfer photos from it to the phone via WiFi or NFC without an app?

Android and ios only for transferring pics to phone from the NX300 using the samsung smart camera app. I have to use it with my work iPhone 6+ or my Note 4 i use now and again. Would be ideal to be able to use it with windows but don't think we'll see it anytime soon. You can upload to skydrive(onedrive) using a wifi hotspot though but thats a long way round a simple transfer solution

Thanks for the info. I was hoping for something direct, but uploading to OneDrive using my phone as a hotspot should be good enough.
Windows Central Newsletter
Get the best of Windows Central in in your inbox, every day!
Thank you for signing up to Windows Central. You will receive a verification email shortly.
There was a problem. Please refresh the page and try again.