My new Dell XPS 13 with non-touch display is frankly amazing
Last week at CES, Dell won over crowds with their new XPS 13 with infinity display announcement. Winning various awards and high praise from our staff, the new XPS 13 Ultrabook is a head turner.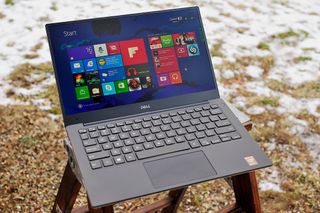 Last night, I managed to pick up the new Dell XPS 13 with a Core i5 processor and 1080p non-touch display. Here are my initial impressions after using it for the last few hours.
So many versions
To be clear, there are quite a few options when getting the new Dell XPS 13. Dell actually sells a cheaper, $799 model that sports the 5th generation Intel Core i3 processor. For an extra $100, Microsoft today is offering the Core i5 variant. Truth be told the Core i3 should not see better battery life, due to the way it idles and peaks in comparison to the Core i5 or Core i7.
The Microsoft Store (opens in new tab) is now selling this style for $899 both online and in physical outlets (should you be lucky enough to have one nearby). I always recommend buying direct from Microsoft is you can as you get the stripped down 'Signature Series' and excellent support.
Microsoft and Dell are also selling other versions (opens in new tab) with beefier specs, including more storage, more RAM and QHD+ (3200 x 1800) Infinity touch display. All in all, there are five versions available to order. They range from an affordable $799 to the spec'd out $1,949.99 option with Windows 8.1 Pro, Intel Core i7, 8G of RAM and a 512 GB SSD.
Let's take a closer look at the $899 version's specifications.
Dell XPS 13 ($899)
5th Generation Intel Core i5-5200U Processor (3M Cache, up to 2.70 GHz)
Intel HD Graphics 5500
4 GB of RAM
128 GB SSD (88 GB available)
13.3-inch Full HD (1080p) non-touch Infinity Display
2.6 pounds
15 hours of battery life
USB 3.0 x2
Mini display port
Kensington lock
Full SD card reader
For $899, I consider this a superb value. Keep in mind that every version of the new Dell XPS 13 has the same body, just different internals. This sameness means that even the $799 version looks exactly the same as the $1949 one, except for the display.
Broadwell Core i5 is fantastic (so far)
First impressions of the new Intel processor are splendid. For one, it runs exceptionally quiet. Even running a 1080P YouTube video or streaming Netflix, the fan barely kicked on, and the device scarcely got warm. Video playback was flawless at 1080P with no stuttering.
I have used a lot of processor over the years, and if I had to place where this one feels, it would fall right in between the 4th generation Haswell Core i5 and Core i7. If there were a Haswell Core i6, this would be it.
Of course, I need to do actual benchmarks, but in just using Windows 8.1 to run some media, it feels very responsive. The new Broadwell chip is leaving a much better impression than the underpowered Core M found in the Yoga 3 Pro. Low heat, quiet fan, and presumably better battery life. Speaking of…
Battery life
Dell claims that this version of their Ultrabook can reach 15 hours of usage. Like all battery estimates, I think this is on the high-end of the spectrum. Lenovo also promised huge battery life gains with the Core M in the Yoga 3 Pro, but after I and others had called them out they revised the stat, so I remain skeptical.
It is too early for me to have any solid figures for battery life. After all, I have only had it for hours now. Still, I do think this can easily get over 10 hours of real, honest usage. I am sure if you put the laptop into Battery Saver mode, dim the display, etc. you can probably get much more.
Right now, my XPS 13 is reading at 96% battery life (Balanced Mode), and the estimate is 14 hours and 23 minutes left. Of course, this is just being on, idling at about 30% screen brightness. Still, that is a very high estimate, and I do not think Dell was puffing up the number too much here. Approximations vary considerably though depending on what is being done, so formal tests need to be performed. For instance, it dropped down to around 8 hours with increased screen brightness and at 94% battery life but bounced up to over 12 hours a few minutes later.
Should I be disappointed? Definitely not. I have yet to see any Haswell laptops get over 10 hours of life. Even my Core i7 Surface Pro 3 can only get maybe 5 hours. If I can get 10 or 11 hours of regular usage out of this laptop, well, that is a win in my book.
Fan
Super quiet, barely audible. Rarely kicks on for ordinary usage, at least so far. Quieter than the Yoga 3 Pro with a Core M. The Dell XPS 13 also seem to stay very cool.
Display (or OMG it is not a touchscreen!)
How am I coping with the XPS 13 being non-touch? Honestly, it is not that bad. Windows 8.1 has some great tricks to get to those Charms, including right swipe on the touchpad or just point the mouse cursor to the upper right corner. I also use a 27-inch Dell XPS 27, and I never touch the gorgeous display. In other words, while touch is an excellent option for Windows 8.1, it is just that an option.
In terms of resolution, the Full HD 1080p display at 13.3-inches, is fine by me. The QHD+ touch version is a stunner, no doubt, but you have to factor in the increased price and the decreased battery life to see if it matters to you. Nothing is free in this world, and some people want the longer battery life. Kudos to Dell for giving people the option.
The non-touch version is matte, for what it is worth whereas the touch version is glossy.
Brightness is on the high end and is rated at 400 nits. Although the XPS 13 is not the brightest out there, I often find myself keeping it at 50% in well-lit room. I do err on the dimmer side though, so take it for what it is worth. I would not describe this display as dim.
I see no obvious light leakage either and the screen, made by Sharp, looks to be very evenly lit. Overall, I like it a lot.
Oh and that Infinity thing aka the super thin bezel? It rocks. Watching video is almost weird, as the edges of the character feel like they are going to spill off of the display. I mean this all in a good way. It is eye candy.
Trackpad and keyboard
The Dell XPS 13 ships with Microsoft's Precision Touchpad. In a nutshell, this is an initiative started by Microsoft in 2013 to take over gestures, finger tracking, etc. from third party manufacturers. In theory, this gives users a unified experience that matches what Microsoft considers to be ideal for using Windows 8.1.
Here, the XPS 13 is a winner. It is a rather large area that clicks evenly on the lower half. Gestures for Windows 8.1 work very well, including pinch-to-zoom and scrolling. It is pretty great.
The keyboard is also exquisite. The key travel is on the low-end but not in a bad way. The keys are backlight, and there is no "coil whine" (Dell assured me that that problem was addressed awhile ago, and it was due to a faulty third-party supplier). I like the size of the keys and the way it all feels, so I surmise I will have no issues using this for heavy writing.
Front camera
Yes, the Dell XPS 13 does have a front-facing camera in spite of its super thin bezel. Dell solves this by putting the camera on the lower left of the display. Odd? Yes, but it works decently, and the quality of the camera is one of the better ones that I have used.
Sure, the angle is odd and can you see your hands sometimes, but since many of you assumed this did not even have a camera, I consider it a bonus.
Miscellaneous
When it comes to the Wi-Fi I have had no issues. I pulled down 73.07 Mbps and uploaded at 72.37 Mbps, which is equivalent to being plugged into the router.
Speakers, located on near the front on the sides, are superb. Crisp, loud and well balanced.
Build quality of the Ultrabook is just excellent. The outside of the device is metal with carbon fiber lining the inside with soft-touch paint for your palms. I was happy with the previous XPS design but I consider the 2015 version superior in every way.
The Dell XPS 13 is just gorgeous and for $899, this is likely the nicest Ultrabook you can buy.
Wrap up
I have the Core i7 version with QHD+ on order from Dell, but I want to be clear: this $899 version is pretty kick ass. In fact, I have no issue in using this as a daily machine and will be using it extensively for the next week. I do plan to use it for when I travel to Redmond next week, so that can be a real road test.
Although having a Core i7, QHD+ Touch display, 8 GB of RAM and more storage is excellent, I do not feel as compelled to buy one for my needs. Considering that machine is surely going to get less battery life, you do have to consider your options wisely. The 1080P Infinity Display and 5th generation Core i5 though is already a winner but let's see how it holds up.
Later this month, when the high-end version shows up I'll do a comparison between the two. Stay tuned.
Buy the Dell XPS 13, starting at $799.99 (opens in new tab)
Windows Central Newsletter
Get the best of Windows Central in in your inbox, every day!
Daniel Rubino is the Editor-in-chief of Windows Central, head reviewer, podcast co-host, and analyst. He has been covering Microsoft since 2007 when this site was called WMExperts (and later Windows Phone Central). His interests include Windows, laptops, next-gen computing, and for some reason, watches. Before all this tech stuff, he worked on a Ph.D. in linguistics, watched people sleep (for medical purposes!), and ran the projectors at movie theaters because it was fun.
How funny would a non touch tablet be with an external mouse lol

Tablets aren't bezzleless dick head

What no one mentioned bezzles

Still says 3-inch in the article ;-) Edit: The app must have been caching it!

You people fricking funny lauching to death.

Non-touch? No thanks! I cannot go back.

So buy the touchscreen version, it's okay.

Point being, I just don't get people that don't see the benefits. It probably means they've never used one for more than a minute. (but I am excited that Daniel Rubino talked to me directly!!) haha :)

I like touchscreens, but I don't find them necessary. On a device like a Surface or 2-in-1s, it makes total sense. On a laptop, it's just a neat extra feature. Like I said, some people do not like to touch their laptop displays. Fingerprints are harder to clean (vs a tablet), the price goes up and battery life goes down. Some also prefer matte displays for heavy writing, which you don't really find on touch displays. Because this is non-touch, people can now buy a premium Ultrabook for less than $900. That is pretty much unheard of, as they usually start in the $1200 category. So I consider this non-touch version a win-win.

Some people prefer not to use a mouse either. Embrace all three inputs like a porn star!! (boy, that took a weird turn)

It isn't that he doesn't see the benefits. Using a QHD+ touch screen on a laptop brings battery penalties (an estimated four hours worth) that aren't always worth the difference. In my case, I would probably have gotten a non touch version. The extra battery life is too nice. I do wonder what kind of battery life a touch 1080p version or a touch less QHD+ version would have gotten. I'm not sure if the primary loss in battery life is due to the extraordinary pixels being pushed or the touch enabling technology. Given the option I probably would have considered a touch 1080p version. Third party windows applications still don't all perfectly handle HiDPI displays. In any case, I can't get it because I still need that surface pro 4 with an awesome stylus. Posted via the Windows Central App for Android

Ok, it's a really good thing I wasn't taking a sip of my beverage when I read this. You made my day.

When going from my Surface Pro 3 to my Macbook Pro, I find myself inadvertently swiping my MacBook!

I do this almost every time I use my wifes laptop "why doesnt touch wo... ohh.." :)

I feel the same way. Although I wasn't a super fan of Windows 8, I adapted to it and grew to love it. I find it really intuitive as an OS and love most everything about it, but touch isn't what makes it so great, that's just what the media clasped onto and criticized most about it. People need to realize that non touch screen laptops are going to be huge this year for 2 reasons: 1. Windows 10 2. Low power/low noise ultra-thin form factors. So heck yeah I can't wait to get mine. (non touchscreen) And big points to dell to offer such a range to please multiple users.

My notebook has a touch screen, have used it a lot. But in the end, I find myself preferring the touch pad. There are benefits, but they are outweighed by the cons, for me.

None of this matters in this product's case, since you have a choice to buy either.

I have the 15 inch i7 version with touch screen, I rarely use the touch screen function and wouldn't miss it (I can probably turn the function off somewhere), so I'd be the same with this, I'm happy to keep my fingerprints off the screen :)

I'm the same, I bought an Asus touch screen laptop and almost find it annoying. I figure without being able to fold it a certain way like in a 2 in 1 computer, then you don't get hardly any of the benefits of it being touch screen. My experience is my battery is horrible. And honestly maybe its an Asus thing, but my touch screen randomly doesn't work sometimes... And the corner is coming out of the frame... Good thing I got four year warranty on it - gonna have to replace it sometime

Laptops with good trackpads don't need a touch screen.

Personally, no touch is a deal breaker, but everything about this looks amazing

Buy the touch version, then.

Dell only gets better and better.

I have to agree. And I also have to give HP props too.

Looks like a laptop to me! What am I missing?

Probably the part where I review its performance, build quality and features.

Would you choose this over a SP3? Go.

Comes down to how you plan to use it and if you need/want pen support. Assuming you are just using them as laptops in the traditional sense, then the XPS 13 wins easily. Better battery life, extra USB port... If, however, you also want a tablet and pen, I mean, the Surface Pro 3. Of course, the real interesting thing will be to see an "SP4" with Broadwell, or even a refresh of the SP3.

That exactly what I am looking forward to, a SP4 with Broadwell and Windows 10. Drool.

Hopefully not windows 10. I don't want to wait that long. And given Microsoft's previous nine month release cadence, we might be lucky enough to see one in the next couple months (remember SP3 only had a day of notice!) Posted via the Windows Central App for Android

wow thats a nice looking laptop

Edit...
1-is the ram upgradable.. Over 8 GB ..
2- Hard memory seems too low for me .. Upgradable also or not ?
3-Dedicated Graphics Card .. Nivida supports ?? Or just The Intel ??
am absolutely will buy one ! ;))

From what I've read, teh ram is soldered on and is not user upgradable. So, whatever configuration you buy is what you get. 8gb seems to be to highest available ram.

Looks nice but after Surface Pro (have had 2 and 3) there is no way I am going back to a laptop.

That's understandable, just imagine how awesome a new Surface could be with a similar display and Broadwell. Very exciting times.

After CES Surface Pro 4 makes me far more excited than it did earlier. I wasn't expecting such a big leap from Haswell to Broadwell. Considering how thin and light OEM laptops got, I can't wait for SP4 considering how thin and light Microsoft already went with the 3rd one. Not to mention that with a little bit of luck Surface Pro 4 will be the first Skylake device (if it releases late this year) and that might just be mind blowing. Also can't wait to see Apple's Macbook line for this year as I have a feeling (and a little bit of hope) that it'll be the first year non-Apple laptop will be the laptop to get. Dell XPS 13 2015 surely runs circles on any level around current Macbook Airs.

The only thing stopping me from embracing the Surface as a laptop replacement is the restrictive form factor. I prefer something I can actually use on my lap, on the go, with a nice sturdy hinge and good keyboard experience. The detachable keyboard + kickstand makes it an inadequate laptop replacement in my opinion. I'll wait till the Surface can behave something like the Lenovo Yoga 3 Pro, but with a Broadwell Intel chip (not Core M).

Then don't embrace it and don't request a change for worse. The significance of Surface is the kickstand. And it's far more flexible than what you describe. You can't really use Yoga as a tablet. It's a good laptop and presentation / tv on the go device.

I'm not suggesting that they turn the Surface into a Yoga laptop, I'm simply noting what I believe to be its one greatest deficiency. I have an original Surface, and it sees very limited use in my case because of this deficiency. I would argue that the Lenovo does do a better job at being both a laptop and a tablet than the Surface does. That being said, there are other solutions that could improve the Surface for people like me while still being just as much of a tablet as it currently is.

It sounds to me like you just don't want a Surface because what you need is a laptop so you should go for that device. Obviously it seems like the Surface is not for you. Those of us that like it enjoy it precisely because that is not a deficiency for us.

Since no one is getting this display until after September 2015, I don't think you will see it in any surface this year.

It's not like SP4 is coming earlier.

Indeed, that is exactly what I was thinking and the possibilities certainly have me excited! :D

He posted a great thickness photo comparison to the SP3. They are almost equal. Personally I like this form factor over a Tablet. Nothing beats an attached dedicated keyboard.

Is good but Surface is the King

Im so happy to se Dell make superior hardware again. So wish I had the money to buy this one.

Yeah, they're really doing a bang-up job lately. Seems to be trickling down to their more affordable lineup too.

On the topic of build quality Daniel, what do you think about the Lenovo X1 Carbon in comparison to the Dell XPS 13? I'm assuming you've gotten a little bit of hands on time with the Lenovo (at CES).

I just bought an ultrabook this summer and I love it, but seeing all this new hardware come out has me dreaming! Well, I guess that's just the fast turnover of tech.

I want one bad, but will wait for the touch version core i5

You can order it now, should be on shelves by the end of the month!

So much awesomeness. Gotta hardware refresh coming up at work. Heart was set on SP3, but this and the new X1 are pretty tempting... First world problems.

Daniel, you a straight savage bruhh

How many laptops do you go through? I remember you had an acer s7, xps 15, and probably others. Do you keep them around?

I still have a few. XPS 15 is a beast, not going anywhere. I need that sometimes for some events. S7 is still here but that's pretty old now. I sometimes give 'em to the staff here ;)

Love that display. Really like the carbon fiber look as well. Interesting about the trackpad.. Cool to hear that MS is taking over the touchpads for laptops now. The touchpad on my Yoga 2 Pro sucks pretty bad. It's too slick and doesn't respond well to taps and gestures as much as I try to adjust the settings. Thanks for the review!

I have a Surface Pro 3, but hot dayum do I want this. Looks stupendous! If only I could afford all the things.

Gotta do an ear to ear smile next time Daniel :)

That's as much as I can do, it hurts otherwise lol

I want one...Exactly the same as the one in review...

Nice I have been a fan of Dell for years... In fact my Dell Poweredge 700 Pentium 4 Server is still running fine and with Windows 7 to boot. It never crashes and keeps humming along.

Please keep track of actual battery life. I'm very anxious to see how the 1080p version will do.

It's a great machine, but an i7 is a no brainer for me, its essential

One thing that I really3 like about this XPS 13 is the design itself. Super sleek and beautiful.

Question: Is the RAM user accessible and upgradeable, or is it soldered on-board?

99% sure it's soldered on. This is a 13 inch laptop in an 11 inch body, no room on the inside, much like the Surface.

Thanks Daniel. The RAM on my wife's new Dell Inspiron 11 (11-inch 2-in-1) is user upgradable. Being the XPS line, it would be great if they offered a configuration with more RAM if it is not user accessible. I still think this new XPS 13 is a great and impressive ultrabook though.

Seems better than surface pro 3( i7 )

Umm, in my opinion both machines are targeting slitely different markets.

Nice video card is installed in this laptop

A Lenovo X220 with the internal 3 cell plus a rear 6 cell can get over 10 hours of battery life.

The X220 weighs 3 pounds WITHOUT the extended battery (.4 more than the Dell)! It also has a smaller/much lower res screen.
Anyone can strap extra batteries to a laptop to give it longevity. This Dell gives you longevity in a 2.2lb form factor. Impressive.

I was just responding to the comment. I agree the XPS 13 is impressive.

I like this laptop, but I'm not a fan of the carbon fiber look.

Daniel can you answer what is taking up so much space on the SSD? I see it mentions 128GB but only 88 usable. I know the OS takes up about 20GB give or take but what else is on there? cuz dayum lol

I'm going to guess it's a recovery partition. My x1 Carbon has a 15gb partition for recovery. The x1 has the ability to easily recover the 15gb for extra storage. The Dell may too.

Why is that dell hardly put NVIDIA graphics or any high graphic card in their systems...buh hp can..instead dell will use Intel HD graphics which Is NT too high in terms of dedicated graphics memory

By and large, the Ultrabook class does not have dedicated video.

That thing is soooo tempting, but I'm not a small guy and I don't think I could use something that small. I'd rather get my hands on an XPS with the 15" screen in a 13 or 14" form factor. (Im)patiently waiting...

Nice to se that's there's no light leakage on the screen. I had my SP3 replaced three times because of this problem. The fourth unit had no problems.

Want the i5 version. Not sure about touch. Once Windows 10 comes along I may not need the touch aspect so much and I rarely use metro apps on my Surface Pro 3.
Dan what would you prefer out of the two and for what reasons?
Thanks.

So with the camera at the bottom and the possibility of setting your hands, I should start wearing pants.

Daniel, this laptop is niceeeeeeee. I saw it at the M store and I am not normally partial to Dell computers but this machine is proper man. Enjoy! No touch enabled screen? why? Is it just cost thing? Or you trully trust that track pad?

I see it was showing the actual time remaining in the picture. To me that implies a normal sleep state as opposed to that connected standby stuff. I bought an upmarket SP3 as I wanted to run hyper V on it which disables connected standby and you can only get hibernate. Drives me crazy. Is it normal sleep or CS? MS if you read this please include the ability to disable CS and enable regular sleep in the next SP3 bios update.

Looks like a fantsatic laptop. Would love to get one sometime.

What can we expect in battery life from the qhd model?

Ok, but there is now way this will be the case in real usage. 8 hours would be great, but we'll see.

Nice looking machine. In your video, the logo area on the bottom of the machine appears to be an access point given the shape and what looks like a fingertip notch. If it is, what does it access?

It will be serial number/service tag.

I really like what's happening with several of the Window's OEMs, they are creating some magnificent devices and the Dell XPS 13 is gorgeous. My only concern with owning one is picking it up by the screen.I know you are not to do this, but I often move my ultrabook from one room to the other with my thumb and fingers in a "pinching action" around the bezel that surrounds the screen.

Please stop doing this! Just close the lid. You can make it so closing the lid does nothing, or it can go to sleep. Sleep to full power is what, 1 second long.

Is the RAM user-upgradable?

If you know how to solder, maybe. In other words, no.

Why don't they ever offer the i3 or i5 models with larger storage capacity? I can't be the only one willing to pay more for it, but doesn't want to pay for the i7 or better screen. There's a real void in this area in ultrabooks. I've seen enough people who have gotten the Surface Pro 3 with i5 and 256 GB to think it would be a good seller. Just offer it already, 128 GB isn't enough for a lot of people, especially when it's really only 88 GB.

A thousand times this, while I'd love to get an i7, storage is much more valuable to me. Higher storage options on the less powerful machines would be great.

Dell needs to make a flagship Windows Phone

How handy is the 2.6lbs laptop? On its size, looks light too me.

How is the front camera for video? Asking for a sign language Skype user (blurry motion camera like on most non-Mac laptops isn't great for sign language).

I'll see about doing a test for a later write up.

I started using Windows 8 beta on my Dell Studio 17 (naturally non-touch) and I can honestly say that it's not that big of a deal. I do find it a LOT easier to navigate with an external mouse rather than the mouse pad. Since, I've owned the Surface Pro 1 but changed it for a Dell Inspiron 11 2 in 1 and added an SSD and I am beyond pleased. Literally the same thinkness as the Surface Pro 1 and about half an inch more all around. I now have 240 gigs memory with all sort of viewing angles (main reason for the switch. Kickstand for one position wasn't ideal). All for 440$ with tax. Dell certainly has come a long way. I know the screen in mine won't compare to the XPS 13 but I am beyond thrilled with my device.

Great write up.....im not a touch screen fan,and thinking about buying this.....been on the fence with the SP3

Daniel, man you must do some major things on your SP3. I'm an IT manager; I do alot of Excel spreadsheets (budgeting) internet surfing here on windows central and various other tech sites, remote desktop sessions, YouTube, and occasionally some : ) "free movie box" towards the end of the day. I get all day use on battery power using my SP3.

Dell has come a long way.... not quite there, though. I'd probably opt for a Surface Pro 3 though.

Why would you buy this rather than a SP3

Well a solid keyboard is 1 thing I guess. Laptops are more suitable for lap usage and maybe more connectors

This 13" laptop is, for all intents and purposes, the SAME SIZE as a 11" MacBook Air. That is amazing!

Wow 73.07 Mbps... If someone in Serbia has 5-8 Mbps internet speed we call that super fast lol.

I'm not in Serbia but in my country people would say the same.

Sta lupas jebo te? Osim ako ne zivis u nekoj teskoj selendri, mozes lagano da imas brzine od po 5 megajbata u sec(ne megabita). Upravo ja imam toliko.

Čudi me što se zoveš Zajebant a ne znaš prepoznati šalu? Živio ti meni ;)

Jeste, jeste, sad je sala...

trying to return the 13 i just got in for one of my sales reps. This new one is insanely nice.

Looken good dan. Nice camera.

No it's not. Frankly it's got a heavy, budget feel to it. I'll pass.

If I still bought old fashioned laptops with fans and no tablet functionality this would be exciting. This would have been amazing 4 years ago.

I got to see this, this afternoon at the Microsoft store in Paramus. Wow what a great machine. Literally all That I need in a great package. Now if I had the scratch it would be mine. Currently on a 5+ yr old sandbridge i3 toshiba laptop. I want to upgrade.

i5 8GB ram 256GB sad would B ideal for me

Yep same here. Wish that configuration were available WITHOUT the touchscreen from Microsoft directly. As of right now, have to configure it on Dell's website to get that configuration, and then you have to deal with all the bloatware...

Hey guys, there is the first look INSIDE the xps13. Looks like there is no possible ram update: https://www.youtube.com/watch?v=oFXi4HmglZY

The 899$ version is fantastic
If the screen doesn't flip to be as a tablet mode , like the yoga pro 3 Then it shouldn't be touch

I haven't been this excited about notebooks since the first generation of ultrabooks. And unlike that year, I don't think I'll be horribly disappointed. I've been hanging onto my Toshiba notebook way longer than I wanted to but it surely seems worth the wait now. 2015 is going to be awesome.

Hmm...battery is built in, not user replaceable. So what happens after 18-24 months of normal usage and the battery loses juice? Is this a disposable $1000 device?

The battery will be replaceable, it'll just need the removal of a number of screws and a bit of fiddling.

Re: batteries, unfortunately in the race to be thin/light, this is the tradeoff. However, I imagine like the Surface, you could send it in to have the battery replaced.

Daniel, Have you pinched your finger yet when you open the laptop all the way? When I was at the store and opened the screen with my thumbs and fingers on the back corners it got me pretty bad.

I thought you were joking but then I read the whole comment.

No joke.. Its just how I open/adjust my screen now so I did the same thing at the store. Not a big deal, but holy crap it pinched me pretty bad. I will not make that mistake again.

A dude in school regrets getting a touch screen Asus laptop because his classmates kept touching the screen on purpose while he's doing his work. He's condemned touch screen laptop for life now..
Anyway, the new XPS series looks darn good! Looking forward to see what the next generation Surface has to offer.

His classmates are definitely not his friends.

Surely he can turn that option off?

Does it not require a registry hack? In any case, he is too much of a tech noob to save himself :')

His so call friend is just another jealous iSHEEP, that does NOT have touch screen on his Overrated, Hype-up, overpriced , want to be PC.......MacCrap. Pretty much everything you can do on touch screen, can be done on the touchpad as well. Most people have no idea you can use 2 to 3 fingers on touch pad. you can drag your fingers from outside to inside, pinch to zoom, scroll up and down with 2 fingers and so on. why would this guy touch his screen, when he is doing his work in 1st place? in addition, you can turn off touchscreen feature, very easily. Also, """everything""" you can do with Touch, you can ALSO do it with a Mouse. I have been using a MS mouse since Win8 came out, and i can challenge anyone, that BooooHooos about Win8/8.1 is not mouse friendly, how fast i can get to anything(much faster than Win7 or any other OS out there). in many cases that would take 2 or 3 clicks, Win8/8.1 takes 1 click. Not to mention many many many shortcuts win8/8.1 offers.

Daniel when you write the articles like "'My' new Dell XPS 13". It's like your trying to make us jealous.

I can see how that could happen lol

Very well written, looking forward to another article. :)

Would look better without the sticker on the palm rest...

Does it come with a dedicated graphics option?

No, many Ultrabooks do not.

I want a 1800P high res screen but i hate glossy.A non touch anti-gloosy 1800P screen would be perfect.Dell should really consider that.Compare to Lenovo,all 3 new thinkpad X1 carbon optinal screens(1080P,Non touch1440P,Touch 1440P) are all anti-glossy.

Matte display on the non-touch? HELL YEAH! I don't care what anyone says, or how good a screen claims to be, nothing beats matte screens in sunlight, they just don't and it's awesome that companies are still catering to this market as well. So massive kudos to Dell.

+1 The matte display alone is making me wish I had this!

Intel HD 5500? Seing it's above (in numbers) Iris Pro 5300, is it better or comparable to Iris Pro, or simply just denoting the Broadwell architecture? How well does the graphics perform?

Uhh. The display is not curved...

Why intel keeps putting its stickers on the face of the laptops? I don't want such a sticker on my pc, i hope removing it doesn't leave any marks or something.

Agreed. Make it highly and messy..... The PC way....

Compared to my MacBook it looks ugly. Sad.

yeah agree.. the MacBook looks ugly

another iSHEEP commenting on overrated MacCrap that does not even come close to this masterpiece. MacCrap lacks TONS of features and looks like a tin can. i would NOT take ANY Overrated, Hype-Up- total Crap, CrApple products even if they were free. I wonder how long before CrApple copies this Laptop and fool iSHEEP with it, and tell them they were 1st??????? BTW, this Dell and many other brands have """""4K""", 2 in 1, and laptop PC's for over a year now. Does MacCrap-book has 4K,TOUCH-screen??????????? NOOOOOOOOOOOOOOOOOOOOOOOOOOOOOO

Nice test drive review. I am going to either get this machine or the Surface Pro 4 when Windows 10 is released this fall.

You're right that is a bizarre place to put a camera, nearer the "middle" would have made more sense.

I actually played with it at 2015 CES and i can tell you, you would not notice its in the corner. it works great. several ppl were at the show were wondering the same, and once i turned it on. They were WOWed. at 1st they could not even notice where the camera was. They had to move their hand to find it. its an AWESOME state of the art machine.

Definitelly one of these xps models will be my choice for 2015 :-)

It works fine on 1080p 60fps videos of YouTube?

I was so looking forward to the XPS 15 getting a revamp with the same bezel-less design,4K screen is nice,but somewhat disappointed

Many of us were also disappointed by that as well.

There was a bore day, no Denim maybe it's features coming with Windows 10 for Lumia 1520 and its younger brothers too....enjoy weekend @Daniel Rubino....

Drool. Want. Jealous. ...and, you're getting an i7 variant of this as well... Oh. my. Lord. Sweet job you've got, Daniel. You deserve it.

It does have its perks sometimes ;)

The hardest thing for me is I really like the Lenovo keyboards better than any other.

i wonder how long before CrApple(Crap+Apple=CrApple), COPIES this awesome Dell's Infinity laptop(1st in the world, that took Dell and Sharp 2 years to complete), and tell iSHEEP of the world they were 1st. that's all CrApple does, copies others and then Fool, Mislead, Pretends, Lies,...........they were 1st, by bunch of BS lawsuits, paying off media so they ONLY talk about them, like no other brands or devices exists. Did your local news even mentioned this laptop nonstop??????????? Have you seen anything on TV about this laptop or any other brand???? I can assure you, If this was CrApple's laptop/device, OMGosh, my TV would blow-up, mentioning and hyping it up on EVERY SINGLE channel, over and over ,.......again , and again. CrApple does NOT have a smart watch yet, but they are already constantly talking about it, like they are the 1st comp to have a smart watch on this planet(Sony had it for past 5 years, but not 1 news has mentioned it). CrApple hype has already started, just think when they actually have it for sale. I'm so sick and tired of this PURE EVIL, Greedy, Most overrated comp, with garbage products, i can vomit. Mark my words, CrApple will COPY this Dell infinity screen XPS, and will take the glory again from Windows products. You'll see. they might even sue Dell, to brainwash iSHEEP, that CrApple was 1st. (just another brainwashing technique CrApple does, like when they stole the entire iJUNK phn design from Sony, but yet sue Samsung, like they were the one that came-up with that design, and Samsung copied from them hahahah what a joke, and iSHEEP believed it, just look at the iJUNK 6 and Sony Xperia Z3, notice anything? another COPY from CrApple, like everything else they have).

You need a chill pill man


I would want it but I like the i5 but I hate touchscreen. You were close to me Dell. So close but no dice

You don't have to get the touchscreen...

I'm thinking I might make this my next laptop. My Vaio is approaching 6 years of use and it's showing it's age.

Dell offers customizable versions on their website, can go with i5, 256Gb, 8Gb. Awfully tempting.

I tried it out at the Microsoft store today. Okay. I don't particularly care for the matte screen versus the one you get on Surface Pro 3 which is amazing. It's fast and responsive but to be frank, this is where Wintel laptops should have been 3 years ago.

Looked at one today...the screen looked...fuzzy on all scaling settings. Didn't wow me enough to sell my SP3 for it.

Same here. I looked at one at the MSFT store last night and didn't like the display. It was too dim, at least in the brightly lit store, and the viewing angles were weird. The screen on the Acer R7-13 next to it was glossy but with much richer color (and that machine was $699) and better viewing angle. Hopefully, the glossy screen on the Dell will be better because I liked the form factor.

I agree. It did look dim, but all of their laptops did as well. Guess it's the blasting bright florescent light? They should do something about that because I was tap tap tapping the increase brightness button, then went "meh." Not a good setting to showcase screens, IMO. I just couldn't get past the lack of sharpness, even for a 1080p screen. It was fuzzy, for sure. Guess my SP3 has a new lease on life. I prefer a real laptop (for, well, the lap) but the SP3 will do for now.

'cause touch screen is not a must have...

One thing i like about the SP3 compaired to most laptops(This one included) is the cooling is on the sides not under the tablet-Laptop. My son has come close to cooking his Mac book pro a few times because he leaves it sitting on the bed, where there is no such problem with the SP3. Posted via Windows Phone Central App

Daniel, Anyway you can test fit this in the Waterfiled Outback Sleeve for the SP3? I know I know, they have a sleeve specifically for the Dell XPS 13, but the velcro strap to close it is a dealbreaker for me. Thanks!

Story needs an update. The price jumped to $999.

Hi, I'm a WEB developper and I always work on a 15'' laptop. But this XPS 13 seems to be so amazing and I have to replace my 3 years old laptop. Is it confortable to work all day long with this laptop? I work essentially with Visual studio, Chrome, ie. Thanks for this article and your advices. Julien

I have to ask, will they be updating the XPS 15 with these specs anytime soon? The XPS's screen size is the only thing holding me back from picking one up! I'm in the market for bigger screen space to edit photos since I'm big in to phtoography.

My experience with my new Dell is so fr off from the one the writer had that I am left wondering if this was a paid advertisment or not. Could have got a lemon but it is so buggy I am taking it back and not buying another.

My experience with my new Dell is so different from the writers that I am left wondering did I get a lemon or is this a paid advertisment ?

My wife has had hers for several months now (i5, touch screen) and I've been drooling over it ever since she got it. Some rought spots at first with resolution issues, but nothing a little bit of googling couldn't fix. I'm debating whether I should get this (non-touch - I love matte screens) or wait and see what MS does with the Surface 4. Good article, though - thanks!

As much as i like touch screens, in a business environment where glossy screens are a pain (literally in some cases) the matte is a blessing and coupled with non touch is great. I will be getting the XPS15 Matte 1tb 16gb for everyone in the office. I love the surface tablets and will have a few SP4 for client meetings offsite. I want to drive 3 additional dislpays using the XPS15, any tips, Dell also sell tiny bezel screens which are a perfect match, I guess displyport is the way to go? A while back i heard of displayport issues, does it work well now?

I have the skylake xps13 16gb, QHD, 1tb, i7 etc. I would seriously advice not getting the QHD touch. It plays very badly with Windows 10 and eats the battery life. I get about 5.5 hours of low impact use. After a while you stop wanting the touch and any accidental touch messes up your use of the machine. Do yourself a favour...

Amis vous pouvez maintenant mettre à niveau pour gagner 10 gratuitement si votre système est gagner 7 ou gagner 8. Si les gars qui ont ni gagner 7 ni gagner 8, vous pouvez également mettre à niveau pour gagner 10 en visitant: http://www.instructables.com/id/ClA9-De-Produit-Windows. Là, vous pouvez obtenir une véritable victoire 10 clé de produit pour activer les fenêtres 10 à un prix pas cher.

Just picked up the 13 inch 16GB with 512 SSD iris graphics and touch screen. its running so hot even when closed ad just charginf its heating up to the point that the keys on the keayboard feel hot. Also the fan is real loud for a laptop. my old i3 ASUS 11 inch is super quiet compared to this. I will watch it for a week and most likely return this to BBY and order an ASUS or Lenovo. Disappointed with heat and noise. Performance is great and the screen with thin bezel is just fantastic.
Windows Central Newsletter
Thank you for signing up to Windows Central. You will receive a verification email shortly.
There was a problem. Please refresh the page and try again.