Thinnest Ultrabook in the world! Our Lenovo Yoga 3 Pro unboxing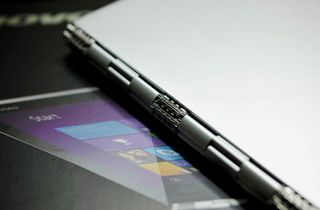 On October 9, 2014, Lenovo announced a series of new computing devices in London. Perhaps the most interesting one was the ultrathin Ultrabook the Yoga 3 Pro. Weighing in at just 2.6 pounds and 12.8 mm thin, it sure looked like a drool worth laptop for 2014.
Notwithstanding the $1,349 premium price tag, the Yoga 3 Pro is ushering in a new era of super-thin laptops due to its new 'watchband' hinge and Intel Core M Broadwell processor. Our 256 GB version in Sliver just showed up two-weeks ahead of initial estimates. So, without further ado, here is our unboxing and quick tour.
Yoga 3 Pro specifications
Processor Intel® Core™ M-70 processor
Operating System Windows 8.1
Display/Resolution 13.3" QHD+ (3200 x 1800) touchscreen; Intel integrated graphics
Color Clementine Orange, Platinum Silver and Champagne Gold
Memory Up to 8GB LPDDR3L Storage 256GB or 512GB SSD
Sound Integrated JBL® stereo speakers with Waves Audio certification
Integrated Comms 2 x USB 3.0, 1 x DC-in with USB 2.0 function,4-in-1 card reader (SD, MMC, SDXC, SDHC), Micro-HDMI out, Audio Combo Jack
Connectivity Bluetooth® 4.01, 802.11 A/C WiFi
Camera 720p webcam
Battery Up to 9 hours
Weight 1.19 kg (2.62 lbs)
Dimensions 13in x 9in x 0.5in (330 mm x 228 mm x 12.8 mm)
Normally, we would do a full write up on initial impressions, but we are going to save that for tomorrow. For one, it is getting late around here and even we need sleep. The other issue is there are many things going on with this laptop in terms of design, features, technology, and custom software. As such, we want to kick back and spend some time using the Yoga 3 Pro without committing ourselves to knee-jerk reactions.
Perhaps the biggest surprise, which is revealed in the video, is that the Yoga 3 Pro does have a fan after all. It is admittedly the quietest fan we have ever heard, similar to the Surface Pro 3's and there are no visible vents. However, when doing intensive tasks, you can hear something kick in to push some air around on the inside.
Other than that, the build quality looks to be top notch and the display is white as snow, with no yellow tints that many Lenovo owners have complained about in the past.
Check out the 15-minute video, sound off in comments, and tune back tomorrow for our more in-depth look at the amazing device!
Windows Central Newsletter
Get the best of Windows Central in your inbox, every day!
Daniel Rubino is the Editor-in-chief of Windows Central, head reviewer, podcast co-host, and analyst. He has been covering Microsoft since 2007 when this site was called WMExperts (and later Windows Phone Central). His interests include Windows, laptops, next-gen computing, and for some reason, watches. Before all this tech stuff, he worked on a Ph.D. in linguistics, watched people sleep (for medical purposes!), and ran the projectors at movie theaters because it was fun.
Wow. That thing is pretty slick. Love the hinge.

Not slimmest tho.. Asus' ux305 is 12.3mm

That laptop isn't going to even be out until 2015.. Currently the Lenovo Yoga 3 Pro is the thinnest laptop on the market that is for sale. Not to mention, the extra .4mm thickness is worth being able to flip the device a whole 360 degrees.

I don't really care about Lenovo stuff as I don't trust their quality. But I really liked the new intro animation.

Hah, fair enough. You can thank Derek Kessler for the amazing work.

Well, props to Derek then! By the way...how often did you have to think "It's Windows Central! It's Windows Central!" before you said it? ;P

Hahaha, I thought the same! Thought "and 'thats' the moment where he's going to mention the old name. :-P

BTW Macafee really affects the performance uninstalling it is the only fair way to assess the performance of that PC.

In reply regarding the power button on the side. It needs to be placed well for tablet mode too. :)

Yo, in the video you say three colours Silver, Clementine Orange and Black. No Black I wish black but unfortunately no black!!!! Champagne instead ugh! But I see the written article says Champaigne so there is a saving grace there haha. Have to settle for Orange I spose, but I'd like to see an Orange in the flesh, they only have Silver in stock here just like you mention there.

I have a Lenovo machine, and its nothing to not trust.. As a matter of fact Lenovo was rated #2 only behind Apple's MacBooks...
........
Why don't you trust their quality?

I don't generaly trust Popular Chinese* OEMs. And Lenovo has given no proof of quality around me whatsoever. When it comes to these expensive toys, I never write blank checks to any hardware manufacturer. I either am given something to test or I'll need opinions from trusted friends who tested/own stuff. And when things come from a country known for its lack of social, economic and humanitarian morals like China, and that's also known for the massive production of inferior but cheap products...well...it's even harder to trust. It's a biass? Yes, it is. And I have no problem admitting it. Can it change? Sure. Will I do anything to change the perception I have? No. That's Lenovo's job. They can start with Motorola. (*I said "Popular Chinese" to make the different between stuff from the People's Republic of China like Lenovo; and stuff from the Republic of China aka Taiwan like Asus whom I definitely like and trust)

Lenovos are very very sturdy, I have an 8 year old lenovo that had windows XP > Vista > 7 > 8 with only a measly 100+gb hard drive, Centrino Inside, 1GB RAM. It's still alive and kicking and barely lags when my mum uses it to browse the web. The only thing that spoiled was the power brick which I had to search high and low for a new one. Asus are sturdy too, but Lenovos are on another league.

Yeah, mine is great.. It's just a G580 with 4gb of ram, and a 2.8GHz i5, but it's very well built, and esthetically designed right.

That's a honest, understandable, awnswer.

it is not. He just says that he has no clue about anything to do with Lenovo and therefore it is not a good quality. He clearly never used a lenovo device and most certainly not the business lines from it.

In case you don't know how to read or can't understand English, there's a difference between saying they're not good quality and saying that I don't TRUST them to give them a try by wasting my own money. I don't judge their quality but I don't trust Lenovo to write them a blank check just to "try it out".

hmm.. dont trust lenovo, but trust the crappy brand known as asus...

Asus, crappy brand? What?

i quit buying them a year ago after it seemed like every motherboard i got from them was either doa or died a mere couple months after having them. so in my eyes asus = shit brand

True that, I've never had fun with Asus

You must be joking...all my PCs have been powered by Asus and I haven't had a single problem with any of them. Neither with their laptops (although I admit, I haven't owned many as I'm not a fan of laptops at all).

My wife has a 5-year old Lenovo, and I have the Yoga 2 Pro. Both are amazingly solid. Hence why I decided to purchase the X1 Carbon Touch for myself and team at work. They have been quite flaky. Ironically, I really like what Lenovo is doing in the consumer space but haven't had the same experience in the business space, unfortunately. I trust that this Yoga will be solid.

Well it wouldn't be a blank check. It has a set price.

Guess he would live the signature blank :)

I am sure you are aware that these companies based on Taiwan island (eg: Hon Hai Precision Industry "Foxconn", Acer, Pegatron...) most often than not have factories in continental China (following "national standards", not "unicorn worth" working conditions or anything). How do you factor that? What brand can you trust? I don't think there is any consumer electronics brand without at good part of its production made in continental China. Is there?

There's a difference between being produced in China under the supervision of foreign companies and being produced in China by Chinese companies. I have no problem with the things being produced in China when I know that the companies aren't Chinese and do care about quality control.

And when things come from a country known for its lack of social, economic and humanitarian morals like China, and that's also known for the massive production of inferior but cheap products...well...it's even harder to trust. Apple made in china Nike made in china Samsung made in china Sony made in china Puma made in china ... just look around you, everything is from china because of the low prices (workers get only 50 cents/hour). If you dont like it throw away everything... :)

Yes everything made in Asian countries........Lenovo or otherwise. No escaping it.

Se my reply above for further clarification ;)

Wow. You are a piece of work. Lenovo's are known for superior quality. I butcher my ThinkPad and it still serves me well.

But most Apple product are also assembled in the same country that Lenovo is.

We've deployed thousands of Lenovo laptops over the years with very few issues. Support has been great when needed, they perform well, and they have been the easiest to reprovision with our own custom images/OS deployments. We don't buy any of the consumer line laptops though - only things specifically intended for "pro" or "business". We've found there are real world differences. As to this particular Lenovo: I'm really interested in getting some real world reporting on battery life.

Apple is better than all these wannabe laptop makers

I do warranty repair on them. Build quality is not good. Too many plastic latches, too floppy and creaky. Sticky buttons and weird power issues. Often come unactivated. Very little help for odd issues and they scrub their forums of any indication that something is going wrong. Their Rapid Boot software had an issue with a Windows 7 update since march and was rendering systems unbootable with no known workaround since March. Lenovo finally identified the issue (after countless man hours fixing our customers computers for free) and told us to remove Rapid Boot (which apparently caches driver files) but that it was Microsofts fault. Not the worst products (not the best by a huge margin though), but truly some terrible support.

All you do on here is troll, seriously.

Sorry if I'm not a brainless commenter whose only contribution is "hail this" and "hail that". But then again, you should stop trying to level the World by your standards ;)

Muhaha... Lenovo's and HP's are the best there is, that is when you look at their top of the line business ranges. Cant get better than that. Of course they both have the plastic el cheapo ranges also, but you get what you pay for.

I agree. The new ''live tile'' - styled animation is awesooomee!! However I think Lenovo's products are top notch in terms of quality. I have the Yoga Pro 2 (what a machine) and my gf has a humble G-500. We are both super satisfied!

Fan... Hmm I wonder why this was realized now...nd when we'd actually get fan less hybrids...

Yey. Daniel can you also post a detailed review on yoga tablet 2?

Still love my Yoga Pro 2 and would recommend it to anyone looking a good convertible

I'm still waiting for that amazing detachable 2 in 1...

The screws look like torx screws

ThinkPad yoga 14? I need to prove that it's not that heavy!

I have an i7, 256hdd, 8gb ram yoga2pro. Do the yoga3 have i7 CPUs

Nope, they have switched to Core M. Different beast (follow the link in the article about Core M for a summary of it).

So which one of the M core processors is equivalent to an i7?

Which i7? ;) There are different generations and variants.

Okay but even at that which Model? lol Y series? U series? Either way the Core M is really a Y series Core i5 from the broadwell architecture. So to burst your bubble lol no there is no Core M that is equivalent to any i7. Of course that can change and im sure it will by summer 2015 :)

Can you make comparison photos with yoga 2 pro ? Please :)

How does the m processor stack up against the i5 or even the i7. Cause for that price, I would rather pick up a surface pro 3.

I too am wondering! I've been checking some initial benchmarks by some others, and Core M seems to sit somewhere in between Atom and i5. Even i3 outperformed Core M in some things in the tests. Yoga Pro 3 is so dang nice, but I really need something a tiny bit smaller and more powerful for Photoshop and Premiere Pro on-the-go.

I would STRONGLY suggest to wait until Spring 2015 when the Core i5 U series from broadwell starts to ship :) These Core M's are like a Core i5 but the Y series. For comparison the Surface Pro 3 Core i5 model uses a 4th gen Haswell U series CPU the "Core i5-4300U". Now imagine that beast with a 5th gen Broadwell U series CPU... trust me you are gonna want to wait until Spring :)

Interesting, but it's always a wait then a wait then a wait for the next thing that you end up never getting hahaha Also, it's comparing Apples with Bananas because the Broadwell-U series are 15watt TDP not the 4.5 watt that the Core-M is. So Broadwell-U devices will need bigger batteries etc to maintain similar battery life. So if you want a thin ultrabook then Core-M is what you will be getting even in the new i5 exists. http://wccftech.com/intel-launching-17-broadwell-u-14nm-processors-ces-2...

"but I really need something a tiny bit smaller and more powerful for Photoshop and Premiere Pro on-the-go." Well one needs to evaluate the bottlenecks. The CPU may not be the major issue, you may find that not having a dedicated GPU will be more of an issue than the CPU for Photoshop/Premiere stuff etc.

Heavily considering getting this thang to replace my more bulky Lenovo Y510p. Excited for your full review tomorrow! Thanks for reviewing it!

I love how thin and lite it is,but for that I rather a Surface Pro 3 which is a better tablet with a very good removable keyboard. I'll just wait till next year to get it for $249-$350.

And that's why Lenovo is the leader in the computer market. I used to be an avid HP fan, but then along came Lenovo. Still love my Y500 w/SLI (which I've overclocked) from yesteryear.

Pavilion dv-x-x is where HP went down a very steep slope. Great build quality, loved the gloss imprints.. Think the defective rates on those models were high. I personally owned one that failed, had a friend that worked in a repair store. 9/10 notebooks that he received were Pavilions. Their printers detect when you fill ink cartridges, and give fake errors to make you buy new ones. So much fail, could go on all day. Lenovo is alright ;)

Well, my experience with HP was 100/100, so I can't say I know what you're talking about. I've had a desktop HP, a HP Compaq laptop and two pure HP laptops (dv 6000 series and Envy 14). They were wonderful machines, but they didn't evolve with what Lenovo had to offer, hence my shift. I wanted a reasonably priced gaming laptop, HP couldn't do that.

Cool first look at this. I have a Yoga 2 Pro that I'm installing Windows 10 preview on right now. I'd like to hear your thoughts of the Yoga 3 Pro vs Surface Pro 3. I have similar complaints about the keyboard on the yoga series laptops. That could have been a huge selling point over the Surface Pro 3 if they nailed the clamshell laptop experience.. But b/c of the keyboard and trackpad on my yoga 2 pro, I still find myself wanting more from my laptop! Oh and not to mention the screen flickering issue that a bunch of yoga 2 pros have. I hope they fixed those issues with this new model!

Daniel, please do a benchmark and compare to the Yoga 2 Pro if/when you do a full review! I'm really tempted to replace my i5 Yoga 2 Pro with this one!

Daniel's response to the Google Play card was hilarious.

i LOVE the tactile feel of the rubber-ish keyboard surface, but I am worried that new hinge design is wayyyyyyy too complicated, prone to getting jammed with dirt and gunk, and just not as attractive as the Y2P hinge. Just my opinion.

I'm actually glad it has a fan in it. Fan-less laptops sound awesome, but I worry that after a couple of years they would become less efficient and with nothing to cool it, would often just turn off. This is probably unfounded as I'm sure that it's the cooling systems themselves which wear the most over time which cause older laptops to run hotter and louder, but I wonder if it's worth holding off on the first generation of Core M CPUs to make sure.

"Fan-less laptops sound awesome, but I worry that after a couple of years they would become less efficient and with nothing to cool it, would often just turn off" Errrrrm.......You know what one of the most common things are that cause a PC to overheat and turn off? Dust that has been sucked into the heatsink by fans and the dust stops the heat radiating off the heatsink and it returns onto the CPU.....So many times I've had to open peoples PCs and get the vacuum and suck out copious quantities of dust. Not having a fan will eliminate exactly the problem you are worried about. There is no reason for the CPU to work hotter and hotter over time. As for the holding off of the core M gen 1.......nah......if they are faulty you can just invoke your consumer rights anyway.....but remember Intel isn't Microsoft and they've been making CPUs for a loooooooong time now :)

Daniel, Can you do an image retention test on the Yoga 3? The Yoga 2 suffered from terrible image sticking. Basically, all you need to do is put up a static image on screen for about 10 minutes and then fill the screen with a solid color (grey seems to work best). If you can see the image, then this laptop is worthless no matter how good the form factor is.

Your eyes would see the image if you did this while staring at the screen for TEN MINUTES! are your eyes worthless?

He seems to have a valid question. Think about the task bar permanently being etched into the screen? And countless other things (file menu, ribbon, etc etc)...

Hahahahahahahahaha!!!!! Interesting tho, should be worth testing if it is a genuine flaw of the 2 I think this chappie is well right to see if it has been resolved in the next model!

I have a Yoga 2 Pro and I love it! This one I will pass for two reasons: #1 - As a Software Developer I need a Core i7 version of the laptop. Lenovo shouldn't call it a Pro without a CPU for the workforce. #2 - Where is the F1-12 keys? Lenovo removed an entire row of keys... Is this really a Pro? Daniel thats the reason the delete keys is in such an ackward place. Hope this is not the only model they built of the Yoga 3 Pro.

I'm a Developer........I don't need i7. I had the Surface Pro 2 i5 no worries. Why do you need i7? Typing text into an IDE is hardly resource intensive......sure compiling etc but it's not enough to say I need an i7.......Yea you have the Emulator which I am wondering how the Core-M goes with it, but it's usually memory that is the issue for the emulators as the vPro stuff on the latest intel chips makes light work of the rest. The F1 - Fx keys are on the top row (See the red secondary text on the keys), you hold a Fn key (Or something similar I imagine) and tap the key with the red Fx that you want. Not hard and certainly nothing to freak out about.

I am not a web/app developer only. I had a Surface 2 Core i5 and didnt cut it for me. I can't stand the Surface's keyboard and keys. Hope MS build one with an actual keyboard where the kickstand is not needed for lapability and the extra thickness adds to the battery life. I had a Dell i5 with SSD, not enough for what I do... A Dell XPS15 i7 did the job, moved to Yoga2 Pro i7 and I am rocking it. Not changing to Y3 Pro, until at least the i7 pops up. I see what you are saying about the keys, but I dont like to be pressing Fn+Fx everytime I compile or debug. Its a matter of prefence... this I may give it a try, but not until the i7

Yea I know what you mean about the keyboard for the Surface Pro 2, which is why I got rid of mine. Unless you were sitting at a table it was just utter useless for doing any kind of solid work. I really struggle to see what you could be doing that is causing an i5 to struggle? Like if you were rendering 3D models or something for a game but usual development......how do you think people when when it was all 1 Ghz pentiums?

I did have a Dell X1 with Pentium ULV and passive cooling. Well, working on laptop without cooling fan is really great :)

Good luck finding a non glossy capacitive touch screen.........get used to it buddy as touch screens become more and more prevalent you are going to get nothing but!

Where does the need for a lenovo review come from? There must be a new Windows notebook being released daily. I have been on wpc for a while now but why now a review on a notebook for the first time? And why Lenovo? I'm trying to understand the bigger idea behind this.

It's now "Windows Central" so guess all new Windows Hardware is game for review. I actually like seeing tonnes of new content but that's probably because I use the WPC (WC) App, I can imagine scrolling through pages of web stories could be a nightmare.

It's because it is: a) The thinnest ultrabook available b) The first to the market using the Core-m processor So this is why the need for the Lenovo review.

Don't hurt your head too much. Welcome to Windows Central where you can filter the site by Windows, Windows Phone, Xbox....

Find it hilarious how some people are worried about privacy with Lenovo, yet use Facebook, Gmail, Amazon, Instagram, 6Tag etc on a daily basis. As a Brit, I trust a Chinese hardware manufacturer like Lenovo 100x more than I trust what American companies like Google or Facebook do with my personal data. China may be secretive, but they don't sell my data to advertisers or for mental experiments in San Francisco. Yes - I trust China more than the USA. Speaking of Hardware, I never judge two machines even from the same company brand. I've only ever heard how Dell are rubbish, yet my old cheap Dell desktop I got in 2003 still works today and has never been hardware upgraded or failed once. My parents/sister still use it several times per day.

No USB 3.1 Type C? Come on, Lenovo.

What would you plug into it........does anything even come with a 3.1 spec connector yet? The timing would be wrong to do that. The accessories will have to come with the new connector for a while and people will need to use adapters into full blown USB ports until such time as there are enough accessories to warrant making away with the full USB port.

I thought USB 3.0 is marked with a blue color?

Not always but often. "SS" which is short for Super Speed is the designator that you see on the not blue USB 3 ports like this one.

If a particular brand of phone is not selling in UAE, means something is missing in it, Lumia team wakeup. Take a survey in UAE to seed what people wants

Not sure what a Lenovo laptop has to do with Lumia phones? Anyway Lumia/Microsoft are not chasing the UAE premium market. Why bother trying to compete with brand craving markets (iPhone 6, Galaxy Note, Alpha) when there are much bigger less riskier emerging markets such as India, South America etc. Though it would be fun to see a Gold Lumia.

Shoot out between this and the Surface Pro 3!!! Bench marks and real 0 to go load time comparrisons please :) Awesome if you could use the WP SDK Emulator to measure Hyper-V performance as well, see disprepancies in load time of the emulator is something I'm interested in with the lower clocked core m. Pretty please :D

Man this laptop is so sick! But I already have a Yoga Pro 2 and really happy with it. First time I bought an expensive product from them and now I understand why they're so popular.

Is it pentile like the 2 Pro or standard RGB? I have the 2 Pro and can't stand the screen because Pentile sucks.

Not a good start for core-m i guess .. http://ultrabooknews.com/2014/10/16/lenovo-yoga-3-pro-core-m-performance-tests-reveal-throttling-fan-noise/ But then again, its all relative..that's more than enough "speed" for me, i just need an LTE option

I'm hoping this will show up in stores soon. I really want to buy it, but want to check it out in person first. Looks awesome though.

The hinge is beautiful. But I remember dust turns to stain and stick between the little spaces of my old watch's band.

Great review Daniel. It'll be a great tablet for someone who can manage the development costs for this thing. I was struck by the speed at which the ModernUI app opened. I expected it to be much quicker but it wasn't a lot faster than what I can get from my Surface RT. Maybe after removing McAfee I could see the performance bump I expect from a high dollar hybrid. Overall, I like Lenovo and I like the Yoga. For surfing and writing, this would make the grade easily. What I could do without is the entry fee to ownership. Maybe after they sell enough to recover that, the price will get to the 800 dollar price range I think its worth.