Lenovo silently reduces rated battery for the Yoga 3 Pro, lowers its price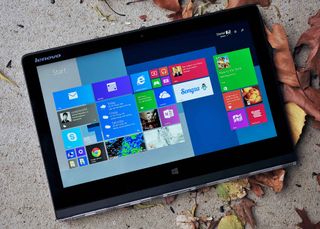 Earlier in October, Lenovo wowed the tech media, including us, with their new Yoga 3 Pro ultralight Ultrabook. Coming in at just 2.6 pounds and being as thin as a pencil, the third edition of the popular consumer Yoga PC line looked outstanding.
However, since its release, the pricey 2-in-1 laptop has garnered some less than impressive reviews, including one from me. Although the hardware and design are admirable, the promised 'up to 9 hours' battery life seemed to be a major exaggeration only obtainable in some undiscovered perfect universe.
The other major quibble was the new Core M 70 Broadwell processor. The Broadwell series of processors are a significant shift for Intel as this new line draws significantly less power and comes with a major reduction in size. However, the edition found in the Yoga 3 Pro is the Broadwell Y-series, which is tuned better for tablets than laptops. As a result, the performance suffers for desktop apps as compared to current Core i5 devices, including the Yoga 2 Pro. (The contrasting Broadwell U-series offers much more power akin to the current Core i5s, but those are not due until sometime in 2015. That version will likely make its way into a 'Surface Pro 4' by mid-2015)
Now, Lenovo has stealthily updated the language on the Yoga 3 Pro landing page, reducing the estimated battery life from 'up to 9 hours' to a more evenhanded 7.2 hours.
In having used the Yoga 3 Pro for a few weeks now, I can say that the 7.2-hour rating is certainly more in line with real-world expectations (although it still falls on the high end). Lenovo does include many power-savings tricks with the Yoga 3 Pro, and if you cut back on screen brightness and CPU speeds, you can probably achieve seven hours of usage. However, under normal conditions you are almost certainly looking at five to six hours.
Additionally, Lenovo has lowered the price from $1,349 to a slightly more sensible $1,299, shaving off around $50 from the original price we paid. They also cunningly changed the suggested price to $1,499 and used the "Save $200!" line to make it even more appealing.
Microsoft is promoting the Yoga 3 Pro as competition against the popular MacBook Air with a new TV ad.
A second opinion?
The only reason I found out about this sleight-of-hand change by Lenovo was I was revisiting the Yoga 3 Pro last night. I do not hate the Yoga 3 Pro by any means, and in showing it off to fellow Windows Central writer Seth Brodeur, I was reminded about how impressive it is in many ways.
The reduction in weight for the Yoga 3 Pro is extremely noticeable, making the design truly remarkable – it feels like nothing on the market. Although the similar Acer S7 Ultrabook comes in at a comparable 2.87 pounds, the Yoga 3 Pro's weight difference is apparent when comparing the two.
Likewise, the display is still near the top in terms of quality, especially with the (slightly overkill) 3200 x 1800 QHD+ resolution. I even found myself using it for an extended time in tablet mode, which is a first for me with these 2-in-1s.
In short, it is still a very cool device, and I plan to try to use it more often in my daily life. The reduction in price and the more forthcoming battery life numbers at least make evaluating the Yoga 3 Pro more realistic, as the resentment came from the earlier over-exaggeration by Lenovo.
Is a solid 5 or 6 hours' worth it for an ultra-portable laptop in late 2014? For many professionals, likely not, but for users who are used to living with those numbers, the trade-off in weight, super high-resolution display, and the 2-in-1 functionality may be something worth considering.
I still maintain that the Surface Pro 3 is a more provocative PC for consumers and professionals, as argued for in my comparison article, but at least Lenovo's revisions puts things in proper perspective.
Does Lenovo's changes affect your desire to pick up their Yoga 3 Pro? Sound off.
Get the Windows Central Newsletter
All the latest news, reviews, and guides for Windows and Xbox diehards.
Daniel Rubino is the Editor-in-chief of Windows Central, head reviewer, podcast co-host, and analyst. He has been covering Microsoft since 2007 when this site was called WMExperts (and later Windows Phone Central). His interests include Windows, laptops, next-gen computing, and for some reason, watches. Before all this tech stuff, he worked on a Ph.D. in linguistics, watched people sleep (for medical purposes!), and ran the projectors at movie theaters because it was fun.
How honest of them to reduce the price in the process. Props to them.

Why theey didnt recall the pc and stuff in them a larger battery???

Larger battery, most likely, adds bulk and weight.

Yep, but you get the promised battery life.

What they should've done, and what the clearly didn't learn from the Yoga 2 Pro (which had the same problems with battery life) is to use a more normal screen. That resolution is completely gone to waste and kills battery life.

Its all part of the "oh we got to make them line up next year for SOMETHING, bigger battery!" lol

the built-in keyboard is appealing, but a 2.5# tablet isn't so much. why has no 3rd-party vendor made a helix-style snap on keyboard for Surface? are they keeping the magnetic conductor proprietary or something?

I would be all over the Surface Pro 3 if it had a clamshell style dock. As a bonus, probably have to put a battery in it to make it weighted for balance. The kickstand just isn't always what you need and I don't think it helps lapability at all.

I'm pretty sure that both Dell and Asus have those types of 2-in-1s (the Venue 11 pro and the Transformer t100?).

T100 is a low resolution display and I think the Dell has only 2GB RAM. The new version of the Venue Pro might be a good option, but will cost alot for the processor that it has.

@mtalinm - My wish exactly! I'd love to see third party keyboards for the Surface 3. The keyboard (and trackpad) is the biggest weakness of the Surface and you'd think Microsoft could encourge a bit of innovation.

I can't agree more with this! The surface would be the perfect device if they could add a proper detachable keyboard and touchpad with an extra battery and some ports like USB and HDMI (and ethernet would be perfect) that allows the combined tablet and dock battery life to be about 10+ hours. I'm not saying get rid of the current keyboard style just add another option since the kickstand still isn't perfect for use on the lap and I do grab my laptop by the keyboard or screen a lot and I'd rather not feel like its about to break apart and fall. I know Dell and Asus have similar devices but the Dell doesn't use a proper Core-i5 U series so it doesn't have the same performance, and the screen when in the dock does not go back very far so the angle of the screen isn't very ideal, and there are no extra ports.

Lol!... That's kinda funny...

I think I'll wait for the Surface Pro 4...assuming it has LTE.

SP4❗ SP4❗ SP4❗ SP4❗ SP4❗ SP4❗ SP4❗

It's kind of pathetic when you can only squeeze 7 hours out of an expensive laptop that is lacking in power. I imagine they're using a pretty small battery.

They could just increase the battery size a bit and Whalla! :-) But I think I'll still be waiting to upgrade my original Surface Pro to the SP4 when it comes out. It's amazing that I still use my original Surface Pro as my everyday laptop!

"They could just increase the battery size a bit and Whalla! "

Well, not really, lol. It's already in production, so adding a bigger battery in such a thin device would likely require a redesign and prototyping. This is just something they should have caught during testing.

No whalla!!! French people... Français!!! Voila!!! Voila!!! Not viola that is a musical instrument. voi·là interjection \vwä-ˈlä\ —used when something is being presented or shown to someone

Can I get a link to that background on that Lenovo! Its so pretty. Please post a download link!!!! PLEASE!!

Here is the solution... Use a 1080p screen and knock the price down to $1000.

The 1080P display would have been the better route. Likely improved performance, higher battery life and lower price. Not sure why they had to go all out with the QHD+.

Especially with this anemic apu setup.

Could you just manually change the resolution on the yoga 3 to 1080 and get better battery life, then always be able to turn back up the quality if you were using an external screen or tv to get that overkill hd-ness on a bigger screen?

I really like Lenovo gear so this is one of my aspirational acquisitions, though if I had the money Lenovo or surface pro 3...A tough decision.

Surface Pro 3 all the way guys!!!

I have to say I'm disappointed with the yoga 3 pro - the battery life and grunt is lackluster but it's the keyboard that does it for me. Too squishy. Not great for long writing sessions.

It does say "up to 7.2 hours" so you'd expect that to fall on the high end

Well Asus has these funky drivers on their PCs that utilizes 100% of the CPU when you use two finger scrolling... Suppose that's worse than Lenovos unexpected not-so-good reviews on the Yoga.

I heard that this is still pentile just like the Yoga 2 Pro. I hate it the display for that very reason. You can't have a "quality" pentile display. Its just not possible. Not to mention its so hi rez that all the desktop programs are the size of a postage stamp.

Same with me. Got the Yoga 2 Pro because I loved the design and it's been a huge disappointment ever since. The pentile screen sucks (yellow problem) and the resolution is overkill (I never use it because I'm usually docked to an external monitor, which requires both screens set to 1080p, but when I do use it, everything is so ridiculously small that it's just stupid), the batter life sucks, the wireless card is crap, the keyboard sucks, and Lenovo's customer support (and apparently their quality control department) is the worst I've ever experienced. I have no idea why they're the world's largest PC maker. They don't deserve it. They deserve awards for designing cool products, but as for the actual products themselves: rubbish. I want my $1300 back.

Samsung PenTile panel on the Y3P. Model number went from SDC424A to SDC434A and it has none of the yellow from the Y2P.

I have the Yoga Pro 2 which I like quite well. Too soon to replace it. Maybe the Yoga Pro 4 will improve performance and get to 9 hours battery life, and by then I'll be ready to upgrade.

Good thing they didnt mention the battery life in the Ad since the Air gets at least double the battery life compared to the Yoga 3

Nope, sticking with my pro 3. Lenovo's been doing lots of shyster stuff lately.

I'll stick with my i7 XPS 15 for now

Not to be "that guy", but... http://en.wikipedia.org/wiki/Sleight_of_hand Otherwise, thanks for the update on this. Looks like a great design but with slightly compromised execution.

NO, Surface Pro 3 for me!

Thin as a pencil, eh? I don't know what pencils you guys are using, but they sure as hell are thicker than any I've used.

I had a Surface Pro 3 and while I liked it well enough I had a horrible run with them in regards to QC. My 1st unit got hot. I mean, real hot doing much of nothing. Took it into the MS store and the tech said the fan was not ramping up. Gave me a brand new replacement and off I went. SP3 # 2 has serious screen seperation at the top by the camera. I called MS because I didn't feel like dealing with the LA traffic and they did an advance replacement. The replacement arrived a few days later and it was great, for 2 weeks that is. Booted it up one morning and there was a very bright and large dead pixel dead smack in the center of the screen.. This was enough for me. I liked the SP3 but man MS has a serious QC issues going on.. That leads to my post here. I picked up a Yoga 3 Pro and so far I really like it! No QC issues at all thus far and my only complaint is that the trackpad is a bit buggy. It also struggles to scroll at times in webpages. I assume this is easily solved by a trackpad firmaware update. I realize I am in the minority here because i like the Yoga 3 Pro. It's a nice machine, the screen is drool worthy, the keyboard is nice, the trackpad (while buggy) has a very nice feel to it. Overall I am happy with it.

I think you must be on drugs. I don't get much more than 3 hours.