Skip the Lenovo Yoga 3 Pro and go for the Surface Pro 3 instead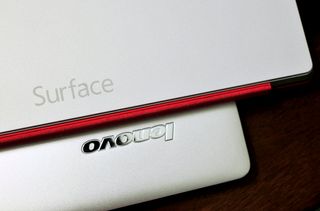 A few days ago, I managed to pick up a Yoga 3 Pro to review for the site. See my unboxing and tour here if you missed it. I am still feeling out the ultra slim Ultrabook, but I can already answer one question for you. If you are choosing between buying the Surface Pro 3 and the new Yoga, you should pass on the Lenovo.
This conclusion is not to say the Yoga 3 Pro is bad, but rather I so far find it underwhelming. Let us compare.
Processor
The Surface Pro 3 ships with an Intel Core i3, Core i5, or Core i7 Haswell processor. The Yoga 3 Pro, on the other hand, has a brand new Core M-70 Broadwell.
Putting aside benchmarks and raw speeds for now, I can easily state that the Core i5 (and especially Core i7) are much faster in performance. The Core M so far has uneven performance for applications, especially in Chrome browser (IE 11 fares much better). The Core M does well with Windows 8.1 Modern apps, which bodes well for the chip when it heads to tablets later this year, but for desktop apps it is not very impressive.
To give you a real-world reference, the Core M so far feels like an Atom processor to me. Of course, you may be thinking 'Well, at least the battery life is better with the Core M and Lenovo, right?' Wrong.
Battery
Lenovo claims "up to 9 hours" with the Yoga 3 Pro. Now, I am always skeptical of those numbers, as they are usually under ideal conditions with many aspects of the hardware tuned down. The Yoga 3 Pro though can maybe get five or six hours tops from standard usage. This battery life is, of course, with the processor tuned down using the battery-saver mode and the display substantially dimmed.
Is the battery life terrible? Not when you remember that this is a 2.6-pound Ultrabook. Nevertheless, this number is well below what Lenovo is advertising, and when you combine it with an uneven performance, there is no benefit. Indeed, I am quite positive my Surface Pro 3 with a powerful Core i7 will last longer, and that processor obliterates the Core M for performance.
Display
The Lenovo Yoga 3 Pro comes with a 13.3-inch QHD+ display at 3200 x 1800 (276 PPI). The Surface Pro 3 has a smaller 12-inch display at a lower resolution 2160 x 1440 (216 PPI). Putting aside your preference for size, the display on the Yoga 3 Pro is much better than its predecessor the Yoga 2 Pro. The reason for that is Lenovo wisely went with a Samsung panel this time around, so there is no yellow color-cast or other anomalies.
In terms of brightness, the Yoga 3 Pro is around 300 nits, while the Surface Pro 3 is upwards of 370. Winner here would be the Surface.
Although 3200 x 1800 on the Yoga 3 Pro is impressive, even on my 15-inch Dell XPS 15 I find it a little overkill. There is also little doubt that powering such a high-resolution display taxes the battery, which I already suggested is not that great on the Yoga 3.
There is a reason that the 11-inch MacBook Air still ships with Apple's abysmal 1366 by 768 display(142 PPI) even in 2014, and that is to attain that ridiculous 12-hours of real-world usage. The Surface Pro 3 comes nowhere near that 12-hours of battery life that the MBA has, but it can effortlessly squeeze out 7-8 hours.
Fan
Much to my surprise, the Yoga 3 Pro does have a fan in it, although a small quiet one. The Surface Pro 3 also has a fan and it is known to come on occasion, whirring up a little storm.
Both fans are quiet though, especially when compared to most laptops. Regardless, the Yoga 3 Pro's fan is on almost constantly. The Yoga's fan doesn't just turn on when it is warm, like the Surface under heavy workload, but when browsing the web or using the OS. It just feels odd.
Support
In the past, I have had decent support with Lenovo, but others here have had other experiences. All I can say is if I had to choose between Microsoft and Lenovo for long-term hardware support, including firmware updates, I would pick Microsoft.
The Surface team has been aggressive in updating the firmware, optimizing performance, and getting Windows to hum nicely with their hardware. I am also a big fan of buying through Microsoft, especially in their physical stores for two reasons: (1) Signature experience with just the OS installed and no bloatware, (2) the very lenient return/exchange policy should you have any issues.
Pen
Surface Pro 3 has one. Yoga 3 Pro does not.
Your mileage may vary on the "need" for the Surface Pen, but for many people it is a significant selling point.
Weight
Surface Pro 3: 1.76-pounds (800 grams); 2.42-pounds (1097 grams) with Type Cover
Yoga 3 Pro: 2.67-pounds (1211 grams)
Even with the Type Cover, the Surface Pro 3 is 10% lighter than the Yoga 3 Pro.
Thinness
Surface Pro 3: 0.3-inches (9.1 mm); ~0.5-inches (12.8 mm) with Type Cover
Yoga 3 Pro: 0.5-inches (12.8 mm)
In terms of how thin they are, both devices match up when you add the necessary keyboard to the Surface. However, the overall footprint of the Surface Pro 3 is significantly smaller, partially due to the 1.3-inch smaller display.
Build quality
The Yoga 3 Pro feels quite premium, and I cannot find many faults with the overall quality. However, the Surface Pro 3 feels like a feat of engineering that it is. That opinion is purely subjective, although I think many people would likely agree.
Price
Many people here were repulsed by the $1,394 price tag for the 256 GB Lenovo Yoga 3 Pro. In having owned a few premium Ultrabooks, this price did not shock me as it is in line with the finest in mobile PCs these days.
Now that I have used the Yoga 3 Pro for a couple of days, I cannot say I feel the price is worth it—at least not for the experienced battery and performance.
By comparison, a Surface Pro 3 starts at $799 for the Core i3 version but is around $930 with the necessary Type Cover. To make more things even, let us bump it up to the Core i5 version with 256 GB of storage, matching the Yoga 3 Pro:
Surface Pro 3 (Core i5, 256 GB, 8GB RAM) + Type Cover: $1,428.99
Yoga 3 Pro (Core M, 256 GB, 8 GB RAM): $1,349.99
Okay, fair enough, the Yoga 3 Pro comes in at $79 cheaper. Do yourself the favor though, splurge on the extra $79 and go with the Surface. If you are a student, you can shave off 10% ($142) off the Surface Pro 3 with Core i5 and 256 GB and save $63 versus the Yoga 3 Pro.
Conclusion
I should reiterate that I am not quite saying the Yoga 3 Pro is a terrible device, but so far, I am underwhelmed by it. Sure, it is light and thin, and some of it is great (I love the facial ID recognition for unlocking the OS), but as of now I am not in love with it. At least not nearly as much as I thought I would have been.
Perhaps my mind will change some more of the next few days, but as soon as I pick up and use my Surface Pro 3, I immediately prefer it to the Yoga. For that reason, and those outlined above if you had to spend your money on one or the other, I think the Surface Pro 3 is a better bet. You acquire better battery life, a more powerful processor, and Microsoft's superior support.
Moreover, as cool as the Yoga 3 Pro is, the Surface Pro 3 is just cooler to use.
If you are on a budget and would still like something around 13-inches go for the excellent Dell XPS 13 (which I own too). You can pick up the Core i5 version with 8GB of RAM and 128 GB of storage for $899 at Microsoft (opens in new tab). The 13.3-inch display is exceptional, albeit a lower resolution at 1920 x 1080. Even compared to the Yoga 3 Pro, I would grab this 3-pound (1.39 kg) Dell. You would get something much more affordable with a stronger processor, better battery, and the keyboard is awesome.
For more of my thoughts on the Surface Pro 3, you can read my full-review.
Windows Central Newsletter
Get the best of Windows Central in in your inbox, every day!
Daniel Rubino is the Editor-in-chief of Windows Central, head reviewer, podcast co-host, and analyst. He has been covering Microsoft since 2007 when this site was called WMExperts (and later Windows Phone Central). His interests include Windows, laptops, next-gen computing, and for some reason, watches. Before all this tech stuff, he worked on a Ph.D. in linguistics, watched people sleep (for medical purposes!), and ran the projectors at movie theaters because it was fun.
"Skip the Lenovo Yoga 3 Pro and go for the Surface Pro 3 instead" As someone who bought the Yoga 2 Pro and have been endlessly disappointed and frustrated every since, I agree wholeheartedly with this headline. Lenovo will disappoint you: terrible customer service, cheap hardware, lies regarding performance, and so forth. Don't be lured in by the siren's song that is the stellar design of the Yoga 3 Pro. It's not worth it. Go with the Surface Pro 3 instead.

I don't know about the Yoga line, but I have the X1Carbon (Gen 1) and it's glorious. I also have a SP1 that I admittedly use less, but it's also great. Anything with the 'Think' branding on it gets great service.

My wife has the Yoga 2 Pro for home (8.1) and the X1 Carbon for work (Win7). The Yoga 2 is a great, but 2 things stand out as problems: They typepad is not centered to the keyboard on the Consumer Yogo Pro 2, but it is centered on the X1 Carbon and all business computers. Why? Do only business people type on the keyboard? The problem is that my right palm is always moving my cursor on the Yoga Pro 2 unless you contort your hands - which is BAD!!!
High Res Screen - Sounds great, but in reality many of Windows Desktop Dialog boxes don't recognize the UHD resolution and pop-up with fixed pixel sizes - this means they are WAY TO SMALL to see. We had to reduce the max screen resolution, just to be able to see things on the smaller display. As for the SF3 to Yoga Comparison: the reviewer passed over physical screen size as part of his review. For Modern Apps, a 10" display works fine. For desktop apps, every inch counts. Yes the SP3 may only be 1" smaller, but that1" makes a huge difference in usability for many of us.

I clearly mentioned the screen size.

Wish I could trade my yoga2pro for a surface 3. I've been very disappointed especially when I upgraded from the original yoga.

Go Surface! Mine is awesome!

This is exactly the comparison I needed, good work! :)

Uh huh. Yeah okay. Microsoft sells SF only in a few countries. Lenovo sells their shit globally. The world isn't only the US. So when Microsoft starts offering SF everywhere, I might be interested. Until then, Lenovo is the winner.

False analogy. You can sell the Yoga 3 Pro everywhere and that still does not makeup for the poor CPU performance and terrible battery life all for $1,349. But hey, it's your money. Go waste it.

I'm a very happy Lenovo user. Choose any random brand of computers -- there'll always be people who like it and people who hate it. My experience is the one that matters to me. As for analogies... what??? Look at my post above. The choice here is between getting a somewhat average product (Yoga) or not getting anything at all. Get it? Edit: Let me be more specific: in order for there being a competition, there have to be at least two competitors. And that's not the case here. Only Yoga is competing here. SF didn't even come to the race. It stayed at home :)

I still wouldn't call Lenovo "the winner" though. I can't see winning as selling a product that is not worth the money they are asking for it. Surface Pro 3 is sold in 28 countries last I checked (end of August). I wouldn't claim it is selling everywhere, but it is more than "a few countries".

Hi Daniel, SF (1,2,3 and Pro variations) can be bought over the Internet and in those 28 countries (if you happen to fly there) but they lack support when the one is needed (e.g. warranty claims) in all other smaller countries of the world. So I also agree with the comment above, there is no race between Yoga and SF because one competitor is gone missing in the rest of the world not covered by those 28 countries. Which is unfortunate because I would rather buy a great product than the mediocre one but in this case I don't have much choice, do I? That's why Apple is so much more prominent everywhere - I can buy iPads (almost) anywhere in the world and they have good support inside my country. Not that I have one but just giving you an example. So far, Microsoft with all their partners network and worldwide offices omnipresence haven't managed to establish a supply chain which would enable me to buy their SF products in my own country. And this is true for most of the other countries of the world.

Really... This is the reason I forced to buy a Sony VAIO Multiflip few months back... Because Microsoft's Surface m's just not sold in my country... And that's... A waste.

I'm not sure what an SF is, but at least you got this part right: "Lenovo sells their shit globally"

You sir, made me spit out my coffe from laughing so hard.

I couldn't stop laughing after reading your post LOL!

To be fair - I bought a Lenovo Y50 recently, and it's definitely one of the best bang for your buck gaming laptops as of late (bought a few months ago when it was released in Canada). Only two major downsides to it - the display is a relatively low quality TN panel, and the keyboard misses key presses once in a while. Otherwise, build quality and everything is excellent.

Sorry, "sh*t" is a good description of what Lenovo sells these days. They've ruined the essence of their crown product, the ThinkPad, and alienated their core fanbase. They've come up with product lines like "Yoga" that have nothing to do with their past DNA as IBM's Personal Computing Division. As for the question further below as to what the keyboard is like, it's not the famed ThinkPad 7-row keyboard so it won't be as good. Lenovo sells the most and everywhere simply because they're cheap, not because they're the best. Good review Daniel, would be interested if there's a review of the ThinkPad Yoga, at least that product still has a small bit of ThinkPad DNA in it.

Thanks, glad you liked it. I have not given too much thought to reviewing the ThinkPad Yoga, but will take it under consideration.

I never cared about ThinkPads. Why should I? I'm not in the target group for that product line. AND the notebooks in that line are BUTT UGLY. I wouldn't want to spend time on a computer that I hate looking at. I use an IdeaPad (or whatever the new name for that line is).

Beauty is in the eye of the beholder indeed. For those who like the industrial look, ThinkPads are beautiful. It matches my Heckler & Koch P30 ;)

My brother has a Thinkpad Yoga and I don't think he likes it too much. He had to send it in to get the keyboard replaced (a known problem). I'll have to ask him more about it sometime.

Definitely agree with the XPS 13. It's the best ultrabook for its price out there, and great if you want a little better keyboard than the SP3.

Yeah, the XPS 13 is pretty amazing. Love the display and keyboard.

what about all the complaints on the xps13 fan noise?

Well, there is a fan, lol. All 13 inch Ultrabooks have 'em, and by comparison I think this is on the quieter side for such a fan. Others have concluded that as well.

I realize there is a fan. If you look at the dell forums and even a few reviews at microsoft store you will see that people complain about an excessive fan on the xps13. I was going to buy it until i read all the forum comments and that killed the xps 13 for me. Do you not think it is that bad?

No, I don't think it's that bad. When you see the size of the XPS 13 (it has the smallest footprint of any 13-inch Ultrabook) the fan thing makes sense (tighter space). I can't say though that it bothers me or I find it unusually active or even loud. Even MBAs have complaints about fan noise.

They really should license the fan MS uses in the SP3.

I know its a bit late but how come you (the company) never did a review on the dell xps 12 duo. Always wondered about that but can't find a review from you guys if you did one. Its similar to the yoga in a way. I've searched on my phone with the app but to no avail. I love the reviews here, both written and in video form, they're great :)

Combo of not enough time, money, and where we put our resources. It is something we are improving on as we grow. Sorry!

No worries! What you're all doing is awesome.

All your processing is going to Chinese spy chip and the fan is keeping it cool as it records everything and sends it back to China.

If you did anything of relevance that might matter, better to be wary of Washington (if you're in the US) than China. ​

I can deal with software. Built in hardware snooping is another thing entirely.

If you are doing anything criminal, you should be wary of washington. If you are doing anything of relevance, you are probably doing it for Washington. Honestly, how many people actually do anything in their daily lives that Washington would care about. However, if you are working on any new technology, China is known to try to spy on US companies to gain intellectual property. Sure, the US probably does the same thing to China, but I don't live in China.

Stealing information more often from those in the US than those out. However I'm not one to chide someone for their faith, keep on keepin on.

US doesn't own US OEM's. The Chinese government owns Lenovo. So, no thanks. As far as who does the most snooping, not sure you can really say who does the most.

I'll be keeping my yoga 2 pro then thank u very much!

I'll pick the Surface over the Yoga but I think it's a bit disingenuous that you made no mention/comparison of the keyboards. For most people that is very important.

I didn't mention that because it is highly subjective. I agree, it is relevant, but I think that is something that people need to try in person to decide. Real quickly though: The Yoga 3 Pro's keyboard, if you can forgive it for not having any function keys, is pretty solid and I enjoy typing on it. The Surface Pro 3's Type cover is also really good, though I think it is more controversial if people like it or not.

I can understand, but since it is one of the biggest differences, it would have been nice to see it compared, especially when you talked about the pen. But one quick question, how do their track pads compare? ( I know they both have touch screens. Anyways , do you have any idea as to why the processor is so underpowered? Was it a conscious decision on Lenovo's part to undercook the processor or it was just a weaker processor? I always thought that Broadwell chips will maintain the same performance as Haswell while making gains on energy efficieny.

The trackpad on the Yoga is really nice: it has even clicks and a glass surface. It is also a decent size. The biggest gripe about the Type Cover is the trackpad is still relatively small. It's not bad, but it is far from idea. OTOH, the Surface's overall design lends itself to using the touchscreen much more than on Ultrabooks, at least from my experience, so it makes up for it a bit.

The Broadwell U series chips will have similar performance to the SP3 Haswell chip. However, the Yoga 3 uses the Y series chips that use less power and are closer in performance to Atom chips. The advantage is a smaller chip package, lower power use, and possible fanless designs that allow for very thin tablets. It looks like the hi-res screen wipes out the power advantage. Also, since the yoga has a fan, I don't know why they didn't just wait for the U class chips.

To be clear Surface has row of F1 - F12 function keys. You can lock it to function keys by pressing Fn + Caps lock (and switch back). But it's not on 2 rows (but few keyboards do except that backspace/del is seperate). Also not that clear but you can adjust brightness on SP3 by using Fn + Del / Backspace. I still think SP3 is tablet first while Yoga 3 is notebook first. If you don't care about tablet mode then Yoga 3 keyboard works bit better and has more ports. But I think price is bit steep especially considering perf.

If the Yoga 3 Pro keyboard is anything like the Yoga 2 Pro keyboard, it sucks. Too shallow of key presses. I'm guessing that the thinner Yoga 3 Pro keyboard is not any better. That said, the Type Cover is also too shallow. I use a Microsoft bluetooth keyboard with my Yoga 2 Pro which is quite nice.

Yeah, Lenovo has a crap ton of special apps on it. You can configure the facial recognition app to scan your face instead of typing in your password. Works quite well.

I'm curious as to what number is equivalent to a crap ton. :)

I think like 10 maybe...sure felt like a lot.

Unless it changed on the Y3P, there's way more than 10 crap apps/software installed. When I deploy the Y2P I script the removal of somewhere around 20+ things, not including any of the Microsoft/Modern apps like Bing stuff (which I leave for our users since we currently lock them out of the store). Thanks for your review. We have been deploying many Yogas (the original 13, the Y2P and even a Y2 13) and I also have a Surface Pro and the Surface Pro 3. I personally prefer the Surface Pro 3 and think it's a great device, however, as great as the thin type cover is, it would still be nice having a better keyboard. I also tend to use a bluetooth mouse to avoid the touchpad as much as possible. But, when compared to the Y2P, I hate it's keyboard/touchpad just as much :( I was really curious tho about the new hinge, how it compares to the Y2P. I'm actually buying a Y3P as I type this out.....Thoughts on the hinge?

Hinge feels fine, although it rattles a bit when opened. It feels stiff though and can't complain.

I think a crap ton is just slighly less than a metric ton? :-)

Yeah, that caught my attention too. I wonder if there's an app for that for the SP3?

Hmmm... all I could think of, after reading that, was "Silence of the lambs!.... nop nop nop nop"

What if you hold up a picture of the person logging in in front of the camera?

I haven't tried the Lenovo version, but I have tested similar third party software for Windows at work. We were able to get past the login using a printed picture of the person. It's a decent technology for basic security or as part of a two factor authentication system, but it's not appropriate as stand alone security for anything remotely sensitive. Now if it was implemented with two cameras it would be able to detect the difference between a flat 2D picture and a real 3D face.

Correct, it's good for casual use, not for very sensitive information.

I would perhaps approach it much like the Xbox One Kinect sign-in. It's handy when there are multiple users using the same machine with some level of trust (like me and my fiancee :P), so it's a handy way on the Xbox One when it just logs the right person in when we are using it, as opposed to always going through menus or even using passwords.

Thanks for the comparison. Still hoping to pick up a SP3 one day. :(

"Yes, but how is the trackpad?" - Said every macbook user ever...

Heh. Here, I would say the Yoga's trackpad is better than the Surface just due to its size and being more "physical". Still, I can't stand how it scrolls horizontally on the Windows 8 Start Screen (it goes app by app, instead of page by page).

Except every macbook user doesn't have a touchscreen. They don't seem to realize how useful a touchscreen is on a laptop. I find it completly comfortable scrolling and doing gestures on the screen and only use the trackpad for precision selection when using desktop apps or selecting text.

Very true and on the SP3, its design lends itself better to this idea than on traditional laptops. I really dig my XPS 15, but I don't use the touchscreen nearly as much as on a Surface due to it being recessed further away from the KB.

Hey Daniel, what are your thoughts on the touchpad of the XPS 13? I'm still working with my Latitude E4300, one of the first Dells without a Synaptics touchpad and it is horrible, a friend has a XPS 15 and he does not like his either. Can it compare to the ones from Lenovo? Thanks.

Now i feel much better. Staying with my lovely TB 3.0Ghz i7 , 512gb ssd Yoga 2 Pro with changed ac wifi card in it. I Love it <3

I could only imagine how that would smoke this for performance, lol.

But thank you for the arcticle Daniel. I was actually pissed because I got mine Yoga 2 Pro about a 3 months ago. Right now I feel much better since I need this performance and Yoga 2 is still pretty sleek. Also i found out that the "Yoga Harmony" from Yoga 3 Pro actually works on mine Yoga 2 great and that is one piece of bloatware I wanted :) (Waiting for Surface 4...shhhh)

Hah, nice. Yeah, Harmony is interesting, I will say that. The Y2Pro should be fine until the SP4, easily. Don't have regrets, you're not missing too much.

Would love too see more real "solid" keyboard dock for SP4 (Even by sacrifying the weight and thiness.) I love to type with machine on my legs or lap and the stand on SP3 just does not feels right and confortable sadly . I Am programmer and still cant imagine writing on the type cover (plus it is a bit small for desktop IDE use - Visual Studio, Eclipse etc...) Same thing with my Yoga 2 Pro . I love it 10/10 as a dev, productivity laptop and it is still great as a tablet in car, bus, plane or on your lap.. but not as far confortable as using iPad or Lenovo Yoga tablet. It is just waay to big and heavy for "casual" use. I think I have no option here. I will probably buy a cheaper and smaller (8" - 10") Windows 8 tablet for casual use and stick with my Y2P for next year ot two :)
Or if the SP4 really impresses me, then I am Sold (Even it is not avalible in my country.)

to me, the processor review is the big news here. I bought a 256G surface pro 3, assuming that I'd be upgrading to an SP4 with Core M in half a year or so (and not run out of disk space by then). now I'm thinking I should have gone for the half-a-terabyte monster...

Well, the Core M story is not fully written yet. From what I understand, what would be included in a Surface Pro 4 would be a different, more powerful class of Core Ms. But yeah, at least this iteration is very disappointing, at least for a premium Ultrabook. Sure, you can get an ultra-thin/light laptop, but if the performance and battery life is worse, what's the real benefit here? I guess if you just carry a laptop around as opposed to using it, it matters, lol.

so glad I took your advice and got the i7. august was tough b/c I was having heat/fan issues, but early sept firmware updates took care of that. now I only wish I had sprung for the 512 disk, but that would have been over my $1000 office reimbursement max for "tablets". (got it under $1000 by trading in my sp2, applying the educator discount, and buying on tax-free weekend. unfortunately I parked illegally on Newbury St and the ticket was more than the tax I saved, but at least it wasn't on my receipt and the office accepted the reimbursement!)

Hah, nice. Yeah, the Core i7 version is a beast. Glad it's working out for you.

SP4 will have broadwell-u, not broadwell-y (core-m)

The SP4 will most likely use the U series Core M chip. When Intel made the announcement of the Y series chips and how thin it will enable tablets to be, there were tons of comments that they couldn't wait for the SP4 to get these and become super thin with no fan. If they bothered to read the performance reviews for these chips, they would have realized there was no way that a "Pro" product would use it. The U series chips should provide about the some or slightly better performance with some improvement in battery life from the 14nm die shrink. A better use for these Y series chips is in a Surface 3 refresh. This would allow the surface 3 to run some x86 desktop apps, as long as they don't require a higher performing processor. The ARM experiment hasn't worked out too well for Microsoft, mainly because they don't have the app ecosystem to push ARM devices. A surface 3 that can run mobile apps and some desktop app in a thin package and with battery life that can match any ARM tablet should be successful. The only possible issue would be price since the intel chips are more expensive than ARM chips.

That's a fair assessment.

The version of Core M that is in the Yoga Pro 3 is targeted (per Intel's intentions) at tablet and netbook like devices. The versions that would align with Surface Pro or current Ultrabooks is not available yet. It's interesting that Lenovo went with this strategy. I'm guessing Lenovo was going after bragging rights. It's not a bad idea in theory, but it seems to either be poorly executed hardware or in need of major software/firmware optimization. I think Daniel is right about the processor and the resolution being unbalanced. It's probably a great processor in the right device, but it seems that combining it with that resolution leads to a poor overall product.

While it is good that there is a better panel on the YP3 than was on the YP2, I believe it is still an LED panel. I much prefer the IPS LCD on the SP3. More accurate colors for pictures etc...

LED is the name for a type of backlight, not for the screen technology itself. IPS LCDs use LED as backlight, but you may also have TN LCDs that uses LED. Nobody to my knowledge uses CCFL backlighting anymore in laptops anymore (and certainly not in tablets).

FYI, LED is a type of backlight, not the actual screen technology. IPS LCDs also use LED backlighting, similarly to TN LCDs (which I assume you are referring to). Before LED, there was CCFL backlighting which nobody uses anymore, to my knowledge.

But I want a real laptop with a keyboard, that can also be a tablet...! I have been looking forward to the Yoga 3 Pro so much... disappointed to hear it's not up to par. SP3 it is!

I will say the Y3P does come the closest to Lenovo's vision of what the Yoga should be. I had the first one and as a 'tablet' it was nearly unusable (too big, too heavy). Now, it's still not great (the Surface Pro 3 is a better tablet), but it is doable. It's just a shame about the processor/battery life.

I think what we are seeing here is just another case of "new tech HIGH prices NO experience" meaning the broadwell-Y chip (Core M) just started shipping and Lenovo I am 110% sure did not spend many months with it and testing it and I bet that's why it has a fan too! You always pay a price for new tech like this I mean the 14mm process is an insane technology feat within itself. I think the Core M needs to ship on lower end Ultrabooks. And completely agree with you, poor thing has to power a Quad HD+ resolution! what were they thinking!? Lenovo wanted to be the first to ship a product with Core M and that usually always comes with a price. Heres to hoping the broadwell-U series on the SP4 gets true 9 Hour battery with the same power from Core i5 U chips :)

Yup, I agree with that. May also be why Microsoft was fine going with Haswell and not waiting until the fall (however, next spring with the new Broadwells may make a difference).

I agree with everything except the price part. Intel is charging a lot for these Core M processors. There is no way they will be on lower end ultrabooks. The price for the chip alone is $281. Maybe once the prices for the chips drops, we will start seeing it in lower end devices. I bet they need the fan to cool off the GPU since it has to power the quad HD+ display.

How does it compare to the XPS 15

Which, the Surface Pro 3? The XPS 15 is a monster for performance. Core i7, 16 GB RAM, 512 GB storage, dedicated Nvidia video, all with a 15-inch QHD+ touchscreen. Battery life is also similar to what you get on a Surface. Trade off? Size and weight. XPS 15 is 4.4-pounds versus 2.4 lb for the Surface.

Dan, All respect for your hard work; however you lost my respect when trying to recommend the new XPS line (15 and 13). Any decent person that has done a bit of reasearch would have known about the serious "high pitch noise" problems that have plagued the new XPS series. I have been through 7!!! XPS 15's and they all have serious issues including this high pitch noise that makes the machine completely unusable. What makes it worse is how Dell was/is trying to deal with the issues and not finding a fix in almost 12 MONTHS !

I've had my XPS 15 (i7) for almost 6 months and its been perfect, no issues at all, so I've not needed to try the power saver fix for this issue that many others have had success with, so don't know if it works...

You don't have to tell me twice. I'll grab the Surface 3 all day long. 128 gig plus cloud storage is way more than enough for my tablet needs.

I'm definitely leaning toward Surface, but for someone who will be doing a lot of typing on machine, Yoga's keyboard is better. I have played a bit with Surface Pro 3 and keyboard is manageable, but not in the same league with top laptop keyboards. Luckily I need device more for Lightroom photo editing and general stuff - there will be some typing but I will not be writing anything like PhD thesis on this device, so I can live with SP3 keyboard as it is.

Yup. "Real" keyboards on laptops are still much better.

Although I found the keyboard on my YP2 to not be that great. The keys were slippery and just not very good. The type cover on the SP3 isnt far off in my opinion.

Dan, any plans to get the Thinkpad Yoga 14 when it becomes available? Seems like that might be a better machine.

Maybe, hadn't given it too much thought. The battery life seemed really low on it but I'll take a peek when it gets to Best Buy (I believe they have the exclusive on it).

Lenovo claims 8h of video, but it's also 4.2 pounds or so.

i kind of wish Microsoft would make a real laptop. They've never done that. I just prefer that form factor. Microsoft hardware + software would be excellent in a little laptop. I'm sure they'd nail it. I'd be the first one in line, and I bet many laptop buyers would follow, considering how successful they are with the Surface and the rapid updates to firmware and support

Same here x1000! Having a laptop with the quality and design of the Surface would be incredible. Granted it would not be cheap. But I wonder if Microsoft feels like they'd be stepping too much on the toes of other laptop OEMs.


If they did that, the price would have to be very high since they really don't want to compete with their OEMs. The OEMs have created a wide variety of laptop designs with many high quality devices available. Microsoft had to create teh surface because the OEMs weren't doing a good job with windows tablets or hybrid devices. We only started to see decent hybrid devices after the surface arrived.

I agree that Microsoft has to leave tablets for OEM's to keep their loyalty - which is important.

I think the Surface Pro is as real as any Laptop I've ever used, just 3x more versatile with the added dimensions of usage as a Tablet and a Digitizer drawing board. What could be a win-win for EVERYONE is if they built a metallic keyboard (perhaps with a buit-in battery) that works similar to how the Asus Transformer series do, but with the added ability of remaining attached and converting from Laptop to Tablet like a Yoga 2 Pro.

i am still amazed from the battery life.... is it windows to blame ? or all the OEM's are putting out crap...

I think Lenovo prioritized its weight/how thin it is over the battery. Clearly they could have put in a larger battery. This and the Core M is still new and maybe drivers aren't optimized yet? That QHD+ display does not help the situation either.

In regard to their return policy.... Maybe in an actual store its like that but try and return something you bought online. ITS HELL! When I bought my Surface Pro 2 recently and had a problem with extreme heat, I had to go through 37 hoops to get and exchange and it took 2 weeks to get through the gauntlet of hell and actually get them to send me a new one. (which was a refurb) Get tablet. Notice extremely high temps when using it for ANYTHING. Call back, talk to them. Trouleshoot. Oh I need tech support to approve that? Call support, sit on hold for an hour. Get tech support to to actually agree with me after another hour on on the phone. Call sales support armed with number. Oh you used a coupon for that order? We can only send you a new one at original price. Get transferred to supervisor. Nothing he can do. It would be easier to get replacment from support he says. Call support back, ok, you have to send the broken one back and then we can send you a replacment. Send back. Week later, get replacment with a loose screen. Call support, "oops our bad", send it back Send another back. Finally get a working unit. Ugh!

Yeah, it's a different company/system than the store that handles returns. I have used them once and it was a pain as they had RMA it and it took around 2 weeks.

I've said this before, but I hate Lenovo. I've never owned one myself, but I did help some people at a previous job setup brand new laptops from Lenovo. Out of the box they were loaded with bloatware and could not perform windows update. These laptops came with windows 7 and an extra disk for windows 8. I also felt the hardware was subpar, which suprised me considering most people ranted and raved about how great they were.

Actually I passed on Yoga Pro 3 immediately after I saw base price. Don't have a need for lot of power and entry price of SP3 is therefore a bit lower (20% off also helped last week at Staples on SP3). More interesting I think could be the Yoga 3 without the pro (CES '14?). More manageable screen resolution and lower price if/when it will be released.

THANK YOU!!! I was on the fence about saving a bit more to get the SP3 i7 early next year or going for the Yoga Pro 3 this year. The choice is now clear.

I was going to say "Well DUH, you get for what you pay" because I thought the Yoga was cheaper... then I saw this Surface Pro 3 (Core i5, 256 GB, 8GB RAM) + Type Cover: $1,428.99 Yoga 3 Pro (Core M, 256 GB, 8 GB RAM): $1,349.99 And thought "Well DUH, Of course you should go for the SFP3" Sometimes, it's helpful to read the whole article efore jumping into conclussions hehe

How is the keyboard on it, Daniel? And which do you prefer typing on? That's the only thing I could think of that might be better, but is it? I also would agree with going with the Surface for better service and support. My family's had pretty bad luck with multiple Lenovo's (in fact, my brother, sister, and mom all have Lenovo's). The only one without problems is my mom's and oddly enough it's the cheapest one. I want to like Lenovo but my view of them has really gone downhill with all of the problems they've had. I wonder what they'd be like if it was still IBM.


I think the Lenovo's KB is better. I don't mind the Type Cover and sometimes even really like it a lot, but it is different feeling than a "real" one on an Ultrabook.

Lenovo is good but surface pro 3 is amazing and best gadget ever!!!

This is exactly what I thought when I first saw headlines about the Yoga 3 Pro. It initially looked like it'd be the first truly worthy competitor to the SP3, but I quickly became underwhelmed. This article just (unfortunately) confirms my suspicious. Still, I love my SP3, so I guess I can continue owning the latest and greatest before it inevitably ages out.

I have the XPS 12 by Dell, and I like it alot, but I probably won't buy one again. Battery life isn't the best. (3.5) hours of RWU, and the display has some problems with ghosting since it cannot flex as much. However, the build quality is phenomenal, its fast and smooth, and W8.1 looks beautiful on this convertible. A conversation piece too. 6.9/10
I'll probably go the surface path.

Now the question for me is. 256 i5 or 256 i7?

If you value battery, go for i5; if you need raw power, go for i7. I don't think most people need an i7, although it makes more sense if you plan to use it with a dock as a desktop replacement.

Went with i7. It's replacing my old desktop. I was also considering a gaming laptop, but decided to dedicate any extreme gaming to my X1! I'm looking forward to using my Surface to take notes in client meetings, light gaming, movie and photo editing. Thanks for the advice Daniel.

Since the yoga was announced 6 days after I bought my sp3, this makes me happy to hear.

Hi Daniel,
Just throw that yoga pro 3 for me ill be so gratefull :-D. I don't have any pc yet haha

The Yoga 2 Pro is better than both, at least for me. I bought the "best" one for a little over $1k. I don't really have an issue with the display. The only thing I would have liked would have been more storage (512 GB instead of 256), but I'm sure Lenovo would've had to sacrifice the Yoga's thin design.

I haven't used the Y2P enough, but yeah, there is probably some truth to that, at least if comparing it as a laptop to Surface laptop. I still find the whole "tablet" mode gimmicky on the Y2P (and especially Y1P); it was only on this one did it start to make sense.

I think it ultimately comes down to the individual's level of comfort and, more importantly, pricing. I decided not to go with the Surface Pro 3 for several reasons, but I really just wanted a thin laptop. I considered the SP3 but eventually decided against it, because: 1) It's WAY too expensive for what it is, 2) I was worried that Lenovo's 13.3" display would be too small, and the SP3 is even smaller 3) I don't think I could get used to the kickstand, because I usually use the laptop on my ...lap. I agree that the 'tablet' mode is a bit gimmicky. I've really only used it when playing Bejeweled, because the touchpad is useless for consistent dragging. Even with some Windows 8 touchpad swiping disabled, I still have issues dragging things smoothly across the screen for some reason.

Well, I hoped that the y3p would actually deliver that 9hours of battery. It's a shame really. Truth be told I've given up on Lenovo a while ago. Would love to pick up a surface pro 3, but it's not exactly available here so that's not really an option, sadly.
@Daniel: You keep advocating the dell xps 13 and despite that I'm still a bit vary (we have dell laptops at our company and my experience has not been very pleasant with them so far). Could you please do a review on the xps 13 and 15? (or did I just miss those?)

" Could you please do a review on the xps 13 and 15? (or did I just miss those?)"

Already reviewed the XPS 15 a few weeks ago. Will likely have the XPS 13 review done soon. Regarding Dell and "not very pleasant", I totally know what you mean. Their reputation has been subpar the last few years and I always hear when I tell people how great the XPS line is. But yeah, the XPS line is a whole different beast than their previous stuff. You can read many other reviews out their on the XPS series and they are all quite positive.

The Yoga Pro series can be either a tablet or a true laptop. The Surface Pro is either a true tablet or a "fake" laptop because it doesn't have a ridged keyboard attachment. Just from that alone, I would say that Yoga is better than Surface. However I absolutely hate the pentile display on the Yoga 2 Pro that I have. I wish I could downgrade it to a either a 1080p or a 720p display with normal RGB.

I don't disagree with the assertion, but the only flaw in this rationale is the performance and battery life for the Y3P is sub-par even for a "true laptop". If it did excel in those areas, my conclusion would be very different (or if it were significantly cheaper). The only reason I am comparing the two is because they are both the "it" devices at the moment for Windows users, with many wondering if the Core M is worth it over the SP3.

I just bought a Y3P. It is the 512 GB SSD model for $1000 plus tax yesterday. Do you think that at this price point the Y3P is worth it?

I can't explain why, but I can type faster on my wife's SP3, which I don't get to use very often, than on any of my desktop and laptop keyboards. It's like they key's resistance disappears as your fingers fly through the letters. Honestly, I can't explain why, but I think the new type cover is amazing.

surprised to see the Yoga doesn't offer mobile broadband like the Thinkpad 10. That's a must-have for me.

"The Yoga 3 Pro though can maybe get five or six hours tops from standard usage." I get about 5 hrs of battery life from my SP3 i5/256GB (using only office, browser and at 50% brightness). I still love it, but i have to say I'm not impressed with the battery life of the SP3 either.

Which browser? Chrome by any chance? I ask because Chrome is known to be a battery hog. Anyway, that seems low to me. I usually get at least 7 hours from my SP3 with similar usage.

IE 11, I also have a MicroSD card, Lync, Skype, OneDrive (Consumer and business runnging) and Outlook always on, not sure if any of those have a big impact on battery life, but I agree, seems low to me too.

Lenovo is on such a rush in the laptop market, but I've never been particularly impressed (almost especially with the way they've changed the thinkpad lineup). I'm desperately hoping that the Surface Pro 4 will be released early 2015 or that there are some killer sales on surface pro 3 for black friday.

Samsung Ativ Book 9+ all the way. best decision i made on a laptop ever. and i've owned quite a few in the last 3 years. 13in MBA, Yoga 1, Vizio CT14t, 13 MBPr, & Asus UX302la. Overall quality and looks the Asus is super close. but man the speakers, screen, build, battery, click pad. all best in class on the samsung. it seriouslly feels like Nokia put this thing together, if only samsung phones where this great

Is there anyone who has experience with using the surface pro 3 on the lap in a bus or something similar? @Daniel: is your dell notebook also available with a not glossy not touch display?

Surface 3 pro not convincing lot people to replace laptop, pro 3 usability not good as traditional laptop like yoga 3 you forget to mention Screen resolution, a big plus for yoga 3

The dilemma of laptop vs. Hybrid again! Surface Pro 3 is a great device. For me as engineer will never replace my Lenovo W540 workstation. Each one has its use. When it comes to Yoga 3 or even other hybrids. Surface Pro 3 stands apart the competition. It is wise to buy Surface Pro 3 if you are into hybrid device. It is not a laptop nor powerful as Dell XPS 15. Simply because both are different machines for different use purposes. The good thing about Surface Pro 3 it is the ideal close to a real laptop.
So, go buy Surface Pro 3!!

Thanks Daniel, for making my day.....Go SP3 !!!!!!

I'm sorry, but I couldn't disagree with this review more. As a person who travels extensively for work, I need a system that can truly consolidate devices for me. The Yoga series from Lenovo is an actual serious work device for people who DO THINGS, not who just surf the web and email grandma. Every time I see a review about the Surface 3, it is done by someone sitting at a table. Now try to write an article or build a Powerpoint with that Surface 3 in your lap, at an angle, at the pool, on a plane, leg crossed, in a tent, in Central Park, etc.. The keyboard on the Surface 3, while an improvement over the original design still requires a proper "seated" environment. For me the Yoga 3 Pro offers more utility and many more "use cases". And to stroke the ego a bit, when I pull out my Yoga, people around stop and take notice. No such "awe" from the Surface 3...and deep down, isn't that feeling part of what we like about new technology? You can have your Surface Pro 3... it just leaves more Yoga 3 Pros for the rest of us.

I'm pretty sure you can still "DO THINGS", while managing to find a proper seated position quite often. Or perhaps to phrase it better, just cos you can find a good seated position doesn't mean you would only email grandma and browse the web :D It's all about your personal needs. I went with the SP3 cos I rarely have any problems finding a proper seat while doing whatever I do. I realize if I was actually using my device more on the lap (very rare for me) I might've gone with just 2-in-1 hybrid. Personally I wouldn't go for anything these days that I can't transform into a tablet, though.

Hate those stickers they put below the keyboard on ultrabooks. That makes it look like a cheap, slow netbook made out of Samsung-style plastic.

I think the review is incorrect in saying: "the display on the Yoga 3 Pro is much better than its predecessor the Yoga 2 Pro. The reason for that is Lenovo wisely went with a Samsung panel this time around, so there is no yellow color-cast or other anomalies." As far as I know, the Yoga 2 Pro has a Samsung display (SDC424A). I've confirmed the hardware ID on my machine. I suspect the Yoga 3 Pro has the same display.

I am shocked to read all the bad press about the Lenovo. I bought the Yoga Pro 2 about a week ago after returning the SP3. I thought the SP3 was a GREAT tablet but was lacking as a Laptop. I thought the Yoga was the best of the both worlds. One week into the trial..I love the Yoga...Battery life may be the only downside so far... I look forward to reading everyones opinions.. I could still return this and Re-Buy the SP3.... I am so confused

I've owned a Y2P for 9 months now and no regrets. It's excellent value for money compared to the Surface, especially in the UK. It looks like Lenovo have made some major mistakes with the Y3P. In fact, it just doesn't seem to deserve it's 'Pro' title any more - less power but still has a fan and no dedicated function keys. Plus I would say it's quite ugly compared to the Y2P. Bizarre decisions. I haven't used an SP3 but it seems over priced to me. Guess it might depend on how much money you have and how important the pen is to you.

Just a shame you can't get a clamshell type hinged keyboard for the surface. I'm surprised third parties don't step up in this regard. They'd make a killing from people that want to use the surface for dev work.

Thanks for the comparison. It really helped me to think a bit more about this Yoga pro 3. I was sure about it, now i'm not anymore :) I'll continue my seek :)

After moving from Win 7 to 8.1 by buying three new machines [Yoga 11s Haswell i5, Acer W700 i5U, and an Intel NUC i5] over the past year, can't help but be amazed at how some of these manufacturers like to shoot themselves in the foot. Lenovo must have seen how good a seller the Y2P would have been, if they had just faced up to the lousy Intel N - 7260 wifi module. Crippled wifi on a $1400 ultrabook?. Didn't the bosses at Lenovo read about Sony and their wifi problems? On the forums since 2013 buyers were pleading with Lenovo to just come up with a fix...they were ignored. Thinking the newer Y2P models had the better dual band wifi, actually bought a Y2P last montht, but no. Couldn't even download Windows updates without dropping signal. Returned to BB. Also, with an "itchy credit card" [you know what I mean] I have been to check out the Surface 3 i5 and i7 many times over the past few months, but the doubts won over and I passed. With SP3 buyers writing on forums about 2,3,4 returns to get a reliable machine...I am not a masochist. Waited with bated breath for the Y3P, only to see your article just in time. I definitely don't need a Passmark 7 5000+ system for what I do, but I do have a problem buying less [power] for more [$], which seems to be what the manufacturers expect of us. The $1400 i5 Y3P would be about equivalent to my i5 4210Y in the $800 Yoga 11S! Anyway, thats my diatribe. Guess I will stick to my Yoga 11s and Acer W700 i5 for now.

As much as I like Daniel and his work, I cannot agree with this article, or - more importantly - I cannot agree with the comparison. I don't think it is fair to directly compare Surface Pro 3 and Yoga 3 Pro - Surface is primarilly a tablet with additional keyboard. Yoga is an Ultrabook that can transform into tablet. Surface will never be a true laptop (personally I hate all those additional, cover keyboards) and Yoga will never be a true tablet. Not to mention the size difference and so on. So: compare? Yes. Compare them head to head? No, different devices. P.S.: Not to mention the fan behavior rating is very subjective (me personally, I prefer stable fan speeds to turning on and off) and the service, updates and support part is full of prejudice. Just saying...

Very helpful. The near apples to apples comparison seems to be SP3 and the ThinkPad Yoga with upgraded screen and digitizer pen. A comparison of those two would be very helpful.

UGH this review is so off! Try sitting on the couch and putting the Surface Pro 3 on your laptop and start building a model in Excel or writing a paper... it's just not going to happen. Tilt it back just a littleee bit more... oh yeah that's right you can't. The Yoga 3 is arguably the coolest product ever realized. Laptop when you need it but then OMG STAND MODE. Game, set, and match. Clearly you haven't put it in Stand mode in the kitchen and used Microsofts UI keyboard to surf YouTube while cooking food or just hanging out. Again the Surface Pro has this like fake prop back setting... don't get me wrong it's cool but keep the pen, I'll never really use it. The Yoga 3 Pro and the Surface 3 Pro are going to last very similarly under heavy use. People don't get that... both are 44wH batteries... actually the Yoga 3 Pro probably won't last as long because you'll be able to do more with the Yoga 3 Pro resulting in a bigger battery drain ;) Okay so I don't love the cheap feeling keyboard and the Delete Backspace button positioning is wierd. Also both of these are sooooo expensive. But dude 3200x1800 resolution... anybody with video playback issues, just use Internet Explorer rather than Chrome. Goodnight, and goodluck.

I have been using Lenovo laptops for 10+ years, and I have been pretty happy. I do not think SF pro is a laptop that you can compare with Lenovo Yoga 3 Pro.

Last I checked yoga pro 3 by Lenovo is a laptop and clearly not a tablet like the Surface. Take this with a grain of salt here because your review is a 100% total fail. Nothing personal... Your review is biased to Microsoft. I have both products. One is a tablet which acts as a reader and a pc, my yoga pro as a pure pc, Excel, word, etc. I truly hope you are not a marketing major. Would you compare a compact sedan to a full size?? If you are shopping a tablet surface is a winner over its competitors;iPad, etc. If you are shopping a laptop pc yoga pro 3 in my opinion is a winner although this is a heavy competition driven segment.
Windows Central Newsletter
Thank you for signing up to Windows Central. You will receive a verification email shortly.
There was a problem. Please refresh the page and try again.