Best movies, TV shows, books and music to keep you sane while you're stuck at home
If you're like us, you've been mostly stuck at home for a week or more. These are the movies, shows, books, and tunes we're consuming to help battle cabin fever.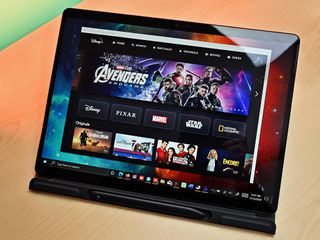 (Image credit: Daniel Rubino / Windows Central)
The world may have mostly shutdown, and you may be forced to work at home, but thankfully, there is no shortage of quality entertainment to get us all through this unprecedented time. In fact, for the first time in history, many big-budget films, featuring legit superstars, are hitting home theaters before movie theatres. These are dark days, but little developments like this can help.
Below you'll find all the movies, TV shows, books, and music the writers and editors of Windows Central are into right now, including Guy Ritchie's brand new film, a show based on one of our favorite video game franchises ever, some slick synthwave tunes, and a book about ... well ... the plague. Yeah.
If nothing here steals your attention, we have many more media recommendations from the past. Just hit the link below.
More media recommendations from Windows Central
Movies
British gangsta flick
Recommended by Al Sacco, managing editor

One of a wave of brand-new flicks going digital instead of waiting for theaters to open once again, Guy Ritchie's latest movie looks and feels like it picks up where he last left off, with some British gangsta style, quite a few amusing accents, and even better slang.It's the story of an American who builds a weed empire in London. When he decides to "retire," all the bloody loonies come out of the woodwork to take over his vacated throne.I didn't even know this was available until yesterday, and I haven't had a chance to watch it yet, but that's going to change tonight. I like most of Ritchie's earlier movies, and it has decent ratings everywhere I've looked, so I'm optimistic.
Inspirational history
Recommended by Sean Endicott, news writer

Disney+ just launched in the UK, so I have a whole slew of content to go through. Disney has some excellent sports films, and Glory Road is one of my favorites. It follows the story of the Texas Western basketball team as coach Don Haskins recruits seven black players to the team in a time when black players and people were considered inferior. The team faces racism, aggression, violence, and ignorance as it competes for the NCAA title.The film balances humor, tragedy, and inspiration into a beautiful film. Josh Lucas does an incredible job as coach Don Haskins, and the entire cast just works.I'm always a sucker for a good sports film, but with the American football team I coach unable to play due to the current health crisis, I'm glad I can get a bit of a sports fix in.
TV shows
Hail corporate
Recommended by Jez Corden, gaming editor

Capitalism is a funny old game, particularly so when people cheat the system and break the rules, which is what Dirty Money is all about. Insider trading, fraud, health and safety violations: endless growth and the pursuit of cash is the name of the game. Dirty Money shines a spotlight on the world's slimiest, greediest assholes to whom money is worth more than human life.
Bloody good
Recommended by Samuel Tolbert, freelancer writer

There aren't many good video game adaptions, be it movies or TV, but Castlevania delivers in spades. With slick, stylish animation perfect for the gory, gothic tone, Castlevania tells the story of Trevor Belmont, a monster slayer. Trevor's unlikely allies? Sypha Belnades, a magician, as well as Alucard, the son of Dracula. Together, these three aim to bring down Dracula and end his war against humanity.Clever writing and wit are supported by an excellent cast and a plot that isn't afraid to lean into its video game roots or go beyond them. The third season just released, and it keeps on getting better. If you're looking for some visceral catharsis and you're not too squeamish, Castlevania may be the perfect show to watch.
Family fun
Recommended by Richard Devine, Reviews Editor

Disney+ arrived in the UK at the best possible time with the COVID-19 induced lockdown, and keeping the kids entertained is going to be one of the biggest tasks. One of the first things we've done is sit down and start watching the original DuckTales series that debuted in the late 80s.It's one of my favorite childhood shows, I'll always maintain it has the most excellent theme song of all time, and it is, frankly, a timeless classic. A piece of feel-good TV when we really need it.
Music
Beautiful Retro Tunes
Recommended by Rich Edmonds, staff reviewer

PRIZM is a synthwave duo comprised of Krisluv and Danni James, based out of Dallas, U.S. Combining classic pop styles with modern production, the duo brings to the table a refreshing take on the retro 80s vibe that's starting to gain some traction. Their debut album PRIZM came out in 2019, but I only just learned about them.One of my favorite tracks from PRIZM is "All Night." It's a fantastic mix of both old and new, fusing retro style with modern songwriting and touches. I'm stoked to see where PRIZM goes from here, as well as what's next on the roadmap. If you've been following the synthwave revival, you'll want to add PRIZM to your playlist.
Out of this world
Is Anybody Out There? by DPR LIVE
Recommended by Matt Brown, staff writer

This creative collection just spun out its latest project, "Is Anybody Out There?" an 11-track album spearheaded by music videos for Legacy, Kiss Me, and Neon. Rapper DPR LIVE steps into the spotlight with this intergalactic release, reflecting a journey to finding courage and leaping forward. From upbeat hip-hop to sober lo-fi tunes, it stows diverse soundscape, conveying a narrative across tracks.That's not touching on the accompanying cinematic epics, crafted by a handful of creatives comprising the DPR team. Talent in audio, direction, and production assemble with cosmic 4K visuals, among the most visually stimulating work out you'll find. I also recommend coupling that with the recent "Lift-Off" behind-the-scenes, exploring the process from concept to execution.
Books
Dirty tricks and manipulation
Poisoner in Chief: Sidney Gottlieb and the CIA Search for Mind Control — Stephen Kinzer
Recommended by Daniel Rubino, executive editor

The CIA and Project MKUltra have a lot of myths around them, with the latter fueling many looney conspiracy theories that persist to this very day. Growing up, I remember hearing MKUltra in conspiracy forums and internet urban legends, but as it turns out, there is a lot of truth to the controversy.Kinzer goes through the history of the project starting during World War II, with, what else, but Nazis who had a long history of drug experimentation. What was unknown to me was how the US used its controversial "Operation Paperclip" to not only bring over German rocket scientists but those who did human experimentation, including those in pursuit of mind control.All this feeds into the CIA's project, which went on for ten years starting in the 1960s. The program was much more sinister than I knew. For once, it's fascinating to read the actual truth of what the program did, who it did it too, and its lasting ramifications. An exciting and lurid tale for anyone interested in Cold War machinations.
How Apt
The Plague — Albert Camus
Recommended by Cale Hunt, Staff Writer

Oh, how original, Cale. Reading The Plague while we're faced with a global pandemic on a scale before unseen by most living people. But I've been told I get style points for having this old beat-up copy on my shelf for a decade before I decided to finally jump in.I'm about halfway done at this point, and while the book focuses on a fictional outbreak of the bubonic plague in Oran, a French-Algerian town, there are a lot of similarities to what we're facing now. A quarantine. Social distancing. Fear. Denial. Anger.Like most Camus work, much of the content is allegorical and, overall, bleak. It shows how some people deal with living outside of normal conditions, and I have a feeling things are going to get much worse before they get better. If you feel like you're out of your element, living in the absurd, there's really no author better than Camus.
Get the Windows Central Newsletter
All the latest news, reviews, and guides for Windows and Xbox diehards.