What we want to see from Apex Legends Season Pass
We hope to see some of these things in the first Season Pass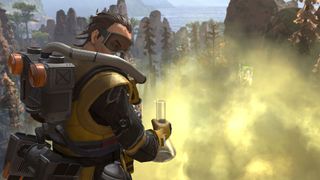 (Image credit: Electronic Arts)
Apex Legends topped 50 million unique players in its first month which is, frankly, insane. That being said, the game is a lot of fun to play, and some of us here are a little obsessed with hill slides, portal jumps, and zip lines, maybe more than we should be.
The first Season Pass is said to be released sometime this month and, unfortunately, we know nothing about it at all. Respawn did, sort of, hide the game from the whole world though, so it stands to reason that they would be cagey about this, their first real expansion.
We are going to take this opportunity to talk about what we would like to see happen in the season pass, and what we don't want to see.
What we want to see
The first thing we want to see is some new characters. This seems obvious, but it is the most likely thing to come this Season and will make the biggest difference. It doesn't need to be lots of characters, one or two maybe, but they will need to be balanced. I think the base roster is balanced extremely well, so I'm not worried that Respawn will drop the ball on that
A nice addition to the game would be a new class of weapon. Not just new guns, though that is always welcome, instead, a new style of weapon altogether. Maybe traps, or a melee weapon, something to spice up the gameplay a little. Give us a chance to change the tactics that people are already starting to entrench into their gameplay.
The last wish from me, and several Twitch players I watch, may be a little overpowered, but boy, would it be fun. If we could dual-wield pistols and pistol shotguns the game would go crazy in the best way. Dual-wielding Mozambique's weapon as Wraith would be the greatest thing ever. EVER.
What we don't want to see
I do not want a new map. I know there are people already asking for one, and I understand the need for variety, but Battle Royale games work best on a giant map you can spend a lot of time in. The game has only been out for a little while, and there is still a lot more to explore in King's Canyon.
The other no-go for me is a load of new skins. We have so many skins already, and I'm pretty sure no one has managed to get them all for even one character, let alone all the Legends and all the guns in the game. We have plenty of skins, thanks Respawn. Let's concentrate on gameplay, not cosmetics.
What do you want to see?
Now you can speculate! What would you like to see in the Season Pass? Are we way off base with what we want to see, or do you think we hit we're on target? Let us know in the comments.
The main game
(opens in new tab)
The latest free-to-play Battle Royale game

Apex Legends is the latest in the Battle Royale craze using a free-to-play model. With excellent squad-based gameplay, fast action, great-looking visuals, and now over 50 million players, Apex Legends is fast becoming a Battle Royale game to beat.
Hard cash
(opens in new tab)
Microtransactions are king

Apex Coins are the currency of choice in Apex Legends, and they allow you to buy the cosmetic extras in the game, as well as Apex packs and the new characters that we think we be in the Season Pass.
James built his first PC when he was 13 and has never looked back. He can be found on Windows Central, usually in the corner where all the 3D printers are, or huddled around the Xbox playing the latest games.
Yeah, I want to see a new carácter at least, to spice things up, but new cool skins to aim for are always good in these games. Especially the really expensive ones.

Not necessarily for the season pass, but as far as skins are concerned, I would like to see them increase the amount of crafting materials you get. That stuff is scarce. I'm fine without new characters. I also don't want to see a new map yet. That can come down the road. There are still places/routes that I have yet to take advantage of and I've been playing a lot.

The patch today fixed a few things I was hoping for (some serious gun rebalancing) and the latest NVIDIA drivers seemed to fix a lot of the performance issues. (not all) So the only thing left would be some real anti-cheat protection. I know it's in the pipeline but it would be great to see it coming in before the season starts. And maybe some skill/lvl based matchmaking.

How much will the season pass cost?

That is the million dollar question, and we will answer as soon as we know.
Windows Central Newsletter
Thank you for signing up to Windows Central. You will receive a verification email shortly.
There was a problem. Please refresh the page and try again.