What's the difference between an antivirus and anti-malware?
So you've read somewhere online about malware and viruses, but just what are they and what are the differences between antivirus and anti-malware products?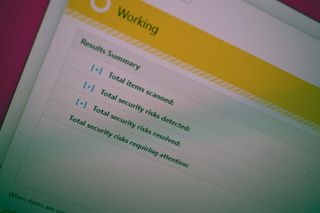 Two major types of protection for Windows (and PC owners in general) are an antivirus and anti-malware suites. These software solutions offer measures to help keep OS installations secured from attack, be it from malicious users or code on websites. But what are the differences between the two, and do you need one installed or both? We've got some answers that'll help clear things up and get you on the right track.
Nasty little critters
However you look at them, both viruses and malware are somethings you just don't want to have on your PC. Thing is, they're pretty much the same. Malware (or "malicious software") essentially covers a wide range of malicious code (malicious software), including spyware, worms, ransomware, and even viruses. A virus is an older type of malware, which was mainly used way back when and is why you're hard-pressed to find a security company that hasn't evolved over recent periods to offer protection against newer threats but cling onto traditional branding (antivirus).
While you'd immediately assume that an antivirus will usually handle older threats and anti-malware software will take on newer threats, this is not technically the case as software suites today can handle both. So do you not actually need separate antivirus and anti-malware protection? So long as you opt for a solution that has adequate levels of protection (against both legacy viruses and newer threats), then you should be safe from the wide range of these threats.
It can be confusing, but it's still recommended by industry experts that you opt for multiple layers of protection. Simply installing one suite and calling it a day will protect your PC but not from each and every threat out there — nor will having two solutions working side-by-side, but they will be able to cover much more ground. For me, I have a suite running full-time with a second used for infrequent scans from a USB stick.
Get protected
Have a shop around and take a look at various products available, but take note that just because a solution you're currently looking at calls itself an antivirus, it doesn't mean it won't be able to handle malware as a whole. These terms continue to be used interchangeably, but many companies today offer full-featured protection.
Rich Edmonds is Senior Editor of PC hardware at Windows Central, covering everything related to PC components and NAS. He's been involved in technology for more than a decade and knows a thing or two about the magic inside a PC chassis. You can follow him over on Twitter at @RichEdmonds.
Microsoft Security Essentials for Windows 7 only provides anti-virus protection. An additional anti-malware product is required. Windows Defender for Windows 10 provides both anti-virus and anti-malware protection at no extra cost.

You need this, https://www.microsoft.com/en-us/download/malicious-software-removal-tool...

What do you mean? Isn't MSE supposed to offer protection against virus, spyware & other malware as well?

I'm currently using Defender and malwarebytes premium on my windows 10 PCs.

The issue with most of these reviews is that they only focus on consumer class protection software. I have been using Symantec "Corporate protection software" for some years now ( they have changed names a few times, and it is NOT Norton you buy from BestBuy). In my experience it has been providing the best protection compared to other solutions I have been constantly coming across, and DOES NOT impact system performance by much (unless I force to full scan a system from the server). This is not mentioned in any of articles because in the past the licenses were more expensive ($250 for Symantec Corp AV server + 5 clients), but now they have the Symantec SMB EndPoint protection for $20~30 a year and the server runs in the cloud so you don't need a server. I have been using it at home as well and I even put my family on it (so I won't get many calls from my Mom... I just monitor it from the web interface once in a while and I get an email when something pops up :D )

The best thing to do whatever you use in whatever combinations is compartmentalise and backup backup backup

Hi Rich, Great article, but may I suggest updating it to specifically caution against installing more than one Antivirus/Anti-Malware product on the same computer system at the same time? It is fine to use multiple passive scanning Antivirus/Anti-Malware tools on the same system but having multiple active products on the same system is known to frequently result in less protection due to competition for access to memory and files between the two. There are many articles about that topic. Here a few examples: https://blogs.microsoft.com/microsoftsecure/2014/08/05/can-i-run-more-th... https://support.symantec.com/en_US/article.TECH104806.html https://blog.kaspersky.com/multiple-antivirus-programs-bad-idea/2670
I have seen numerous cases where otherwise effective antivirus/anti-malware products were defeated by such simultaneous installation. Kind regards, David Taylor
Gulf War Veteran
Microsoft Alumni | Former Premier Field Engineer
Certified Information Systems Security Professional
https://www.taylorlife.com/author/david-taylor
Windows Central Newsletter
Thank you for signing up to Windows Central. You will receive a verification email shortly.
There was a problem. Please refresh the page and try again.