What's on your Start screen, Seth Brodeur?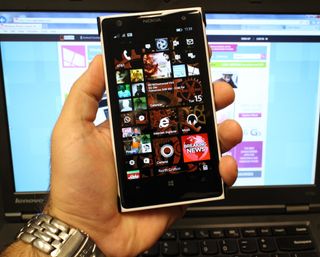 Since March, we here at Windows Phone Central have been showcasing our Windows Phone Start screen layouts to give you a glimpse of how we use our devices. Since Daniel's initial post, we have heard from writers Rich, George, Abby, and most recently, Sam.
Following in the footsteps of those who came before me, I decided to share mine as well.
Update:
There have been several requests for a link to my background image. I knew I wanted gears, so I just did a quick image search on Bing, which pointed me to this DeviantArt page. Thanks to the original artist, Eli Bailey (AKA, manoluv).
My Start screen apps
Phone - How much do I really need to explain this one?
People, People, People – More than anything else, I use my phone for communication. Therefore, I have live tiles for the people I contact most, namely, my wife, brother and closest friends (including our beloved Editor-in-chief). I also have the People Hub, for quick access to the rest of my contacts.
Messaging - SMS is my go-to mode of reaching people, so it soars to the top of the Start screen
Me Tile - This tile is so much less useful than it used to be, but I keep it around for old time's sake. Not to mention, I love the "rolling anarchy" icon that it adds to my Start screen.
Facebook Beta - I used to be a hater, but now find myself enjoying Facebook immensely. For that reason, it gets a prominent spot at the top. I prefer using the beta so I can try out the latest features. I also have the regular app installed, but I use a tile for it. [More coverage / Store link]
Email - I have several email accounts, both for work and personally, so they get their own easy-to-reach cluster up top as well.
WPCentral - What better way to keep up with Windows Phone and other Microsoft news? [More coverage / Store link]
moTweets Pro - moTweets is one of the first Twitter apps I tried, and it's still one of my favorites. I use the Pro version connected to two different accounts. [More coverage / Store link]
Calendar - Being busy and forgetful is a bad combination. Thanks, Calendar, for always helping me know where I have to be at any given time. [More coverage]
Internet Explorer - What's the most valuable tool in the world? Hands down, the internet. Internet Explorer is a solid browser, even more so in Windows Phone 8.1. [More coverage]
Xbox Music - Despite its obvious shortcomings, Xbox Music is one of the apps I use the most. Whether it's at the gym or stuck in traffic, I rarely go without music. There are other music apps out there, but I stay true to Xbox Music. [More coverage]
WhatsApp – There are few people I communicate with using WhatsApp, but it fits nicely with my people tiles. [More coverage / Store link]
Facebook Messenger – Because, hey, why not? Like WhatsApp, it doesn't get a ton of use, but I needed a small tile and goes along with the communications side of the screen. [More coverage / Store link]
Cortana - Everybody's favorite AI sweet talker. Cortana gives me a way to keep current on news, stocks, flights and more. And she's right there, in case I need to look something up or set a quick reminder. [More coverage]
Breaking News - This is a great app for news alerts, or for killing a minute or two while you are in line for coffee. Not only is it available for Windows Phone and Windows, but it is customizable and looks sharp to boot. [More coverage / Store link]
Settings – With Wifi, Bluetooth, Camera and Location in my Notification center dropdown menu, I don't need to go into Settings very often. But it is handy to have the tile easily available when I do.
Store - Apps are a huge part of what we cover at Windows Phone Central, so the Store tile sees its fair share of usage.
Blue Skies - This is a really snazzy app that packs a lot of information into slick, minimalist graphics. The large Live tile looks great and switches between current conditions and 5-day forecast, along with tips like "Don't forget an umbrella today." [More coverage / Store link]
Games - I wouldn't consider myself anything more than a recreational gamer, but having the Games Hub handy is a good way to kill sometime.
AlphaJax - Among the games I play, I love Scrabble, and AlphaJax scratches that itch while I am on the go, whether it's battling friends or random strangers. [More coverage / Store link]
Readit - If you frequent Windows Phone Central, you probably know we love Reddit. Readit is one of the best Reddit apps out there, so that is worth a spot. [More coverage / Store link]
Pandora - Sadly, my lack of an unlimited data plan stops me from using Pandora as much as I might, but it is something I often put on at home, especially when hosting guests for a cookout, etc. When paired with my [JBL PowerUp], it makes for perfect ambiance. [More coverage / Store link]
Calculator - For those times where you need some quick numbers crunched. I don't use it enough to necessarily justify its own tile on my Start screen, but I couldn't get it to go into an [App Folder].
Fitness App Folder - Speaking of App Folders, next up is my Fitness folder, packed with apps for diet, exercise and all-around mad gains. The folder includes [MyFitnessPal], [Fitbit Tracker], [Runtastic Pro], [MapMyRide]¸ and [Fitness Log]
SBUX Card - Being a coffee fiend who is married to a Starbucks manager/faithful Android user makes the lack of an official Starbucks app a painful trifecta. Thankfully, there is SBUX Card, which allows me to conveniently check my balance and pay for my caffeine habit. [Store link]
Photos - While I am not the best photographer, my [Lumia 1020] keeps me inspired to snap pics wherever I go. The Photo Hub makes it easy to view and share my snapshots.
HERE Maps – My go-to GPS app. It's the best bang for the buck out there when it comes to navigation. And since I drive around the greater Boston area fairly often, it is an indispensable tool. [More coverage / Store link]
Microsoft Office - Just because I can. [More coverage]
OneNote – Perfect for reminders, shopping lists and more. Plus Cortana integrates nicely with it. [More coverage]
OneDrive – One of the bread and butter apps for Microsoft. OneDrive gives you access to all of your files from any device. [More coverage]
Office Lens – So cool, though I have never actually used it in a real-life situation. But I had room for a small tile, and like grouping tiles together in themes of sorts. [More coverage / Store link]
CloudSix – Like Starbucks, DropBox has failed to deliver an official app. For that reason, I use this client created by Windows Phone superstar [Rudy Huyn]. [More coverage / Store link]
Evernote – OneNote has taken over as my notebook app of choice, but Evernote still has a home on the Start screen [More coverage / Store link]
Flixster – Once a movie theater projectionist, I am a huge movie buff. Flixster is my favorite app for checking movie times. Powered by Rotten Tomatoes, the reviews are a great guide for figuring out what to watch [More coverage / Store link]
IMDB – Be it watching TV or movies, I find myself looking things up on IMDB constantly. [More coverage / Store link]
Kopy – A universal app for sharing quickly info between devices. [More coverage / [Store link](http://windowsphone.com/s?appid= 6b0c3ec0-afad-4e45-8990-874f12dbab20)]
Battery Saver - A great way to see what is eating up your battery life [More coverage]
Data Sense - Good for keeping tabs on your usage [More coverage]
Storage Sense - Where did all my free space go?! [More coverage]
Windows Phone Central – Really? I need to justify this app? [More coverage / Store link]
Tools App Folder - Just a few seldom-used utilities: [Flashlite], [Interval], and [Bing Translator].
Travel App Folder - I am a big fan of road trips and try to travel as much as time allows. Having these apps around makes it easy to find local hotspots: [HappyCow], [HERE City Lens], [HERE Explore Beta], [HERE Maps]¸ [HERE Transit]¸ [TripAdvisor]¸ and [Yelp]
Consumerism App Folder - Cuz sometimes I like to buy stuff. [Amazon], [Newegg], [eBay], [The Home Depot]¸ and [PayPal]
Stocard – It sure beats carrying around fifty-seven different store rewards cards [More coverage / Store link]
MetroTube – A really well-designed YouTube app. [More coverage / Store link]
Windows Central Newsletter
Get the best of Windows Central in your inbox, every day!
Cool background want it but it looks good only on high end devices of amoled display

Sincerely speaking that background looks terrible, guys you need to see mine!

It's about personal preference, I guess :P

someone know about such website specially for "good" start backrouds?

Anyone else having laggy start screens with Lumia 520? Mine has been so laggy that i actually went back to the two row start screen and almost not enough tiles to scroll down to. Now it works 100% as should

I didn't think 3 columns looked very good on the 520. It only really works on bigger screens. Posted via Windows Phone Central App

Yep, It looks pretty good on my 520 too. But it must look even better in larger screens though! Here's mine: http://1drv.ms/1pfBTIp :)

Oh man i loved that background. Where can i find it? I have a 520 aswell and no problems in using the third row.

Thanks! I downloaded an image (can't remember the source!) and later edited in PhotoShop Here's the wallpaper: http://1drv.ms/1nDO7HZ

Your SS looks awesome Gautam.

Thank you!! You can download it from here if you want: http://1drv.ms/1nDO7HZ

My 920 does sometimes and my lil bros 520 also.

I have 3 column on my 520 and it works smooth

Did you do a hard reset after the OS update? ... Mine isnt unusable laggy but its enough tobremind me of the type of lag found on high-end droids. Yiu know? That its to quick to slow youbdown but its long enough tobreally irritate you.

How many apps do you have on your start screen? Number of "live" tiles you use also affects the performance. I, usually don't put more than 30 apps on start. If I do, it takes a while to "resume" from other apps you know (512mb ram isn't just efficient for proper multi-tasking!). Also, make sure you've at least 1GB free phone memory.

I have more than 30 apps on start screen and around 2.5gb space free

I've 27 apps on start screen right now, 8 as live tiles and others as icons. And around 1.6 GB free internal memory and it works smooth... except few cases ;)

After performing a hard reset all the lags will gone, trust me.

Nope, mine works just fine

Mine lags like the lowest Android device, it sometimes takes about 15 seconds to display the start screen, sometimes even longer. I don't know how many apps I have pinned on my start screen, but there are a LOT!

I have more than 80 apps on my start screen and it doesn't lag maybe you should try a hard reset.

I feel bad that I am not familiar with this guy. First time I noticed his name lol That said these articles make me want to really go in an edit and my startscreen which is a hot mess now.

He is not new. He is part timer.

Right you are. Hope to contribute more in the future.

Nokia 925 http://imgur.com/GMTf5FW @imgur

This is my 925
Shared files from OneDrive http://1drv.ms/1wDrPM3

Hey, nice start screen, could you please lend me a link to this beautiful background ?

Beautiful??? you people get serious...that start screen is nowhere near mediocre

No link for background picture ? Looks cool otherwise.

Way too cluttered for my taste.

I love AlphaJax! What's your gamertag?

It's all about that me WWF app

I have three rows and no lag bo. 525 but that could be the 1GB of RAM on board.

Here is my 620 start screen!
https://onedrive.live.com/redir?resid=B9E93FC475C5945!8568&authkey=!AOaH...

I have the same Posted via Windows Phone Central App

What app is it with the time? :)

Looks really nice! Share your wallpaper?

Hey! Music app is going to update today? (Sorry for my bad english)

Nice background Seth! Any chance of getting a linky to the background image?

Share your picture background please!! Posted via Windows Phone Central App

I havnt used transparent tiles yet, HAve to say tho that many look like a confused mess. Not sure I will use it.

Will do, cant wait to get hands on 8.1 :D

Woo I adore your start screen,Seth :)

Yeah, used to be that way but I've done a hard reset and now it's way better.

Here is my Lumia 920 http://s14.postimg.org/kpazwayld/L920.jpg

I like the composition of your background!

How do you even make folders?

I use App Folder. Great app.

Seth, you inspired me to find a gears wallpaper ;-) I selected a silver metal rather than brass or gold: My Start Screen http://1drv.ms/1kAfWRL Raw Image http://1drv.ms/1yxYrJR

Shared files from OneDrive http://1drv.ms/1taoRhX my screen

What app has Lumia 630 live tile

Really confusing. Too busy background. I think for transparent tiles you need a less detailed background. Maybe a simple colour with a subtle pattern.

Man I use to use Music alot on my windows phone but then WP 8.1 came along and messed up my experience and so I went to really on Pandora which burned up my high speed data but then music freedom came along and oh man do I feel bad for people that have at&T Verizon sprint and the other greedy bastards.

Too messy, I can't handle looking at it

What a day! No news would have been good news fo July 17, 2014. July 18, 2014 here waiting for BBM.

Here's mine...not that anyone cares http://1drv.ms/1zNTsGu

I like it. Not too cluttered but using the space well :)

Here's mine http://1drv.ms/1kAo6tn

:) enjoying my windows phone... Not giving a fucs :)

Too busy for my taste. I like clean and clear. But hey, its your phone right ;)

Here's mine http://1drv.ms/1nQaZcj

Nice looking start screen Seth...

Yikes, holy cluttered mess Batman.

Isn't Stocard an Aussie app? All the stores are Australian. Plus it has wallet integration, BONUS.

Not all stores are. Using it here in US and most local stores are available. Wallet int. is boss

You can also do generic barcodes, which does the trick for me 99% of the time.

Hi All,pls what's the best app for having a nice Start screen??

Hi Seth, thanks for the shout out for Fitness Log glad to see you enjoying it!!

Yeah, I just started lifting regularly a few months ago, and it's a great way to keep track of my progress. Cheers!

An article just to show what you have on your screen is pointless. What was wrong with the thread in the forums? Looks like crap to be honest...

Thank you for your valuable insight.

You're life is pointless.

Nothing because 8.1 not released to the punlic

Well, hate to say this but your start screen BG sucks....

I totally use that background for mine!

Same with my start up menus