WhatsApp delays plans to launch voice calling services until Q1 2015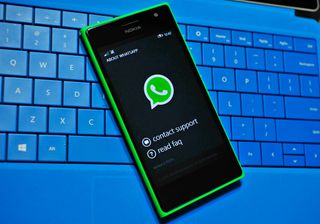 Way back in April, WhatsApp announced they were planning to add voice calling services to their popular messaging app in the second quarter of 2014. That time period came and went with no such addition. Now WhatsApp's CEO says they are targeting a first quarter 2015 date to add voice features.
In a presentation at the Code/Mobile conference this week, WhatsApp CEO Jan Koum admitted that the development team has a number of technical hurdles to overcome before launching voice features. One of them is that the app itself doesn't have access to the microphones on some smartphones.
WhatsApp was recently acquired by Facebook, but Koum said this week that he doesn't think WhatsApp will compete with Facebook Messenger, which also has free voice call features via WiFi. He said that while Facebook is designed to work on both mobile products and desktops, WhatsApp is designed to work just on mobile devices, so any voice messages will go to a user's contact list.
Would you use WhatsApp to send voice messages to your friends and contacts when the company adds this feature?
Source: Fierce Wireless
Windows Central Newsletter
Get the best of Windows Central in in your inbox, every day!
That means WP will get it by 2020

2020 is when the next WhatsApp update is coming to wp

It's funny because it's true.

In 2020. There isn't WP anymore it's WG

Oh but are we going to have that feature? :o

Cause Skype is a turd on WP.

Which ones are the worst developers in the world and why are the WhatsApp devs?

Whatsapp demays update WP version until Q1 2015 too ?...

No, they are delaying it to a non specified date

do you know when? maybe this code will help you: date('d M Y', PHP_INT_MAX);

FB Messenger has voicecall ability? Not on my (WP) version it doesn't. As long as the Whatsapp people can ensure the voice quality is good then I'm happy to wait. It then means I can get rid of Viber finally. Now all I need is for my wife to actually answer my viber calls! :P

Yup it has voice calls. , but just on IOS and android "in the mean time" hopefully we'll Get it soon

Why not using skype? It's available on nearly any platform and it has text, voice and video...

Nothing wrong with viber. At least viber are trying to put some effort into the wp version, unlike whatsapp

I wish Whatsapp was also available on PC... They could use Onedrive to sync conversations between devices so they wouldn't have to change the way their server works.

Lets hope it works on PC's with windows 10 as well, I'm also expecting that.

Its available but its need to be downloaded by a software or you can say third party application.

PC doesn't has a phone number. WhatsApp can only work with your number on ONE device at time.

Viber and Telegram works on PC

Viber and Telegram doesn't require a SIM Card and Signal verification.

Yeah I'm aware of that. All I'm saying is it'd be nice if it wasn't like that. And if they used OneDrive to sync between devices they wouldn't need to change the way their server works. It would still send messages directly to your phone (so you'd still need to have it on your phone first) but then as soon as it would receive it on the phone it would sync it to a file on OneDrive. The Windows 8 app would look for changes in the Whatsapp folder on OneDrive and send you an alert when something new is available. It wouldn't change anything on the way Whatsapp works on the server side, all they would need to do is change some stuff in the app itself and OneDrive would do the rest. Unless it's much more complicated than that, which is possible since I'm definitely not an expert, ahah. Also I guess it could cause some concerns over privacy since conversations would be backed up on a server Whatsapp has no control over...

First release the optimized WhatsApp for WP8.1 then we will talk about further features..maybe in 2020 lol

Youre 100% ryt:P the minute i read the title i thought of that

I don't even give a fck about voice calls, if basic features like automatic video compression and mp3 share is not even available.

I second that. Lets get the features available to feature phones down first then we can talk voice calls.

There is a way to share mp3 songs though.

Yeah, using an android to send the track to your wp, and you simply forward it... Or rename to mp4 and send as a video... Screw that

NOPE!!!! Tell your friend to download track by himself :P

It's been a few month already they haven't update WhatsApp for WP. Really pissed me of since I've try to reach them and got no response at all. Are they abandoning us?

They told (email) they don't serve Windows phone users as it is in beta

Still waiting for the whatsapp update, and we still don't have the free fb calls

Shocking ...
Nah, I won't use WhatsApp Voice Calls.

Apologies, thought I was commenting on Crackberry - my bad! Too many browser windows open!

Welcome to Windows central

I'm hoping Blackberry speeds up Windows Phone development and brings these features.

First give us a stable messenger. Just not keeping WhatsApp 'BETA' tag doesn't make it non Beta. Fed up in this Beta world.

I'm fine with just messaging

Calling, yes. Voice messages, no

As long as it's free and runs smoothly I will take watsapp up

WhatsApp also delays plans to launch the next update for WindowsPhone?

I heard WhatsApp beta got updated..where is that news??what's new in it ??

its pretty fast the beta version is very good. they should release the update soon

I'm already using WhatsApp voice messages (last question), but I would like to see VoIP too!

I use Skype more and more. So when WA is ready to launch i don't use WA anymore I guess.

When I see the WhatsApp picture, I scroll down quickly anticipating an update xP

Voice messaging already exists in almost all of whatsapp versions on almost every platform (sans very low end phones)

Enjoyin being beta member

Do you know if in the beta version you can share http links from IE to WhatsApp?

It's like WP doesn't even exist for WhatsApp devs. Never understood this.

I find that so odd - it is well supported on Blackberry and we now have a smaller market share than WP!!! I see WP as something that will slowly keep growing as time marches on and it would be silly for WhatsApp to not put a bit of weight behind this. As someone once said, regardless of what it is Microsoft always has a knack of sticking it out and being around in the end!

Yes definitely....i am dying to get this feature added on WhatsApp.

Still cant send pics from albums that aren't on my phone (FB, OneDrive, etc) so... One step at a time!

Please do excuse my ignorance as I am a not an app developer. But I think we should be asking, why is it so difficult to develop or update an app on WP OS? What technical difficulties that most developers are referring to? Is it app stability or OS stability problems? We keep on getting less features on the same apps that is available on other platforms. Why is that? Is it technical, economical or even political? I think those are generally that most WP user wants answered.

These questions turned to frustration, and slowly it seems user are finally wanting to look away to "greener and better platforms". Quite sad actually. I'm one of them admittedly. But I'm staying put for now.

I love that phone and i don't has that

So whatsapp also joining voice calling services. I heard the rumor that it will also include video service as well as a surprise ?

Messenger doesn't have voice calling on WP yet e.e"

F**k off wid u don't even added basic features of ios n Android lyk images wid captions n all n dey r talkin abt voice calls I think it will come after 2025 f**kers

N= and
R = are
U = you
Abt = about
Lyk = like ....is it really that difficult to use the extra characters and give us some proper words. Spkin lyk dis iz annoying!

I heard the features found in the beta version will come in Q2 2015.

I think it will come at 2025

No internal cht alerts no typing... Symbol below the chts list when someone is typing how the hell will grow wp os

watsapp beta is very fast and perfectly optimized for wp8.1. orginal version come soon

How to install whatsapp beta?

private users only. its not public

Do you know if in the beta version you can share http links from IE to WhatsApp?

I'm quite happy with Skype and Viber for calls. Unless Whatsapp delivers better quality I'm not going to use it primarily for calls. Just for messaging that's it.

Latest update from Whatsapp team is that they are planning to update Whatsapp later. Keep it up Dated 29-Oct-2014

WhatsApp beta updated yesterday with WP8.1 compatibility which is very battery efficient now... http://www.nokiapoweruser.com/2014/10/29/latest-whatsapp-beta-update-bri... I think it is also supports captions for pics n videos and background images for individual chats.

I am in total lust with my new Nokia 1520. I'm so glad I didn't buy an iPhone or Samsung Note...

no more interested in the company which works with snail speed.....hike is anytime better....

really devs are so lazy not to suppoet windows phone which is such a good plarform and ppl like us are ready to give feeedback tp them. if aany watsapp devs are there on windows central right now they should listn to us chst with us here any ine of them just like how Jay, Rudy and Venetasoft, and Ubisoft listn to us

They should first update WhatsApp with the ability to attach videos of any length. Currently you can send I think just 5-6 seconds of video captured by the Lumia since it is HD. Nobody needs voice calls. Skype is available on every platform already.

Window os will end before 2017.

" Would you use WhatsApp to send voice messages to your friends and contacts when the company adds this feature? " This feature is already available for WP ! On the other hand, I've read a lot of comments criticizing WA and seriously I don't understand: the service works better than ever on WP, is simple and fast so why do we need any update? It's a messenger app I don't need any new feature just increase the size of pictures/videos.

I've never used it, I've used Skype but not WhatsApp

Ah, so now there's no excuse anymore to delay the next update any longer (which I hope improves battery life and speed like the beta: http://www.reddit.com/r/windowsphone/comments/2knpal/whatsapp_beta_finally_gets_speed_and_battery_life/)

First of all add file manager!

https://windows.uservoice.com/forums/265757-windows-feature-suggestions/suggestions/6612952-allow-datasense-to-block-internet-for-all-apps-sof If you want such feature that i have described there, please vote and lets microsoft see it. Thanks.

Microsoft device already loosing its market in US and all other countries. I hope Microsoft will handle this situation and also provide a better service for its users. Microsoft can do more and iam waiting for it.

Lets hope you don't need to have it open to see incoming calls, like Viber

Whatsapp update and VLC for WP are a mirage.

I don't get it. Why is WhatsApp so popular? Skype and Viber have far more features than WA.

Not everyone uses Skype (you need an email address, you need create account for Skype etc..) and kids dont need that. Viber is terrible on windows phone, when you have incoming call most of the time you dont get notified, after the other end ends call then you get missed call notification. IF you get notified (when screen is locked) it takes forever to launch app.. So yeah WhatsApp is a winner

So what you are saying is that it is a winner for kids because they don't need email? This "winner" doesn't have VOICE CALLING!

No this winner 1) doesn't require fast internet. Try voice call or video chat on Viber/Skype on 2G. It impossible. I have very fast internet at home even that sometimes doesn't help for Skype/Viber calling 2) Because it works on such a slow internet everybody uses it. Dont just point on kids, though parents like to keep in touch with their kids. Group chatting is another advantage, up to 50 or 100 participants per group. You can't do that either on other two apps.. I bet you dont (voice) call every other person, when you need use one of those app, or you can send audio msg in WA

WhatsApp popular in Asian countries.

Just plan on launching the 8.1 version of the app first please in the near future hopefully

Voice calling, video calling...

Yes we want...fb messenger for windows phone have lack this feature...

Hey whatsapp team please note there is OS call windows (WP 8.1) while realeasing audio calling option on other populer phone OS

Hi sir, I have Lumia 730, better than Android, but I want WhatsApp to able too send the music or any .mp3 files from my internal or extsd So pls add the features soon. I hope u done thank you.

Hi WhatsApp. Please add the music option to send the .mp3 format and then u will go to calling features
Windows Central Newsletter
Thank you for signing up to Windows Central. You will receive a verification email shortly.
There was a problem. Please refresh the page and try again.