WhatsApp expected to be available on Windows Phone 8 within a matter of days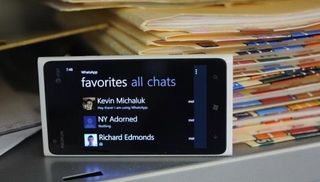 We've already reported on WhatsApp's absence from the Windows Phone 8 Store, but now confirmation has been published that quotes a response from Nokia Care. The reply contains details on when we can expect to see the popular service make an appearance for new Windows Phone hardware. We've received countless emails pleading for information. Well, here we have it.
According to WPDaily.it, the following was sent in by someone who took note of a conversation with a Nokia Care representative
Should the above quote be anything to go by, we could be seeing a new version of WhatsApp hit the Windows Phone Store by the end of the week. It also serves as confirmation that the app was removed for bug fixing and wasn't for the compnay to begin charging users as other news sources have incorrectly speculated.
Until the app is again available, we recommend checking out the likes of Kik, which is a great messenger that is already out for Windows Phone 8. We're not expecting much from the WhatsApp team as the app has been plagued with issues since it was released for the platform.
If you're a Windows Phone 7.x owner, be sure to check the Windows Phone Store on your handset as the app is still available. Note that should you experience issues locating the app, you may have to use a direct link or Bing Search. We'll announce when it's available for Windows Phone 8 owners.
via: WPDaily.it
Rich Edmonds is Senior Editor of PC hardware at Windows Central, covering everything related to PC components and NAS. He's been involved in technology for more than a decade and knows a thing or two about the magic inside a PC chassis. You can follow him over on Twitter at @RichEdmonds.
Rich.... Please say this uses the same API that Skype uses to listen for calls/messages in the background instead of fake streaming music....

I have been using the original version without any issues on my 920. Don't like Kik. Don't get tile notifications and I find out about messages long after they are sent if I check the app itself. Oh well.....

Love my job, since I've been bringing in $5600… I sit at home, music playing while I work in front of my new iMac that I got now that I'm making it online(Click on menu Home) https://goo.gl/c9lW7

@EmilyJennifer5: I can be your pimp.

She does not need a pimp. She has a web cam on that new IMac, now do you think she is pulling $5600....




Finaly, the only app I miss right now!

Hopefully they fix the delayed messages issue, especially on wifi. This thing warms the hell out of my phone with use in a matter of seconds. I ended up having to uninstall due to battery drain and overheating issues.

Oh that's why my phone heats up like a mutha! Indeed while using whatsapp! Sure hope they make some killer fixes... Msges gets delivered/received with delays most of the time. Very buggy app as it is right now.

Ya, i think the overheating migh tbe related to the delay in messages. Perhaps the connectivity issue causing more resources on the phone. I just said screw this, im taking this out until it gets resolved. Been fine using regular text without overheating or delayed messages. I found the getting the notification and going into whatsapp and not finding new messages unless i close out a few times very annoying.

Been trying to come up with a reason to use this app or IM+. Can't find a reason. Everyone texts. Please someone enlighten me

Group conversations, works across so many platforms.

You mean like GroupMe? Which I do use, and love

Only necessary if the people you text a lot have limited texting plans, but if the people you text are on unlimited, no need for it. Some users on android and verizon cant group text, so may be another reason why to use this if you want group texting. If friends are on ATT/Tmobile, group texting shouldn't be a problem and again no need for this app. I had 200 text plan that is why i used whatsapp for years, but now i am on unlimited, there isn't too much of a need at this point for me since i am able to group text with friends with no issues.

Considering that AT&T charges $20/mo for SMS plan, a lot of people are using whatsapp or other IM service.

Staying in touch with friends abroad

My particular case for using it is because there's no signal at my company's lab. But since they have WiFi, I can login and message through whatsapp. I really don't get why people say its unstable or have missed messages. My gf and I both have it on our nl 920's and they rock compared to kik or im+(which was my particular favorite before).

This app is also very useful for texting people who are out of the country. I have a friend studying in Spain and am able to text him with this app without being charged international fees.

What? FILE TRANSFERS is THE REASON for WhatsApp over Text.

I seriously hope it comes with massive performance and UI/UX improvements.

I don't understand why is this a big deal. I have a Lumia 920 with whatsapp running since day one. I had it before from my Samsung Focus 7.5

It is working on mine as well didn't experience any issues so far except that sometimes messages take longer to get delivered and when i send pictures it doesnt show when they are delivered
but of course you can't find it in the store anymore

The problem is you cannot find it in the app store anymore. Thus, if you have a new WP8 phone or if you did a reset, you cannot download it.

When will viber HD come to my lumia?

Yeah would love an update on viber also

I hope they do also some changes to w.p7.5. Its matter of time

Why is Whatsapp so slow when it opens??? :)

You really hate WhatsApp!!! :)

I somehow was able to download whatsapp on my Lumia 920 and it was usable...

People that have Whatsapp on their WP8 device already have the WP7 version. It was then removed to be replaced by the WP8 version due out by the end of the week. Its been said to be 6 times faster with better emoji. Im hoping for proper 'skype' like notifications etc

Agreed. I hate the "fake audio" thing that screws up ur now,playing everytime the app is opened. The app also heats up my phone and drains my battery so much on my Lumia 920.

That was the keep alive wifi trick that was supposed to keep the connection live even when the phone went to sleep. Now that MS has made/will make that part of the OS its not required anymore.

Personally I've had it for 2 - 3 weeks now

Been using kik for 2 days now and been more impressed with it than I had been with WhatsApp after 6 months of use.

I too use kik. Actually very good app...

I have Whatsapp on my 8X since my first day. I dont know how did I managed to get it loaded. The only thing that I done was I went to the website and I told to reinstall my apps.


hope we get the ability to save videos to our pictures hub, or video hub... as long as it gets done. friends send me videos all the time, but tno way to save then on the current app, wich I have running on my 920... super slooooowwww....

whatsapp need a lot of improvement in design, features and performance

I still find it strange that a company like Whatsapp isn't more open about this stuff. Would be nice to let them inform their customers about app-updates or releases. I can understand that they have difficulty pointing the exact date, but this kind of news is exactly what i would expect to find on their blog or even twitter. Come on Whatsapp, its not that hard! (nevermind the "thats what she said" pun here).

Same here, I have been using Whatsapp since day one (with some issues). I really hope they change the UI and improve overal performance.

Actually it doesn't matter if it is bug proned or not. What matters is your circle of friends using the platform and you have no choice. I've tried convincing them to use Kik or even LINE but seems like a nono, since "following trends" is what it's all about here. Hence all the iPhone users too.

Finally have free international messaging... will never use WhatsApp again. To late, too slow. Bye, bye.

Whatsapp has not even the minimum quality required for wp.the win7.5 version sucks to the core!

Its not bad considering its free and if u use multitasking then its fast

Using Whatsapp from day one on my 920. Definitely not perfect but working. Hope the guys come up with a proper version optimised for WP8

If you compare Whatsapp to Kik on WP, you will realize that it is absolutely atrocious. If Kik can work as well as it does, I don't understand why Whatsapp can't do it.

KIK messenger just don't do it for me .. slow, conversations missing, fail to send real time notifications. Kakaotalk crashes every time you send a message and close the app. once u open it again it says no chats. once you get new message, it takes ages to show recieved message cuz it has to retrieve the chat list. Tiger text dosen't work.. you cannot enable push notifications. so far the best expirence for cross platform texting have been Wechat... it takes few minutes to recieve the confirmation code, but it work... that has been good enough as temporary solution, but just can't wait to get whatsapp installed on my NL920 ... just hoping it doens't use the same methos ad VIber.. i am tired of finding out that i've recieved an text message first when entering the app ... coming from android and used to everything working, i hope that WP will proove just as good. like the stability and design of the software.

KIK had just the same problems as whatsapp on my 8x. And on kik the tile won't even update so I don't know if I have a message on KIK. Whatsapp does that just fine. But both are not made for wp8 and screen size so i stick with whatsapp. I think that with the update, whatsapp is gonna be very smooth (which it already is on my 8x because of the 1,5gHz). And hopefully they keep the fake music stream behind, it is so anoying!

Hope it comes ASAP ..... this is the only app I missed now.

What the hell are you guys on about? I use WhatsApp on my Lumia 920 right now! I just got a message on it!

I have a L920 and I don't have whatsapp...not everyone was as lucky mate...i still have to check my whatsapp texts with my Omnia 7...so inconvenient...

So WhatsApp is beating Microsoft's Skype to an updated, final version for Microsoft's Windows Phone 8 operating system?

A source I read on the inter from, whatsapp employer said that app is,going to be x6 times faster with new emotions but they will still use same API until windows changes something that I didn't understand when I read.

One day left from this week and still no sign of it in the market. Hurry up guys :)

its the 14th no sign of it, i read on a next site that it will be coming next week, sigh

I got the latest Windows phoe 8 update of whatsapp today. ATT. Lot faster.

Yay, its finally out!! Seems to be working just dandy on my Lumia 920.
Windows Central Newsletter
Thank you for signing up to Windows Central. You will receive a verification email shortly.
There was a problem. Please refresh the page and try again.