WhatsApp once again available in the Windows Phone Marketplace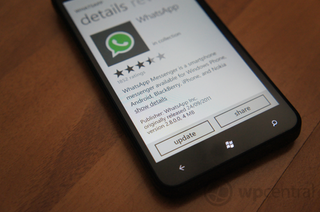 Lo and behold, WhatsApp for Windows Phone has returned. The popular messenger app vanished from view just over a week ago and has remained "private" since. We got in touch with the WhatsApp team in attempt to withdraw information detailing the reasons why it was hidden from consumers who may be looking to download (or reinstall) the app, but had no luck with replies received from employees.
We later relayed the news that WhatsApp for Windows Phone was possibly removed because of security concerns and vulnerabilities. A German website reported an Android WhatsApp sniffing tool was able to intercept messages sent using the messaging app over a WiFi connection. WhatsApp later denied this as the cause for the app pull and assured Windows Phone Central that this was not a security related incident.
Nokia Netherlands later stepped in and revealed the app would be made available (with an update pushed for existing users) over the weekend, and sure enough - it's here. It's listed as version 2.8 and while we're still unaware as to what's new (and what exactly was the cause for the app to be pulled), it's good to see the app back on the Marketplace. We have noticed that the sharing of contacts and location is now supported. Let us know in the comments should you spot anything we've overlooked.
The app is still available for free, as is the service itself. We first assumed the company took it down to implement its planned subscription requirements, which will have users pay a $1.99 fee on a yearly basis to continue using the service (after a year of use), but we still haven't been notified to "upgrade" our account or to fork out for the mico-fee. Information is still yet to come to light on this potential subscription plan.
We would have liked the WhatsApp team to better communicate what was happening to the Windows Phone app, but at least it appears to be solved. You can download WhatsApp from the Marketplace for free.
Rich Edmonds is a word conjurer at Windows Central, covering everything related to Windows, gaming, and hardware. He's been involved in technology for more than a decade and knows a thing or two about the magic inside a device chassis. You can follow him over on Twitter at @RichEdmonds.
They added some localization such as Chinese in this update.

The animation transitions added is a nice touch which now makes it feel more like a windows phone app.

For some reason I cant download gets to 75% and goes to attention required. I've uninstalled and I've tried again but get the same problem.

SAME STORY HERE. HELP NEEDED.

I have this problem too :(

Same. I've tried turning my phone off/on to no avail

Same for me! I thought I was the only one :)

same here!
I could use kik, but all of my friends use WhatsApp ...

Same here too! :-( No workaround found. It just won't install.

The windows phone news sites are saying it is because it can only install in tango handsets. So if you're on at&t, you'll have to wait.

Not true. I don't have Tango and it installed just fine for me. AT&T Nokia Lumia 900.

That isnt true, I have tango installed yet it isnt updating for me on telus

I am having the same problem on HTC Arrive aka the only Sprint Windows Phone

Ditto. Rather irritating. The issue is with a T-Mobile Samsung Omnia 7, not yet on Tango due to the carrier dragging their itty-bitty teensy-tiny feetsies.

Obligatory question: Where is Sonic 4 Episode 2?

Same in here, I'm using Samsung Omnia 7.
Help???

Sharing of contacts and location was always available. The previous version (before the app being pulled down) had it.

Ah, never noticed it. Might be down to the fact it's not my main means of communication. Thanks for the clarification though :-)

Yes it was already there but they have changed how to perform this. They both used to be in the info section, now they're both from the paperclip icon.

SAME STORY HERE!!. Had the app installed and tried to update but wont download. I uninstalled and then attempted to reinsall but it is getting stuck at about 75%, so now have no Whatsapp. This is probably my used app so needs sorting asap!!!

I better update when the situation calmed ;D

I can't stand the temptation to updating. Mine was a success, ver 2.8.0, like the animation, idk about performance tho, gonna spam friends.

I have it installed before and still have it but I do not see an update

I tried downloading various other apps today and have the same problem,so I don't think its just whatsapp

I can download other apps besides this one and the official Bing translator app

Bing Translator is giving me the same problem too.

I had 2 update notifications this morning, the other for Text Twister updated ok and Whatsapp failed.

Dutch localisation as well. But there does seem to be a problem when downloading pictures in a groupchat. The first image you try to download works fine, but other ones are stuck loading and dont download. I need to restart whatsapp if i want to download other images. Anybody else has this problem?

Dont's see the app in the Dutch Marketplace?
UPTDATE: The QR-code did work though! Searching the Marketplace still no result!

Changelog of what I can see now:
- Bottom bar now contains buttons instead of just '...' including a much needed 'Search' button
- Much faster to search through Favorites contacts now (especially when calling the alphabetical matrix)
- Online/last seen comment now in italic
- In a chat window, contact name now remains in small font size when popping in and popping out the keyboard - a much awaited screen real estate improvement
- It's much faster to browse the smilies list now

Am I the only one who finds the app loading slower now?

I don't see any change on my side. It's still painfully slow as it's always been :(

Just installed successfully, transitions looking great. There are also some layout changes in the chat window and correct me if I'm wrong, but I think there is a new feature regarding the contact's info page.. Images etc. you shared with the contact are now shown by swiping to the right. Haven't seen it (like this) before.

That's been there for a little while. I only noticed it a few days ago but before the update nonetheless.

under 'contact info' the things u said r available since v2.0 i have seen the multimedia shared earlier as well.. Maybe u didn't update to v2 before this...

Doesn't work for me too... installation always fails! It s annoying... :-(
FYI, using OMNIA 7

Also having this issue with the same handset. Which version of firmware and OS are you running?

Here I am using;
OS: 7.10.7740.16
Firmware: 2424.11.9.4

Furthermore, where is Sonic 4 Episode 2? July is certainly in the distance and August is beginning to slip away.

Seems as if the update has made WhatsApp able to pull phone numbers from Facebook contacts...

there isn't an option to change the language. That's might be an issue for 1st gen users.

Hmmm. Not visible in my UK view of the Marketplace :-S

Neither on the French market. Perhaps that's why installation doesn't work on my phone (got the download link directly from here!)

Despite the UI and seemingly performance increase. It hangs up quite often for me.
In landscape mode, you can't see any of the messages when the keyboard is up onscreen.
Could use another update. But heck, even the FB app could use a big perf update.

Also experiencing alot of hang Ups.. Have to leave the app then come back.. Only to be notified about messages I sent.. Apart from that I like the changes

First I could see whatsapp in my search results, but now it disappeared from the search results

It installs to 75% but then immediately pops up with that damned "attention required" phrase.

Lots of people with the same issue. See kiddj55's comment above (3rd down).

Those who cant see it in UK/Euro marketplaces - please follow the link in the article or scan the QR code - it opens up the link. I couldn't find it by search, but using QR code it worked. Update doesn't fail on WiFi.
The features I can confirm so far:
Animation transition
Under info you can see what multimedia you've shared with the contact
Group, Search, Edit status icons and not in list any more.
Buggy looking stuff:
Animation isn't always smooth. Jerky at times
Landscape mode is a lil joke.

I didn't have any problems installing the update.
I think they added some new Emojis/Smileys

No problem in Italy, localized and faster load.

OK, I tried to reinstall the app but still get the same "attention required" problem. wtf?

Seems it now keeps wifi connected even when screen off....found little performance improvements and new animations are cool

I'm one of the few who seems unable to update this either as it fails at 75%. I tried downloading the update through the article link, the "updates" and the marketplace page directly to no avail. Would attempt to uninstall and reinstall but I don't want to risk not being able to use it if it happens again. Using Omnia 7.

I am this situation, now have NO Whatsapp! :-/

I'm from Singapore. Can't update. Followed the instructions to uninstall and re-install. Can't even find the App. Best part? Had to go around searching for answers and now, download stops at 75% and kept on going 'attention required' and it's all the same all over. Glad I'm not the only one having the problem. Have been trying since morn' and now, still trying...

The same here it brings up the "attention required" message. The same with bing translator.
It also dissapeared again from the marketplace once today and then appeared again

I successfully downloaded it, but this version appears rushed. It's extremely buggy and freezes often. Hopefully an update for this update will be released quickly. Using a Lumia 900

It disappeared from the marketplace now..

The app is available for download on Marketplace in UK but still only getting to 75% before it fails. Tried using the QR code and directly off my laptop all failed! Whatup with Whatsapp. Total Fail!

I dunno what it is...there's some play button with some location kinda thing...when the volume key is pressed...can some one tell me what that is??

I was able to update it on my Lumia 800 on the t-mobile network. my LG did not update, it got to 75% and bombed. This phone is on the ePlus network. Both in Germany.

Installed fine on my HTC HD7 (UK).

Didn't Install on my HTC HD7 with o2 germany branding (still Mangofied) ... could install it on my HTC Mazaa with Tango build!

Still stuck at 75% on my HD7 (Telstra version T9296, Australia). Full Tango (8773)

updated without a glitch. htc hd7 (de)

EDIT: Busted my own myth. It installs, but it's a tad bit unstable on my Lumia 900 running Mango.

i installed it successfully without tango but the music streaming symbol is constantly on. :/

Installed on my AT&T Lumia 900 LTE w/Tango (2175.2301.8779.12223). Forced it 2 days ago via NCS. Note - NCS wipes everything, no backup and must reinstall all from scratch. WhatsApp wasn't available until today -- installed just fine.
Cheers

anyone noticed the constant music streaming and play buttons even while no music is playing? could this be because of the app? any idea how one can revert to the old version?i'm not liking this update.

That sounds like the WiFi keep-alive hack

I hope it doesnt f*** up the battery

Updated mine, the transition to chat is nice. The new search button was really needed. HD7

I have a Lumia 800 running Tango, but after all those comments, I'm afraid to try the update...

can`t install either, stuck on 75%... unninstalled and now i have no whatsapp, anyone has an idea on how to solve this? no succes so far reseting the phone, hard resets discarded hahaha

What? No one has noticed the biggest change yet? Its bumped to v2.8 and the main change i observe is 'push notifications' are gone. The message gets delivered directly. Earlier, if A sent a message to B, A didn't get delivery report till its read by B. Now when he sends, he gets a delivery report instantly. Even in 'Settings' menu, the 'use push for incoming messages' is replaced by 'show message in notification' There r some minor UI changes. The fonts are italic on 'last seen' area. The transition effects r changed. Booting up, i noticed, is a little faster, little means very little though. Edit: read some of the comments above, reported by most users as freezes n unable to install, i didn't face anything such yet. Using it normally since i installed it. Installed perfectly on my Lumia710 in India and running Tango 1600.3031.8773.12121 :)

Still need the 'broadcast message' like those droid versions.

Failed to update.Tried a reinstall.Now have no WhatsApp!

Not downloading for me at all. O well back to kik

I'm using a Nokia Lumia 800 and for me it lags quite a bit when replying and it even freezes at times too. Not impressed and since I use this app quite alot, and I'm sure many others do too, another update to fix the bugs should be in order. The update itself first froze but was successful the second time round. From Australia on Vodafone.

The 'bugs' won't get fixed unless you report them to the developer.

it freezes alot! its almost unbarebale to work with! but i just cant not use this app!! everyone uses it as a messenger! i reported the bug, hope others do

it freezes alot! its almost unbarebale to work with! but i just cant not use this app!! everyone uses it as a messenger! i reported the bug, hope others do

It is still very difficult to upload longer videos. The servers are painfully slow and the app stops uploading them after sometime... Very annoying

It went fine on me. HTC HD7, and its fine on my friend radar as well 75% so that means it fails on installation right? I saw someone mention a focus up there, anyone else fails using nokia? Any htc?

Cant install on my HTC HD7 with o2 germany branding (Mango)

Yep same here, BUT LISTEN TO THIS .... I let what's app know about this problem by rating the app and saying the "update is not working" and gave it 1 star, later on i check the reviews to see if others have the same issue and they have changed my review to 5 stars and took out the "not" in my sentence, now thats saying something as quite clearly they are having major issues with the app. Tut tut..

Problems to update my previous version to 2.8. Uninstall old version, New install is breaking at 70 or 75%. Now no whatsapp on my omnia 7. There are many, many Users with this Problem. Very bad. . .

DON'T UPDATE!!! IS BROKEN. Lumia800

Just updated and noticed the changes in the app bar, but most important is that the music controls seem to be streaming.
New version keeps the wifi alive.

One more issue...if one goes to a contact's profile info that has a picture, u wont be able to scroll down and check all media sent by/to that person

Updated and all looks fine for me on lumia 710

I just updated my Lumia 710 wiht most recent update. My first impression was wow since they included bunch of animations and also its faster than the pervious version. I think the "75% issue" could be that they need to update their OS with tango update. Overall it looks and feels awesome. There is one thing that might annoy people that this new version keeps Wi-Fi alive so would affect the battery life.

Today I got an update for the whatsapp. Nothing new was mentioned but a search button has been added. And I can now directly set my status without clocking the three dots. One more thing is happening after the update that when I click any of the volume buttons a small symbol is appearing below the play/pause. And clicking on that takes me to whatsapp.

Downloads fully but when beginning to install, it fails and says attention needed. But not only with whatsapp, also microsofts translator app update... Something wrong with Marketplace altogether?

I have a question what is whatsapp for if we having messaging this is a legitimate question

Group messaging. Uses data plan which is good for people without unlimited sms.

Can use data/wifi to send messages abroad too. Much cheaper than SMS or MMS. (In the UK and Ireland anyway)

Ok thanks guys I appreciate it

Has anyone from WPC tried to contact Whatsapp regarding the update issue?

The update installed fine on my Tango Lumia 800. Loving getting messages while under battery save mode which wad not the case previously...don't notice any major issues...

Really need them to fix the issue. Can't live without whatsapp :(

I'm starting to think this isn't whatsapp's fault because I'm now having the same issue with Microsoft's translator app. There are problems occurring with achievements on WP as well so I'm starting to think MS are going through some massive change over serve-side, whether due to the new encryption in place or due to them preparing things for WP8

I have successfully downloaded and installed the program. Them I have a weird situation that some music (silent) is playing at the background. When i tap the notification, whatsapp will launch.

My guess is that is just to keep the WiFi alive all the time...i just hope that won't affect the battery...but anyway...having the WiFi always connected is a big boon...

I dont know whether anyone else has faced this problem or not,i am unable to recieve any text,i am recieving notifications bt nothing is available when i am launching the app.is anyone else facing the same problem?

This app keeps freezing after the update on mozart (tango is installed)

The updated app is hanging a lot. After everytext it freezes for a few seconds. Anyone else experiencing the same issues?

İ had the same issue and had to restart it again each time i text

For me, apps that require push notification are pointless on WP at the moment because push and live tiles are way too slow compared to other OS'

Haha Whatsapp is back, now with additional crashes and hiccups. Hooray! Let's rejoice!

There is an issue with this new 2.8 version and the phone keyboard,
Sometimes it jams

All is good on my end...HD7

IDK, it crashes whenever it can't keep up with my typing. I have to reboot the app every time...laaame.

They added chat search and new group to the toolbar.

I think there is more emoji.

HTC Mozart......its not working on my phone either.....
it said u shud try deleting the app n then try again........i deleted whatsapp....n now i dun have whatsapp at all..... :(
it is ...or was....my most used app.......:(

I'm on the goup os users that can't update WhatsApp with the "attention needed" message. Also, the Microsoft Translator app has the same behavior. I tried uninstalling it and then reinstall but the same thing happens. Luckily for me, I tried the uninstall/reinstall with Translator before uninstalling WhatsApp.

I guess I will wait for more information about this updates don't installing befire trying to uninstall/reinstall WhatsApp. My phone is LG Optimus 7 without Tango. It doesn't show on Zune yet for me.

Installed fine on my Lumia 900 with MCR3 Tango 8779. The app does appear smoother after the initial splash screen however it freezes/crashes a lot mid-conversation. Also my mate pointed out I had 2 profiles of me coming up on his end which is a little odd. I sent the devs an email about the issues. Hopefully a fix for this soon.

Not free after the first year, costs 99 cents in Canada. Might want to update the review

HTC Mozart, Orange UK, 8107.79
Whatsapp not installing. Downloads fine but crashes about 70%. Same for Bing translator but tried another random app and installed fine.
I made mistake of uninstalling whatsapp to see if it fix the problem now I am without it :\

Exactly same issue, I even purchased a stupid game from EA and it was successful, I dont know what to do, and I am not able to find a solution anywhere on the internet, I am angry and happy at the same time that i am not the only one/

Same here, cant install/update Bing Translator and WhatsApp ... So its not a WhatsApp related Problem!

I think the real issue and something Microsoft need to address ASAP before or for Win 8 is OS updates. Currently I beleive it's up to the manufacture and network operator to release updates. Orange UK have been slow to release these. Well I say that but I've not had any updates from them for many months. Is this becayse HTC Mozart cannot take the updates??? Probably not but; just them not planning or bothering to deploy.
Can anyone with HTC Mozart on other operators confirm what ver. they are on?

Mierda no puedo bajarlo queda en 75

It now supports brazilian portuguese. :)

75% and "Tap for Attention"
It is happening with WhatsApp & Translator, uninstalled both aps, cancelled update, tried to reinstall after rebooting phone and removing battery, still same 75% issue
Running on HTC HD7 Tango

Samsung Omnia7, Croatia. I allso made mistake with uninstallig whatsapp :-(

Update went fine, no problems on Lumia 900

Installed fine over WiFi on Lumia 800 with Tango. App however is very unstable. Crashes if my messages are too long or if my typing (or the other ones typing) is too fast or too many messages. Have too restart the app every minute this way. Keeps WiFi alive through a the workaround. Also appears to add a background task so that messages are being pushed in battery saver mode. Another bug: when my message is to long, the screen does not move up, so my message is typed below the keyword so I am typing fully blinded than. Over the 0.7 change, a lot got worse and very unstable.

Same problem with my update here, uninstalled it and now have no whatsapp. Feeling very pissed now. From Singapore using HTC Mozart

Has anybody tried downloading using Zune?

Yes, does not work either

Same problem: neither Bing translator nor whatsapp goes past 75% installing. First major hickup in my otherwise flawless wp7 experience, I guess

On my unbranded hd7 that is...

I have the same 75% issue on my ATT LG Quantum, Version 7.10.7726.68. My phone is "developer unlocked" and rooted.... What about your phones? Are them rooted or unlocked?

still nothing on htc trophy vodafone branded 8107 , i tried to communicate with windowsphone support and whatsapp support but they did not answer.

Is your phone rooted or unlocked?

Same issue, not a rooted phone

I think the problem only lies with the first gen phones.. I'm using LG Optimus 7, Singapore.

Installed and working here in Malaysia on a Lumia 710 with Tango 8773 update. Haven't done any extensive usage yet though to determine if there are any other issues.

Could not update, tried reinstalling, stops at 75% as well...
Perhaps most of us has the same problem :(
Please fix this issue asap. hopefully.
Melbourne, Aus.

Update installed fine on my Titan. No way to turn off push notifications now. That needs to be fixed. Emailed their support at the address in their about tab. Hope it gets some attention quickly. I've got a lot of friends that use this

Hope they will attend to these problems fast

+1 maybe Daniel can try squeezing a statement out of the WP dev team? Since Bing translate has the same issues I doubt it is a problem of whatsapp...

It's not a Whatsapp problem, I solved by resetting the phone (maybe rooted phone are incompatible with the new cryptographic system for XAPs).

Whats is crypytographic "?? I have problem like hang ups in new whats app..i cant see any of da message wen keyboard is up on screen..and after i leave da app and come back den problem is solved... Only to be noticed abt message i sent...

I also install some xap's on my phone ....

Updated locked HTC Mozart to 7.10.8773.98 Tango using Cab Sender method and I still can't install/update Whatsapp...arggg

HTC Titan installed update about 15 hours ago, it has traditional Chinese version now.

Helpp I can't download the app :(

Stuck without whatsapp, translator and Lindy comics. What the @#%£ Microsoft is doing???!? Really pissed off.

I repeat my opinion: Microsoft has modified the way application are certified, maybe new XAPs are not compatibile with unlocked/rooted phone. I rooted the phone and was unable to install whatsapp, so I decided to reset the phone and now I'm able to install that apps! ;)

Yes, but no way. They can't say to users :" hey, reset your phone and lose your data, otherwise no more apps for you". This is completely crazy. They have to fix the issue and they have to do now. I don't think I'm the only one who do not want to reset the phone.

Yeah man I'm with you. Whatsapp must REALLY fix this problem ASAP

If you unlock/root the phone you can't claim support or fix...

Dude, stop repeating this. I replied to you earlier and already clarified it happens on stock phones, too. I have a three branded hd7 and my gf had a non-branded hd7. Both are NOT rooted, fully updated and, yet, both show the issues. So this has nothing to do with rooting your phone. Period.

Sorry guy, I hadn't read your reply! Have you ever installed cracked apps?

I'm amazed about the little coverage the whatsapp problem is having on this site. Everytime I get more convinced that I made a HUGE mistake buying a windows phone, but here in this site everything is beautiful and just encourage you to buy a WP. I bet that Mr. Rubino doesn't use a WP as his primary phone. They are not even saying anything about the little features that 7.8 are getting compared to 8 and the news are out.
It's the same with the whatsapp problem, everybody knows that whatsapp is a key app, its probably the most used app in all platforms world wide, and what Mr. Rubino says about it?---that he uses KIK. Are you kidding me?... This site is just a business to sell covers and stuff and they need people to buy windows phones. Yes I'm paranoid.

Who do they think they are to install a hack that keeps the wifi alive?
I don't want them to drain my battery, I want wifi to turn off when I turn off the screen, just like Microsoft intended it on WP. I have a data plan for a reason, they are free nowadays so there is no reason to keep wifi alive, and when you're out and about, you won't have wifi anyways so you'll need a data plan regardless, so there is no point in keeping it alive.

LOL, dude. My battery lasts way longer with WiFi always on. I'm not the only one who would tell you this. Sometimes, for one reason or many, people need WiFi, even for Whatsapp. So, stop complaining and really check if WiFi kills your battery faster. Oh, BTW your country is not the only one in the whole world: data plans aren't free worldwide.

Seriously ROFL at this comment... Wifi eats less battery than data.. Guess the whole world know that.. And yeah, data is not free everywhere.. Wifi always on was always needed on wp and i feel it was not that microsoft intended it on wp, i feel it was a serious error on their part that wifi goes off with screen going off ;)

Really buggy. Keeps hanging in conversation. Uninstalled a couple of times but no GO.
Reason not to quickly update apps. This s**** big time

I'm on a Mozart running tango but it won't install so its not just mango users :)

i don't understand why these guys don't just go with the ad route and pay to get rid of the ad... 1.99 may not sound like much, but with competitors like Line and what not, do they really think they can get away with charging with out an option? not that i think devs shouldn't charge for their app, but i think giving options would be nice... besides, once skype pops in wp8 what does whatsapp have that others don't?

I have a question, what handset is that in the photo?

Attention required, tap here... And repeat!! Yeah that's a little annoying. Same with bing translator for me. Is marketplace down?? :(

I wrote to wp support yesterday and they told me they are working on it

heyheyhey!!! same here too! :( upset because it's a way of contacting my friend who is going through a difficult moment :( same with bing translation.... how long will it be till they've sorted it out??

I guess it is a global problem. If you reach 75% and got pay attention error, then you are just like us


Porque no sirve esta mierdaaaaaaaaaaaaaaaaaaaaaaaaaaaaa!!!!!!!!!!!!!
Puta despues preguntan xq nadie compra windows phone


Hey!! GOOD NEWS! Microsoft is working on this issue:
http://windowsteamblog.com/windows_phone/b/windowsphone/archive/2012/08/...
Problem due to digital certificates used to signed the applications. Problem may affect only phone on that WP 7.5 were not pre-installed...
Edit: Ho damn! news was already given on WPcentral : http://www.wpcentral.com/microsoft-details-marketplace-errors-windows-phone

V2.8 really buggy and drain my battery fast. Saks!!!

very unstable after an update........keeps hanging inbetween typing n messaging!!

Oh for christ sake... this app is buggy as hell, how could it even pass the marketplace certification? It hangs all the time, I have to restart it frequently to the point it's getting unusable... I sent a message to Whatsapp support to no avail

How do I remove Whatsapp update from update list? I do not want to install buggy v2.8. Developers should fix this asap!!!

pls hw cn i download whatsapp for my htc mobile windom phone touch



am using windows phone nokia lumia 610 and i cannot download whqatsapp on it.i need help brothers and sister

Can anybody tell how much time did they took to get whatsapp back on marketplace? It has happened this year again. And i m without whatsapp.. And if anybody knows when will it be available again please reply to my comment.. Please..!!

hello what is goin on here i need this app without it i am out of this world..please get it back asap.............PLEASE DOES ANYONE HAVE ANY IDEA OF HOW IMSHOUL GET IT BACK..I WOULD LOVE IT ALOT.

Photo size sending thru WP has issue.
Windows Central Newsletter
Get the best of Windows Central in in your inbox, every day!
Thank you for signing up to Windows Central. You will receive a verification email shortly.
There was a problem. Please refresh the page and try again.