WhatsApp Web now works with Microsoft Edge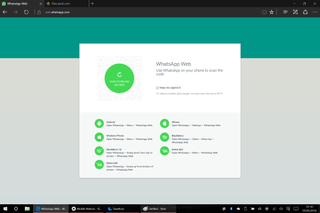 If you're a heavy WhatsApp user, you'll be happy to know that the WhatsApp web now appears to work with Microsoft Edge. Previously, WhatsApp's web extension, which allows users to send and receive messages from their browser, only worked with Chrome, Firefox, Opera and Safari.
Users on Reddit recently began to notice the change, and we were able to confirm that WhatsApp Web is indeed working with Microsoft Edge, as seen in the screenshot above.
Prior to official support, it was possible to get WhatsApp Web working with Microsoft Edge, but it required using developer tools to emulate Chrome or Firefox. While things appear to be working fine for most, some users on Reddit are still reporting issues with getting the web app to work in Edge. If you encounter issues, you may want to try clearing your cache or simply waiting a bit longer. It's entirely possible that support is part of an ongoing rollout.
Dan Thorp-Lancaster is the Editor in Chief for Windows Central. He began working with Windows Central as a news writer in 2014 and is obsessed with tech of all sorts. You can follow Dan on Twitter @DthorpL and Instagram @heyitsdtl. Got a hot tip? Send it to daniel.thorp-lancaster@futurenet.com.
This is awesome! I've been waiting for this capability. Bye Chrome!

Same here.... Please edge extensions for my LastPass... And then bye bye

Use KeePass. Global System wide auto type and works even in other applications like Games or password locked files and anything really that needs an input of some sort

Lol you said "bye chrome" when Microsoft Edge was announced.

And New WhatsApp update also increased the group members limit from 100 to 256.

I can't even begin to imagine a 100-people group on WhatsApp, nevermind 256.

Hike has 1000 member limit in group.

Lol, now edge and only edge inever user chrome but for whatsapp web, so bye chrome indeed:P

Yes! this is the only reason I have chrome installed!

Yes!! Same here, I always have Edge and Firefox running at the same time. Firefox was only for Whatsapp Web, but now I can finally have everything in Edge!!

I'm still on Firefox because it juggles a numerous amount tabs without any glitches. And, right now, I doubt I'll leave...

Fine, that was the thing why I'm not was using edge.

WhatsApp is not yet a Universal Windows App and WP8.1 app is pain in the butt to use on W10M?

To be honest, I really doubt a webapp running on Edge on a mobile phone is going to do much better than the 8.1 app. It was also meant to be used from a desktop/laptop, so the UI would be far from optimal. Haven't had any issues with WhatsApp on W10M however. The app is smooth and all the key functionality is there, notifications are reliable and so on. On all the devices I've tried it on (Lumia 640, Lumia 930 and Lumia 950) it has worked just the same as it did on WP8.1.

Also you'll need two phones since you have to scan a QRcode with your camera.

Cant you just email the QR code to desktop and scan?

Wouldn't work ... you would have to have Edge opened to see the QR code but the moment you switch to WhatsApp to scan it, it disappears as WhatsApp occurs. Even if you are a speedster from DC Comics and could run faster than light from one mirror to the other, the App wouldn't simply be ready quick enough.

WhatsApp Web != WhatsApp. WhatsApp Web is just a proxy for the app on your phone so that you don't strain yourself typing on a small on-screen keyboard when you have a full-size desktop/laptop in front of you.

Lets say , you had connected your Lumia 950 and 950 XL to display dock. You are sitting on your sofa with bluetooth keyboard mouse. Now with Edge support , you now can use whatsapp web. For me only reason , I wasnt using my display dock because I am heavy user of whatsapp and I did not like to keep running to the phone everytime a message came in.

Then just do it? Why imagine? Basically I couldn't care less as Edge isn't the browser of choice. But I am absolutely curious why nobody really covers mobile and/or Continuum with regards to this development. Why is no one asking, why in no user is commenting ... Ok, I'll do it ... 1.) The mobile Edge (even if not switched to Desktop pages) is supported by WhatsApp Web. Hooray. So if the "other phone" is up and running, you can have two accounts on one phone and/or use one account on two (or even more) devices. 2.) WhatsApp doesn't mind if the connected browser runs on the same device as the App does. You can connect your phone to itself when running Edge on the connected Continuum monitor and the original WhatsApp App on the phone. E voila ... just use WatsApp Web in Edge via Continuum and if you like pin the page to start, you'll end up having a tile on your start screen that basically starts a full screen WhatsApp with keyboard and mouse support in Continuum. Although this is still no universal app, although the tile shows the Edge Icon and not the one from WhatsApp and although it most probably creates a strange loop as the phone routes the traffic to itself via the Internet, it runs like a charm and as WhatsApp and Edge run independently from one another, you can have your chats simultaneously on both screens. I just followed a group chat on my Lumia 950's screen while chatting with someone else on the connected monitor. So in the end, although I never missed Edge support, thumbs up!

Not sure if sarcasm or not, but redditers serves the same as those tippers of Windows Central, and WC is smart enough to have a look at the tips or rumours from other sites before posting an article about it.

why not ?edge is UWA, but in desktop mode in edge. https://twitter.com/renatoalzate/status/695427768994009088

Finally next will be that phone must be connected BS.

Finally, my battery will improve greatly

Honestly Edge is such a letdown. There are so many sites that either don't work or are not optimal

Have you tried resetting your pc? Since the November update I haven't had issues with it.

I use it daily and I've literally only seen 2 problems with sites till now: Slow loading if there are a lot of ads, and going full screen on coursera.org while watching a video locks up the tab.

It's about time, great. Still have to use Firefox though until ad block extension is added to Edge :-)

Just set up a hosts file, ad blocker extensions are old school and sometimes websites cut you off for using the extensions. They cant detect hosts file tho ;)

What's an host file and how do you set one up?

Adblock and then goodbye chrome

I wish they supported IE since I'm still stuck with my Surface 2.

No, it doesn't, I've tried it, I also have a Surface 2.

Just change the User Agent. It works fine in IE, they are just blocking it for the fun of it. WhatsApp for Web already worked in IE10.

Finally! I really missed this when I switched from Chrome. Still waiting for those extensions for Edge. Didn't Microsoft say they wanted them out around October last year? Its over 3 months now and we're still waiting for even a word about them...

No, last year they already mentioned that it will come with Redstone, but probably earlier for Insider.

Great!!! Another step toward the adoptability of Edge! A big one for me.

Come on extentions! waiting for that as hell! Also youtube fails to play videos on edge many times. and when i have issues with edge, than the movies&TV app won't work either, and i need to restart my SP4. restart fixes it, but i think the graphics driver is to blame also...

perhaps, your hardware is indeed to be blamed. i run* Edge as my primary browser and use YouTube a lot. works like a charm. *on a custom built pc with mediocre config

Cool. Wondering if it works on Xb1 version of Edge. Will try later!

Someone told me that MS Edge was being depreciated by MS. Not sure what that means exactly but it doesn't sound good.

So frustrating that it's last to get support yet again...

Edge is a very new browser and it gets features very quickly. Just check out html5test.com and you can see that Firefox isn't far to catch up in terms of standards and it surpassed Safari by far. Keep checking after every build, it gets more standards implemented. :)

Good luck to mobile data users. WhatsApp Web is a data burner.

Use Wi-Fi, why would you even connect with mobile data.

turnoff auto download -_-

WhatsApp, hike should make app and put it on windows 10 pc store...it will be great.

Ah very good news. I am a heavy user and I am always on laptop and I prefer typing on laptop than mobile. Whatsapp web has been great tool but Edge is my favourite browser and I always had to keep one firefox open just for whatsapp. This also shows wider acceptability of Edge. :) Overall good news.

No more developper mode emulating chrome in edge!

I use Who's Down app on windows 10 for what's app. It provides automatic connection to my WhatsApp account.

Is that a store app or win32 app?

It's an app on the Windows 10 store. I use it on my Surface for WhatsApp conversations.

"https://www.microsoft.com/en-gb/store/apps/whosdown/9nblggh5g8js"

Sorry for this stupid question but I see web whatsapp supports desktop notifications. I assume they mean in action centre. Does edge have to be running or even the webpage to get notifications or can edge be closed?

I don't think it supports the action center for now. It was mentionned a couple of day ago that Microsoft was working on that feature for Edge, but it'll take a while before we get it. I still haven't tested it in Edge, but in Firefox all it does is a small pop-up on the lower-right corner. It'll probably be the same in Edge if the feature is also supported. And the website needs to be open for it to work.

No it won't as its running on desktop. So it won't give app like notifications. Just like how u open fb on browser.

If they just updated their Windows Phone app into a universal Windows 10 app that you could run on desktop, there would be no need to use Whatsapp Web...

that, they might not allow, because as such they don't allow running whatsapp on two separate devices. giving whatsapp web as an app package via the windows store though looks like a viable solution. Microsoft has given the devs that route, it's only a matter of using it well by the developers.

Actually there are already a couple of non-official web wrapper apps for Whatsapp Web in the Windows 10 store. Sadly though they all have really ugly app tiles that I don't want to see on my Start Menu...

oooh, yes, closer to ditching chrome entirely. just adblock, lastpass, a good implementation of the F12 dev tools, a tad-bit more stability along with a few good customisable options and then actionable notifications via the action centre. Edge will be great.
and i see whatsapp web being offered as an app by packaging it as a web module via the windows store offering security off the charts after it utilizes windows hello (or simply windows encryption).
the future looks promising.

Now ad block and for u tube we have mytube which works like a charm on windows 10.

He anyone try ? This my edge browser not suport this ? Is there any update require in normal win 10 laptop..!??

Wow!! Awesome i was waiting for this!

Programmers that do browser sniffing in 2010+ should be fired immediately. Can't stand these idiots.

So that was the last nail to the coffin of chrome from me.

Will there be a WhatsApp Windows 10 universal app?

Yes... But I doubt whether it will be available for PC or not

I had reported this to MS a few times, so am pleased to see this implemented. The system seems to work.

It's from WhatsApp end, not MS. MS had it a good job when making Edge HTML5 compliant.

I'm using adfender for adblocking in windows 10 microsoft edge. Posted via the Windows Central App for Android

I never use the webversion. I think it would be far more useful if we could hear from microsoft when they could support a plugin for whatsapp in skype (messenger). I'think it's more useful there than on a webbrowser.

This will stop me from using Maxthon for Whatsapp.

Nice! Posted via the Windows Central App

The app called WhosDown from the Windows 10 store works perfectly for Whatsapp. It's only a web wrapper but it's what I use on my Surface and it gives you notifications in the action centre too.

This "https://www.microsoft.com/en-gb/store/apps/whosdown/9nblggh5g8js"

Is any one had problem with upload photos on blogger by Microsoft edge??
And also how can I enable adblock on it ?

That's amazing! I don't have to use Chrome for it anymore! (unless it performs worse on Edge)

YEA! THAT WAS THE ONLY THING I WAS USING CHROME FOR! Posted via the Windows Central App for Android

I recently noticed that my Edge sessions were detected as Chrome (on mobile)...is that something that has been discussed and something Microsoft plans to address? There's no point in urging Edge use if web developers only see more of Chrome in user stats.

WhatsApp should build a stand-alone universal app, so we could user It on pc and tablet.
Windows Central Newsletter
Get the best of Windows Central in in your inbox, every day!
Thank you for signing up to Windows Central. You will receive a verification email shortly.
There was a problem. Please refresh the page and try again.