Whatsapp for the web reportedly in the works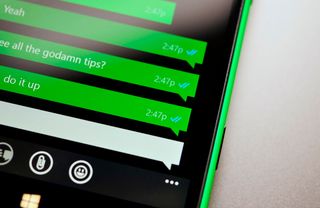 Facebook-owned Whatsapp appears to be working on a web-based version. A number of strings were found in the Android version of the app that point to a web-based Whatsapp. However, since Whatsapp doesn't use accounts, and is instead tied to a phone number, there is the issue of authentication. It appears that Whatsapp on the web may solve this with QR codes.
From Android World:
Whatsapp themselves have remained quite on the possibility of a web client. The strings in the Android app pointing to a web version of Whatsapp have been removed from the latest version, and it appears that, while still possibly being developed, Whatsapp on the web is still a long way off.
Source: Android World
How? I see no use in a web version of whatsapp...everyone use it on mobile phone. I'm not saying we shouldn't have the option, though.

I'll give you an example. A while back I had my wife and swich to Skype for text chats because I can use the desktop client while at work. It's much easier and faster to type on the keyboard and respond using the computer rather than having to pick up and type on my phone.

Another example, albeit specific, is my fiance and myself communicate through WhatsApp while she is in the Philippines. As you can imagine our chats are quite long and a PC experience would be much better. Sometime if I have a lot to say I'll type it on the PC, sync via OneNote then copy and paste it into WhatsApp

Hey, it's that blue check mark article picture.

That's been there for a while...

Could do with a universal app, so we get a windows 8 version. Would like to chat from my tablet!

That would be really nice.

Agreed. Pretty much like Line. In Android, we can't use one account for both smartphone and tablet. But in Windows realm, tablet are considered PC, so I can use one account for both smartphone and tablet.

Nice! I posted about this yesterday in forum - WhatsApp

Telegram is a way better...

I had a really creepy guy sending me weird links claiming to be on Telegram for PC. Security issues my friend. Jongla is as good as Telegram, almost as good as WPP.

someone could also send a link claiming to be whatsapp on pc, just like that gta (v?) for pc, which was a kind of virus

Hmm.. But they had a very fast app on wp.. The virus links actually created by some fools out their...

I use Telegram on phone and PC. Telegram rocks! :) I dont think Jongla is secure as Telegram or has a secret chat option, however it is indeed a beautiful app. I liked Jongla's UI. WhatsApp will need to work damn hard to make their web version better than Telegram's ;)

Except no-one actually uses Telegram and its not better in any other way than privacy.

It's not about what's better. It's about user base.

Preach. What's the point in using a platform that none of your friends/family use. At least in Brazil, WhatsApp became THE communication channel to everything in life.

Whatsapp is one of the best if not the best messaging app for only a dollar a year, I gladly pay it. Now, it works excellent and since it's ownder by Facebook, I rather them to give us a good official Instagram app for example, instead of this. They could do both obviously but I'm speaking about what is really needed. ("needed")

nah, telegram desktop is better for me still. Oh and i mean i'm using it on 1 desktop, 1 laptop, 1 lumia. See you in the dust whatsapp

I still don't have those blue checkmarks in my app

Meanwhile WhatsApp for windows phone remains outdated. -_-
Start using Telegram already. More privacy and it's free..

I know they're wanting to expand, but I think they should invest more in the platforms its most relevant at- mobile. Having it on the net is a gimmick (and whoever says its not, lies to himself) and it wont be used much by PC owners. I know I wont use it as if it was my own WhatsApp. And knowing WhatsApp , there will be probably syncing errors between all the platforms if this goes web as well.

The biggest fucking issue with WhatsApp on WP is the no-mp3-transfer feature. I would use Telegram in a heartbeat but none of my contacts are on it. Fuck the WhatsApp devs.

It's possible on WP already. :p

Yes I do know the "workaround" but the point still stands. A basic feature missing. No word on if/when it will arrive. Updates are few and far between and honestly its disheartening. I happen to love WP but this second-rate treatment is unforgivable. And to those who think this is due to Microsoft's stance on avoiding copyright issues, well how does Telegram do it then? A simple file picker. Apparently no violations take place there. :/

Well WhatsApp got a big update recently, so I'm hopeful. Anyway it's not as if there is no way to attach mp3 files.

Give us updates first! A new UI and long awaited features!

Oo... The UI is great, no features missing compared to other versions. So....no. Amd it is working great...

That insecure POS.... hurry up with the PC client, fools!

Too late, it the Telegram fever... when developers whatapp we will try as we deserve, telegram gives me much more. See ya....

Comparing WhatsApp to Telegram is like comparing WP to Android. One is much better, but lagging behind on popularity globally.

Kik needs one too, and a frekin update...

No joke, but I hate that these companies favor other OS's. Oh well, we will show them. WP is doing very great the past few months getting high end needed apps and games. I'd say the app gap is almost closed.

But isn't Viber, which is also tied to a phone number, been available for desktop for a long time now? Why is whatsApp having difficulty making a web version work?

Exactly, I do use Viber as a program (software, whatever) on my Win 7 lap top, Viber and Whatsapp are almost identical softwares, so how come Viber can do a desktop client and Whatsapp can't? Viber even improved video call on their desktop client, it's working great on my lap top, I almost ditched skype on deskop for Viber in video calls. The thing is that you have to install Viber on your phone, register it with your number, then go install the desktop client and sync the contacts, then you can uninstall Viber from your phone (if you want) and you can use only the desktop client as a standalone app. Altho you can't add new Viber users on the desktop client, you have to do that on the phone client and then sync on the desktop client. :)

GroupMe has a web client version. Give it a try

Telegram already started...i got a message today.

Just use Telegram, on WP and Surface and wherever you want, web version, desktop version or mobile version, no fees and no NSA attached ;-)

So they are going to copy wechat is it? Web wechat has been around for a long time and it uses QR code to login

Now that for me would be ideal. Answer my texts while working on my PC

How would this work? Will it not use your cell phone number?

Not much into reading, are you?

All they need is to add email authentication for web. Like line and wechat.

All I want is Microsoft to make skype a real Whatsapp/Viber Competitor.

Why WhatsApp can not be used to windows or RT?

Shouldn't the word in the first sentence of the last paragraph be quiet and not quite? Sorry if pointing out that is annoying but still, it's wrong English BTW waiting for a web version and a Desktop client for WhatsApp
Windows Central Newsletter
Get the best of Windows Central in in your inbox, every day!
Thank you for signing up to Windows Central. You will receive a verification email shortly.
There was a problem. Please refresh the page and try again.