WhatsApp for Windows Phone gets updated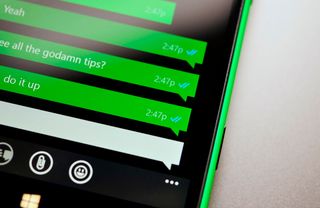 WhatsApp decided to publish an new update to its Windows Phone messanging app right in the middle of Microsoft's Windows 10 press event. The update appears to be a minor one with just bug fixes and improvements.
The new version number for the app is 2.11.634.0. While the change log would seem to indicate a minor update, please let us know in the comments if you find anything new. Some of the tips we have received have indicated the new version allows users to see when someone's typing from the chats list, along with blue ticks from the list.
As we reported earlier, there's also a new version of WhatsApp made for web browsers that launched today, but at the moment it only works with Google's Chrome browser
Thanks to everyone who sent us tips!
They need a splash if its gonna take 20 seconds to load...

It is... no loading screen at all... just buy a high-end device and you ll get high-end performance. simple as that. my lumia 930 runs whatsapp really fast...!

The search feature is just terrible on this app. It would search in chat history too prior last 2-3 updates, and now not even name if contact is in Cyrillic letters (it finds name if i type it without first letter)

Agreed. The search feature is not even close to being at par with iOS and Android. Still can't search in a chat.. That would be my top priority..

Well I have noticed. The new feature in settings that allows to scan QR code to use the web version. I've tested it and works fine. Except I'd like to see the same background image I use and not just a blank wallpaper.

hope they don't pull this app out of windows market :P

-_- shut up and bring my HoloLens

You want to go look gay people when you get a Hololens? I prefer the other gender ;)

Pornolens and you know it

I'm imagining this, and it seems glorious...

Supports the web version on Chrome.

+920 Before the update there was not the option to scan the code on chrome, after the update there is. I'm already using it. Hope they allow Spartan to do this.

Where do you see the option? I am also on 920 and cannot find the option. I just update to the latest build

Open whatsapp, click the three dots

It shows whether a message has been read, sent or in progress right in the chats window.

Can confirm, this is a new feature. :)

this was in previous version too.

No, he means before you click on the conversation

No it wasn't.. He's talking about the chats screen, not an individual chat.

Yes second that! This was a much needed update :)

Shit. That idiocracy.. Any method to stop this shitty blue ticks.

Hell yeah! Just like telegram and hike!

Whatsapp is 'going with the flow'

Really seems faster now..

When will I be able to send media other than videos and logos
Photos such as songs or music videos and document

with windows 10 we can do it

you can still send any mp3 file and any videos other than in the picures folder by using app "Sound Whatsapp" ;)

https://www.youtube.com/watch?v=jgOFbS1iCkM send audio via whatsapp on wp

Whatsapp Web option is now present in Menu! Touch the 3 Dots and check it out! :)

The new update let you see whether a person read your text without going in to the conversation. So just going through my conversation list, i can see blue ticks if someone has read the message I sent to that person.

But blue ticks were there already...?

No its available in this update whereas before u ned to go to the conversation to see the blue ticks...

The Web Version doesn't works when you're phone gets locked. You need to keep WhatsApp On for that to work.

I used it while my phone was locked.

Wrong, it works fine when the phone screen turns off.

Eh, it works with my phone screen off

The update lets the app support the web version: https://web.whatsapp.com (open the three dot menu, and then press "whatsapp web" to scan the qr-code on the website.

Finally got something which isn't yet available on ios love my lumia1520 more and more :) "what's app web ( desktop version for chorm user on pc )"

It is not a minor update. Just check web.whatsapp.com and enter to the whatsapp and tap 3dot menu tap whatsapp web. scan to the qr on the screen of your pc to the phone and voila. all your messages are there and you can text from your pc on whatsapp through your web browser.

Go in settings and you will find QR code scanner. Then scan it on chrome on desktop at web.WhatsApp.com, after that it will be able to chat from web. This is a new feature added it today's update

The WhatsApp for web works only with the phone unlocked and opened on the app. Want to use WhatsApp on Pc? Don't touch your phone and don't let the screen go off
Simply a piece of trash.

This is wrong. Prooven with my locked / screen off Lumia 930.

You probably have WhatsApp set up to not run in the background since it works great with my screen off. When you have it set to not run in the background, it loses connection to the Internet as soon as your screen goes off. The same happens when Battery Saver is on. That's why in the Battery Saver there is an option to allow an app to run in the background EVEN when Battery Saver is on. Geez, just read the article. Even WhatsApp warned it will only work as long as you're connected to the Internet.

Its for the new WhatsApp Web service, which launched today.. Tap on the menu bar and then on whatsapp web..

This version works with WhatsApp web https://web.whatsapp.com There is an option in the menu to open and login to WhatsApp web.

- it works with my OPERA browser - it works even when I close the whatsapp on phone using back button

Opera runs same engine as Chrome

It weighs works with chromium based browsers and not just chrome

Still no files browse for sending mp3 files

I hope they integrate that fancy new messaging platform in Windows 10 to switch quickly between SMS + WhatsApp.

Man. Wish I could upvote your comment, but I'm in the app.

It's a little faster. Also,a new option to scan QR Codes for the web version which is fully functional with beautiful transition animations. :)

This update brings ( web whatsapp ) option.

Its working great, Seamless experience and it works when the phone is locked too. Just need a good internet speed. Whatsapp is amazing and bringing this to wondows phone makes it awesome.

When you see your whole contacts in the chat there are the 'ticks' that your friends have already seen the messages

And you can see people typing in that same overview.

Yes. Hike is better than WhatsApp

More app updates plz.... And more official apps plz....

They should bring People hub support like Telegram does!

Well, obviously, they introduced the whatsapp web option in menu which works like a charm (tested it right now). And I can see blue checkmarks under the names in chats menu, that a person have seen a message.

The text size set under the hood is same now in WhatsApp.

it is all about https://web.whatsapp.com/

Now the check marks shows in the chat menu

I think there is a new font too!

What new font? I don't see!

I still can't send mp3 files. When are they adding this feature?

*last delivery report status in the chat list..cool
Bug fixes in multiple vdo downloading

Windows Central guys don't use WhatsApp.

The chat marks show in the chat menu and you can see people typing in that screen too. Hmm... The Lumia Camera 5 on my Lumia 830 got an update too.

Lumia Camera can be downloaded on my 830 (uk) now. But message saying needs update pops up when launched.

Status Hooks on are now at the overview of chats (1520)

There will be a transparent live titles in windows 10 for phones.....
go to http://News.microsoft.com/windows10story/

http://windowscentral.com/commenting-guidelines

Damn! Was hoping for song sharing feature and select multiple images from a chat to forward. Damn WhatsApp!

This version also has an under the hood fix for broadcasting. On my 930 (with Denim) it resulted in noticable better battery life.

Snapsragon 800...doesnt seem faster... It's always fast!

Can you turn blue ticks off now?

that means they csre about us and windows 10 snd with the update just after the event i mau or maynot be a co incidience but fb inc was waiting for windows 10 for better Microsoft suport.

Its shows ticks in chats window direct(home page)

In the settings of the app
There is WhatsApp web

Uhm, support to scan the qr on web.whatsapp.com has been added... Quite a feature I would say...

WhatsApp also works with Opera

Web QR scanning menu found

They added a feature: WhatsApp web

Bryan is correct whatsapp web setting is what the update was for

Live tile not working after the update... Whatsapp web neither

I didn't get that Whatsapp Web feature. Menu looks same as before! This is strange...

The blue tick update from the chats list is it a wholistic update or is it for WP alone.

Not really. The update allows u to see if the message has been delivered and/or read from outside the message itself.

Now u don't have to click on the message to see if it's been delivered or read

https://www.youtube.com/watch?v=jgOFbS1iCkM send audio via whatsapp

From the list of chats u can now see the double ticks, blue ticks, etc

What's app. They need more features what's app+ is better. I never use what's app on windows phone it lucks alot. Though nice work keep trying I may change

Still cant share to whats app directly from a taken photo, you have to share from camera roll or whats app

Cmon guys... People hub integration would be great

WhatsApp web client is awesome. There is a bug while the screen locks in phone the client says that your phone is not connected to the internet

Yearly update at once a year indeed.

How about last seen (privacy - my contact) feature?

This is an update featuring whatsapp web login!!! now you can log in from PC with a QR-Code!

Still works on Opera Browser

Now you can see, double blue tick outside

dont know if its working with mozilla or not working fine with opera...

The new update has brought speed and WhatsApp web. Scan QR and use :)

No news of them adding encryption to the WP version? :(

Hey.. This brings the feature of WhatsApp for PC... So that you can sync your pic to the phone by the QR code

Biggest featre is watsapp web.. With which u can access watsapp on web browser

Why I can't see the web option in my 920 DP after update

Is not just bug fixes, saw a new feature, you now get to see the status of the messages you sent, with out jumping into the individual messages

Slow internet.. Waiting waiting n waiting for the download to finish.

Have they pulled the update? Not able to get the update option anymore from the Store?

It now shows in favourite when someone is typing. You can see multiple people who are typing to you when you are viewing your whatsapp contacts at once.

Got an update today but till cannot attach and download received audio mp3 files

https://www.youtube.com/watch?v=jgOFbS1iCkM send audio via whatsapp on windowsphone

I use WhatsApp every day. But I'll NEVER install GOOGLE CHROME

Changes are there.. Now we can see tick without opening the chat

No support in Windows Phone 7?? I have had an Whatsapp-update on my Lumia 610 but it don't show up the Whatsapp Web option in the menu! Is there planed another update with bringes the option??

I want delete all chats option in the ••• list.. :|

The change I found is that you can see if the person saw your last message to them with those blue checkmarks.

They need to add features for sending audio files as in d abdroid app

Whatsapp added Whatsapp Web in the new Update in order to connect to the web version of Whatsapp on Chrome.

You can notice the ticks outside the chatbox.

But audio file doesn't support...

https://www.youtube.com/watch?v=jgOFbS1iCkM check this out hope it will help you

Guys have you notice there is no block option after the update, using Lumia 920.

I Love Windows Phone Sure Windows Phone Apps Are not the best but....at windows 10 all was changing And Whatsapp is okey

https://www.youtube.com/watch?v=jgOFbS1iCkM send audios/mp3/songs via whatsapp.check it out

https://www.youtube.com/watch?v=jgOFbS1iCkM easy trick to send audio/songs/mp3 via whatsapp
Windows Central Newsletter
Get the best of Windows Central in in your inbox, every day!
Thank you for signing up to Windows Central. You will receive a verification email shortly.
There was a problem. Please refresh the page and try again.