WhatsApp for Windows Phone update brings starred messages, new camera interface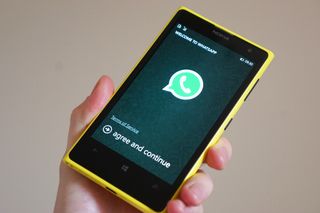 Fans of the popular WhatsApp messaging app on Windows Phone can download a new update today, but it's not currently clear what's new. The change log in the Windows Store is an old one, so this may be a minor update for the app.
Officially, the new version number for WhatsApp on Windows Phone is 2.12.212. A couple of our readers have indicated that there is a new user interface for the camera and starred message support in this new version but we have been unable to confirm this. If you do notice these changes, and any others with the new WhatsApp update, please let us know in the comments and we will update the post.
Update: Here is what we know so far
Starring - You can now long press on a message to 'star' it, which is just a fancy way of saying favorite. Under Featured Messages you can see these bookmarked snippets
Camera interface updated for snapping photos within the app
Updated video and photo upload interface
Thanks to everyone who tipped us!
Download WhatsApp from the Windows Store (opens in new tab)
I got starred messages and new camera UI. Cant share the screenshots now. I'm on mobile.. Anyway its awesome!

When will they revamp the UI? It seems like the UI is from WP7

Kind of marker for important messages

Star a message is like adding a bookmark

Camera UI? I don't get it. Isn't WhatsApp a messenger?

You can share images with others in Whatsapp..

They updated outlook mail too with linked inboxes coming back.

Yay! Linked mailboxes are back.

YEAH! I check this new features, now can favorite messages for quick searches later and the new UI camera shows album photo film and allows insert message after take a photo... NICE!

Yes, new camera interface and starred messages

One of the best chat apps on wm

Personally I prefer Skype and GroupMe

Why? Skype is horrendous on WP

well since Skype and Messaging are 1 app on Windows 10 (both PCs and Phones) it actually works well.

Yes, you can make conversation messages favourites by marking Them star !! And new camera UI !!

Hi Sujit, I read your blog about recovering bricked Lumia phones :)

I tried to recover my L820 with the help of a talented friend, sadly it's not recoverable

Message me if you want i will try to help

Backup file now have Setting' Backup.

I don't see any new change, the interface for the camera was already before this update.

Then you haven't actually updated to this version. The UI for the camera is all new.

Not really, the thing is I have Whatsapp Beta and I just realised.

Duh... sometimes people on official WhatsApp can get features that WhatsApp Beta users can't... that's... odd...

Pretty sure the mystery update made the app seem faster.

Probably bug fixes is the only reason

When is the new UWP aspected?!

Don't think there is anything planned for Whatsapp UWP (yet).

When I mail WA devs about W10M version they replied me that W10M still not officially out so we can't share any plans about w10m WA

Unless the windows 10 tablets have a SIM card slot, they'll consider doing it. It only works with the phone number

I believe I read somewhere that WhatsApp won't make a UWP because they don't store the data on cloud. It's on the phone unlike other cloud-based messengers like Telegram. That's the reason we don't have a desktop app for WhatsApp nor can we use it on multiple phones at the same time. Also, WhatsApp Web uses the data from the phone.

Do they plan to remove the file size limit any time soon?

This would be nice. My family on Android gets to send lengthy videos and such to me, but I'm extremely limited in file size to send.

Get the video optimizer app for WhatsApp, it works great and solves this problem.

It degrades video quality significantly.

Just get your family to use Telegram. Done.

Telegram is the new black ;) (I use both)

u can see last taken photos while clicking camera

It also brought again menu in my language. With previous updates was back in English.

Yes, I confirm it. Camera UI is totally changed to match the Windows 10 Mobile UI (only the icons). It also shows previously clicked photos thru camera in a slidable menu so that photos can be sent from this UI directly. Also I guess this update brings improvements for Windows 10 Mobile OS users (since camera icon is like Windows 10 now). Though I'm on Windows Phone 8.1 so I cannot confirm if its an improvement for W10M users.

Profile status history is available! Status got reset too after the update. U gotta change it back..

It was available since the past two updates

Camera interface is updated, star messages and being able to swipe thru photos in conversations has a much shorter delay now.

I sometimes wonder about these updates because the app is fine. It does exactly what it's suppose to do, so apart from adding new features I don't see any bug related issues that will cause them to give an update.

Any news on HERE Maps which is not working on W10M

What about using the forums?

http://i.hizliresim.com/nmRdQ1.jpg This is new camera UI and I had starred message

It's all true. Updated here Edit: Audio interface on windows 10 mobile changed too. You can choose in which speaker you want to listen the audio

Outlook mail and calender updated too, brings back linked inboxes and month view.

How do you access camera?

Go to a conversation, tap the paperclip icon there you will see camera

We can star any imp. Mess.

Can see starred messages. Hurrray!

They really do need a universal app! And Microsoft really need to make their messaging integration fully work on windows 10 desktop, as i'd like to see and reply to all my messages from anywhere =)

WhatsApp won't be making a UWP

stop supporting this app and put more resources in developing native windows 10 app, with better design, one that matches rival platforms

Yup both what people said

Is there the new storage information newly added on iOS and Android?

How about battery usage? In my
1020, whatsapp eat battery like hunger

Same here. 42% battery use in a matter of 4 hours just today.

Yes I got those updates, open any chat, press and hold any message, you will see an option "star". in the chats menu, when pressing the options button, new "starred messages" is there that will take you to a new window of messages you starred. also new camera UI that show recently sent photos.

there is an option "Message (Name) " when you hold down on a specific message in a group. I don't know if it is new. is it new???

It's been there since two years at least.

ops. I never noticed it before. :D

Change should be mandotory man.. I will even take "bugs fixed"

Star messages are now available

Yah I also got those,, camera interface has changed,, star mark also

Maybe they disabled Telegram links inside WhatsApp conversations. That's what their last update to Android did.

nope. the links are working for me.

Their removing voip because its being abused

Yeap... New UI for camera...

Text on WhatsApp is too large.. In windows phone 10 on my L730... WhatsApp should fix that ASAP :(

+1, same problem on my L640, where I used to see 10 messages now I see only 5, very large text size with all at minimum, even changing W10M text size to minimum it doesn't change. Need bug fix asap.

Anyone got error when trying to update on W10M

Yes, and I can't start whatsapp anymore. It killed itself...

Same for me, i guess its time for hard reset again, or did u found a solution?

I can confirm the new camera UI. Seems faster too.

I got better resolution on my Lumia 950XL. More content viewable.

There is one more new feature "assigned to group"

they should bring the backup to onedrive. why can google backup to googledrive but not windows?

Calls section are gone now! How will I access my missed and call history? Going to individual profile and accessing calls is no way easy and intuitive. I will never get to know who's missed call it is untill I go through each profile. Stupid!

Thank goodness for Windows Central telling me which apps were updated, because with the store in Windows 10, I NEVER KNOW! You would think I'd get a notification, but you'd be wrong.

There is one more new feature "assign to group"

Waiting for Viber UWP (And Its coming ! ) :)

Hope we can get animated emojis too. Inline videos would be nice as well.

there is always special things for windows users so i like windows it make different from others.......... :) happy to hve such starred messages.... its osum... :)

Well, installation quit with an error and now I can't open whatsapp. It's dead.

Try to change save apps location to either device or sd card from storage sense....and then download

Anyone know how to easily backup and restore chats in WhatsApp for WP? I have never figured out how to do it...

( . . . ) Settings Chats and calls backup restoring is done when you log in after a fresh install. Backup is an automatic process. If you want to force it, please follow the above mentioned steps.

Been never been able to get the darn thing to restore either. Most probably because the chats are solely stored in a user inaccessible directory on the phone (for windows phone).

have always worked for me. but if your memory gets formatted or something like that, then no use.

Great working whatsapp team now They need to freshen up the whole whatsapp UI to match windows 10 mobile.

Video downloading and uploading is tooooooo slow

It's funny seeing comments referring to WM10 as just WM. Ah the nostalgia... Lol.

Can you hear voice messages now..?

Seems faster.. No really, it does. Pity that the web app emoji havent been included.

Is this update only for windows 10?

We can now even search for messages

Whatsapp ia crashing on Lumia 830 with Windows 10 Mobile (insider) since updating to the app.

Please remove 5mb limit for .txt file (emailing chat history)

Backup file now have setting's backup.

What is the difference between this and snapchat? As this is very popular in europe...

The flash doesn't seems to be working when I use in-app camera.
Does anyone here facing the same problem ?

Where is the download link??

After recent update, if image auto download set to never, images don't download at all. Even after clicking on down arrow nothing happens.
Images download if option set to Wi-Fi or celluar. Problem not solved even after reinstall of the app.

Double tap the down arrow key it'll start the download of image...

Wish they would move the location of the call function.

Exactly! I've press the call button instead of the emoji button so many times!

Uploading different pics and videos from different folders .,., got Must Needed feature ..

Not able to download images...

Sweeet, when are we getting support for windows 10 mobile?

My WhatsApp went blank so I uninstalled it and reinstalled
Its stuck on creating favourites
Can somebody help me with my problem?

Got starred messages and new camera UI... But I can't download any images in the new update. :( Anyone else got the same problem?

Okay so I've found out that I gotta tap anywhere on the image preview except the down arrow button to download images.

is it me, or do the audio recordings now record and play in slo-mo?

I thought there will be new smileys while updating because while using my friends android phone .. I saw many new smileys in his WhatsApp..so little disappointed..other than this ya new features were good ;)

Confirmed update with it's changes...useful. FB update lagging.

This update has improvements' when you take or share a picture from the app.. It is nice

LISTENING TO VOICE NOTES NOW ALLOW YOU TO MANUALLY TOGGLE BETWEEN SPEAKER AND HANDSET. Before, it'd automatically switch when you put the phone to your ear. Now a ribbon with an icon pops up which you can tap and switch between listening modes.

Yes there is a change when i click on camera .. Its interesting

##- WhatsApp Support -## Hi, Thanks for your message. Sorry for the delay! We have received many emails recently, and we do our best to answer them all. Thank you for your patience. Sorry, this is an issue with features specific to your phone and due to the limitations of Windows Phone. Emilia WhatsApp Support Team Interested in translating for us? Please visit our website: http://translate.whatsapp.com Take a look at our FAQ: http://www.whatsapp.com/faq ##- WhatsApp Support -## Hi, Thanks for your message. Sorry for the delay! We have received many emails recently, and we do our best to answer them all. Thank you for your patience. Sorry, this is an issue with features specific to your phone and due to the limitations of Windows Phone. Emilia WhatsApp Support Team Interested in translating for us? Please visit our website: http://translate.whatsapp.com Take a look at our FAQ: http://www.whatsapp.com/faq

Reply from WhatsApp for image downloading problem when option set to never autodownload.

Thanks Sunit J. Tapping anywhere on the image except the down arrow works.

thanks for the love whatsapp!!!

Does anyone have crashing problem after update?
Windows Central Newsletter
Thank you for signing up to Windows Central. You will receive a verification email shortly.
There was a problem. Please refresh the page and try again.