WhatsApp for Windows Phone updated to version 1.9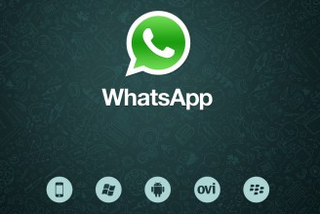 It has been little over a month since WhatsApp for Windows Phone received an update with 1.8 rolling out, but the popular IM app has been bumped to 1.9 as of today. As well as sporting video recording and sharing, WhatsApp now allows users to share contacts and browse downloaded media in a conversation.
As well as bug fixes and performance improvements, German and Russion localisations are included with improved support for Emoji. A quick run through of what's new in this update:
Improved support for Emoji
Group mute features
Share contacts
Browse downloaded media in a conversation
German and Russian localizations
The usual bug fixes and performance improvements
It's great to see continued development from the team for the platform, which puts it up there with iOS, Android and Blackberry. You can download WhatsApp from the Marketplace for free.
Thanks everyone who tipped us on this!
Windows Central Newsletter
Get the best of Windows Central in your inbox, every day!
Rich Edmonds was formerly a Senior Editor of PC hardware at Windows Central, covering everything related to PC components and NAS. He's been involved in technology for more than a decade and knows a thing or two about the magic inside a PC chassis. You can follow him on Twitter at @RichEdmonds.
I hope notifications continue to improve, admittedly they came from absolutely not working to somewhat functional, but still far from perfect. That said, the app is awesome and has a place in my home screen.

i find that after you visit the app, if you press the back button and exit out of the app instead of the windows home/start button, notifications come through to the phone on time.

It gets better and better.
Now, voice mails are working, finally.

My co-worker bought a Lumia 800, probably because I keep pimpin WP, she is used to Android. She thinks the notifications is really bad, especially with this app. She keep missing messages and usually find them hours after they were sent, that never happened on Android she says.



Whatsapp updates are always more than welcome! I wouldn't say the app itself is awesome, but it surely has a place on my homescreen because all of my family and friends use it...

This is my most used app so delighted its getting better and better

Nice update. Nice new set of smiley faces. Notifications work perfectly fine on my old-school trophy and have been for quite some time.

What a bunch of smileys. If you open them (by tapping on the smiley next to the text-entry field) and then swipe sideways, you'll get a lot of emoticons.

I don't like the new smileys. The don't fit with the whole metro-style. BTW: Is someone else experience major lag when swiping on the new Emoji-Selection from left to right?

swipe through all the emoticons first, then it will scroll smoothly

i find that after you visit the app, if you press the back button instead of the windows home/start button notifications come through to the phone on time.

I typically get notification and the messages right as they come in. Of course the notifications are not permenant and disappear into the blackhole after a few seconds, but in terms of lag/lack of notification/messages not coming in on time, i've never had that experience with both the focus s and now 900.

I hope they add the ability to attach a already captured video instead of having to take a video to add into the messaging.
I like the smiley faces with colors :)

yeah the notification system really does need some emprovement... my arrive shows me everything on time when my 3g is on. But every time I'm online with my wifi connection (at home for example) I need to open the app for getting an update on my newest notifications... really not cool... but I'm sure it will get better on WP8 (my facebook app has the same problem...)


Guys anyone knew how to browse the media??
is it that we should open Music and find the media received there? concerning running Whatsapp under Wifi cnx ... its not something in the whatsapp thats wrong.. its in the OS cause when u put the phone on stand by the wifi automatically turns off... this should be fixed ASAP!!

It now also shows you how long your free account is valid and you can now buy one year for 0.99$. Emoji support is great. Much better than the lame MSN emoticons.

How do you use this app? Everytime I try to share a contact screen goes blank and hangs there nothing happening

Okay, could someone explain why WhatsApp is so popular? I just don't understand the hype about this app. What does it do that's so special and earthshaking?

It provides free texting across all major mobile oses.
Maybe free texting is not a big issue in the USA, but in europe we don't have unlimited text messaging plans by mobile operators. SMS/Text are ridiculously expensive over here.

Totally that.... Also here, Brazil, it is very popular because of this...apart from sending pictures, or even talking on it...

"earthshaking" might be an extreme. Personally I find it very handy because I can have groups of friends and family from around the country all in one spot I can "IM/text" with all of them at once at anytime during the day from my phone. I do have unlimited texting but this way seems a bit more personal than just a generiac group text and if someone else doesn't have unlimited texting it doesn't matter they can still communicate with the group this way. It is like any app some people will find it great and others won't have a need for it like most things just comes down to personal preference.

It's about time for video sharing!!

so does anyone elses whatsapp have to reload everytime i try to multitask back to it?

Everyone elses Whatsapp has to reload everytime they try to multitask back to it :P It's the way multitasking is done in WP7.5, let's hope it gets better with WP8.