Which is the better Windows Phone 8 HDR app? HDR Camera or HDR Photo Camera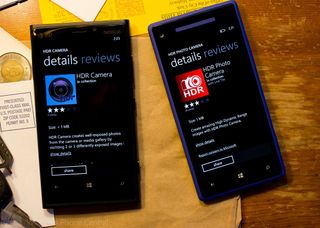 We've taken a look at the two Windows Phone 8 HDR camera apps, HDR Camera and HDR Photo Camera. They both were updated recently and without a trial version for either, we set out to see which was the better HDR app between the two.
Both are designed to merge three images of a subject at varying exposures, merge the three images into one and offer a higher dynamic color range with the final product. This comes close to being a true HDR process and goes beyond simply applying an effects filter to an image for the HDR effect.
While the goal of these two apps is the same, how each goes about it is very different.
HDR Camera (left) and HDR Photo Camera (right) Settings
HDR Photo Camera launches a camera app to create the HDR photo. Settings can be accessed through the three-dot menu and allow you to:
Adjust capture parameters (your exposure settings)
Turn on/off High Resolution Processing
Choose the option of saving source images
Turn on/off guidance messages
Adjust the processing parameters that include contrast, saturation, and exposedness.
With HDR Photo Camera you line up your image, press the shutter button and the images are processed and saved to your Pictures Hub automatically.
HDR Samples: HDR Camera (left) and HDR Photo Camera (right)
HDR Camera also allows you to launch a camera app to capture images but you can also create an HDR photo from previously saved images. Camera settings for HDR Camera include:
Image Resolution (.3MP to 7.99MP) and aspect ratio
The option to bracket images by exposure time or exposure value
Options to set the exposure time and exposure value
Set capture delays.
With HDR Camera, the creation of the HDR photo isn't as automatic as you see with HDR Photo Camera. You line up your shot, press the shutter and three images are captured, and automatically aligned. You then go through a set of editing screens where you can fine tune the alignment and then set the processing parameters. Processing parameters include saturation, brightness, contrast strength, low-pass, and edge strength. A preview thumbnail of the image will let you see how the adjustments look and when you get things just right, the final HDR photo is created. The number of parameters you can fine tune on HDR Camera is nice but the slider bars are really sensitive to the touch.
Neither HDR app captures the photos quick enough to avoid the need for a rock steady hold on the camera. You can prop your Windows Phone on a ledge, lean against a wall but ideally you'll want a tripod to keep things steady.
So.. which is better? HDR Camera gets an edge by allowing you to adjust the processing parameters after the image is captured. With HDR Photo Camera, you set the parameters before the image is processed which will likely mean you'll be re-taking the image until you get the settings just right.
HDR Samples: HDR Camera (left) and HDR Photo Sample (right)
In just using these two apps at the default settings, HDR Camera comes closer to creating an HDR image out of the box than HDR Photo Camera does. Even after tweaking the processing parameters on HDR Photo Camera, it really doesn't achieve the pop in color that HDR images have. Image quality is good but HDR Photo Camera struggles to achieve a high dynamic range.
While HDR Camera's image processing is more user friendly, HDR Photo Camera is the more stable of the two. Without fail, after every HDR image is captured and processed, when you go to take that second HDR photo with HDR Camera the app crashes. It's really a pain in the backside.
HDR Samples: HDR Camera (left) and HDR Photo Camera (right)
HDR Camera gets the nod with respect to resolution options. HDR Photo Camera only shoots in 16:9 aspect ratio. However, HDR Photo Camera resizes the image slightly (about 7.1MP) while HDR Camera will resize more significantly down to about 3MP. A 3MP image will do fine for web posting and you can likely get a decent 5x7 print from HDR Camera but it would be nice if the app maintained the resolution options it offers with the final image.
While both these apps started out a little on the rough side, the recent updates have improved the overall performance of both. While it would be ideal for both to have a trial version, I think HDR Camera has benefited the most from the updates.
There's still room for improvement with HDR Camera's stability issues and HDR Photo Camera's processing settings (needs more HDR). Both could benefit from a faster capture rate to maybe avoid the need for a tripod. Also, HDR Camera needs to stop resizing the final image and maybe allow you to store the individual images just in case you want to revisit the processing settings.
HDR Camera Samples with processing tweaked
We'll revisit these two apps after the next round or two of updates but for now, if I had to choose between the two I would have to lean towards HDR Camera. I hate the instability with HDR Camera but the ability to adjust the processing parameters with a preview thumbnail is really nice and avoids the need to re-take the image to get the settings just right.
HDR Camera (opens in new tab) is currently running $1.99 and HDR Photo Camera (opens in new tab) is currently running $2.49 in the Windows Phone Store. Both are Windows Phone 8 apps and neither have a trial version.
George is the Reviews Editor at Windows Central, concentrating on Windows 10 PC and Mobile apps. He's been a supporter of the platform since the days of Windows CE and uses his current Windows 10 Mobile phone daily to keep up with life and enjoy a game during down time.
The main disadvantage of both is that they require either a tripod or superman's grip to hold them in place long enough to capture the photo.
I'm yet to capture good hdr photo while holding the phone in my hand.

Good thing I got Superman's grip :P

Neither one produces hdr images as good as simple filter based hdr apps that are available on IOS and android. Ill pass on both because they both are not worth the money. On IOS there's apps that are just as good as topaz adjust which is a plugin for PhotoShop and is amazing and its all filter/slider based.

You're right. The tone mapping just isn't even there anyway. You could steal a good desktop app and get much more done lol Jesus

using a 920, hitting edit, and applying the wand twice (save, and reapply it) does a pretty good job of boosting the low end and keeping the saturation looking hdr-like.
Best of all. It's free.

Thanks for the tips. It works! Quick and easy.

Or use Fantasia Painter. It does have a HDR filter doing a really good job!

Man, those HDR Camera pictures are oversaturated.


That's the point, isn't it?

You're probably just used to seeing lots of bad HDRs. When capturing landscapes, HDR is for the best as you gain the details within the highs and lows so you don't lose any data. These are just shit and bad examples of what HDR should be used for.

@zakk No it's not. HDR is merging three exposures.. has nothing to do with saturation.. the HDR Camera app is way over saturated... the other is just ok.. I'm not sure how an IOS app can do anything close to true HDR without the full exposures.. its not really possible.. but ok ;)

I bought HDR Photo Camera and have been disappointed with the rather weak HDR algorithm they use. Also it simply always tries to use the flash to achieve differential exposures, and there's no way to turn the flash off. Very annoying when the subject should not be shit with flash.
The lack of a trial addition is pretty lame. I won't be trying HDR Camera for that reason alone.

Personally I am waiting for an official HDR Camera Lens. Either from Microsoft or Nokia.
Especially for Lumia devices its a shame that Nokia hasn't offer the lens yet. I mean they went that far offering the amazing CinemaGraph, the SmartShot and Panorama and they lack the now standard HDR feuture.

Does either of the 2 apps align the 3 images, or do they just take the 3 and overlay them, exposing slight differences in framing due to a not-so-steady hand? If not, I'd rather take 3 images and process them with Photoshop CS6.

I guess both do kind of image alignment. I can tell for sure HDR Photo Camera does such an alignment, it does not work if you change the shooting angle, I mean if you rotate the phone around vertical or horizontal axis.

Windows Store just let me pay for Photo Camer - I just can't download it, think there might be high demand now??

I think the store may be down.

No trial,no download. Sorry.

Does either app let you access the raw images from your computer?

I still don't see the point of HDR until it can capture people. As it is, the shutter is not fast enough and people will move, making all people shots void. Someone needs to invent a camera with three lens that shoots at once. Does that even exist?

HDR isn'y really used for people anyway because unless meticulously worked on it usually leads to some pretty garish skin tons.

When are they coming to WP7.x ?


Glad I went with HDR Camera.

Wow, quick, easy, free... THX
Windows Central Newsletter
Thank you for signing up to Windows Central. You will receive a verification email shortly.
There was a problem. Please refresh the page and try again.