Which camera app do you use as default on Windows Phone?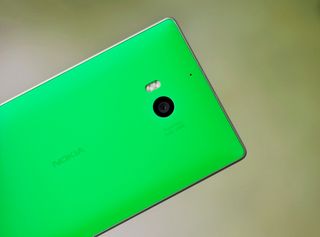 On Windows Phone, you can select a few apps as your default when snapping photos. By default Windows, Phones have the Camera app from Microsoft. In Windows Phone 8.1, it was updated with a handful of new features like burst mode. You can, of course, change your default camera. Those with a Lumia handset can use Nokia Camera while those with the HTC can use the HTC Camera. Which do you use by default?
Take our poll and let us know. Don't know how to change your default camera on Windows Phone? It's easy. Just go to settings -> swipe over to applications -> photos + camera -> select default camera app.
Don't forget with a Lumia you can grab the beta version of Nokia Camera. This version is a great way to get an early look at future features coming to Nokia Camera.
Reading this in our app? Head to Internet Explorer to take the poll!
Windows Central Newsletter
Get the best of Windows Central in in your inbox, every day!
I use Nokia Camera (Beta) on my 1020

+925. I'm greedy and I always want the newest of everything.

And the newest bugs. Sorry i thought I was in android xd

Me too... 920, 1020 and 1520

Yeppers! Beta all the way, 1020.

How to get nokia camera beta? Posted via the Windows Phone Central App for Android

Bèta as default but once in a while I use pro shot, which is a great shooter too

I'm using Nokia Camera now on my 1020. What are the current benefits of using Nokia Camera Beta on 1020? If not mistaken most of the cool new features or improvements only applies to newer models like 1520 or 930. p.s.: I think the camera performs very well on Cyan firmware update!

Besides having the most up-to-date version of the app? If there's any benefits for the 1020 you'll be the first to get it - doesn't hurt.

Nokia camera beta on 1020, 920 and 520 here

How to get nokia cam beta Posted via the Windows Phone Central App for Android

http://www.windowsphone.com/s?appid=80b4b4a2-f7aa-49f0-b8ab-7b7390ce1014

Rocking Nokia camera beta on tmo 925

Default camera app can be changed?!I never know this! How?

Re-read the article. These guys do a great job with step by step instructions to just read the title or first few sentences.

8.1 makes you change from old one, ask you first time you enter camera

I use ProShot as my main camera app

It would be nice if you could bind ProShot to the physical camera button shortcut.

I think this is fully possible in the OS. But it needs to be exploited by the app developers. I might of course be completely wrong on this..

actually, You are. RiseUpGames, the dev of ProShot, is fighting hard for just that.

Thanks for clearing that up.

No wp doesn't allow for lenses to be opened with camera button, develops of proshot made a uservoice petition to bring that future

Only between Microsoft Camera, which is quick and featureless, and Nokia Camera, which is painfully slow and featureful. Other better apps unfortunately can't be set as default :(

I love the nokia camera app

I use MS camera mainly because the nokia cam starts very slow on my 620

Yeah, sometimes I switch back to the stock camera even on the 1520. The loading time isn't bad or anything but the one from Microsoft is fairly instant.

I agree the Nokia app is so slow to launch. Thinking of switching back too. 1520.

Me too. I also use Proshot for pictures of things like landscapes. I use MS Camera for taking pictures of my cat, Mitty. MS Camera is default for me.

I switch back to default cam too. Nokia cam is too slow and clumsy. I only use Nokia cam if I need manual control and raw format for the best image quality

Sometimes u just have to use ms camera instead of Nokia one under some circumstances.

Couldn't agree more with you. I often missed a moment to be photographed because of the slow start of Nokia Camera. But do you notice any difference of the result picture??

The 620 camera is not exactly fantastic using either apps, and i cant tell the difference but it sure gets the job done, i dont use it much for photography, just mostly quick snapshots.
My friend's 920 definitely started up the Nokia Camera app significantly faster than my 620, speed is currently the main issue for me to not use Nokia Cam, otherwise i personally prefer the Nokia camera app over the MS camera.

That's the same reason why I started using Microsoft camera as my default today. Was always using Nokia cam beta but it loads slow on my 620 also

Stock cam app also for the same reason.

Me too! I use the Microsoft Camera since it starts faster and nice for quick capture with the dedicated shutter button. Nokia Camera is still not as fast but I do use it alot for more advance photography. This is why dedicated shutter button and the Lens feature make sense, which I love on Windows Phone.

I have it on my start screen for the same reason. But by default I use Nokia camera

same here on my own 620 when scenarios that you need to put out and take emergency shots i use the native cam, but when im not in a hurry and just want to take some shots, i then use nokia camera app

Same. MS camera for it's quickness!

Nokia Camera. It does so well in low light settings.

Proshot as daily camera but can't set it as default camera. My default camera is Nokia Camera.

I wish we could set it as default :(

Yeah! What's with that anyway. ProShot is one of the most serious options but no ability to set as default.

I thought I saw an option in Proshot to use a default via the camera button.

Edit: Nevermind, I just tried it... it's just a link to the Microsoft Uservoice page suggesting said feature.

Don't waste the chance to vote for it. The more MS sees interest in it, the greater the chance the possibility to set ProShot as default will be.

It's a good app but its UI man, it's the ugliest camera app I've ever seen !

I user the Nokia camera app, but ProShot most resembles what you get on a DSLR which appeals to photographers / photography enthusiasts.

got htc 8x so microsoft default is the only option, but i find myself use proshot most of the time

Isn't the HTC camera available for the 8x

No it's not. I have the 8X too

I thought it was. I've seen it on the sprint version of the 8x

Maybe it's something exclusive to different networks or regions. I don't have it on Rogers

If it isn't on your phone see if it's in the HTC section of the Windows store.

No it's not there either. Oh well. HTC has just been a disappointment for me on so many levels

Let's hope that the one m8 is the beginning of something new

That is because the Sprint 8X isn't an 8X at all, it's the 8XT, which has different camera hardware, and is more robust in areas, but less in other areas such as the 800x400 screen. It's sort of a cross between the 8S and the 8X, but it's neither...

I see. The default Microsoft camera is still fine though for me

HTC camera isn't all that great anyways. The default camera has always done better for me

Due to app support for resolution, it's only available for the lower speced screen of the 8xt on Sprint (400x800 vs the 720x1280 of the 8x). Once again showcasing the software support weakness of HTC. Hopefully they realize this and have better software support with the M8.

I've been looking for HTC camera app and didn't find anything, used the sysapp and found something called attentive phone which never knew existed. HTC sux in windows phone department, I'm probably switching to 930 next month

Was using Nokia camera beta on my 1020, but with my new 1520, I'm now using the non beta. Living images works again.

Nokia camera on my L925 :-)

Stock Microsoft camera works fine. 8.1 improvements help

MS Camera runs faster and i prefer the UI too.

I have a 1020 but from what I understand the MS camera wouldn't capture images that high

Same here, except I miss the 8.0 camera that actually adhered to the Metro UX guidelines.

One thing I found missing on Microsoft Camera though is the timer setting, which is odd since it exist on previous versions. This is a must feature nowdays for trendy people (selfies and such).

Is there any difference in the image quality shot by different camera APPs? Supposed in all-auto mode.

Nokia camera better in lower light

But it seems to be some bugs in the white balance.

Not really at least I get the same quality in pic. On auto mode on Nokia camera, ms camera, and pro shot. Everything changes in manual mode on pro shot and Nokia camera.

Proshot camera did not use the oversample method that Nokia knows how to. Resulting in Nokia camera produces cleaner 5mp oversample image as compare to proshot.

There is indeed difference in quality. Try check AAWP article regarding that. AAWP, shows the best Camera app, is Nokia Camera, leveraging the sensor and software to make 5mp oversample images on Lumia 1020/940/1530 better than proshot and at the same time give you the ability to crop/zoom if you want that microsoft Camera can't.

I'd like to use Nokia Camera but the fact that it requires a password to use the ff camera is a deal breaker.

Umm, what?? I've had three different Nokia phones ( currently use the 1020 ) never even heard of a password to use the front facing camera, I just checked my settings and there isn't even a option for that, just curious but what phone are you using?

Of course there's not a setting, if there was I'd turn it off. I use a 1020 with Lumia Cyan and Update 1

If your phone is locked and you turn on the camera you can't use the apps settings. You need to unlock the phone in order to access the settings and ff camera.

Yeah, that's what I just said. The fact that I have to unlock my phone to use the ff camera is why I'm not going set Nokia Camera as default.

Your original comment was a bit confusing, it sounded like you meant a password was needs every time you wanted to use this feature, I now understand you meant when you activated the camera form a locked phone state, you can unlock the phone from within the camera app ( lock icon in upper left hand side of screen ) which takes less than two seconds to unlock and set ff lens which doesn't seem to unreasonable to me, especially when you consider the much greater quality of the Nokia camera app vs. The Microsoft app, I rarely use the front facing camera personally so I guess i have a hard time understanding the absolute need for speed when using it, but to each their own

I often use my ff camera as a mirror to quickly check my appearance. Having to input a long passcode, especially of I don't get it right on the first try, takes an annoying amount of time.

Ok, that kinda makes sense, being male I've never considered using my phone for that purpose LOL

I'm also male, I just care about what I look like, especially if I have a cause to think something looks weird.

Nokia camera with all its pro features seems the best camera app!

You can select Pro Shot as your default? Show me how :p

Nokia camera. Mainly just because I like to focus before snapping the picture. The default camera app focuses and takes the picture at the same time.

You can change that in the settings. "Tap to take photo"

Sure can. Thanks for that! Now I may be switching back and forth. Torn between default and Nokia camera.

Microsoft camera is quite good but I just can't compare it with Nokia camera as the latter is more robust, it gives you more shooting options and after the shoot options as well, also video recording has audio filters, on Microsoft side it's all on auto, idk what filters and if it uses filters.

Default is set to Nokia camera, but I tend to use ProShot the most

Do you use proShot often in auto mode. Cause I really like it but it has a lot of settings I don't understand. Can you help me out referring me to a web page or something?

I am in love with Nokia camera

I use microsoft camera because its faster when I want to shoot something immediately. But if I want to use manual settings, Nokia camera it is.

For manual setting you should try pro Shot

Nokia Camera on 1520. For some reason, I can't record video with the beta.

MS Camera. For manual settings either Pro Shot or Nokia Camera

Been using the default camera. Was using Nokia beta on my 521. Will try it on 925 again.

Microsoft camera app by default

I use Nokia Camera App, works fine for me on Lumia 1520.
Additionally Nokia beta, MS Blink and I just started trying Proshot.

I switch back and forth between the stock Microsoft camera and Nokia Camera on my 925. If I am in low light conditions and want more precise control over my camera settings, Nokia Camera all day long.

They should let you pick any camera app

I use Nokia Camera, but I hate its sluggishness on my 520 and 920, and on my mom's 635. This is from 8.0 all the way to 8.1.1 and/or Cyan. So in terms of stability, I think Microsoft Camera is best.

Use MS camera for default for quick snaps, and Nokia camera pinned on start screen for when I want to have more control.

Microsoft Camera, due to it being faster to launch.

As of today, HTC Camera :)

I would proshot team make it default... Lot of good features...

Nokia Camera. Living Image feature is nice :) it reminds me of Harry Potter newspaper

it sure does doesn't it.... lol awesome feature

I use MS stock camera. And Nokia pro when I need to play with zooming when I record, and sometimes focusing for close shots

Nokia Camera Beta. Pro Camera occasionally - I find Nokia's software takes better photos. (1520.3)

MS camera is faster, Nokia Camera is better becasue of the controls, I use ProShot from time to time, L920 ATT. Really wish MS would something about the camera opening speed. Its pretty slow no matter what you use..

Nokia Camera all the time.

The default, but I never use my camera because the quality sucks and no front facing camera.... Sigh...

Pretty much. I don't know what happened. But after the amber/black updates, my camera has never been the same.

This shivers me timbers! >:/ lol. Microsoft need a phone with a front camera 10x better than iPhone and used on all phones.

Nokia camera. But I've only had my WP for 2 days now and have only taken a handful of pictures with it so far.

I use the default camera app 90% of the time the other 10% is 4D blend HDR

Pro shot is my second choice

Nokia Camera all the time! ProShot in auto node is not as good as Nokia camera in low-light situations.

I use Nokia Camera on my Lumia 520. It's unnecessary and slow but the features make up for it.

I used to use Nokia Camera, but I couldn't deal with the slowness anymore. It may just be my eyes playing tricks on me, but the regular camera app just (pardon the pun) seems faster

Nokia Camera Beta. Though under Microsoft Mobile it's irrelevant if it's the Beta or not. It's not like they're actively developing anything.


Nokia camera beta all the way...

Nokia camera on my 1520, used to use beta om the 1020. I miss the Symbian camera pro days.

Nokia camera beta. But mostly i use ProShot. though it can't be made default.

Nokia Camera app. But my complain here, it's slow on startup.

I love the Nokia Camera but why the fuck don't we still have touch to focus, flash on/off and pause while shooting a video?
I mean seriously Nokia/Microsoft!

After cyan Microsoft camera. Continuous auto focus is great. Nokia pro beta for other shots.

Nokia camera, all the way

Nokia Camera on my Lumia 1020. Occasionally Nokia Smart Camera or Proshot.

Nokia camera beta - 920 (black cv uk)

Nokia Camera, but I, too, sometimes prefer the agility of the stock Camera app.

HTC Camera on my HTC One and Nokia Camera Beta on my Icon.

I was just playing with the camera apps this morning. Now using the MS app on my 1520. It just seems faster all around. Yes I said it.

Don't think it saves high res copies either though...

MS Camera. Nokia Camera only becomes my manual choice if I want to adjust specific settings.

The cams are virtually the same so I use stock Microsoft camera because its faster. I'll use Nokia camera when tweaking up a manual shot but Microsoft camera faster on 925. I used to use Nokia cam but its slower to start from cold sometimes when I need a quick shot.

Default camera because I like to tap the screen to take pics

Default, to capture photos quickly, but Nokia camera for "pro" photos, with patience.

Stock camera for instantly taking a picture and Nokia camera for lowlight photos and for fast moving objects eg.a moving car.

I want to use ProShot, but Microsoft won't let us!!

I like the Microsoft app much more, it's way faster and you can swipe to your camera roll. One question though, does the Microsoft Camera take full advantage of the 1520 PureView camera? That's the only reason I don't use it because I'm worried I'm not getting the full use of my camera if I use Microsoft cam.

Yes it takes full advantage of it... Nokia cam just has more pro settings. Your fine using it.

Perfect, I was worried about not getting full use of the zoom. I've now set it as my default camera. Thanks.

You do not get high RES from ms camera

Hmm well that makes it pointless. No point using a 1520 and not make use of the full zoom options.

Nokia Camera! I think it's better than the Microsoft app.

I just noticed Nokia camera makes same noise as WhatsApp.

Nokia camera app is better

I would like that the pro shot camera to be as default but there is no option so , there I prefer MS camera as it is fast compare to Nokia Camera ( Beta )

I use Nokia camera. I haven't used the default camera in a while. Does the default camera save raw images like the Nokia camera does?

Microsoft camera. Would be ProShot if Microsoft would let'em.

Microsoft camera because it's faster, but I use the Nokia camera to take pics that I intend to share. The Microsoft cam is great for taking quick pics. You can always use auto fix to improve the quality

Nokia Camera Luggy, I prefer Default Windows Phone Camera it starts fast...

Nokia camera beta and for hdr I use pro shot

Nokia Camera not the beta, I may give it another spin, but isn't Microsoft camera good?

I used to use Nokia Camera, then I switched to Proshot in hopes that yellow tint would go away, and it didn't :\ So now Nokia Camera and Proshot are the two I use, but with Nokia Creative Studio to fix the yellow tint/blur problem.

Nokia camera on my 930. Although I do like the default WP camera but you kind of need the Nokia camera to utilize the phones camera.

I use the microsoft camera .. The Nokia camera takes to long to start up and too long to save the image

I used Nokia Camera beta in my 1520

None. Camera stopped working after latest updates

Nokia Cam, Sometimes ProShot

Anyone still getting yellowish tint? T-Mobile Lumia 925 and I get that horrible yellowish tiny no matter what camera app I use.... Makes ask my pictures look horrible unless I get lucky outside. Indoors, forget about it.

To go with my post above, I do. And like you, no app fixes the problem.

wp default camera, its fast

I see alot of people use the Nokia camera app, its really slow to launch and slow in processing the captured image, I use the native cam app, especially for unexpected moments as it launches faster and use Nokia camera for detailed pics

Nokia Camera Beta!!! #awesomeness @samsabri is there an article that compares the two (NCvNCb)? If not there needs to be! Also, did the WP8.1 Update 1 and Cyan update provide much improvements for either?

HTC camera? Funny, I don't see it on my 8X. I use the ms camera by default. Thought the HTC camera comes only with the M8. Was I wrong?

Yes...hence why it is an option for the 200 people who own a M8 LOL

The default Camera app. Not a photographer. Just a point and click guy for family moments and documenting my stupidity.

Nokia Camera of course :) I have the best :P

I was using Nokia Camera Beta. But it seems to be broken focus wise. Nokia Camera seems to have fixed the problem. So I will stay away from beta for a while.

But at this point, the Nokia camera beta is not very different from the non-beta version. Right?

Default Camera, Nokia Camera to slow.

+925! Used Nokia Camera for the longest time but the boot time just kept getting longer and longer. Now I just use the default. If Nokia Camera can boot faster, I'll go back to using it.

Hmm gotta try nokia camera beta.

Unsurprisingly, Nokia Camera.

Nokia camera is a little better than pro shot cause there's usually a blur with pro shot in low light

I use the Microsoft camera.

I use nokia camera beta !! And sometimes camera 360

Cant find beta version of NCAMera.

Camera Default. Faster startup, better UI to change from back camera to frontal camera and better quality photos in auto mode. Ofc it is my opinion :)

Nokia Camera Beta - Lumia 920

I use Nokia Camera on My Lumia 720... ♡.♡

It could be great for me, if the shutter button of Nokia camera change for shutter focus like Microsoft Camera and change to pro mode to see manual lens.

Proshot! There's quite a few good lenses!

1st Microsoft Camera for fast focus shutter, 2nd Nokia Cam for manual photos

Nokia Camera but sometimes pro shot is better for macro

MS default for me... Coz its quick to launch and i dnt wana miss precious moments just waiting for nokia camera to open.... In case i have time and need some creativity then i use nokia cam as my second camera... :)

Microsoft Camera App on my 635 I figured this app is fine since the 635 is a low-end device and I always felt like the Nokia Camera app was always a little too slow. The Microsoft Camera app tends to load a little faster is is fairly responsive, plus if I want an advanced camera the lens button is right there so I can open Pro Shot!

On my 520 mostly just the stock camera app. On my 928, Nokia Camera version 4.5.1.7, occasionally ProShot or others. On my Icon, Nokia Pro Cam version 1.7.6.1, also sometimes ProShot or others. All on WP8 GDR3/Black.

Nokia camera beta! Its always a little better then Nokia camera. Plus living images works on both on my 1520 :-)

What's the best in low light without flash???? Thats the one I want to use!!!

Microsoft camera. I feel that the Nokia camera takes too long to open and take photos. I also like the ability to slide from the side to view camera roll and the ability to toggle front camera without touching the three buttons.

Previously I always used the Nokia camera as my default. But ever since I updated to 8.1, I've been using the Microsoft camera as the default cos it's so much faster on startup. Then I would put Nokia cam on start screen is I wanna take any professional shots. Because it happens to me a lot of times alr that when i see something i wanna quickly snap, the Nokia camera takes like 5 seconds to load up and the moment to take snap it is gone. - Lumia 920, since Nov '12.

Nokia Camera Beta but I'm switching between that and the standard MS app because sometimes the Nokia app is a bit slow.

Default one nokia camera,on occasion pro shot is good

Nokia Camera! Posted via Windows Phone Central App

Microsoft Camera for Quick Shot.(FASTER) Nokia Camera for All Around Shot, any Scene Shot due to its Settings.(a BIT SLOWER) and Camera 360 for Creative Shot.(SLOWER)

Re: the ancient versions I posted above -- as far as I am concerned, they have been walking Nokia Pro Cam backwards since they released it. They merged with Smartcam to get Nokia Camera, but removed the easy last image access, dumbed down the flash toggle in advanced mode, removed instant Lenses access, and now there shall be no tweaking outside of Creative Studio (which we will also botch up). Glad they have the beta program because I saw this coming and didn't upgrade on my 928.

I use Nokia Camera on 720

I'm getting deja vu
Hadn't this question been asked before?
Nokia Camera is my preferred camera app. L820

beta; 1520, 1020
Nokia; 820

Stuck with default camera app 8.1 DP HTC 8X

Nokia Camera Beta . However, for quick photos, I use the stock camera app. On my 720.

Nokia Camera, Lumia 620 :(((

Use MS camera app as default because it loads instantly on my 720, occasionally use Nokia camera/ proshot.

Nokia Camera as main, ProShot as secondary. I always go to Photolens when I need decent HDR stuff.

Lately I have to take a lot of pictures until I get the right one on my Lumia 920, I've tried Microsoft and Nokia camera but none seem to work

Nokia camera.. Microsoft camera still way behind Nokia camera apps

Microsoft camera.. Which is the default one that came with 8.1 pfd.

Nokia camera backed up by Nokia creative studio.

I use no camera app because they are all broken because no Cyan on Lumia 822 dev preview 8.1 gdr1. Almost 4 months without a camera. This just shows you how dedicated I am to windows phone. If no Cyan within a month I'm switching to android. This is ridiculous.

From where to download Nokia Camera Beta?

http://www.windowsphone.com/en-us/store/app/nokia-camera-beta/80b4b4a2-f...

Stock camera for.every day stuff. Nokia for better photos when I have time to wait for this slower then snail app...... The app is so slow I switch to proshot often.

Default MS app, it's the fastest. It's a shame though, as it is right now on 8.1 and 8.1.1 you can no longer force the photo, you have to focus first before it takes the photos, whereas on 8 you could hit the camera button as soon as it loads and take a shot with focus set at infinity which may be good for situations you really need the photo. In the end it takes upwards for 4-6 seconds to fire off a shot now vs the 2-2.5 seconds it used to take. Another thing MS is going back on; the worst picture is a picture not taken, and now that happens because you lose 2-4 seconds to get the thing to focus and shot. You throw on Nokia Cam on that, it takes upwards of 6-8 seconds to get your first shot: Resume -> Focus -> Shoot. Competing platforms are so much faster now at first shot time, negating the advantage of the hardware button on WP.

Microsoft camera. Because they have a option to choose lenses in the top of the camera.

I use the default camera app ... I its all to me.. I'm no high photographer.. So. ...

Proshot with a fallback to default camera on my 8x because it launches with the camera button

I use Nokia Camera Pro, but I wish ProShot will be available soon in the default camera option

Nokia Camera but it loads too slowly. Very noticeable lag compared to iPhone and Android. They really need to do something about it.

Default camera app.. But I like to use nokia cam.. Prob is it loads slow compared to default app

I use the Nokia camera by default, however I feel the Microsoft camera has a better zoom, so I tend to use that when needing to get in close from a far distance.

will stick to the non-beta Nokia Camera for some time to come.

I use the MS as my camera launch app as it has better access to the Lenses feature - essentially a short cut to any app that uses the camera (including Nokia Camera if I want). I LOVE Lenses which is a real feature unique to wp! Noka camera hides the access to lenses which I think is a great shame.

What is the difference btw nokia cam. And nokia camera beta..? Also how to get nokia camera beta on L520? Posted via the Windows Phone Central App for Android

Proshot is the one I use first always, then Nokia Camera.

I use Microsoft Camera on my Lumia 930.

Nokia Camera with Lumia 1020

Microsoft app for video and Nokia app for pictures.

Does ms solve the yellowish and blurry problem with nokia cam? I use proshot to take photo

It was Nokia camera but with having a baby ive had to switch back to default as Nokia camera just takes too long to open and I was missing moments; lumia 925

This is exactly one of the most needed changes in Windows phone OS. Default apps. I'd love to use pro shot as my default camera app. Also, I really don't like being unable to use mytube as a default YouTube app instead of internet explorer for all those YouTube links spreaded in the social networks and internet. Same goes for twitter... I love tweetium but it would be awesome to have the chance to put it as a default app for all my twitter links.... And so on...

Default Camera, Nokia Camera very slow :(

I tried Nokia camera before 8.1 for the features but it us just too slow. Now with 8.1 went back to Microsoft Camera as it has new fearures and fast.

The default one for me since it loads so much faster than Nokia camera. I only use Nokia Camera when I need the timer feature. Wish MS would add a timer to their camera..

Hi from Bulgaria! my default camera app at me Nokia Lumia 1520 is the best for me camera app "Nokia Camera App" . I've one question: How and from where to download " Nokia Camera app Beta"?

I use Nokia Camera on my 1020, but on 930 I use Microsoft Camera since its much faster. I'm not too happy with 930 camera so I don't see the point in slowing it down with Nokia Camera.

Nokia camera bèta on my 1020. Beceause its starts up faster than the stock nokia camera. I timed it once. Stock takes +-5,5 sec, while bèta takes +- 4sec. Big difference to me!

Nokia Camera is my default

Nokia camera is good of u have a pure view Lumia. Otherwise Microsoft camera is good for general usage

Nokia camera. But beta??? Where do I find that? I'm on a1520 with 8.1 (no update1)

Search topics for Nokia cam beta and you'll find article posted for it and find download link in the article here on wpcentral. Its not really far ahead so I don't bother with it anymore.

Nokia camera on L620 since the first release(when it was for 1gb phones only)

Nokia Camera on my Lumia 920. Although I like it, the startup is slow as sh*t.
Startup of Microsofts own camera app is much quicker.

I use Nokia camera but even on my 930 it feels to slow. What I don't know is dose the ms camera app takes the picture with 20 megapixel too? Or just with 8 mpix ? I don't get this over sapling stuff

The MS cam should support the full 20MP. Check the res of the photo you shoot afterwards but I don't believe its limited. I use without issue.

Just checked the Nokia cam saves always 2 pictures one in 3072 x 1728 and one in high resolution. The ms camera app just saves the "low res" picture. I guess I'm stuck with the Nokia cam :(

I use Nokia Camera on my Nokia Lumia 920

Default because front facing camera cannot be activated quickly on Nokia Camera. Hope it changes with the 730

Nokia camera for me . I have the pro shot camera as well but don't find it very good. im Using a 1520

Owh I'm missing the Living Image feature now... Cyan, come to grandpa!

I'm on a 1520 currently but had a 1020 till it broke. My 1520 I use the Microsoft Camera. Simple, takes good shots for my eye anyway, and when I get more time up my sleeve I'll learn more about the craft of photography - then I'll use the Nokia Camera and make use of all those cool manual controls. If only there was a 5min course on getting the best and most out of the Nokia Camera App in all situations. I suppose that would consist of loading up the Microsoft Camera, and point and click - done.

Use the Nokia camera app every once in awhile. Just go through lenses to get to it when you want to take better pics. Just figure out what each adjustment does (Bing or google it) and then start trying it out. I use the MS camera app as default but switch to nokia's when I want to do more stuff.

Got no choice but to use the "Microsoft Camera' allthough having installed several Camera Apps. Samsung ATIV S

Microsoft Camera on my 930.

Use Nokia camera beta as well, really dislike the fact they removed the preview... Have to unlock the phone to check an image if photo is taken when phone is locked.

I use the MS camera app as default because it's faster and more simple for quick shots and I like being able to swipe to get to the last photo I just took. I also use the Nokia camera beta app for pictures i want to look better or want to adjust the setting manually.

Microsoft camera cause it launch faster in my 720. Hope they can fix Nokia camera. It's too slow for mid range devices

I use the Nokia Camera Beta as main and Camera 360 with the selfie stick as it has timer.

Microsoft camera because it's fast

Sadly the choice is only between these two apps which sucks.

I m using NIKON AND SONY CAMERA... ON MY LUMIA 620

Nokia Camera Is Best.... But It Took Some Time To Start On My Lumia 520.... So I Use Default MS Camera..... :)

I prefer Nokia Camera Beta on my 1020! It seems to me much clearer than the standard one

Nokia Camera Beta on 820 :)

Since the day i updated to 8.1 Update 1, DP , my camera has just stopped working. I see many people posting about this in WP forums and also in msdn, WP needs to do a story on this. There is no work around/solution in sight. :(

I use Nokia Camera on my Nokia Lumia 625

What is the difference between Nokia camera and Nokia camera (beta) ?

I use the default camera on the Lumia 925, I can never get the low lighting to work on the Nokia Camera

Mixture of Nokia Camera beta and wp stock camera, light, colour and vibrancy can be very different between the two. I really miss colour pop from the Nokia Creative Studio.

Microsoft camera cause it is fast

I prefer Nokia Camera over Microsoft Camera as default camera however I use ProShot at all time. I wish the option of making ProShot as default camera was available for my Nokia L925.

Nokia camera on the 1020 and the 1520.

Nokia camera here for the 1020

Using Nokia Camera on Lumia 630. I've done some pictures and was : WOW! How's the BETA version different than the stable one?

Default camera on 720 as its fastest

Microsoft..faster and sharper in details

+925 want set microsoft camera as default cause it takes less time to capture a quick shot, if wanted customised one then I just use the nokia camera app tile.

Default, it's faster on my 920

Right now I can't use and camera app, the camera will not focus at all... Totally useless feature on my Lumia 1020

Microsoft camera. Would use Nokia camera but it takes too much time to start up.

Any way to set Pro Shot as the default camera app?

I use Nokia Camera Beta... lumia 1020

I use Nokia Câmera on my 1020.

Uninstalled ALL the camera and video apps from my Lumia 1520 with Cyan, preferring to use the default camera application. Just less complicated and easier to use.
My out dated Nikon L1 6Mp camera takes much better photo resulting in a 300dpi pic contrary to these phone pics which are only 72dpi. We can achieve higher quality pic editing with 300dpi. We are not fooled by any phone camera in the photo industry, phone pics are only a compromise of quality. :)

Nokia Camera. Even despite slow loading time, mainly because I like tweaking brightness and focus with each photo.

Nokia Camers - although MS have improved their camera dramatically for 8.1, so kudos to them

The Nokia Camera app is my default. It generally does a good job at metering, but allows me to quickly change the settings manually, if needed.

mostly im using nokia camera ... btw can i ask what is the diffrences between nokia camera and nokia camera beta ?

I love the Nokia camera app, but its too slow to start up. Even on my Lumia 920. I had set it to launch as the default camera app when I press the camera button, but it always takes more than a couple of seconds to launch the app. So I am back to the native windows camera app.

I assume I'm using the Microsoft camera. I have a Samsung Ativ Neo and there is no choice to change the default camera. The camera settings only have "built in camera"


Am using the default camera app for speed. Am using 920 and 1520. Question:
1) How to take photos without flash? 2) How to take selfie in low light without blinding the user? Is there an App for that?
Windows Central Newsletter
Thank you for signing up to Windows Central. You will receive a verification email shortly.
There was a problem. Please refresh the page and try again.