Is Microsoft doing enough to nurture its Xbox game franchises?
Imagine if all of those games didn't get abandoned...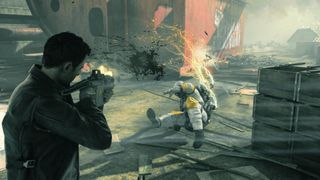 (Image credit: Windows Central)
At the beginning of the current console generation, Xbox was slammed for selling a more-expensive, less-powerful system compared to Sony's PlayStation 4 (PS4), which output visuals at 1080p more consistently than Microsoft's offering. At the time, Kinect had been bundled with the Xbox One, pushing the price up by $100 with a peripheral many, particularly day-one buyers, didn't really care for. Later in the generation, Microsoft was able to pivot under new leadership from current Xbox Head Phil Spencer, delivering the Xbox One X, which shatters the competition in terms of raw power. As happy as it made pixel counters, Xbox still suffers from a fundamental issue.
Microsoft leans far too heavily on its Forza, Gears of War, and the Halo trifecta for its core platform-exclusive franchises, and while it has attempted numerous times to build new IP, virtually all of them have suffered from a litany of setbacks that ultimately led to them being shelved. Sony has been far more consistent with its portfolio, releasing hit after hit with no sign of slowing down. Nintendo is also ramping up on its industry-leading portfolio for the Nintendo Switch.
Many of those shelved Xbox properties had vast potential, but the repeated misses has really tarnished Microsoft Studios (now Xbox Game Studios) as a brand, in terms of quality and reliability. Becoming a "fan" of any new game franchise Microsoft puts out lately has proved relatively fruitless and unrewarding. While fixing Microsoft's Xbox power problem was a relatively easy pivot for Redmond, given the industrial engineering prowess that exists within the company, fixing the content scenario will doubtless take far longer.
How did we get here, and are there any signs Microsoft wants to fix the situation?
ReCore, RYSE, Quantum Break, and many more
If there were awards for trying, Microsoft might be forgiven, but in this game, there are no trophies for second place. Microsoft started the generation with a relatively promising content spread, although many of the titles were poorly received, or outright canceled. RYSE: Son of Rome was a brief if beautiful action game built in partnership with Crytek. RYSE is among the best looking titles to hit the Xbox One, although the fact it had originally been built with heavy Kinect integration in mind may have been what led to it feeling a little disjointed. It was poorly received, but the solid story, underexplored Roman setting, and satisfying violence more than showcased its potential. With more future investment, that is.
There's a similar story attached to Quantum Break, another title built in partnership with a third-party studio, this time Remedy, known for Max Payne and Alan Wake. Quantum Break is a personal favorite, owing to its Hollywood-level cast, intricate sci-fi plot, and cinematic combat. Yet again, relatively simplistic gameplay and divisive 20-minute live-action sequences hindered its reception. It's all the more painful that Quantum Break effectively ended on a cliffhanger, with many unresolved plot points.
ReCore too boasted solid platforming action and vibrant, memorable characters, but the relative scarcity of diverse content and janky launch state once again impacted early impressions. The game still generated a cult fanbase that yearns for a more realized sequel.
There are plenty of other examples of games that Microsoft published in what might be considered an "underdeveloped" state, including Super Lucky's Tale, Sea of Thieves, Crackdown 3, the exclusive Dead Rising games, and State of Decay 2. Others that seemed to have potential, like Fable Legends, the Phantom Dust reboot, and Scalebound were outright canceled. On top of that, games that were actually solid, like Killer Instinct, Sunset Overdrive, and Halo Wars 2, became overlooked. Other examples of abandoned franchises include Lost Odyssey, Banjo Kazooie, Viva Pinata, and Project Spark.
Phantom Dust reboot is another canceled Xbox game.
Save for a few hit exclusive publishing relationships for games like Cuphead and Ori and the Blind Forest, Microsoft simply hasn't been able to nail down a credible content strategy beyond HaloGearsForza.
A range of fresh studios and fresh vision
Last year, Microsoft opened its checkbook and began investing more heavily in exclusive content. Redmond picked up Ninja Theory, known for Hellblade; Undead Labs which has been working on State of Decay; Obsidian Entertainment of Fallout New Vegas fame; and of course, Playground Games, known for the Forza Horizon series. Microsoft also nabbed Compulsion Games known for We Happy Few, and InXile, who work on the apocalyptic Wasteland IP.
Microsoft is rumored to be announcing further acquisitions at E3 2019, as it ramps up its platform-exclusive content strategy to do battle with big tech giants like Tencent and Google, who are building console-agnostic, cloud-based game streaming services. Microsoft has been able to keep up with PlayStation by offering alternative features like backward compatibility and more reliable 4K gaming, but for it to lose out on an entirely new category within its core cloud business raises the stakes to another level. In that world, exclusive content will be the difference maker, presuming all cloud services deliver a similar experience.
Microsoft's investment in Undead Labs shows that it is confident enough to continue nurturing the State of Decay IP, which has long been a tale of unrealized potential. Undead Labs' stated goal for the franchise has always been a type of online multiplayer zombie apocalypse simulator, but the first game's engine simply couldn't support it, and the second game was tarnished by annoying multiplayer tethering issues and generally rough quality. Hopefully, with Microsoft's full backing, State of Decay 3 will become the game fans have been waiting for.
Microsoft also brought back the Age of Empires franchise from the dead, announcing Age IV a couple of years ago. We have yet to see the fruits of those efforts, but if there's one niche Microsoft should be able to nail it is hardcore PC strategy. Given that Xbox One also supports mouse and keyboard, there's no reason this title couldn't end up on Xbox in the future, too, and we've heard the title is receiving positive feedback from internal testers.
Microsoft has also shown interest in expanding its existing franchises, adding a free-to-play mobile variant of its Forza IP, known as Forza Street to its lineup, and a tactical PC strategy game to the Gears franchise, known as Gears Tactics. Properties like Halo have already born spinoffs like Halo Wars, but the diversity and complexity of the game's lore would lend itself well to virtually any type of game imaginable.
There are widespread rumors that Playground Games' second title it is working on alongside the next Forza Horizon entry could be a Fable reboot, following the closure of Lionhead Studios. There have also been mutterings about a possible Killer Instinct sequel. and Microsoft unexpectedly commissioned a new Battletoads game in partnership with Dlala Studios. And it is gearing up an all-new mysterious studio dubbed "The Initiative."
Perhaps the best recent example of Microsoft nurturing IP comes in the form of Sea of Thieves. The polarizing game showed clear potential from the outset, but lack of raw features and vertical progression alienated many gamers. Its focus on multiplayer sandbox shenanigans instead of structured content didn't resonate with many, but it found a passionate cult fanbase, which includes some of Twitch's biggest streamers. Microsoft and Rare have continued building the game out, providing a range of free content updates, with its biggest and most ambitious update set to drop at the end of April 2019.
Taking Xbox Game Studios to the next level
While Microsoft has_allowed a lot of its potential IP to die, the company has also shown that it is capable of reviving franchises from the dead, with the right partners. The same could hopefully be true of titles like Quantum Break, ReCore, and Phantom Dust, which have obvious potential. Sure, not every game needs a sequel, and there are plenty of business nuances and complexities that can prevent a game from launching "great," but I'm not sure there's a publisher out there with so many unrealized possibilities.
Microsoft's portfolio has experienced growing pains as Xbox moved from the console industry leader in the previous generation to backseat driver. The time for relying on multiplatform games has passed, as tech giants loom over the untapped potential of connected edge computing as space for cloud gaming to grow.
Nintendo and Sony have far less cause for concern because they know their fans will always return for the exclusive games. If I can play every multiplatform game reliably on my phone or a tablet's web browser in the future, there aren't many reasons to invest in the Microsoft gaming ecosystem today. Microsoft knows this, which is why it is investing so heavily in its content spread for the future.
However, that doesn't placate fans who have spent the entire generation investing in characters and worlds, only for Microsoft to pull the plug. At E3 2019, Microsoft has an opportunity to show the world that it isn't just a great service provider and console maker, and that it is also capable of building artistic universes beyond Forza, Gears, and Halo — franchises that are worthy of its fanbase's long-term investment as we move into the next-generation.
Get the Windows Central Newsletter
All the latest news, reviews, and guides for Windows and Xbox diehards.
Jez Corden a Managing Editor at Windows Central, focusing primarily on all things Xbox and gaming. Jez is known for breaking exclusive news and analysis as relates to the Microsoft ecosystem while being powered by caffeine. Follow on Twitter @JezCorden and listen to his Xbox Two podcast, all about, you guessed it, Xbox!