Advertisement Feature
Why VideoProc is the best Windows 4K video editing software for beginners
VideoProc is considered the best 4K-focused video editing software especially for beginners for good reasons.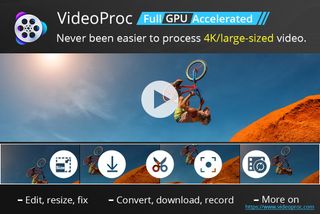 4K resolution has particularly high requirements for both hardware and software performance. Generally speaking, only editing 4K videos on a desktop can guarantee smoothness and less compression (or data loss). But as is known to any practiced hand, to process 4K videos means to choose a paid program, since there is scarce competent 4K video editor freeware.
Adobe Premiere Pro would be a preferred choice for professionals and prosumers, but may be not for average consumers and enthusiasts. For instance, more often than not, a vlogger simply needs to cut, merge, crop, and/or rotate 4K footage while keeping the original "raw" style; adding off-the-shelf effects / filters, adjusting speed or slight color modulation would be more than enough in some cases. None of those operations has to be done in a non-linear and complex manner.
VideoProc developed by Digiarty Software, Inc. comes as an easier solution that is geared toward newbies, amateurs or "dabblers". It is a handy and idiot-proof video processing program that comes bundled with a video editing toolbox, a DVD video audio converter, an online content downloader, and a video recorder.
Why Is VideoProc Picked Up by So Many Windows Users?
Streamlined and Beginner Friendly
Without looking at the manual, users can master VideoProc quickly. The interface is sleek, clean and well classified so that even beginners can search and find out what they want in no time. This merit has gained recognition by many authorized tech sites like TechRadar, saying that "VideoProc, a brand-new video processing suite from Digiarty Software, lets you convert, edit, resize, adjust, download and record all kinds of video files in the blink of an eye."
Top-notch for Processing All Types of 4K Videos
VideoProc is the only beginner-level video editing software that supports 4K and 8K videos without bugs and limitations. It takes in the latest HEVC / VP9 / ProRes codecs, 4K@60fps / 1080p@240fps videos, 3D and 360° VR videos and videos in any file extension. It is a right hand for processing videos exported from DJI OSMO Action / Drone, GoPro Hero 7, Camcorders, DSLR, iPhone, monitoring systems, etc. The resulting file will not be out of order or highly compressed, and the image quality will be maximally maintained.
Unique Full Hardware Acceleration Not Only for Fast and Smooth Experience
Different than those large video editing systems, VideoProc can be installed and used smoothly on older computers, minimally with 1 GHz Intel® or AMD® processor, 2GB RAM, and 200MB free hard disk space. Even an average desktop is enabled to process 4K (2160p) UHD videos or bulky footage without stutters, freezes, or crashes.
Furthermore, "Full Hardware Acceleration", one of the killer features of VideoProc, lets you enjoy the top-notch 4K video processing performance only if your GPU is no lower than NVIDIA® GeForce GT 630, Intel® HD Graphics 2000, AMD® Radeon HD 7790. Besides 47x real-time speed boost, the cutting-edge technology helps strike a balance between output video quality and file size.
It Can Do More that Other Video Editors Cannot Do
In parallel with video editing like cutting, merging, A/V synchronization, shaky video stabilization, and noise reduction, VideoProc integrates various other features.
It has an advantage over others with ability of DVD conversion and backup, e.g. DVD/ISO CDR disk images to MP4 (H264, HEVC), (multi-track) MKV, AVI, MOV, iPhone, Android, Xbox.
It allows you to convert formats and resolutions (upscale and downscale), to compress video files, to adjust VBR/CBR, Bit Rate, and to apply 2-pass encoding, GOP and B-frames. Better still, the unique Auto Copy or MakeMKV mode lets you enjoy fast video pass-through while keeping completely original quality.
It has an embedded video audio downloader engine for saving content from YouTube or other UGC sites to your local hard drive. It supports fast batch download, channel/playlist download and live stream record. The downloaded music or videos can be played back on your device without the need of a network connection.
The recording feature will help you record vlogs, gameplay, software reviews, and so on from your computer/iPhone/iPad screen or connected web camera.
How to Get VideoProc (Price Included)
Compared with most professional video editors on Windows, VideoProc is more affordable at a fair price. It offers flexible purchase modes, including a One Year License (only $29.95 right now) and Lifetime License (only $42.95 right now) with 30-day money back guarantee.
Good news: The developer is running a time-limited giveaway! Everyone is welcome to get VideoProc Free license that allows you to enjoy all the features. But it does not support free upgrade to future version.
How to Use VideoProc (Step-by-step)
VideoProc is extremely easy to use. Through only a few clicks and a few seconds can you realize video processing, transcoding, resizing, adjusting, downloading or recording.
Step 1. Install VideoProc on your computer (Windows or Mac), open it, and choose "Video", "DVD", "Downloader" or "Recorder" on the home interface based on your purpose.
Step 2. Input and load your source media file from your computer to the app. Then choose a target format according to your need.
Step 3. Choose an item from the tool bar or Toolbox and edit or fine-tune the source file.
Step 4. Tap RUN button and get the target file.
Click here for a detailed guide of VideoProc
You can also watch the video tutorial:
The Verdict
The edit functions of VideoProc are not as complete as the professional video editors like Adobe Premiere Pro. But it is a software pack that has many other abilities. If you don't like a long learning curve and complicated operations and settings, or if you need an all-in-one video tool, this software can be a solid choice.
Get the Windows Central Newsletter
All the latest news, reviews, and guides for Windows and Xbox diehards.