Why we still love Window Live Search Mobile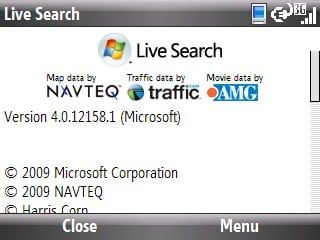 We've long raved about the merits of Windows Live Search Mobile and why it's our favorite free piece of navigation software. (Read the full review here.) And Microsoft is very much keeping pace with that other app — and that in itself is something to celebrate.
So without further ado, join us for WMExperts' top five reasons why we love Windows Live Search Mobile, and especially some of the more recent updates.
Reason 1: It's free!
We're not gonna be shy about this one. We'll take a handout any day of the week. And we'll go ahead and praise Google Maps Mobile for having the same nonexistent price tag. Being able to download an app and be on your way in a matter of seconds is the way things should be.
Reason 2: Free turn-by-turn directions
OK, so it's not quite the same as the 3-D sense you get from one of those standalone GPS units, but WLS does a nice job with its turn-by-turn directions, something with which Google Maps just can't compete. Telenav, Tom Tom and the like are sexier with their 3-D views, but there's nothing sexier than free turn-by-turn. And some of us prefer the top-down god's-eye view anyway.
Reason 3: Location-based services
Yeah, that's a big buzz word these days. But that doesn't mean it's not cool. The recent update to WLS will approximate your location using the cell towers. That's something we've been used to with Google Maps, and it's a welcome addition to Live Search. Add to that the new "Locate Me" button for quick access, and we're now location-based fools. And just like that Google Maps, it will approximate your location on the map. And see that search bar?
Update: Per the comments below, it might be that the tower-based location might not work on Sprint devices, as it's greyed out for some people. And that's starting to show up in the comments on the official Microsoft Windows Mobile blog (opens in new tab), too. Anybody else unable to use this feature?
Reason 4: Speaking of maps ...
Depending on where you live, this could be hit or miss. But in my neck of the woods, Live Search's satellite view is much more recent than Google Maps'. (Though that could well go out the window now that Google has its own satellite.) And, personally, I prefer Live Search's "bird's-eye view" to Google's Street View. But Microsoft also has cleaned up the menu on the map view, and it's a clear winner in our book.
Reason 5: The options
We're prone to geek out over settings, but for good reason. For one, phones still have a finite amount of memory. Granted, we're getting more RAM and ROM in every new phone, but it's still something we have to worry about. Live Search by default will store its cache on your storage card, though you can opt out of that. You also have easy access to clear your search history and change the cache size. Let's see Google Maps do that. And if you're the type who likes to manually mess with your GPS settings, that's all right there, too.
The bottom line
All in all, Windows Live Search Mobile is going round-for-round with the other navigation apps, and it remains our go-to program. It's got it all. Search. Maps. Traffic. Movie times. Gas prices. Weather. Throw in the new tower location, autocomplete and bird's-eye view features, along with the user interface tweaks, and you've got a kick-arse little navigation system that fits right in your pocket.
And if you're still looking for a reason, just scroll back up to No. 1. Then head over to wls.live.com and try it for yourself.
Windows Central Newsletter
Get the best of Windows Central in your inbox, every day!
Phil is the father of two beautiful girls and is the Dad behind Modern Dad. Before that he spent seven years at the helm of Android Central. Before that he spent a decade in a newsroom of a two-time Pulitzer Prize-finalist newspaper. Before that — well, we don't talk much about those days. Subscribe to the Modern Dad newsletter!
Interesting - I didn't even know that Locate Me feature was there because it doesn't show up on my device! I am on Sprint with Touch Diamond. In Settings, Locate Me is grayed out... ?

Yikes! It might be GSM only then?

My brother just reported that he doesn't even SEE the "Locate Me" option on his Sprint Q9c. Curious!

It appears it IS for GSM only. I installed it on a HTC Tilt for a friend who is on AT&T and immediately after opening the app, it had her device located. Another friend with an HTC Touch on Sprint confirmed that he didn't have it either. Oh well, a minor thing - I'll just use GPS.

I was using the app the other day while out with one of my Crackberry bretheren. At first I wasn't going to tell him it was available for Blackberry, but he's a decent enough guy so now he's got it on his phone and is hooked.

I am hooked on this little app as well. MS has nailed it!! One thing though... Does anyone else have a problem with the map text size on a VGA device like the Touch Pro? The street names are barely readable. I wish they would kick the font size up a few points, or, better yet, make that a user setting. As far as the Locate Me feature...I don't see it anywhere. Does it work on a Sprint Touch Pro?

Bizarre issue... wls.live.com gets me to a german version of the site on my Touch Pro! Tried with Opera first, then IE.

Oh, heck, never mind. I decided to click on one of the links in German and it got me to a download page. Very strange.

Still waiting for Canada support :(
It's funny - the map will show me traffic in Toronto but search results come back for New York state, and in imperial - not metric - units. Really, is it too much to ask to a toggle between km and miles? I don't need the full portal thing, just distances in units I'm familiar with. Hopefully WLS Canada shows up before my contract for this phone ends. Until then, Google it is.

Locate Me refuses to work on my Dash. Amazing. Google Maps finds me instantly (usually within 75 feet or so, too). Live keeps telling me my location can't be determined. Changing any settings does nothing. And yeah, unlocked XDA ROM on my Dash.

I absolutely LOVE this application on more way's than is hinted at on this site... but... I have a problem and maybe you guy's can help me figure this out (since I have found no support site for the application itself). Do any of you know how to look up a specific address? Like 1234 W. 34th St., Lando, PA for example instead of having to find the business itself? I want to use it for my contract work to find addresses of AT&T truck sites to work on the trucks, but this new version keeps wanting to search "Near" my location instead of just looking for the address itself. Not like the previous version did. Any help would be GREATLY appreciated.

I am having te same problem with the latest version, before all I had to do was enter the street address and the zip code, and it would find it, now, whenever I try to enter an address it searches "near" my default location as if it were searching for a business. I am unable to search for ANY new address making the driving directions unusable.

I have the same problem. I have been working with it for some time and still can't find and route to a simple address. Anyone know what is going on? ALSO - when I want to perform a NEAR here search from the "Home" window, it opens Internet Explorer -- I don't want to perform a web search - if I did I wouldv'e opened IE myself. I notice this is happening when I select a word from the suggested list of "completed words", if I type the whole thing in myself, it seams to perform the Search Near Here function correctly. I also notice if the text in the search window is highlighted, and I press the magnifying glass, Live Search will launch IE. If I tap the text to unselect it, in the bottom left, the word "Speak" will change to "Find" - if I click on "Find", then the search near here works. Is this only a few people that are having this problem? This behaivor hardly seems as if it would be device specific, but I do imagine it could be configuration specific. I have an HTC Mogul with Win Mobile 6.1 -- Live Search came bundled with WM6.1 and installed to the internal memory. In the past I only installed it to my storage card.

No luck with the location service on my Verizon 700wx with WM6.0

I'm in agreement with the article. I like the many options is offers like search, gas price, etc... One frustration, however, is the lack on on screen touch based functions like zooming or even placing a "locate me" on the screen itself. Microsoft needs to get past the menus idea and realize that a touch screen permits one to access controls and features more quickly than scrolling through a menu. Google does a nice job of this where they provide a zoom, expand, and locate me button quickly accessible on the screen. So, although I like more aspects of Live Search Mobile's features I tend to go to Google Maps when I need more map oriented tasks.

Drew, I have spent hours looking for the Live Search 3.5 version (specifically, 3.5.8198.0) after reading these and other threads like the MSDN one - that confirm the new version simply does not work for many, in my case on a Sprint Touch, where it previously worked great. The statement earlier in this blog post that it is simply some little matter of 'locate me' not working on Sprint phones is a gross understatement. NOTHING works. You cannot even map a contact from your phone in the SAME city as the location is currently set to. Driving directions will not work, it is now utterly useless. Version 3.5.8198.0 I believe was the one that was released around Aug-Sept of 2008, and it rocked - much faster than the 3.0 version, maps were higher resolution. It worked flawlessly on my Sprint Touch. I am lost without it, and my mind boggled that by now the developers don't realize it is a disaster. Is there anyway you could post it somewhere? I have ripped the web to shreds with no luck of finding it. I predict that as more and more Live Search users upgrade to version 4, the hue and cry will be much louder! Thanks for any ideas you might have of how I could get at that cab!

Looks like a lot of people are having problems with the new version. I had issues with finding an address; the screen kept switching off during navigation; and the app was pretty slow, even on a Treo 800W. Luckily for me, I had the cab file from my last download. I am back to v3.5. I will miss the Bird's Eye View from the new version, but how often would I have used it! Checkout:
http://blogs.msdn.com/livesearch/archive/2009/01/07/live-search-mobile-u...