Review: Microsoft Live Search Mobile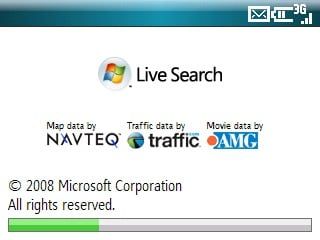 Did you ever wish you could ask your phone a question and it would give you an answer? Have you ever been out of town and had an appetite for Italian but didnt know the local restaurants? Want to catch the latest movie and would like to know where its playing? On your way home and curious what the traffic was like and didnt want to wait for the traffic updates on the Radio?
Wouldnt it be nice to have all this and more wrapped up into one application on your Windows Mobile Device? Enter Microsoft Live Search Mobile. It is a one stop shop for these and other needs.
To see what all Live Search has to offer, read on!
Microsoft introduced Live Search about two years ago and it was only a matter of time before it made its way to mobile devices. The application continues to grow in popularity not only because of its features but also because of its price (FREE). While onboard GPS is optional and can be used in many of the components, the only cost you will incur is due to the requirement for a data connection to use Live Search.
Installation is no more difficult than any other Windows Mobile software and I experienced no problems installing it on my Samsung BlackJack II. Entering the application your main screen includes a search field, a favorite cities list and icons to enter the nine components of Live Search Mobile. The city selected will dictate where some of these components are based on. For example, Birmingham, Alabama is my selected city and when I pull up traffic, Live Search shows me traffic information for Birmingham, as opposed to Gary, Indiana.
The really neat thing about the home screen is the search field. You have the option of keying in what you want to search for or you can say what you want to search for. Simply highlight the search field, hit the key for Speak and say what you are looking for. Live Search Mobile will then do the search. I was surprised how accurate this feature was but if you mumble, Live Search Mobile will ask you to resubmit your search.
Briefly, here are the components of Live Search.
Categories
Categories is simply that, a listing of categories for searches. Ranging from a User Established category to Hotels to your most recent searches, this is a broad search tool base on the nature of what you are looking for. For example, if you are looking for an activity to do while in town, you choose the Activities Category and then select a sub-set such as Paintball and Live Search will come up with all the Paintball references in your area. When you find something of interest you can pull up more details on the location as well as a map on how to get there.
Map
Simply put, this is where you find the map of the area. You have the ability to zoom in/out, view the map as a road map or aerial map, retrieve latitude/longitude of a location and retrieve traffic flow information. The map is GPS compatible using either an external receiver or a built in receiver. There is a search feature but it is not voice supported.
Directions
Need to find how to get to an address or city? This is where you go. Simply enter your starting location and ending location and hit Route. Live Search will generate the best possible route for you to follow. Directions can be turn by turn, mapped or a combination. You can use a GPS receiver for this component and re-route your directions from your current location should you get lost. You do not have the ability to modify your route (e.g. shortest vs. quickest) and you do not have the ability to have intermediate stops.
Traffic
The traffic component pulls up a road map of your area and highlights the major roadways based on the reported traffic flow. For example, green highlights indicate no delays where red highlights indicate significant delays.
Movies
The Movies component pulls up movie titles that are showing in your area. It returns the movie listings by title and by theatre. In selecting a movie title you are shown a brief description of the movie (genre, rating, playing time) as well as a link to the theatres it is showing at and a link to the more information on the movie via the Internet.
Gas Prices
With gas prices being a concern for everyone, Live Search Mobile includes a component to allow you to search for the best gas prices in your area. It will pull up locations showing their address, distance from your current location (if GPS is used) and the last reported fuel price. This feature is also helpful when traveling and you need to find a gas station quick.
Weather
The weather component will provide you with the local forecast and current conditions. If you need more information on the local weather a direct link is provided in the pull-up menu that will take you to MSN Weathers website.
In addition to the above components, Live Search Mobile also has a portal to Internet Explorer and a Collections component which is basically a listing of your favorite searches as well as some preset searches.
Overall Impression
Microsoft Live Search Mobile is a very handy application and I would rank it as an essential application for anyone with a data connection and a Windows Mobile device. While I like this application, it does have a few short comings, the biggest being the lack of onboard or online help.
While the application isnt difficult to learn on your own, it would be nice to be able to pull up legends for the traffic information, or what the difference is between Categories and Collections. It would also be nice to be able to set conditions on your route planning and add intermediate stops to the route. Even with the few nits that I have with Live Search Mobile, you have to remember that the price is right (FREE) and beggars cant be choosers.
Microsoft Live Search Mobile is a feature rich, useful application that puts a lot of information at your fingertips and while its not perfect, it is free. If you have a data connection, Live Search should be on your Windows Mobile device.
Swipe to scroll horizontally
| | |
| --- | --- |
| Ratings (out of 5)Ease of Use: 4.5/5Graphics: 4/5 (aerial shots not the greatest)Usefullness: 5/5Overall: 4.5/5 | ProsFeature RichVoice Search AbilityIts FreeConsNo help feature |
Get the Windows Central Newsletter
All the latest news, reviews, and guides for Windows and Xbox diehards.