Will Cortana get the final World Cup prediction right today?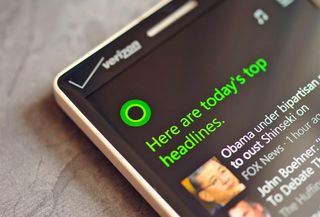 Hey. Did you know there's a major sporting event happening right now!? It's the 2014 World Cup final with Germany and Argentina battling for the prize. Cortana has made some stellar predictions during the World Cup tournament, but she did get yesterday's game between Brazil and Netherlands wrong. She predicted that Brazil would prevail. However, the Netherlands took that game 3-0. Someone on Twitter said that Cortana's match prediction algorithm didn't account for a team giving up. Anyways. Is she going to be right today? Will Germany beat Argentina? Sound off below.
Take our poll above and let us know if Cortana is going to be right about Germany winning today! Right now the score is still 0-0 going into the half. Don't forget to root for your team down below! Also, be sure to open this article in the browser to take the poll if you're reading this in our app.
Get the Windows Central Newsletter
All the latest news, reviews, and guides for Windows and Xbox diehards.
Gehen für den Sieg Germany...

I like both teams, but I really want Argentina to win this one.

Yep... Although I'd like to see Messi have a good game... Let's not have a boring game please...!

15 out of 16 matches predicted accurately!!!! Wooooo!!!

I think same with Google too. Germany made a mistake with that France match.

You think wrong - google missed it twice.

Germany Won! :) Cortana was right ^^

Cortana is always perfectly right!

And Cortana got this one right haha

It hell should pls best this boring AGR, always support you GER

Its late night here in India. We have to be up till late to watch matches. 1:20AM

Yup! But I can stay awake the whole night for the game :D

Who care, i stay awake even match started at 2.00 am on our place

Okay 3:30am now.... And Germany won :'(

It's 4:15 now, I don't think sleeping now would make a difference. That last free kick :'(

I think Argentina will loose, as Germany is looking pretty confident. Pakistan

I hope she is wrong for today...

Chances are Germany will win but I'm with Argentina

I felt the same, and I was right. I am disappointed though. But this was an amazing world cup. One of my favorites so far (and most unexpected for some).

Agreed!
Perhaps one of the best world cup finals ever. They both tried hard.

Deutschland!!! Germany wins.

Germany is too efficient!

Go Argentinaaaaaa!!!! #PatriaOBuitres

Messi will win it for Argentina

I feel like Messi Missed a lot of chances...

There were many other players for Argentina that had a chance, too much reliance on Messi is a mistake that has cost them dearly... =[

He had chances but didn't deliver.

Cortana has "predicted" the favorite to win in every game. So what? Big deal.

Yes, statistics is a wonderful thing.

Argentina is playing much better than expected, I hope they beat Germany...

Hope not! Please, FAIL this time Cortana, thanks!

She did say probably Germany but also said anything can happen in a beautiful game..so any team could win..

Ah gr8 match going on fingers crossed for Germany

Pfff fuck it. Germans are shitting themselves. So are we! This game is fucking intense. And no, not Klose, not Messi will win it. Teams will. I hope we will, though much luck to Germans. I like Germany. Hail Deutschland !

Argentina !!!!! Cortona's losing streak will continue..

The European in me is cheering Germany. But I win £32 if Argentina win.

Germany Germany Germany Germany goo gooo goooo gooooo Germany..........

Cortana is not available in India, so I'm supporting Argentina. Go Messi!!

Go Germany... Screw Argentina.. LOL

My heart says Argentina my head says Germany :/

So what did his little pee pee say?

Cortana ist richtig.
pero yo soy un fan de messi

Go Argentina! Win the World Cup as in Mexico 1986 vs Germany!

Germany has my club players (The Gunners) but I want Argentina to win.

I want Cortana. I don't care about the world cup

Totally right she will be

Gosh Argentina is having trouble just posessing the ball.

Don't cry for me Argentina when you lose to Germany!

Team Argentina even though my squads were already defeated.

Where's the "I live in America and don't care" option? This is why I don't take polls. They never have the option I want. ;)

But you can comment and let everybody know how special and unique you are! :)

How about insulated mindless rednecks that would be perfect for you.

Wishes to ARGENTINA...hope Argentina wins the world cup..

Go Argentina!
Germany's players are not from Germany at all (Ozil for example)

Ozil was born in Germany...............Turkish descent yes but still German by birth :)

implying messi is from argentina playing for a spanish club since he is 13. Ozil is as German as he feels like

Argentina has a great defense, Brazil need to learn from them

To Brazilians, Argentina winning the world cup in Brazil would be the salt in the wounds they've had during this cup.

Argentines can rub a 7-1 in your Brazilian faces for the rest of your lifetime. You can never live that down. Never!!!!!!!!! Thouroughly dismantled by the Germans and finished off by Netherlands 3-0 Shame the fans of Brazil aren't as gracious as their players

Argentina is totally killing it! Too bad the referee is playing for the Germans!

I know right? That was a penalty.

Argentina had a clear penalty when the Gatekeeper hit Higuain in the face...

I know right! Call that ref!!!

There's a news program here in Brazil (Band) which actually made a headline of Cortana. It highlighted Cortana as the PA from WP, an OS from Microsoft, that was predicting every game correctly - just like some animals predicted previous World Cups. It was very nice and surprising to see lol

That happened here in Sweden as well. One of our biggest morning shows did that. Felt good to see that happening!

I dont want Germany because they took out USA and Brazil. So I guess im with arg. I expected Germany to win by now but I guess not.

They took out Algeria and Switzerland too :D

i hope so germany all the way \o/

This prediction things are shit...camel, octopus, cortana all of them

I bet you're fun at parties.

Really?
She's right again, see.

I hope not. I'm rooting for Argentina. :)

Thank god the world cup is ending tonight... No more annoying people screaming and whining about their team...

You're kidding, right? There's always another sports season with fans whining. You better leave the internet. ;)

LOL! But not as much as FIFA world cup ;)

Yeah because its the world game and not some pathetic waste of time that cricket is. :)

Disagree. I like both equally. Cricket all time, football once in 4 years. Cricket is interesting too.

I take it, you haven't seen a game of cricket. Every game has it's own place.

Agree. Personally, being an Indian I should've been a cricket fan. Yes, I've watched many matches and world cups but I prefer football if you ask me to choose between the two. Everyone's taste is different, no offense ;)

I hope today Cortana may go wrong. I am with Argentina

Well, penalties is a boring way to end it all.

Oh, and there's the goal by Germany. Nevermind.

There's *a* goal and *a* goal only. Argentina played head to head with Germany, much better than their previous matches though! :)

Agreed. Argentina never played like this in previous matches. Most boring one was against Switzerland. This time they created chances, couldn't capitalize on them.

LOL! Yeah I remember that match!
Fortunately this one wasn't boring ;)

Congratulations Cortana, Germany won the world cup

Yes Germany has won. Yeah!!!

(3 minutes after the match's outcome):
There you have it folks...

Sucks that she got it right.

I want the official WP8.1 :-)

Well done, Cortana! New level unlocked: UEFA Champions League 2014-2015

True prediction Germany with World Cup Posted via Windows Phone Central App

The Netherlands should've won from Argentina. Netherlands vs Germany had always been a classic

Should have, would have but didn't. Fail at least you came third right!!

Seems cortana was eventually correct

Ha ha ha Go Cortana and Congratulation Germany.

Jaaaaa, Germany world champ sooo happy!!!!!

All predictions correct. Meet Cortana.

Except the Brazil vs Netherlands match.

Yes and Germany won woo....

congrats #GERM, well played my team #ARG!

Awesome #Cortana great prediction. Well played both the teams. Its tough with #Argentina. Congrats #Germany

Well Cortana, you'll be adored! Accurate prediction :*

germany and cortana won the world cup \o/

Thank you Cortana! We are the champions ****

Ok, so I'm just going to state the obvious, since no one else did. The Lumia 930 is not the successor of the Lumia 920, it is the successor of the Lumia 925. Thank you very much :)

And the Lumia 925 ist the successor of the Lumia 920 ;)

Cortana did a great job. And now we're world champion.

LOVE YOU DEUTSCHLAND & CORTANA!!

Now that the soccer tournament is over, we don't have to hear about it for another 4 years!

Club football coming up :D

Well we still have Europe in two years :)

By mistake once i comment 15-1 for cortana in sense of loss of GER and BRAZIL loss instead & still happens to be 15-1. Still i love the match & Germany were really the best team & they deserve this win.
My fav. Player losses but my fav. team Bayern & Germany wins..lot lot lot lot of happiness
Messi golden ball

Bummed out for Argentina and Messi but Germany truly deserved this victory. Great final and so glad it wasn't decided by penalties. Well Done!!!

Omg, germany won. Two 100% chances and lost.
But Messi won the best player award, wich is nice!

We won!!!!! Germany FTW!! :)

Champs... now go buy a windows phone :D

Unfortunately she was correct. :(

Goetze - the German god !
#SurvivalOfTheFittest ! :D

Looks like Cortana predicted right. this needs to be put on the news

Cortana, your prediction did not go in vain. Thanx

Deutschland, Deutschland uber alles!!!

She predicted the final correctly