Windows 10 10586.420 cumulative update available for PC and Mobile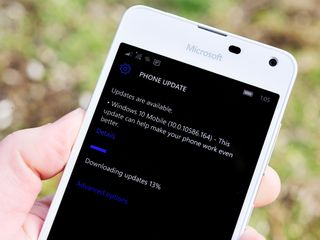 Microsoft has thrown the switch on build 10586.420 for the Release Preview ring users and Production. This update is a jump from the previous 10586.318 released a few weeks ago. The update is available to those on PC and Mobile, who are part of the Release Preview Ring as well as Production (non-Insiders).
Build 10586.420 is a cumulative update and as such does not bring new features, but instead focuses on stability, bug fixes and general improvements to the user experience.
The update is listed as KB3163018 (opens in new tab) for PC under Windows Update. Microsoft has now listed the changes for this release (opens in new tab).
10586.420 Fixes and Improvements
Improved reliability of Internet Explorer 11, Microsoft Edge, Cortana, audio playback, audio playback in Groove Music app, Maps app, Miracast, and Windows Explorer.
Fixed issue with balloon tip notifications always appearing in the upper left side of the screen.
Fixed issue that caused VPN to not work properly when switching between different network interfaces (for example, switching between Wi-Fi and cellular).
Improved Narrator's ability to read bulleted lists, hyperlinks, and image information.
Fixed issue in location that caused navigation apps to lag behind user's actual location.
Improved performance of loading webpages in Internet Explorer 11 when roaming user profiles are used.
Fixed issue that caused phones to stop ringing from an incoming call, if interrupted by an SMS.
Fixed issue that caused some phones to be unable to re-add a primary Microsoft account without resetting after upgrading from Windows Phone 8.1.
Fixed additional issues with Microsoft Edge, Internet Explorer 11, Bluetooth, Cortana, Wi-Fi, Windows Camera app, revised daylight saving time, USB, TPM, Graphics, Group Policy, downloading music or movies purchased through the Windows Store, Network Diagnostics and Windows Explorer.
Fixed security issues with Internet Explorer 11, Microsoft Edge, Server Message Block (SMB) Server, Microsoft Graphics Component, Group Policy, DNS Server, Windows Diagnostic Hub, Kernel mode drivers, Microsoft Windows PDF, Windows Structured Query, Adobe Flash Player, JScript and VBScript, and Web Proxy Autodiscovery Protocol (WPAD).
You can grab the update by going to Settings > Update & security >Windows/Phone update > Check for updates.
Daniel Rubino is the Executive Editor of Windows Central, head reviewer, podcast co-host, and analyst. He has been covering Microsoft here since 2007, back when this site was called WMExperts (and later Windows Phone Central). His interests include Windows, Microsoft Surface, laptops, next-gen computing, and arguing with people on the internet.
I'm about to lose control and I think I like it.

Lol. One picture at a time -- LG V10

WindowsCentral Brought me here is now a comment on youtube. Thank you for making me even gayer btw.

I know, I know, I know, I know, I want you, I want you

I am bout to lose control

Horrible update...
Battery life is very bad...without using and turning flight mode, battery saver on...reducing@10% per hour on my Lumia 640xl.
Non-insider

Yeah..it should, like every other earlier updates,but not this time..its really taking hard on the battery.
1. Even on stand by...wifi off. Flight mode on. Battery saver on, then also 5% per hour.
2. Messages even after reading ,are shown as unread.
3. Half of live tiles are blank on home screen.
What is wrong.?
Is this happening with my L640XL only?

Having the same issue on my Lumia 540...

From build .318 i observed battery saver is costing more power than normal mode. Stopped using battery saver ~ Windows 10 on L730(10586.420)

We should literally start abusing Microsoft, not it's developers. Because MS is not putting much resources in it's mobile division. Now abusing them is not wrong, we have waited for very very long. Which mobile company in the world releases buggy OS to its production phones ? It seems they haven't analysed anything from windows feedback Complaints...

Did you try to restart the phone? After any updates/upgrades, you should restart the phone just like a PC.

Restart, soft reset i have tried...its looking like dual sim phoones are having problem....
Didnt go for hard reset, bcz i dont want to erase apps and games saved data

Anyways. I feel really let down after having these problems in official cumulative updates.
The only reasonn i didnt join redstone branch was bcz of batterydrain problem but now m having that problem even being non-insider.

50mb update size. Gonna reboot and install.

Today's a good day. Not only is my main phone getting a sizeable update, my secondary phone is now rocking a new official cyan flip case. Microsoft has been out of stock for the Lumia 640 for ages and I finally found one on Amazon and snagged it. Just came in literally two minutes after the new update.

Yeah this is super cool! Excited.

Hows the fit with the flip case??? I was gonna pick one up from amazon, but alot reviews were saying there were issues with the buttons not working right. If it seems good i might just grab one. I want to get rid of the att logo so bad. Posted via the Windows Central App for Android

It feels and looks great. Build quality seems superb and the phone is still slim and easy to use. It actually feels nicer than the official shell and I also get the added protection. And about the buttons, they feel really sturdy and click-y. In fact, they're a tiny bit too stiff, but I prefer that to the mushy buttons on the official case. I think it's well worth the $27-ish USD. I just wish I could get a cyan flip shell for my Lumia 830. I really love the color.
Oh and I got the case a full two-three weeks early so double-yes. Windows Central for Windows 10-Microsoft Lumia 640

I've only been using it for like five hours but initial impressions are great. Really chuffed with my purchase. I can't reiterate enough how much I wish I could get this for the Lumia 830. I also heard the official Lumia 830 flip case isn't as high quality.
Oh and this case has some nice little details. There's a small bump next to the speaker to prom the phone up on a flat surface.

Oh yeah just remember that this is the Lumia 640 we're talking about here. There's no magnetic clasp so the cover moves around a little bit, and the screen doesn't wake up automatically when you open it (but the Glance Screen turns on automatically which is nice).

Wait, you mean you a Lumia 640 or the case for it?

Not just insider. I'm on the Windows 10 mobile production line, and the update is downloading now.

Thaaaaaat is what's in the title...smh

if you had read the title you wouldn't have got -2 votes...

@DCPaul. Haha, guess who is sitting at -2 now :P. Soo damn funny lol.

And the -2 train continues haha +640 on Windows10Mobile

Production is still on 10586? That's rough...

I mean, that's is the main line build for Threshold. Anything different is Redstone aka Anniversary Update. Why would Production be on Redstone now?

What about Lumia 535 scaling problem in some games

Its device specific problem because i don't have it on 540 so it will take some time to get fixed

It is already fixed on build 14356. Hope it comes soon to production.

We fixed an issue where certain games developed for Windows Phone 8.1 might not scale correctly after the navigation bar had been hidden and would result in a black bar at the bottom of the screen on devices like the Lumia 535.

Are these cumulative updates also gonna be merged in redstone branch before release? At what point we can expect that for fast ring or is that already done in parallel?

they will be parallel only when the official release of Redstone (and any future official release), at which point all builds will be the same on all branches. After that happenes, people on fast and slow will get newer builds to test while people on the production and release will remain on the official build

My guess is that these fixes are also pushed to RS builds, possibly even before being applied to TH production/release builds.

Main is always the LATEST and greatest. This means Redstone is the mainline. Threshold is on a branch to isolate it from rapid feature changes, only selectve bug fixes. They might find an issue in Threshold and fix it on the branch, then pushing it to Redstone because it applies there as well. Or they might fix an issue in Redstone and then selectively and carefully merge it to Threshold. Normally, when they find a defect in a branch like Redstone the first thing they ask is "Does it exist in other projects?". If they answer "yes" and say "Threshold", they might choose to fix it on Threshold and push it to Redstone, which is the safest approach to ensure integrity. However, if the fix is in something whose design changed drastically between Threshold and Redstone, they might actually have to implement it TWICE.

Ooops the headline already says "production" too.

Change log is already given by MS June 14, 2016 — KB3163018 (OS Build 10586.420) For more info about the security fixes in this update and a complete list of affected files, see KB3163018 Update at 95% now:):)Excited

build 318 is a pain in the arse, crash more than build 164.

Awesome. Hope we get a fast ring update also....

420? Really? :D It better be.. *cough* LIT.

420, doesn't seem faster ;)

I'm surprised this is the only 420-related comment on this article

I installed the latest fast ring build and it's more stable and faster than .338 so I hope .420 speeds things up for the production and preview rings.

Is it sad, that I just want a copy of the background they used in this image?

You can find it on the Wallpaper Studio 10 app!

Awesome waiting for this update for very long for mobile

I find both a Cumulative Update (KB3163018) and an Update (KB3149135)...?

It works so fast and smooth. Edge page cluttering issue is solved and groove now shows correct album pictures nice build. Thank you ms

Does Cortana still crash 9 out of 10 times?

I guess I'm the lucky one with Cortana. Never crashes and always on the ball to remind me of events or when the Red Sox game has ended to tell me if they won or lost.

Me too, no issues here, however she ends up telling me my team (Brewers) lose more than win.

So fare its looking like its been fixed.

Same here. No issues on my Release Ring Lumia 925 and my Fast Ring Fierce XL. Posted via the Windows Central App for Windows 10
Using the Alcatel OneTouch Fierce XL for Windows 10 (Redstone)

Yes you are lucky, I still cant download the voice pack :(... well is another branch ahah.. I really want cortana in Mexico

It did for me, on both PC and mobile, until I installed the .338 update. After installing it, she's quite reliable.

So far this seems to fix it, I had just done a hard reset yesterday but it didn't fix it. So far she hasn't crashed on me, I'll keep an eye on her.

Cortana works fine in india never crashed for me on lumia 540

For me anyway, Groove has been far worse. Full app crashes, randomly stops playing over BT, etc.

Hope it fixes the battery issues on my production 950.

downloading now... .318 had too many freezes :/

Its smooth like windows 8.1 but no new feature

Yaa its the smoothest build so far..

No new features? Posted via the Windows Central App for Windows 10
Using the Alcatel OneTouch Fierce XL for Windows 10 (Redstone)

Downloading now, with any luck it fixes a bizarre problem I've been having where one particular set of earphones (my favourites) aren't recognised by my 950XL yet others are - you'd think from that it's a dodgy set of earphones but no, this pair work fine with any other device I've tried. Been putting off a reset in case an update fixes it - fingers crossed.

Some aren't compatible I think. My old earphones don't work on my Lumia since I bought it but work fine on other phones.

Weirdly, these are made by Microsoft and worked fine with W10 for a fair while... Strange.

just got it 930 uk non insider...dissapointed from changes above data usage not fixed YET

Never would. Look to Redstone for some actual fixes.

Cool... hope I would be able to use Hey Cortana on 950xl

What about battery draining fast problem on 1520 ??

Same prob on my L822 .318

Downloading now on my L635 (512 MB) and my L520 ... Don

In india 420 is commonly known as rough, bad, cheater, forger etc etc... ;-)

That's exactly what it will be. LOL!

Chachi 420.... Hello people... So from which state you are

Bulid 420 eh! Alright, alright. Installing now.

I am getting these updates as regular updates on two PCs
that are on no whatsoever-preview ring. My Microsoft account is listed for preview/insider stuff.
But those two PCs I definately have not enabled for any preview software. .

this isn't an update for insiders it's for people on the production ring or non insiders.

Is the problem of start screen icon missing solved in this build?

Sometimes while reading something on a webpage in Edge or reading news in MSN News or in WC itself, the screen starts behaving weirdly showing many horizontal lines, nav bar etc. It goes away when zoomed in/out. It is an irritating problem. Hope this build solves it. ~10586.318/Lumia 640

Bro its solved now in this build no clutter on start screen and even on apps like edge and wp central app. Smoothest build till now

Ah, my girlfriend's 640 does this, I hope it's fixed too.

Anybody know how 10586 gets updated? I'm assuming the updates happen on Redstone builds and then brought over to Threshold... wouldn't make sense to develop the fixes twice??

So lost using 1020.. Why did they stop builds any idea?

update stuck at 0% in my pc.... and update completed in my mobile

I hope it fixes the loss of text message notifications on my Icon.

Try a hard reset. Never had that issue here on my Lumia 925 Posted via the Windows Central App for Windows 10
Using the Alcatel OneTouch Fierce XL for Windows 10 (Redstone)

Thank you for your reply. After posting this I remembered a few weeks ago turning off messaging/skype from running in the background. It was eating my battery alive. Maybe this update will resolve or slow down battery drain with out disabling it again. Anyways, thanks!

What's new in this update???
Can anyone please tell me

The change log is included in the article...

How about you read the article! Posted via the Windows Central App for Windows 10
Using the Alcatel OneTouch Fierce XL for Windows 10 (Redstone)

Hope this fixes the Cortana issues with the Band 2 after (or maybe before) .318 was released. Worked fine with 8.1. With W10M, no so much. L640 BTW

Love it. Its always nice to installed improvements to my lumia 950XL. Non-insider

Let's blaze this build! :)

We need-
•Decrease battery drain like w8.1
•Sms push notifications

Try it out and post your experience

2nd one is already testing on this update.
1st one isn't featured in this update yet... -------- I'm posting here after testing these points.

Update has failed twice, from 10586.338 desktop. First time an update has failed to install.

Failed when using the file from the Windows update catalog too, error 0x80071A90

You need good internet connection and close other apps which use internet connection.

Has Data Usage been fixed?

I had noticed that too. I had resolved to just use the My Verizon Mobile app to watch my data usage. The update is installing now. I'll check it when it finishes and I'll try to remeber to post back here.

Looks like it is fixed. Data Usage looks more like actual usage, when compared to my Verizon account.

Lumia 535 scaling problem ?

They have solved critical issues its working like windows 8.1 smoothest build so far

Ooh for once, I can update both of my phones the same time! Wooo! Going to play, but will go with the least risky one of the two.

How big is it? Posted via the Windows Central App

Sorta of a private question, don't you think?

Solved the problem. The update error/failure relates to locked files, I had to disable Avast until the update was installed. The AV software had an update recently, something has obviously changed as I've never had to do that before Posted via the Windows Central App for Android

After hearing all the exciting news that happens in the insider rings , i get a little sad knowing production gets no new features.

Productions gets ALL the new features in one lump sum come July/August. If you want features now, just go to Slow or Fast Ring. But you cannot have a stable ring that is constantly getting new features.

Production shouldn't really have features. What it should have is just as many updates until the get all this major issues out. Worry about the devices you sold working properly first. Then have your little beta party. Windows Phone.... Rebuilding since 2010.

Cortana seems to finally be stable. Camera still SUCKS. But hey, at least they got the Xbox app to iOS!

Camera just updated today works great! Laughed fast than ever...pretty much instantly. HDR photo time is faster too. Posted via the Windows Central App for Windows 10
Using the Alcatel OneTouch Fierce XL for Windows 10 (Redstone)

Guys I uninstalled instagram in order to have enough space for the update but now I can't download it!! Why that happens?

SAME CASE HERE! I uninstalled because i was not able to post pictures....but when tried to instal again..it said my phone doesnt meet required hardware Specification wakera wakera ! Using 6 Tag As an alternative noW!

I did a hard reset and it worked!!!

That usually does the trick Posted via the Windows Central App for Windows 10
Using the Alcatel OneTouch Fierce XL for Windows 10 (Redstone)

No mention of resolving the battery drain issue where the phone would suddenly switch off (and NOT reboot, as I hear some people say) until I plug in the charger whereupon the battery readings would be haphazard?

Same problem on my Lumia 1520, and still not fixed yet :'(

Same happened with my l1520 during installation after restarting my phone has 71% of battery before restart and plugined but after restart in the mid way cell phone goes blank

No problems here on my Lumia 925 on the Production builds. Posted via the Windows Central App for Windows 10
Using the Alcatel OneTouch Fierce XL for Windows 10 (Redstone)

So i have a 640 i updated to build 10586.420 and now Instagram and several other apps dont work? this 640 LTE doesnt meet the hardware requirements? anyone have a solution for this?

Not available on my BLU WIN HD LTE X150Q. Still stuck on 10586.318

I'll be downloading this tonight.... Hope i won't have Battery issues once installed. :/ (mobile)

For me, Cortana is behaving the same way she did with .318 with my Band 2. Worked OK with WP 8.1. It looks like if you don't see stuff on Cortana's live tile you won't see it on the Band 2 and except for news I see no other stuff on my L640 phone now.

(the screen shot is saying ' technical preview)

I'm sad that my L820 won't support Redstone... But I'm okay since my L830 does :P

Confirm downloaded and installed on CV GB L920 and L930.

Am i the only one who notice that signature isn't showing beneath the comments??!

Nope Posted via the Windows Central App for Windows 10
Using the Alcatel OneTouch Fierce XL for Windows 10 (Redstone)

Only sites on replies for some reason

AT&T Lumia 950. Trashed by this update. In the process of resetting the phone... It just froze half way...