Game Mode is coming to Windows 10 — here's what it does, and how it works!
Game Mode for Windows 10 showed up in a recent Windows Insider build as a checkbox you can enable and disable, but what does it do exactly?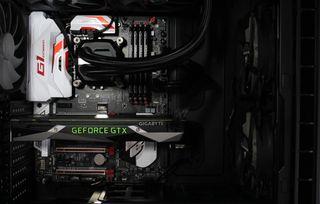 We've written about Game Mode for the Universal Windows Platform (UWP) before, but now we have the full rundown — directly from Microsoft — on how this new system feature works.
In a discussion with Kevin Gammill of the Xbox Platform team, we learned that Game Mode is a new system feature for Windows 10 that focuses your GPU and CPU on a Game Mode-enabled process.
The goal behind Game Mode is consistency, rather than flat performance boosts (although it will bring some of that too). Game Mode will prevent system tasks from stealing resources from your games, making frame rates and performance generally more consistent. You should see fewer dropped frames as a result of Game Mode, specifically during scenes and situations that are more intensive on your system's hardware. Game Mode will also limit CPU thread contention between your games and existing system processes, helping to speed things up even further. The concepts behind Game Mode are already available on Xbox One, which gives games priority access to system resources.
Enabling Game Mode will be as simple as flipping a switch via the Xbox Game Bar, found on Windows 10 by pressing the Windows key and G. Windows 10 will remember which games have Game Mode enabled until you turn it off.
Microsoft told me that while Win32 PC games (typical of Steam) will see some benefits from Game Mode, it will be UWP games (typical of the Windows 10 Store) that see the biggest improvements. This is because the UWP environment is a little more standardized than Win32, and Microsoft can more easily optimize the feature as a result. Microsoft is working with their hardware partners, including Intel, AMD, and NVIDIA, to make sure Game Mode is as good as it can be, optimizing for the most popular hardware configurations available.
Game Mode will be enabled by default for certain games that have undergone thorough testing. So expect first-party UWP games such as Halo Wars 2 and Forza Horizon 3 to leverage Game Mode out of the box.
I asked Microsoft to describe a scenario where you might want to disable Game Mode, and the engineer noted a situation where he wanted to continue rendering at high-speed in Adobe Lightroom in the background, while still enjoying Diablo 3 in the foreground. To that end, it's good that Microsoft is providing players with the option to disable Game Mode manually for those rigs capable of intensive multi-tasking.
Speaking of multi-tasking, I also asked to what extent Game Mode would degrade your system while enabled. For now, notifications will still pop, Cortana and other important Windows features you expect to work will still run. Microsoft is still iterating on just how much of your system it will impede when Game Mode ships fully this spring with the Windows 10 Creators Update. That said, Game Mode will dynamically disable itself when you minimize or set your game into the background, giving your system full access to your hardware while you begin multi-tasking. This is similar to how the Xbox One works today. It sounds as though Game Mode will generally be a seamless experience for those who utilize it.
I asked about "Game Mode enabled Universal Windows Apps,"(a phrase that appeared in earlier documentation), and was told that developers won't have to do anything to support Game Mode in their games, as it will be enabled by default at a system level. However, Microsoft is exploring ways developers can further leverage Game Mode for their games to bring additional benefits down the line.
The first version of Game Mode will appear in Build 15019 on the Windows 10 Fast Ring, with further improvements already running on internal builds ready for the coming weeks. We'll be doing some thorough testing on Game Mode shortly, so stay tuned for information on how much you can expect it to boost performance!
More: Everything we know about the Windows 10 Creators Update so far
Windows Central Newsletter
Get the best of Windows Central in in your inbox, every day!
Jez Corden a Managing Editor at Windows Central, focusing primarily on all things Xbox and gaming. Jez is known for breaking exclusive news and analysis as relates to the Microsoft ecosystem while being powered by caffeine. Follow on Twitter @JezCorden and listen to his Xbox Two podcast, all about, you guessed it, Xbox!
I doubt it will do anything in non-gaming pcs..lol....I lack the power already.

Yeah this is a little underwhelming if you already have a good amount of rendering power

Not exactly fair for people without gaming PC's to suddenly expect to be playing Gears 4 or TitanFall 2. Your PC still needs to meet at least the min spec for a game. With technology improvements it's likely someday you will be able to play what you want where you want and how you want which is kinda where Microsoft is going.. Based on the preview update I got yesterday and the game mode I should be installing right now as I watch the restartijg swirl not knowing if it's even doing anything lol. The good news is if you meet that minimum requirements then game mode is definitely for you, it's not for people who own high end CPUs and GTX 1080s or soon amd Vegas. They got the power to brute force just about anything but so many PCs just barely meet or fall under requirements. Game mode should enable you to get a solid frame rate a bit easier or it might but 26 fps up to a 30 or 54 to 60. It's not going to suddenlet you change all the settings to max that would not be possible. All it's doing is giving nearly full system priority the hardware level for the game so that it runs as good as possible. One thing it may make easier on the high end is streaming or capturing footage. Generally you lose a couple fps and this could give them back.

Wouldn't this make capturing footage worse? Game mode will pull all power and resources away from what is not the game that is running. So your streaming software would be sapped.

From the looks of it, you'll be able to set any WIN32 program to use game mode and for Xbox game bar I would assume it's going to automatically work with Game Mode.

Actuially, you are the ones who stand the most to gain from this. Windows is simply not that heavy of an OS compared to modern hardware, so if the OS makes system calls it does not even show up as a blip on the system resources. But on a CPU or GPU bound system the same system calls are going to be a much larger percentage of system resources, so putting those calls off until the system is less busy, or putting it on less utilized cores, will help games that are barely playable smooth out a bit. It isn't going to make your Intel GPU magically play 4K games at high settings... but 720p or 1080p games should play a bit better. How much better? Well, with the release tomorrow we will finally start to see some benchmarks and find out!

agree with you. by paket umroh ramadhan

Getting closer to XBox as a platform and ditching the current console paradigm

I really hope thats the endgoal here.
>A computer in every living room

Very interested to try this out and see what if any performance gain is to be see. I'm hitting a peak on my CPU and any extra benefits I can squeeze before I upgrade is nice.

We may see a boost in performance on CPU bound systems in certain games but I doubt a well balanced system will take much advantage of this. Looking forward to seeing the benchmarks.

You know a controller based UI that launches at start up would be cool too

Something like Steam Big Picture, but more like Xbox Guide. Yes, that would be great.

MS is working on that, but it's gonna take a long time since it's a big project

Then they will call it Gamer's Update. So i hope there will be 4 modes in Windows 10, the Tablet Mode, the Mobile Mode, the Game Mode/Xbox Mode and the Holographic Mode.

All can be toggled in Action Centre

I'm going to toy with this when I get home. I'm hoping I can set the Xbox app to run at startup by hitting Win + R, typing shell:startup, and pasting the Xbox .app file into that folder. I know this works with .exe, but haven't heard of it working with .app files.

Still waiting for MS to fix the Start Screen not coming up at startup (option is there in group policy but it STILL doesn't work since release...). Perhaps they'll get that fixed at the same time?

You could do that by starting your device in Tablet mode (an option in Settings > System > Tablet mode > When I sign in).

Nice article Jez, good information about GM and its implementation. Also, did you possibly hint at impending insider--today or maybe tomorrow--???

Sort of Dona and her team skipping one, new builds are usually released by the end of working weeks.

Enabled by default? Well, that's a setting I'll be looking to turn off as soon as possible. I want it to be opt-in only on my system. I've never, ever had a situation where my game was negatively impacted by other programs running.

I think most PC gamers already disabled that weird "game bar" thing as soon as it showed up on the first game they tried on Windows 10. I know I did.

I wouldn't mind stuff being off by default as long as they add a change log that pops up on the desktop every time theirs a os update. That way I know the option is their and don't stumble across it a month later

When I checked it out you couldn't tick the checkbox to enable it so how are you going to test it when it isn't even working just yet? Anyways I really don't see this helping medium to high end gaming PCs.

All well and good except Microsoft cannot tell at times what is a game and what is an app.
I mean that is the reason why everything is now grouped together on the app list in Mobile.

They can tell just fine at least for me. When I open a supported game the Xbox Bar will appear. It doesn't open when I start chrome or say the twitter windows 10 app.

Xbox games have a digital tag.
But games that aren't certified XB will be difficult to identify

I never said anything about "xbox games". Open any game in windowed borderless and the xbox bar will notice it is a game then it also supports certain (NON XBOX GAMES) in full screen.

Fair enough, not every game shows up on the My Games menu of Xbox app.
That was my original point.
Its the same reason why they put everything in app list.
Why do you think in 30 years of Windows, there's never been a game section on the start menu except the solitaire menu?
There was an attempt back at Win Vista to create a game hub but only vista games showed up.

So basically it'll disable all those unecessary background services that are built into windows 10, that are never necessary (Maintenance/telemetry/defender). Can we convince it explorer is a game so it'll never be off? Either that or it probably won't do jack ****, which is what it seems to do now, as it'll never turn on in the current insider build. Although most people probably won't see it as they've already disabled/removed gamebar due to it tanking fps with it's knockoff shadowplay.

It doesn't turn those off.

Love the comments here. As always they show how ms has nothing but synics as users. Windows central rights an article about an upcoming feature comments response big woop doesnt help my system. Hopefully once this is out in the wild ppl will benchmark this mode and thoroughly vet it.

It will help your system when you get the update. You can install the preview to get it sooner 😀

I wish more bug name games came to UWP. Just not a bug fan of Steam.

Do you mean big? Cause if you do and want to support competition for steam which can only drive down prices then buy quantum break. It's a fantastic game with some crazy gameplay once you get the hand of it. Only warning, you have to like sci-fi like Fringe the TV show. The game actually has a TV show that's from the protagonists point of view. I really like it. Gears 4 and Gears remaster are great as is Forza horizon 3 and Forza Apex then you got dead rising 4, resident evil 7 which is a cross buy gameike some of the above so buy it once and get it on Xbox and PC, save files are always in sync, you can be on PC and still play with people on Xbox. The whole windows/Xbox eco system is getting bi but people need to support it and using the windows store is probably the best way right now

Another problem is the way Activision screwed the COD people. They assumed that you could play online with either the Steam people or the Xbox Live people. And then you find out you can't with either, and then spend over an hour trying to find one match. What a scam.

I'd like to see a sub-option added to engage Quiet Hours any time Game Mode is enabled so that you can also avoid notifications without any extras effort.

I'd love to have this mode available for non games like Vegas Video Pro video editing. That's the most resource intense program that I run.

Who says you can't try? I assume you are using GPU acceleration. It should still help you boost performance but it's something that would probably accumulate over time instead of all at once. It might take a few renders before you notice a difference. It goes a little deeper than that. This program can tell the kernel it wants program Y to have almost all the system resources while it's running... That means email won't be checked, calendars won't be updating, sports app won't have new scores etc etc. Apps will basically freeze just like they do on the Xbox and after you quit the game the kernel handle everything as usual. It's actually pretty clever

I will certainly give it a try when we have access to it. If I can't do it, I'll submit some feedback about my wishes. It seems to fit in with the whole "Creator" thing, right? :)

I'm guessing not at first at least but I wonder whether we will see something similar on Windows 10 Mobile. Maybe it wouldn't be considered with the effort, especially with Windows 10 on ARM looming.

Im tempted to turn on the preview again.

I guess you could just adjust thread priorities by yourself in task manager. if you know what you are doing. but this might try to automate that process. later -1

It goes a little deeper than that. This program can tell the kernel it wants program Y to have almost all the system resources while it's running... That means email won't be checked, calendars won't be updating, sports app won't have new scores etc etc. Apps will basically freeze just like they do on the Xbox and after you quit the game the kernel handle everything as usual. It's actually pretty clever

So this is basically doing what you could alredy do in any windows prior to 10. Just stop all the bullshit in the background.

I still use game booster 3.4 just to close all the useless windows programs and services. Windows game mode just sounds like more garbage to me.

Which ring on the Windows Insider do I need to be on in order to get this function when it becomes available? Currently I've selected Release Review, I haven't selected SLOW or FAST. Only because of stability. Do I need to move upto FAST ring to get these latest features?

"The first version of Game Mode will appear in Build 15019 on the Windows 10 Fast Ring,"
HTH

But...will it handle Crysis?

I tend to watch youtube on my second monitor while I game, and pause for conversations and cutscenes, and some newer games already suck enough resources that it cuts into the framerate of the youtube video, is this going to make them unplayable all together?

On that point, it will ruin the workflow of twitchers and streamers, unless they do their cpauturing and encoding on another machine.

I doubt that. Their systems are already good enough to handle all of these tasks effectively enough as it is, and most games are designed to take the processing power away from all of the available cores anyways. Even so, they always have the option to disable Game Mode if they do realize a negative effect.

This feature makes no sense whatsoever. We already have process priorities - and when I game, I expect to have most resources allocated automatically to it - unless I change its priority. Pretty useless.

Sadly, this doesn't appear to do anything for me. My system is a 4790K at stock with a 980Ti Matrix and running the 15019 build of Windows 10. I tested Gears of War Ultimate Edition built in benchmark with everything at stock and both runs (one with game mode on and one with it off) yielded the same results over a 10min benchmark on each run. 100fps on - 100fps off. Tried again with a CPU bottleneck by turning the CPU down to 2Ghz and HT turned off and again, both runs yielded almost the same results. 86fps on - 90fps on (so actually a little worse with the mode on in this scenario) Also tried creating a GPU bottleneck by lowering the GPU clock to 1000Mhz and running the game at 4K. Game mode didn't make a difference here either, with both runs resulting 47fps average over 10 minutes. Quite disappointing and other than being a check box, I don't really know what this game mode is doing. Although this could be due to Gears Ultimate not being on the internal whitelist.

They have specifically told that this game mode will make changes to games that runs at low FPS normally on a PC. For example, my laptop runs GTA V at 25 FPS with enormous stuttering while driving with game mode off, but ataround 30 FPS with no stuttering at all with game mode on...

I don't see this optiong with WINDOWS + G or in the Xbox app and I have Windows 10 and when I go to update it says the recent versions of windows is already on your device. Any help? Thanks!
Windows Central Newsletter
Thank you for signing up to Windows Central. You will receive a verification email shortly.
There was a problem. Please refresh the page and try again.