The Windows 10 Media Creation Tool no longer has the November build 10586 files [Update]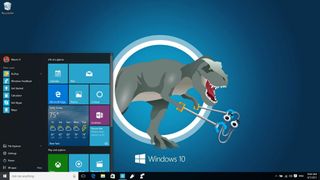 Update: Microsoft has now confirmed they have removed the files in a statement sent to Windows Central from a spokesperson:
Original story: If you were hoping to upgrade your PC with ISO files with the current 10586 November version of Windows 10 with Microsoft's Media Creation Tool, that option has now been removed. The company has quietly updated the Windows 10 Media Creation tool so that it no longer offers downloads of the November update, also known as version 1511, for the OS.
Instead, the Windows 10 Media Creation Tool lets users download the old build 10240 of the OS that was first released in July, Furthermore, it appears that Microsoft is no longer offering the November update to current Windows 10 users via the Windows Update feature. We have contacted Microsoft to find out why they have made this change.
Thanks to "TheSuperShoe" for the tip!
Source: Microsoft (opens in new tab)
I have had problems with my HP Stream 7 updating to 1511, it kept stopping at 40% of the update, could shed some light on this?

If there is a micro sd card in the slot, remove it and try again. Had the same issue, after I did that, everything went smoothly

Ah, I never thought of that! Will try again if Microsoft re release the update. Cheers!

Thank you !!! I was in update limbo on my dell vp8

My Dell Venue 8 Pro did the exact same thing at 40%. I am going to follow LegendaryFOGGY's suggestion and see if it resolves it.

I have the same problem with my Dell Venue 8 Pro. I was successful in updating it after removing the micro SD card. Just make sure you have enough space on your 32GB primary storage for the update.

I experienced no error when I removed the SD card before I installed the update, tho it really stalls around 80-90% which is normal. Upgrade went fine!

Same here on x205ta 40 percent Posted via the Windows Central App for Android

I think it took more than an hour when I upgraded my x205

I got the 10586 build first on my pc and then the 1511 cumulative upgrade

I had the sane problem on my Lenovo Yoga Tablet 2 8". I dd some digging and found that removing the SD card resolves the issues "because reasons". :)

Was looking for the update on my inlaws laptop this morning and couldn't find it via Windows Update. This helps explain why I can't see it, but the question is why are they shutting it down?

The Office suite application called Microsoft Outlook crashed when run together with the cumulative update, according to what I have heard. I say Outlook here, specifically talking about the big desktop application. The regular E-mail universal app in Windows 10 seems to work just fine.

The update says ©2016 Windows 1511.
Tagging software with a future date has never happened in the history of Microsoft.
EDIT: Since installing the cumulative update to 1511, the year changed to 2015
We can assume this is why it was pulled

I saw this a couple of weeks ago and made a screenshot of it. However, while it fixed the future date text issue, the cumulative update made Outlook crash (either 2013, 2016 or both), which may have caused them to pull the update while they work on a fix.

They pulled 1511 ISO not the update.
The cumulative update is remedy for whatever issue it was for those who installed 1511 already.
I still say copyright © 2016 is the reason.

Glad I downloaded the ISO. It makes way more sense to install a fresh copy of the most recent version than it does to install an old version and then update it. What in the hell are they thinking?!

I already downloaded the new media creation tool with build 10586. Anyone want it? I can upload it to Mediafire for you if you want

http://www.mediafire.com/download/o5ytn8v8lf4bvo5/MediaCreationTool.exe here you go. just to let you know, you're not downloading isos from me, you're downloading the version of the media creation tool which was pulled by MS. if all things go well, this version of the media creation tool should download 10586 for you let me know how it goes

graças a vc eu consegui baixar a build 10586, pois a mesma eu rodei a internet d cabeça para baixo e n havia encontrado eu te agradeço :)

I just used this method to get 1511 on a older ASUS laptop and it worked like it was designed. The upgrade had zero problems and no problems so far with this new build. all is normal.

credit to Wpuser2 this media creation tool works i upgraded from windows 10 10240 to 1511 856 using this MCT and get an iso image works fine.. i thought microsoft full that update thnks for uploading this..

thanks. it's just a good job i dont delete my files regularly. infact i hardly ever delete any of my files. i think i still have the media creation tool which i downloaded in july :O All the media creation tool does is point to a download afaik. i downloaded the tool when it was configured to download 1511 or 10586. as of now if you download the tool it will be configured to download build 10240. thanks for the appreciation

is this a 32 bit or 64 bit media creation tool?

Probably 64bit. But you can download isos for all versions

Probably not the best idea. I think it's safe to say a bug or something was found. No real other logical reason to pull an update like that.

After upgrading with the tool on the 14th, I had a number of corrupt files coming from win 7 ultimate. I read somewhere that bitlocker may have had something to do with it. Imo Msft will never admit to releasing a crappy update. Went back to win 7 and will wait till next year. This is the 3rd time i went back to 7 from 10 since 7/29. This is turning out to be a joke. I will short MSFT on Monday morning!!!

Personally I see it as 'your own risk' (given you are actually downloading an OS image from a non-MS source, one could call it risky anyway!), but given most people haven't had an issue this may save them extra hasle. Here's a link for both ISOs which I built a week ago: OneDrive: http://1drv.ms/1N0GnNd MediaFire server upload was unfortunately far too slow and Mega is a pile (uploaded data and it wouldn't let me sign in to share the links, cos I'd already uploaded files into a temporary account)

It is asking key while updating through iso .I have mounted it and ran setup directly on previous build. Please help me and can u please mention the whicjh version of iso it is like pro or single language or education.Thanks in advance.

They secretly eliminated the update lol

I literally just updated to 1511 using the media creation tool about 3 hrs ago

I used it about an hour ago. The website now even says that it can't be used to update to 1511.

Don't worry, it's completely fine.

I tried using it last night and had nothing but problems. Had to System Restore my PC to fix whatever mayhem it caused.

I used the media creation tool to update 3 PCs, 2 laptops and 2 tablets without a hiccup except the Dell Venue Pro 8. After removing the micro SD card from the Dell Venue Pro 8, it was smooth sailing again.

I'm angry now! I tried to update my Dell Inspiron N4020 just now! Runs Windows 10 build 10240, but will not receive 1511 update thanks to Microsoft!

Of course it will receive it, just not right now. I imagine if they retired it temporarily they must have had a good reason for it but I'm absolutely sure it will return rather sooner than later.

Though the installation process completed smoothly in about 100 minutes. The OS had many UI bugs, was taking a lot of time to boot and sign in. Cumulative updates fixed a lot of problems!

I got the slow to sign in problem on my SP3 and left my SD card in through the update. I took the card out for the following cumulative update and back to normal now.

They pulled it just to piss you off.

I used the media creation tool to update my inspiron 15 to 1511 and now my system is now acting slow.

The dinosaur or the ninja cat must have taken it.

Definitely the cat. I know they look cute and all, but don't trust them.....especially the Ninja ones!

1511 update messed up my dev tools. Specifically the emulators. Probably why they took it off.

Same here on the one pc I have running VS2015. Windows 10 Phone Emulators broke after updating. Haven't looked hard for a solution yet. Hoping one shows up before I get too far behind on the project I'm working on. :)

I've only had 2 very minor issues. My display driver crashes a lot, but always instantly recovers without any issues. So it has no real impact, just an annoying notification. And also a few of my apps, I needed to login to again. But I have no idea why they would pull it.

My display driver crashes alot too on win 10 and I have an i7 surface pro 3

Try installing the latest drivers from the Intel website (you'll have to download the ZIP folder and install them manually from the device manager), this fixed some graphics issues for me.

I had same issue with the display driver, but affter update the lastest version of it. I haven't seen any crash yet

So WPCentral: the problem is not the media creation tool but the November update at all!!! Why this article?

Because you can get the 1511 update via the media creation tool. So they removed the update there too. No official ways to install 1511 right now.

Because they recommended the media creation tool as a way to update immediately to the November update instead of waiting for it to happen eventually from the servers. So this is them putting out an announcement to say that option is no longer viable. Posted via the Windows Central App for Android

Sounds to me like they've discovered a problem, or they're getting telemetry back that indicates a major issue. They'll probably fix the problems before issuing it again

Hopefully this fixes the issue I had with it last weekend. Had been doing a factory reset of my desktop (on W10 but not on 10586), it got stuck, so I tried to just reinstall fresh using the Media Creation Tool and that crashed repeatedly during installation. After numerous tries it eventually installed, but would continue to get BSoD's every few minutes while on the desktop. I've had to reinstall 7 in the meantime.

Jeez, I literally just did a clean install with this update from 10240. I have not been able to update builds since 9926 I always have to clean install...sucks

1511 Just took out my internet connection. Can't connect at all anymore :(

I had the same problem when upgrading to Windows 10. I solved that by reinstall the drivers for the network card.

How am I able to do that with no internet connection

A smart man would have the basic drivers for his computer on a cd/ thumb drive
But if it's hard wired the are a couple drivers included on windows that usually will make any card function maybe someone here can point you to them

when I went to 240 and 1511 it unchecked the IP4/6 in the network connection. 2 clicks and i had ethernet running agian

Lol reminds me of the problems I had woth zyadas'es wifi drivers in xp had to uninstall qos

I have both 10240 and 10586 on DVD.
I like archiving.
10586 so far so good with occasional gfx driver crashes (msft provided AMD drivers).

Well I think since vista ms has dropped the ball on wdm for video & since w8.1 dropped the ball on ndis Wi-Fi compatibility. But none of the OEMs care about there old hardware to fix this

Can u please upload 10586 64-bit iso to g-drive hope it helps many.

Microsoft pulled it for a reason, so he shouldn't upload it. While I have not had any big issues from reading in the comments there have been some issues. Posted via the Windows Central App for Android

my downspeed is 1Mbps but my up speed is 512Kbps. so ... i would have gladly done it if i had more bandwidth. it will take forever to upload and with frequent powerfailures i cannot guarantee. FYI 10586 working fine on my machine. no problems whatsoever.

Manoj u can download lates build win10 1511 10586 version from here..http://www.microsoft.com/en-us/software-download/techbench Each Windows 10 edition ISO file contains both Windows 10 Home and Windows 10 Pro versions, so you can install both Home or Pro version of Windows 10 using a single ISO in your PC. Once you select desired Windows 10 edition from the drop-down box on the webpage, it'll ask you to select your language. If you get confused between English and International Englishlanguage options, English is for EN-US edition and English International is for EN-GB edition. That's it. You'll get direct download links of both 32-bit (x86) and 64-bit (x64) editions of selected Windows 10 edition on next page.

These are the 10240 builds as I just tried it

click this link to downoad 10586build 1511 64bit win10pro http://188.138.9.232/Getintopc.com/Windows_10_Pro_10586_64_Bit.ISO?md5=qYrh_7T6tcwKNpm9Jrjf9Q&expires=1449150882

go to this website and download latest build win10 10586 http://getintopc.com/softwares/operating-systems/windows-10-pro-build-10586-64-bit-iso-free-download/

1511 is buggy as all get out. I just wish they pulled it before I updated. I want to roll back to October!

That's what the inbuilt rollback function is for. Not to mention you should create regular full system backups anyway.

I have plenty of back ups blah blah etc... I just wish it was easy to fix as it was to mess up. It broke my network/Homegroup, my photos wouldn't open, Cortana stopped responding and multiple apps stopped functioning. Laughably, even Windows Feedback app stopped opening so I couldn't report anything.

All I know is 1511 is crashing my SP3. Well the gfx driver anyway.

Good. It felt like a beta. I figure they forced it out to gave more Cortana / messaging syncing with Phone 10

They are working on integrating placeholders :)

Source they had said no before

Yeah, but one could always wish.. Funny thing though, since there's a OneDrive app on my Xbox(w10) and on my Lumia, why can't the bring it to PC;s. Isn't it supposed to be a universal app? If placeholders aren't coming this would at least help.

Clearly the are some bugs

I can say the same on any software release.

What the hell is recently happening with this company. Finally weekend when I had a possibility to make clean install on both of my daughter's laptops (W7 and W8.1 respectively) and now I have to first install build 10240 and update to 10586. Result - more time to complete, process more prone to errors, more data to download.

Lol wish I could use enterprise instead of pro as I really don't use ws & edge is ruff around the edges to be useable

After I clean installed 1511 on my tablet and laptop I can't enable insider previews anymore. I was looking for some information about this on the net but I can't seem to find any. My guess is that something's messed up with this build.

That doesn't have to be a bug as at this point there are no new Insider builds. Actually I think it happened exactly like that with previous RTM.

Yeah, I don't think it ever happened previously. You could always register as an insider and if there were no new builds you just stayed on a build that you already had. This time it doesn't even allow me to enable that option. There's definitely something wrong. I don't know if it's something with the build or my account but it's certainly not a typical behavior.

1511 took down two of my machines. Forcing updates needs to be stopped.

You can to certain extent with group policy, only available with pro or enterprise. You can also use the troubleshooter tool hide updates temporarily.

It also requires a wsus/sccm host

November update is none too stable on my surface 3, several restarts a day required and sometimes a power/volume up hard off...

I have updated my Surface 3 from 10240 to november update via Media Creation Tool, since more than a week... and its working perfectly (I was very lucky)... But, I did the same on my main computer (Asus Zanbook) updated with november update too... results in some apps crashing and strange behaviors... So, yesterday I did a clean install (I created the media drive 4 days ago)... And seems now its working great! ... Conclussion: updated Surface 3 (from 10240) works perfect. Asus (updated from 10240) give me some app crashes - Asus with a 1511 clean install = 100% working.

MS is freeing their bandwidth. A new build is coming. ;)

Isn't that what their torrent-like feature is for

Tbh I never installed the upgrade using Windows Update, it failed several times. Media Creator was my savior

Cloud First? Maybe they're getting out of the OS business completely :)

I doubt it with their new unpopular decisions including removing placeholder support rather than it being a default off option and everyone's OneDrive storage being reduced because some people excessively abused the "unlimited storage", rather than limiting those who abused the unlimited storage

This probably explains why it never appeared in my windows update. As I said before, don't force the update via this tool as you'll break your pc if a driver is missing.

Windows 8 or 8.1 drivers work fine and in some cases 7 drivers work better :).

There's no difference between the download and the tool. They both pick what's needed for your pc.

I believe the installer searches for updates (drivers, etc) before installing Windows Update.

it def broke one of my boxes, and I havent been able to download it for days on a couple other boxes

Damn.. I just finished installed all my PC to 1511 with ISO

Do you have problems after the update? If not, why worry?

Agree. Running great on my SP3.

Please upload the iso .So that we too can clean install

Mine was just a Windows update - not ISO.

The update went well on my tablet other than my Bluetooth keyboard losing pairing after each shutdown (fixed by rolling back the Bluetooth driver) but on my desktop the update would crash during the final install and say "reverting back to previous version" (10240) whatever the case I haven't heard of a wide spread problem with the update

If u used the media creation tool... The os is downloaded to a folder called ESD on ur primary local disk...

Works perfectly on my Dell XPS 8300 Desktop

Damn i'm luckey. I had pure issues using the build from July on my new Skylake PC I bought in October. I had to install Windows 8 first then updates then the free Windows 10 update. I had nothing but driver issues after driver issues even when I got new driver.
The USB install I made with the Media Creation Toll of build 1511 is working like a charm. No need to install 7/8 first. This is how good it is. In the previous July build with all driver issues I was getting 120FPS with the Street Fighter 4 Benchmark Tool. Now i'm getting a solid 300FPS. Smooth As butter.

Updated all my pcs and tablets to 1511, no issues to report I'm guessing there are some upgrade kinks that need addressing, but it would be good if Ms can give some info sooner rather than later. You can hear the Ms haters working out their stories.

Huh. I've upgraded 5 systems of varying age and hardware configuration. A homemade gaming system, an original Surface Pro, a Surface Book, a Gigabyte Brick SFF PC and a little Samsung ATIV Smart PC 500 tablet all running well.

The update has been pulled from everywhere, including Windows Update it either 1 of 3 reasons: 1. Mistake 2. Major security flaw 3. Major Bug found

Pulling down from everywhere is no mistake. Leaves point 2 and 3.

4. You can use a Win7 key with a clean install....maybe this has a way of being abused?

I have no idea, I use Insider builds regularly and this worked very well, but as I have never tried to update directly from previous RTM, I guess problems can happen if I read all mentioned above.

Of course 10586 has problems with the stack ip...

Per Neowin (courtesy of ZDNet), MS said the following:

The November update was originally available via the MCT tool, but we've decided that future installs should be through Windows Update. People can still download Windows 10 using the MCT tool if they wish. The November update will be delivered via Windows Update.

It's supposed to still be available via Windows Update although people are reporting that's not the case. For my part, despite pre-registering for the W10 upgrade ages ago, I never got it through Windows Update, so I used the MC tool to install it (the week after W10 came out) and Threshold 2 (earlier this week). Given how flaky windows update seems sometimes, removing the manual option seems dumb.

I couldn't agree more. The past two insider builds before Nov update, I couldn't download nor install them since they all become stuck in Windows Update. Same with Nov update. MCT was really helpful

Fixing 10586 will mean all dev resources get pulled of 10 mobile again :( The guy was starting to make progress, too!

I see what you did there. lol

Well I know there are issues connecting a windows phone on the latest build to a pc on the latest build....phone keeps connecting and disconnecting relentlessly...maybe it has to do with that..

So 10586.3 just wasn't quite incremented enough then!? I don't know about this 'beta testing' release model they are currently doing - it's gonna take them a while to bed it down properly, if it's even possible...

Edge seems to be less stable on my SP3 after applying the November update. The browser windows suddenly closed on several occasions. And for some webpages I used to have no problem before, some strange problems appeared. For other aspects I have no comments.

That is very weird. Just today this morning (Saturday) I finally upgraded my boyfriend's laptop to W10 from W8.1, and I was able to it successfully straight from Windows Update. By the end of the upgrade I was on 10586 1511, but I don't know if maybe WU first gave me the 7/29 build and then upgraded me to the Novemeber one from there, or if it gave me the November one straight from W8.1. The upgrade took about 45 mins from start to finish, but I wasn't watching it so I don't know what steps it took to get me the November update.

Looks like it upgraded straight to 1511. Otherwise you'd have had to wait 31 days to be able to install it from WU.

So i can't haz cheezburger?

Have been using the 1511 since three days of its release. Didn't noticed any bugs so far. Also the occasional "Not responding" problem of edge browser too got solved. My previous games like NFS Rivals and all, finds to be running more smoothly with steady FPS after this update. Only problem I have noticed is that the search function inside Settings don't work properly. And if MS has personally removed would really like to know what's the reason.

Most likely they've found the root cause of a number of installation issues and have pulled the update so that those issues can be fixed. I wouldn't get the ptichforks out just yet.

OK. Now we can get the pitchforks out. This was an extremely stupid idea on MS's part as nobody I know likes having to download a lot of updates when reinstalling Windows. Lucky I got my 10586 ISO already.

Yes. November update was showing and suddenly an error came and it disappeared

Or maybe marketing their new products.

Yep, just went through an upgrade yesterday since one of my machines was not getting the upgrade just to realize that 10240 was installed again. The stupid thing is the tool will allow you to select the "Upgrade this machine" and go through the entire process without even notifying you that you are installing and older or same version of Windows. Quite frustrating...

interesting... wonder if they found a system breaking bug and had to pull it for a bit.

Microsoft explains disappearance of the Windows 10 November Update from Media tool: http://www.winbeta.org/news/microsoft-explains-disappearance-of-the-wind...

I updated my windows 10 to November update via MCT, then got windows update it to 10586.11, I have no complains and this update was my saviour as my windows was at last activated using my OEM Windows 8.1 key after two months of frustrating support chatter with Microsoft and Even my OEM.

I heard there's a skunk team in MSFT working on porting the Windows UI onto the Linux kernel.

It seems to become a bad tradition that Microsoft is delivering updates to Windows and apps, just to pull them a couple of hours later. At least, nobody gets bored this way.

Everything is becoming beta to me!

Check this Microsoft link... http://www.microsoft.com/en-us/software-download/windows10

Thank Jehovah I have updated my hp elite book before this happened

I updated my Cherry Mobile MAIA Smart Tab to Windows 10 using Windows Update. It still got Version 1511 when I update last night. But my problem is the OS Switch capability of the tablet was lost. And the touchscreen is not responding correctly. I tried updating drivers before rolling back to 8.1 but the touchscreen was not fixed. Is that a hardware issue or do you think I was not able to update the correct driver?

That wallpaper though.. Anybody link please?? ;)

Just found this link... http://pic.lg.ua/x/17/31eae0/5c795f95.jpg

Everyting is OK for me on my Samsung Ativ Smart PC XE500T1C, installed November update las week when it showed up, except one thing drivers, I have to use god damn Windows 8.1 drivers, because samsung is blocking they do not give a s..., i know that older v. divers should work on W10, but since XE500T1C is atom clover trail device, those older windows v. drivers won't work properly, an as a dev i must say samsung just show us middle finger, really thinking about, maybe i should move to mac an ios.

Yo dawg, it seems your patches need more patches.

Upgraded my PC to build 10586 1511 through Windows update. The update installed fine. Have had stability issues with Cortana, edge, start menu, and settings. Spotlight doesn't work.

I upgraded 7 days ago and went back to 8.1 yesterday because of some major graphic card issues, I assume. Some apps didn't work and throw me some weird errors even after reinstalling them (Adobe After Effects). Maybe a clean install would have helped but I need a working system right now. Maybe next year but not for now

Guys some one please upload 10586 iso 64-bit home single language.I want to update my laptop.

Check @wzornet on twitter.

I have a Surface pro 3 i7, And I've had nothing but problems with Windows 10. Love the concept but it makes my SP3 VERY hot not to mention buggy as all hell. I would rate recent 10 updates with Vista. Either I get viruses left and right from going to trtusted sites IE (facebook, etc) and Edge sucks the life out of my cpu using only one tab, rendering me uncapable of running anything else without serious lag. Last update My OS would only recignize 2gb of my 8gb ram. Sad, I do hope MS gets their stuff in order. I need a reliable build so I may continue my work while on W10.

Did the Fall update on five computers and they are all working great.