Windows 10 Mobile now on 7% of all Windows Phones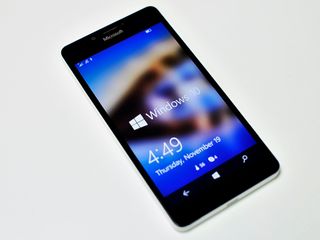 This months' AdDuplex report is coming out on November 27, but we have an early look at some of the figures. The report only focuses on changes within the Windows Phone ecosystem and does not contain data for Android and iOS. As such, it is a nice barometer of inter Windows Phone adoption and usage.
Although there have not been too many phones released in the last few months, there are some subtle shifts. Interestingly, the phone stats for Turkey are also being reported for the first time.
Windows 10 Mobile grows
Comparing to last month's 5.7 percent in November devices running Windows 10 Mobile has grown by 1.3 percent to arrive at 7 percent of all Windows Phones.
The number is always interesting as those are only Windows Insiders as the official Windows 10 Mobile update has not yet commenced. The shipping build of Windows 10 Mobile – Build 10586 – went out recently and is expected to be the same as the one for over-the-air updates. It is also the same version shipping with the new Lumia 950 and Lumia 950 XL.
Like Windows 10 for PC, the Windows 10 Mobile Update may have the fastest adoption rate for those already using Windows Phone. It remains to be seen, however, if the new Lumia 950 and Lumia 950 XL can grow Windows Phone market share at the expense of iOS and Android.
Turkey
The AdDuplex report for November highlights Turkey for the first time. As it turns out, they are a little different than the rest of the world for device distribution. The Lumia 1320 is very popular there as the second most widely used with 11 percent of the Windows Phone market.
The top Windows Phone in Turkey is the very old Lumia 520. In fact, most of the top ten Windows Phones in Turkey are all older devices including the Lumia 920, Lumia 820 and Lumia 625. The suggests that Windows Phone growth in Turkey has stopped, or consumers in Turkey are just less likely to upgrade every year or two.
The US
Not much has changed in the US, which suggests any growth from the newer Lumia 640 and Lumia 640 XL has slowed. The Lumia 640 did gain a modest 2.2 percent over last month and is the biggest winner. It now commands a lofty 14.5 percent of all Windows Phones but is still dwarfed by the Lumia 635 at 32.5 percent.
It should be real interesting to see if the Lumia 950 and Lumia 950 XL make any appearances at all on these AdDuplex reports in the coming months.
Finally, for the first time the device ranks have seen a slight decline for Microsoft/Nokia phones with a super modest -0.05 percent decline. Huawei and 'Other' are the only ones with growth. BLU still holds 0.22 percent
Mexico, Brazil and the Lumia 640 XL
In Mexico and Brazil, the Lumia 640 and Lumia 640 XL do seem to make some inroads. In Mexico, the Lumia 640 XL now has 3.8 percent of the Windows Phone market, and the number is higher in Brazil with 4.9 percent. These gains mostly come at the expense of older devices like the Lumia 520 and Lumia 710.
Also in Brazil, the Lumia 640 has a 3.2% market for nearly 8 percent when combined with the Lumia 640 XL. The biggest devices there are still the Lumia 520 (17.1%), Lumia 630 (16.7&), Lumia 535 (10.2%) and the Lumia 435 (7.5%).
Wrap up
Not much to report on this month although the increased Windows 10 Mobile adoption by Insiders is certainly interesting and impressive.
The Lumia 950, Lumia 950 XL and soon the Lumia 550 should be hitting markets worldwide and by February we should have a better idea if anyone is buying those phones. Combined with the planned Windows 10 Mobile official rollout and updates starting in December the future of the OS and ecosystem are just now starting their next leg of the race.
About AdDuplex
The numbers from AdDuplex are collected through their in-app advertising that is prevalent in over 5,000 apps in the Windows Phone Store. That data serve as an important metric within the Windows Phone ecosystem. The full AdDuplex report for October will be posted tomorrow, November 27 on blog.adduplex.com.
Windows Central Newsletter
Get the best of Windows Central in in your inbox, every day!
Daniel Rubino is the Editor-in-chief of Windows Central, head reviewer, podcast co-host, and analyst. He has been covering Microsoft since 2007 when this site was called WMExperts (and later Windows Phone Central). His interests include Windows, laptops, next-gen computing, and for some reason, watches. Before all this tech stuff, he worked on a Ph.D. in linguistics, watched people sleep (for medical purposes!), and ran the projectors at movie theaters because it was fun.
Most Japanese smartphones are iPhones. They must really be getting tired of the same ol' thing over there. They're a;; wiling to try something new.

One can only hope, however Japan is a monocultural society ... change in that sense won't happen anytime soon.

So, you're suggesting they switch to Windows mobile?? Why?

Never get iPhone in cold places. In here Finland iPhones freezes (shuts down) when its like below 0 Celcius :D thats why my sister switched to Samsung. I tried to talk her on Lumia but well... No snapchat. :/

Why would anyone who uses Android, or iOS, be getting tired of the "same old thing"???
........
We've been with WP/WM for five years, and we're not getting tired of the same old thing...
........
As a matter of fact, their same old thing is more established, polished, supported, and available than our same old thing.... So, the question should be why are Windows fans tired of the same old thing, and why aren't we ready to try something new..... I mean, have we become so deluded, or delusional, to think that at this point a Android, or iOS, fan should switch to our platform?.... That is the exact opposite of what we should suggest to anyone until our platform gets it's act together.....

I switched to Windows because i got tired of using android :) yep we do exist !!!

Great. I guess its adoption rate is faster than WP8.1's.

Waiting for 950XL in India!!

Its gonn suck don't worry Posted via the Windows Central App for Android

Why would it? It rocks everywhere else.

Its gona great here .. Because so called app gap is less in india and price is matter its way below other two flagship phones.. !!

Many of them upgrade w10m because of Project Astoria. But I'm still waiting for its stable release

Project Astoria is put on hold or dead, no one knows until the deal with google is explained. Project Islandwood (IOS bridge) is on the otherhand still going strong and it seems like it has 1st priority and on schedule for Q1 2016 and perhaps early Q1.

Project Astoria has been dead.

But what if project Astoria IS kill? Posted via the Windows Central App for Android

Will there be any love for l920?

I have Windows 10 on my Lumia 920 and it's working almost perfect.

Same here man same here...

Great. Cant wait for RTM. Didn't want to gamble with preview this time.

No need to wait..​My 920 running windows 10 since last week and is working fine with only a few hiccups. Red​920

When does it come out for real?

Really?! I have it now on my 1520, and it really is spectacular.

Microsoft said: Windows 10 for phones will be released this year in December.

If Microsoft wants high adoption of Win 10 Mobile, then they should make it a priority to get it to all devices as soon as it's release. I have a feeling it will be well into next year until some older handsets get Win 10, if at all.

Alot of this has to do with carriers as well. If they are able to get the updates to carriers without being delayed

The Carriers are unlikely to pass on any Windows Phone upgrades. They have all given up any interest in promoting any WP activity. So don't expect any W10 updates to be passed on to older devices.

Of course they are trying to get it to all devices as soon as they can... What did you think?

When is Win 10 mobile officially launching for Lumia 730

Nope... Just wanted to know a bit more specific date... Aren't there any leaks about the timeframe of the update? Can't just wait to use it..
Thank you :)

Anyone else look at their Microsoft store order for 950xl and it now says back ordered? What does this mean for delivery?

Don't forget India to add up in the survey or any other activity. ..... Windows insiders n fans here r way beyond your imagination...

I have the htc one m8. When am I going to get the upgrade notification?

You do realize it is only the insider program that gives you that right.

Line Apps its not compatible with windows 10 mobile in store... why...

Which equals to 7 actual phones. True story.

But you're concerned due to the fact you created a username just to post here

7% of the 1.7% The finest of the Few

1.7 is marketshare of last Q. Overall its little bit higher. This 7% is of all windows phone sold till now and active during last month using only apps using adduplex... You this is also not accurate... But close to accurate than any other source available...

Status report. After using W10M on my 1520 (after reset) for about a week... It's very usable. And I will be along for the ride till release. Finally get to enjoy it. Dying for linked mail inbox tho, to come back.

Linked inboxes have already been added recently :)

Woot my HTC one m8 is 3% of us market. And they said no one bought em...

It took over a year and zero competition from flagship lumias for it to finally make an appearance. That's nothing to be proud of especially since most refurbs for 1520s or other high end windows phones are going to be the m8, it doesn't mean ppl buy them. Just means they get them as refurbs.

Where did that windows 10 wallpaper come from?

Yeah, I noticed that too. Nice.

Almost looks like a close-up of a Band

I'm using Windows 10 on all of my Lumia's and it works great. Won't go back to 8.1

Make that 6.998% coz yesterday I reversed back to 8.1 on both my 830 and 625. Plus, the gf isn't happy with 10 on her 830. So, I'll have to reverse hers, also. So now they're at 6.997%
I just don't feel 10m is ready for prime time on some older devices and certain apps.

It is flawless on my 1320 and 830

Equally flawless on my 640XL and 1520!!

Are you sure? Cause my 1020 has a lot of annoying bugs and lags. Even after factory reset and start from scratch. And 1020 was way faster then 830 on 8.1.

Same scenario as on my 1020 as well, buggy/slow with initial install and same after hard reset/clean install (no backup), my 830 was just OK but now it decided to exhibit the elusive "deteriorating OS" phenomenon, rolled back 1020 to W8.1 with 830 more than likely not far behind, too many inconsistencies in W10M that same/similar devices have such varying outcomes, pretty pathetic considering the variants in WP devices.

I'm using it daily on my 830. Might have slight bugs here and there but if I wasn't techny, I wouldn't notice them.

So it means that there's only 100 000 WP users? lol

And what about the dead Lumia

The only 7% Posted via the Windows Central App for Android

Who are these people still using Windows 8 when 8.1 has been out for more than a year? Lol! Anywho . . . The Lumia 950 & 950XL seem to be in high demand & people on other tech sites & YouTube channels are very excited about features like continuum & the iris scanner. However, the supply shortages might be due to hoarders taking advantage of the free dock special so they can resell the phone and dock separately in order to make a profit! All things considered if MS can manage even 2.5 million+ units like the 920 it'll be great for the platform. I'm confident that this will happen.

I think my parents phones (both Lumias) are still on WP7. They have no need to update, their phones aren't used for much else than making calls and texting. Anything else is done on their Fire HD or laptop.

Which translates to how many devices?

WHY 7%?? WHY NOT 9%(SLOVAKS KNOW :D)??

Any thoughts or suggestions if I should move forward on using insider upgrade to wm10 on my icon, my primary device yet?

I think it's stable enough for primary usage. It's running great on my Lumia 920.

Running wm10 on my 735 and it works great.

I have a Lumia 735 (unlocked, UK), and I was considering updating my phone to W10M via the Insider App. I did this on my old Lumia 630 quite a while ago, before I gave it to someone else (and downgraded it to WP8.1). Is it worth doing this, or should I just hold on until the general release in December?

I have it installed on my 1520 and 640xl(more or less same specs as the 730). They're running real good.
Mission: Insider W10m is a go, soldier. I repeat, it's a go. ;)

I have 735 too and an really looking forward to getting 10m, especially the new office apps. Do all the old apps that came with my 735 still ruin on 10m still work out will I lose any when upgrading. I really like Here maps, mix radio and some of the Lumia apps. Posted via the Windows Central App for Android

I tried almost all the release of WM 10 builds in my L920, L730. I always rolled back to 8.1 because of some problems in OS. However 10586 worked fine in my 730 and seems its almost complete. But I rolled back due to few things I didn't like in WM10. After trying/using WM 10 since last one year ( almost) now I reached to conclusion that WM 10 is nice, fresh but dont know why only 8.1 gives me peace of mind and I will continue using 8.1 till my phones last.

The same fealing i also had, but well you get quickly used with setting up 10 after some factory resets. But after i buy 950 i will probably roll 1020 back to 8.1. It is just way faster with it.

I've been using W10M on my 920 since the Insider program started. The earlier builds were a bit iffy, especially after the phone had just turned on. The latest stuff has been pretty good.

At first I thought its "Windows 10 Mobile has 7% marketshare" :P. Sigh. Oh well some day maybe

Does anyone have that Wallpaper link ? I came here for that that.

No Lumia 830 or 930 in graphs when they were the latest flagships (until now with 950's...)

The marketshare of the 640 could spike now that the price of the AT&T model went from $79 to $59 to $39

That look screen wallpaper looks good

Is there way to get that lock screen wallpaper ???

It's still very buggy though.

Windows Phone is actually getting more popular in Turkey, the problem is that it is hard to find. Phone models here are usually the older ones and the prices are too high. We wait too much for the newer models and when and if they are finally being sold, they are usually outdated! MS should try to do something about it imo

Nokia Lumia 520 remarks to be the by far best windows device ( also cheap) . Being a 520 user , i am excited to windows 10 mobile . Running windows 10 mobile on lower 512mb devices makes to get tge universal feel of windows 10 mobile !

Get snapchat and windows phone owners will go up to 7%

Nobody Uses snapchat in India. for self destructive messages, telegram all the way.

Get clash of clans and app bounty to windows 10 mobile and you dont need to worry about coz wimdows phone users eill rise above 50% !

Can I demand that lock screen wallpaper plzzzz... Its just so awesome.. Pls make it available to public....

come to the drak side/be a insider great time to

In other words, 7% of Windows Mobile users are beta testers.
93% are left over.

One more time...can we get the wallpaper pease?☺

HOW ABOUT THAT LOCK SCREEN WALLPAPER!?!?!?!??!?!?!?!

I switched to Windows phone because of Windows 10. I was hardcore Apple for awhile. Now I'm Windows 10 everything :)

I'm using wp8.1 denim..... It's good .. But can't wait to see stable official W10M on my Lumia 630 !!!!

The thing about Turkey is that the government banned installments for mobile devices this year, so people are being forced to pay advance or choose carrier contracts which are only available for Lumia 1320, which is the most popular one as expected. Also tax rates on mobile phones are just too high in Turkey, for example a $0.01 mobile phone would be sold for at least $50 just because of the taxes. On top of that, some Lumias are just not being sold in this market for some reason. Especially the last flagships before the 950 series. People buy Lumias out of their love for Nokia and interest in the Windows Phone ecosystem. I, for one would not pay $30 a month for 24 months to get a crappy Lumia 1320 or a 630, but they're are the only remaining contract phones and it is only the one of 3 major carriers in Turkey. I bought my Lumia 925 with a contract 2 years ago, and I'm just waiting for the Lumia 950 XL, it will be out probably a solid 6 months from now. Also there is the technical support issue, there are only a handful of repair points at a couple of big cities. In other cities, you just can't access decent technical support let alone the market share. Microsoft should pay attention to this market, as it is a growing and developing place for Mobile Devices. People like to get more bang for their buck around here, which Nokias provide.

Got a nice 1320 I'm selling if your interested :)

For how much? Price tag please..

I have it on eBay right now going for $75 so far. Check it out! Nterrigno on eBay

Waiting for the 950XL at AT&T.

What about windows 10 mobile for 1520 in south Africa?

I didn't find the lockscreen image, thus I made mine. It's easy. Choose a picture, blur it with PhotoShop, then found an image with the Windows 10 banner. Again, with PS erase the backgroung so just keep the Windows 10. At last merge both
Windows Central Newsletter
Thank you for signing up to Windows Central. You will receive a verification email shortly.
There was a problem. Please refresh the page and try again.