Windows 10 Mobile now on nearly 6 percent of all Windows Phones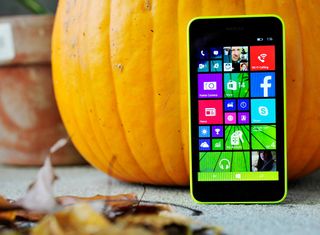 AdDuplex has given us an early look at their October stat report revealing changes within the Windows Phone ecosystem. Of course, due to the stalling of Windows Phone device releases in preparation for Windows 10, none of this should be too surprising.
Here are some of the highlights from the report.
Image 1 of 6
Windows 10 Mobile is now on 5.7 percent of all Windows Phones up from 4.7 percent last month. The one percent increase reflects the growing stability and finality of the forthcoming update
In the U.S., the HTC One (#8) more popular than Lumia 1520, which is now out of the top 10 – This stat is rather surprising as the HTC One garners little attention from carriers
In the U.S. the Lumia 635 still the most popular Windows Phone model
AdDuplex also did a new analysis by price range for Windows Phone. The breakdown is by low-end, mid-range and high-end and shows the U.S. with the highest amount of high-end phones while India has the lowest reflecting their economies. Globally, the mix replicates the few available high-end Windows Phone that are available with mostly low and mid-range devices making up the majority.
EU5 (France, Germany, Italy, Spain, Great Britain) - Lumia 640 is now the fifth most popular Windows Phone in Europe displacing the Lumia 520.
India – The Lumia 540 (7 percent) and Lumia 640 XL (4.4 percent) both climbed one place for some modest gains. The Lumia 535 remains the most popular with 22.6 percent followed by the Lumia 520 at 14.6 percent.
Australia – The Lumia 930 is still popular with 8.8 percent share or second place while the Lumia 530 is at 9.7 percent despite a 5.6 percent drop. Meanwhile, the Lumia 640 and Lumia 532 are picking up share lost by the Lumia 520
To see the numbers yourself you can view the relevant slides in our gallery above for the areas discussed here.
In conclusion, not much has changed worldwide for Windows Phone as the ecosystem is essentially on hold until Microsoft releases Windows 10 Mobile. Indeed, we do not expect much change until 2016 as the Lumia 950, Lumia 950 XL, and Lumia 550 begin to hit markets worldwide. Even then, it is unclear just how much share those new devices will garner. Also in 2016, we should also see Acer's Jade Primo hit the shelves offering a high-end non-Lumia phone for the first time in a long time.
Win a Lumia 950 XL
Bonus! - AdDuplex is giving away one Lumia 950 XL to a lucky winner in their monetization survey. The survey takes no more than 10 minutes and you just need your email to enter. To get your chance head to http://adplx.co/AppSurvey and maybe you'll win (plus AdDuplex will be thankful for your help).
About AdDuplex
The numbers from AdDuplex are collected through their in-app advertising that is prevalent in over 5,000 apps in the Windows Phone Store. That data serve as an important metric within the Windows Phone ecosystem. The full AdDuplex report for October will be posted tomorrow, October 29 on blog.adduplex.com.
Get the Windows Central Newsletter
All the latest news, reviews, and guides for Windows and Xbox diehards.
Daniel Rubino is the Editor-in-chief of Windows Central, head reviewer, podcast co-host, and analyst. He has been covering Microsoft since 2007 when this site was called WMExperts (and later Windows Phone Central). His interests include Windows, laptops, next-gen computing, and for some reason, watches. Before all this tech stuff, he worked on a Ph.D. in linguistics, watched people sleep (for medical purposes!), and ran the projectors at movie theaters because it was fun.
there are people using windows 7.x??

Some people out there just don't upgrade their phones.

ermmm some LUMIA cant be upgraded to Windows Phone 8 remember :P

Jezza is talking about upgrading the device, not the software.

They have to buy new phones to get Windows 8.x. And you know how many people buy Windows Phones nowadays.

But these stats are taken from active users. It's measured by app ussage so those WP users haven't switched to iOS or Android but are still holding on to a over 3 year old phone. Shows how sollid those Nokia phones really are!!

That is the same thing I said

Believe it or not there are even a few out there using Zunes and maybe a 6.x device even... O-o

I'm one of the few then :) still use my Zune HD daily at work

Woah, don't place my Zune HD usage at work with windows os 7 users...

Some people can't afford a new phone. That's the reality of life.

especially college students.....

Not just that but for some people a new phone is way down the priority list. I got my parents onto wp7 and its only my mum who's recently upgraded to wp8 with her old handset breaking. The differences to them are negligible and I haven't even tried to push newer versions to be honest because I'd find it a hard sell. Apart from Cortana perhaps. If it works it works in their eyes and with the way Windows Phone has gone this past few years I don't blame them.

When the title says "6% of all SMARTPHONES", then I will get excited.

I have practically every old smartphone I've ever owned, still. One is a HTC Titan on WP7.5. I still connected it to the internet once in a great while, do things like that probably add to the tally. People don't necessarily have to use them daily. I actually still have my Treo 750 too, but I never boot that one up... Lol. It does still work though. Posted via Note 4/Nexus 7 (2013)/Lumia 1020/ Lumia 2520

HTC one M8 more than 1520? Lol the irony.

People probably bought them because it looks identical to the android one, and they knew no different ;-)

A certain Lumia fanboy is probably having a fit now...

Not having a fit at all. Considering it is the only flagship presently out, its not surprising. What's sad is the fact it was on three carriers including Verizon and the fact is it is just now making an appearance in the top 8 after a year of being on market. That's pathetic but at least those 20 HTC m8 owners are apart of the top 10. So good for them :D

As one of the 20 who owns a HTC one M8, I'd rather be in the top 10 on Microsoft's list for an update of the apps they produced on WP to level of what they have done on Android and iOS without having to go to a preview build or wait for the official release of W10 mobile....a bit of a run on sentence, but MS disrespect to and of it's own platform is alarming.

Dry those tears, slugger. It's gonna be okay.

I may limp along with my Icon for a while longer...

That's a nice phone to "limp" along on. If yours is dying the Microsoft store still sells them if your dig for it.

I guess there is something else in the stats... not everyone loads a pre-release OS... and 6% is a huge portion of an OS... 6% of us using WP is a geek. (this is a Niche Product now)

Well Said. 6% of WP users having WM10 means its huge.

You have to take it in perspective. If Windows Phone has about 3% of the U.S. market and if 6% of Windows Phone users are on W10M, that means 0.18% of mobile phone users in the U.S. are running W10M. 0.18% is a rounding error unless you want to do something like send a space probe to the planet Pluto.

Not necessarily geeks. Microsoft has made it easy to get in on the Technical Preview program and install Windows 10 Mobile. For Android, you would most likely have to root the phone and go through all that mess.

Still doesn't remove the fact that those 6% like to tinker with their phones. However, the user base is not much, so 6% won't be hard to hit.

Flashing a new version of Android does not require rooting the phone, only unlocking the bootloader.

Totally off topic.... Hoping the review embargo for Band 2 ends soon. Surely it's today or tomorrow. On topic: I've been on Android for over a year. I really would love to give the 950 a shot but the lack of apps is a major deal breaker. I sure hope that Bridges project helps.

Windows Phone/Mobile users making a stink to app developers also helps a lot. Apps have come or even come back because of it but too many users just say at enthusiasts sites they wish their were more apps instead of demanding them from developers. I rarely see others on Twitter, Facebook, or developer forums saying they want an app and app developers won't check here if they don't hear people are using them. I've been asking developers when/if they are going to release a Windows 10 Universal app as that is an easier sell because of an overall larger market but includes mobile going forward.

This is so true. We need to mobilize and start harassing these developers til they cave & build apps for the platform.

W 10 is almost complete and I am using it as daily driver since last two builds ...switched back to 8.1 from current build but updated again since 8.1 doesn't offer anything better. App loading time is still longer in 10 and battery life issue is also something to consider. Otherwise, it's great ! I eagerly waiting for the final and complete version...lumia 640

What is the overall impression of WM10 OS, bro? If you don't consider those cons you have mentioned.

I know your question was not for me but I would like to share my thoughts on the matter. I've used it as my daily driver for a couple of months. My general opinion was that design wise it's a lot better. It feels more modern and is very intuitive to use, especially when you use Windows 10 on your PC. I'm back on WP8.1 now, it feels dated and old school after being on Windows 10 Mobile, mostly because Microsoft's native apps are so much better on Windows 10 Mobile. I've a 950xl on pre order and have the intention to sell my current 930 as soon as I have the 950xl delivered so that's why I'm staying on 8.1 for now. Just a couple of weeks enjoying old school WP before I go all in with Windows 10 ;-)

Question: how did you manage to get the 950XL on preorder? Microsoft's site still says coming soon :(

I live in the Netherlands and trough a online reseller I renewed my 2 year KPN contract and got the phone for free (with a free contineum dock, for the pre order) so it was a heck of a deal. Just have to wait till week 49 when it is expected to ship :)

Damn! Wish I was in the Netherlands now! You wouldn't by chance be able to pick up that deal for me too :) lol. Pay you for the shipping!

It's available for pre order in the UK as well

I feel the same way about Windows 10 Mobile. I've been using the last three builds and I'm excited by the progress they are making. It's just getting smoother with each iteration.

Will Lumia 720 be getting it late? There's lots of WP users who think they know everything. I've been told 4 different things by 'know-it-alls'.. Any real confirmation?

Not yet, we'll know by December as that when it's supposed to hit GA.

Amazing that they dont crash and burn faster without any effort on the device front across the globe

Blackberry doesn't have much going for them, other than phones and their enterprise segment. Compared to Microsoft, they can afford to keep WP going. However the question is under Nadella, will they? If it was Ballmer, it would have continued without question. Never the less without phones, universal apps pretty much lose their appeal and the continuum will fall flat on it's face.

They will. Their entire UAP is built around their mobile endeavors it makes no sense anymore when you take Windows Phones out of the equation. And Satya has publicly stated if OEMs don't start making phones running Windows 10 Mobile, Microsoft will.

They'll throw everything away and start over with yet another new mobile OS in a year or so. That's their MO. Next time it'll be a big hit, I just know it!

I have entered to win 950xl!

If after Win 10 Mobile release the existing Windows phone devices upgrading to W10M remain below 50% then would it make sense for Microsoft to continue support for Windows phone 8.1 OS? Or would it be a forced upgrade?!

It would most likely be a forced upgrade, after all why would you stay on WP8.1? The advantages that WM10 brings is huge.

What are the advantages? Will it be able to bridge the app gap?

The advantage ia because its windows 10.

Yes. through the bridge projects.

People Hub and Photo Hub on wp7 are better than those on wp8. While on wm10... pure garbage. Windows phone used to be the smart phone. Now it's just an android wannabe.

Oh yes, Windows Phone was so smart in versions 7 and 8 when you could not even close an app without clikcing on the back button like crazy. Or when the settings were just a long messy list and when built-in apps never ever got any updates at all. Everything was better in the old days.

You didn't really have to close app constantly and the built in apps just worked. In 8.1 they went for the store updated system apps approach and they were slow garbage (ie Xbox Music, games, video, etc). MS still can't figure it out.

Well, turns out they aren't slow garbage anymore while at the same time being updatable (and we've already seen them react to feedback numerous times) so I'm inclined to think that this time, they have indeed figured it out.

That's the best joke I've heard in a while... ROFL. WP7-7.5 was the most feature LIMITED OS I've ever used. Posted via Note 4/Nexus 7 (2013)/Lumia 1020/ Lumia 2520

Ok. Let's see. Few things I can think of.
WP7.8: Integrated fb/twitter/linkedin. No need to install those apps. I can post status/check-in/photo instantly. I can comment,retweet. Unified messenger/sms. Integrated notification from fb/twitter/sms/messenger. Room for collaborative email/messenger/files. Pictures Hub gets friends photos from fb/twitter. Bing to identify music, any kind of barcodes, book cover, dvd/bluray cover.
WP8.1: Have to install fb/twitter/linked in. Can't post status instantly, have to go to each app. No unified messenger/sms. Skype? Yeap, time wasted on resuming/loading/signing-in. No more Room. Pictures Hub only gets photos from my fb/onedrive. Cortana is great, but Bing can no longer identify music, qr only, no book/dvd/bluray.
W10M: No more updates on People live tile. Circle photos running on tile. Yes, Great animation. Just like android/ios, great -useless- animations. No live tile on Groups. No What's New on Group. I can no longer glance on what's happening with family or friends.


For a second I thought the article's title said that Windows Phone has 6% market share worldwide!

Hahaha! That's a prophesy I'm eagerly looking forward to.

Not everyone is brave enough to get on the Technical Preview program.

Microsoft did a big mistake by making Lumia 640 to be sold only by Flipkart in India. The phones have been out of stock for a very long time now. That's why you don't see Lumia 640 in top 10 in India. Its good its available now on Amazon with price lower than even 540. Flipkart was selling Lumia 640 at price of 640 XL few days ago. I wonder why Microsoft go with exclusives like this.

I know I'm going off topic here but it is in regards to WP10. I've asked in forums and tweets with no response. I have tried numerous times to roll back to 8.1 in an attempt to remedy the problem with no luck. The problem is that text messaging is totally gone from my operating system. Has anyone else had this problem or been able to remedy it?

Search store for Windows Messaging if still using W10M, by Microsoft. Searching in the store can suck and it may not show. There is a link to the app in a Windows Central article posted within the last month.

Couldn't find the article, searched every possible variant in the store. If you are able to find the link, that would be awesome.

Hard reset your phone, then choose not to restore (start fresh). It should come back

Thanks, I've actually tried that like 4 times. Started fresh, tried three different backup points and still nothing. Appreciate the input!

Starting fresh means not using a backup. Oh, did you mean you started fresh and also tried 3 backups? I may have misread what you meant. Posted via Note 4/Nexus 7 (2013)/Lumia 1020/ Lumia 2520

Yes, tried freshly starting like a new phone as well as 3 backup points.

I found this article, it has a link.

Thanks Addupplex,survey is compleated, and followed. And thanks Windowscentral!

0.0018% Still a significant portion on Windows 10 mobile

I know what you did there!

Nokia really screwed Microsoft over with the 630/635. Such a shame those ever got into circulation without a FFC, no flash, and 1GB RAM. :/ With those it would have been a near perfect low-end intro to Windows phones. And now MS has to upgrade them all to W10...

The reason there are so many more One m8 for windows now is Asurion is replacing any Lumia 1020 or 1520 with an HTC.

Which is horrible downgrade.

Ha-ha. I'd take an M8 for my 1020 anyday. I loved that camera but the M8 is better is every other way. 1520 for an M8? Ehh, I'd be annoyed... But yet not really, cause I've always liked the One devices but never owned one. Shame about those cameras though Posted via Note 4/Nexus 7 (2013)/Lumia 1020/ Lumia 2520

Yeah I wouldn't take anything HTC over a Lumia. Maybe an HTC over a Samsung.

The M8 is a good phone. I enjoy it, but I agree. If I walked into AT&T and there was a 930 sitting next to the M8 I definitely would of walked out with the 930. I settled for the M8 so I didn't have to switch to iPhone6 for the year because I was tired of the 1020. Definitely going back to Lumia with the 950 and the M8 will be stored away with the rest of my collection.

Used W10 as my daily until yesterday. Camera was real glitchy, and swear that the photos are worse. Messages and calling was awkward. However, it felt vastly improved from the last build. Going back to 8.1 was tremendous, everything works a charm.

Definitely good news, I can imagine the # of W10 adaptees will continue to grow leading up to the official release especially considering the last Insider preview was by far the best point to get in on windows10 mobile. Seriously impressed! Adplx survey super worth it!

my wife recently switched to Windows phone. She had the 635 for about 6 months, liked the OS , so we got her the 640 this past week. I am using an old iphone 4s still and WANT to make the switch , but I can not believe there are not many apps!! I mean even Starbucks is missing and they had a thing that tied to the "Band". Until the lack of Apps change , I cant see switching. Hopefully windows 10 will change that! I want a cheap alt other than android! Cant afford a new iphone so 2nd place goes to windows IF they get some apps!

If you use Facebook, keep in mind you can't disable custom notifications, this is a feature in iOS/Android that is not yet available in Windows Mobile, in Windows is all notifications or none. Also, Twitter app is a bit clumsy, you can only see 2 or 3 tweets per screen state, you can see much more on Android or iOS. Also, the video and music apps native for Windows 10 mobile (Groove, Movies&TV) are very limited, you will probably have to download a third party app if you want something more configurable.

Planning to upgrade my phone... Can anyone tell me that the messenger apps like WhatsApp and Hike still prevail in the latest builds??????......

I live in Mexico and would probably get a 830 (the high end model avalilable here) or a 640XL (still a budget phone that gets Windows 10), I'm still undecided, both of these will get official Windows 10 Mobile, but I think 640XL has newer hardware, is there any midrange phone in the works? I really want to get a Windows 10 mobile device, but the 640XL is too low end for me, I want something better.

Saana... http://www.windowscentral.com/microsoft-saama-lumia-un-cancelled

También soy de México y créeme, la mejor opción que puedes tomar, si tienes el dinero disponible, es el 830, llevo un buen rato con el y ningún problema... Y lo escogí porque si se va a actualizar a W10M ​

Nobody wants to install a beta OS...especially ppl who just bought phones cant risk the fact that the warranty will be voided lol these win10m stats don't mean anything sorry

What do you mean by as reflect it's economy. Does it need to mention that part? Or intentionally doing to insult Indians? Clarify Daniel!

Chill bro.. He doesn't live in India.
And India probably has more millionaires / billionaires than the whole population of US itself..

"And India probably has more millionaires / billionaires than the whole population of US itself" That's pretty funny. Over 50% of Indians don't even have toilets in their homes, so I'm not sure which dream world you're living in.

50% ? I am not sure from which Ad Duplex survey he got this number!! Agree that India has a few places that are still to be developed. There maybe a few houses like you said, in the slums. The English have looted India for more than 200 years (No offense to any one from the UK). In just 70 years of being independent, the country has shown great improvements in a vast number of fields. You can't just type any number you wish and insult some people or their country. It would be just as stupid and arrogant as if I say your brain works only 1.37% of the times out of the billions of times you tried to use it.. Posted via the Windows Central App for Android

Few places? I'd say most of it. The bloody place is a dump! A pigsty is much cleaner and civilised!

And you think you are civilised.

Azer_m is wrong but you are wrong too. I think they declined Visa because of your this kind of attitude. I would like to know the source from where you get 50%...

Is windows 10 available in Lumia 535

Sad to say this, but out of the 100 or so Windows Phone users...

Woah. A story about Windows Phone. I thought WC had given up the practice. And the HTC One M8 deserves its place as being a better option than the 1520. It is one solid device if I say so myself comparatively speaking as I have them both.

I would upgrade but 10166.0 download is blocking for other updates.

imagine the big jump of the pie when windows 10 mobile is available to all windows phone compatible devices in december!

I am using my Lumia since the last two years without any issues. It has the latest software and that is what matters. I am hoping that it will get full Windows 10.

I think the more interesting AdDuplex number is that in the EU5 (with about 10%+ WP marketshare) about 90% of the Windows Phones are only low end (5xx, 6xx). No wonder that there is hardly any demand for the new 950-flagships here.

This is really sad that the are 6% of WP using W10M. That is amazing if you think about how many people are willing to spend the tremendous amount of times it takes to upgrade. Or market share must be so small...ugh.

Survey completed... Waiting for 950xl :P

In progress to upgrade to latest WM10 build, tried resetting my Lumia 520 to 8.1 by windows phone recovery tool. And it went bad. When ever the app says switching to flash mode l520 crashes and restart, and everything goes to failure. Now the phone keeps on restarting. Don't know what to do.

This is all wonderful, but when are we going to get confirmation on the official availability of 10 Mobile? I'm on my second Lumia 1520 after having owned W6 and W7 phones. I've just bought a Surface Book i7 16gb 512gb and a lot of expensive warranties and peripherals. I'm part of the Windows congregation. I have business to run. Enough "Build Talk etc." It's time to get it done. Please feel free to share with Satya. Regards from Canada.

WMPU posted an emulator video on claimed new build: http://wmpoweruser.com/hands-on-with-windows-10-mobile-build-10581-video/ Btw, only tangentially related, but if IDC numbers are roughly correct, Lumia/MS market share in Q3 would have been 1.6%... "The only way is up, baaabyy, for you and me now!" :D

So if windows phone/mobile is 2.7% of market share, w10m is like 0.162% of all smartphones. That's about 3 million smartphones, considering total smartphone users are about 1.8 million... thats a decent user base considering this is preview software... Posted via the Windows Central App for Android

Actually, I'm both surprised and not surprised to see the HTC One claw its way into the top ten. True, it doesn't get any publicity from carriers but it is one of the few Windows phones that is available on multiple carriers which does help. As far as the Windows 7 holdouts, Microsoft needs to offer them some sort of trade-in program and give them all 640s for free or 640XLs for $100.00.

Peeps, please upvote this much needed feature... https://windowsphone.uservoice.com/forums/101801-feature-suggestions/sug...