Windows 10 Mobile ROM for the Xiaomi Mi 4 could be released to the public soon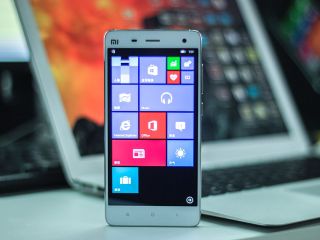 After several months of closed beta testing, China-based company Xiaomi and Microsoft may be ready to release a public ROM of Windows 10 Mobile for owners of the Android-based Xiaomi Mi 4. A message from a Microsoft team member hints that the ROM could be released as soon as next week.
In a message on the Chinese-based Weibo social network, the Microsoft employee posted an image of the Mi 4 running a version of Windows 10 Mobile. He stated (translated):
Microsoft and Xiaomi first announced this project to release a Windows 10 Mobile ROM for the Mi 4 in March as an "experimental program". We will hopefully see if this experiment will be successful.
Windows Central Newsletter
Get the best of Windows Central in your inbox, every day!
Much less interesting with the collapse of the Astoria Android bridge. If users could have switched OS's and kept their favorite apps, now that would have been interesting!

If they used Google apps or anything with GPS, they couldn't run it anyways. Go to androidonwm.com and see how many apps don't work.

Everyone is explaining why Astoria collapsed (lag, app compatibility, bloat, legal, etc.), but my point doesn't concern the "why" at all. I was saying that IF Astoria had worked, the Windows ROM on Android phones would have been much more interesting. Users could select either OS without losing their favorite apps. Now, with Astoria gone (for whatever reason) the ROM is much less interesting to traditional Android users.

As I understand, Google Play is not preloaded on phones sold in China so, maybe that would not have been a very big dealbreaker.

Do you even know why it was destroyed? Because it wasn't a bridge, it was an emulator. That could've lead to some serious legal issues.

The emulator was bogging down the rest of the system as well. That's what Android does, it bloats itself. That's why Android phones get slower and slower. Look at the M8, the only device now that is the exact same phone save the OS, the Windows flavor runs faster and smoother with a better battery life.

Well the Windows Phone version always had slightly better battery life but I know what you mean.

The battery is the same size but the Android version used much more battery because it is an extremely power hungry OS.

Bb os10 was no different aside from repackaging the apks into bars

Be specific: what serious legal issues would there be?

Let's take for example the sailfish OS made by Jolla they can't release android compatibility to other devices other than their own because of the alien dalvik library license Posted via the Windows Central App for Android

An emulator is not a bridge. It wouldn't port Android applications to Windows 10 Mobile, but rather run Android applications natively. Now Windows 10 Mobile is not an Android skin but an entirely different operating system, and any operating system that wants access to Google Play needs to be tested by Google and given permission. Do you seriously think Google would sit by and let another operating system have access to Google Play applications?

It was not native code execution. Only iOS apps (and Windows apps obviously) do that.

What I meant was that iOS apps ported over are Windows apps that originated on iOS. Android apps wouldn't be running as Windows apps, but as Android apps running on an emulator.

It was more of simulating android environment..

... isn't that per definition emulation?

That's actually a good news. Most apps available on Android are also on iOS. Compiling iOS apps into UWA is much better approach than launching Android ones in an emulator. Not mentioning legal issues and piracy.

Yes. Ios also shares some similarity with windows c# code and so apps can be compiled easily i think, than android which is java based.

C# is much closer to Java than Objective-C

But the iOS ecosystem is extremely limited. They only look good but in practice, some of the same apps on Android seem to provide more features if the developer did not neglect Android. I was actually hoping to use some old game console emulators through the Astoria Bridge. Running emulator inside an emulator.

Enough with this dead horse. Astoria is right where it should be, 6 feet under.

Why in the hell doesn't Microsoft just make a Windows 10 mobile launcher with live tiles for Android. Instant Windows Phone everywhere!

And why do you want that? Android sucks anyway and live tiles are a speciality of wp.

I think you're referencing Android phones of like 2 years ago. A lot has changed. Microsoft has ported most of their key apps to Android and a highly popular launcher is the Windows phone style launcher. So do they really want to sell hardware or functionality and ecosystem. I think the later. Creating hardware is just a necessary evil of getting people in the Win mobile ecosystem.

Honestly I kind of do, but then thats only to cushion the blow of having to use Android because of apps. I don't think a launcher on android would convince many android users to go to WP by itself.

If you want to save wp you have to fake download store apps just click on free button then cancel the download immediately and then review them to make UWP apps same for the desktop too, to show increasing demand follow this on every device you can call all Microsoft fans

That would be horrible for Microsoft's reputation. And the performance would likely be horrible as well.

Hardly. Someone is going to do it for Android, it might as well be Microsoft.

Will it support Continuum?

It's running an 801. Doubt that could handle the workload

It couldn't. If the 800 can't the 801 can't.

Maybe it can. Read somewhere that ms is experimenting with continuum on 930 and 1520.

Mi5 uses SD820 and USB-C, so it might be a potential Continuum candidate if Mi4 proves successful.

If 810 and 808 can then 820 is absolutely supporting the Continuum.

I read that you have to have at least Adreno 418 for continuum. While Adreno 330 is more powerfull it's also older and doesnt support newest DX or OpenGL or whatever. But SD805 has Adreno 420.

If this becomes real.. Then I'm gonna buy a Xiaomi Mi4 and switch it to W10M even if it doesn't support continuum.. ... An awesome high end windows phone for relatively small price.. This can be a huge advantage for midrange Lumia buyers in developing countries where Xiaomi has a footprint..

Many people would be buying Mi4 for that exact same reason. You are in fact getting an upper mid-range W10 phone for $250. Mi4 specs: http://www.gsmarena.com/xiaomi_mi_4-6518.php

I have a Mi4, definitely going to test this. Posted via the Windows Central App for Android

Dual OS would be nice... :)

Why cant the OS be customized by manufacturers as per their choice like android? Why every windows device has to look the same ??? Is this ROM different from what we have in Lumia?

Wait,you WANT that's absolute mess if manufacturers being able to customise the OS? What's wrong with u?

I was saying like "Custom ROMS" like android.

You were not. If you were, then learn to write. You wrote "Why cant the OS be customized by manufacturers as per their choice like androi​d?", which is the POS situation you have in Android.

Okay! Ill improve my writing skills, but still I haven't got answer to 'Custom ROM'

This leads to much more problems on Android than anything else. I am very glad that this is not possible in the same way. I have so far not seen a customized android-version which I would prefer to "vanilla android". And no, not every windows-device looks the same, because especially the start screen can be customized by the user.

Manufacturers tend to be moving away from skinning android too much for precisely that reason - because it blunts performance and they often can't really come up with anything that improves on Google's efforts anyway. Motorola nowadays goes with more or less stock android where it used to use its own overlay, and the same is true of a lot of carrier-branded handsets (the Vodafone Smart series and EE's new phones, for instance).

Because the philosophy behind Windows is another than behind Android. None is really better or worse than the other per se, they're just different. This said, manufacturers can actually make some minor customizations, just not to anything related to the UI.

What do u mean "minor customizations"

Things like double-tap to wake or glance screen, that are not part of WP itself but instead customizations by Nokia/Microsoft.

Double tap to wake and glance screen are part of the OS

Yes they are, they are system settings. It's not listed in the apps list.

They are under "extras", which is exactly the section in the settings that is for this kind of OEM customization.

How can you back up your claim?

Isn't glance screen or double tap, hardware dependent or would u call it software customizations? Even if it is, has MS really not issued open source of W10M to manufacturers? And with all the restrictions still expect many OEM'S?

They're both hardware-dependent and software-/firmware-dependent. W10M is not open source but still it has some APIs for developers to tap into and offer slight modifications as the ones I mentioned.

Glance is hardware dependant.. DT not

That's true but I suppose it is firmware-dependent.

Well, every manufacturer has its own apps that are unique and available only for their devices. That's the difference between different phones.

The OS is closed source you can't alter it. If you want it to be like Android then just compare any galaxy phone with nexus then you get an idea.

That's exactly how the Windows OS was before 7 and look what happened. There were too many flavors of the OS that apps wouldn't work across them all. And people didn't even know it was a Windows device. Before the iPhone, it had over 25% market share. That was really good considering how many different choices the was then. Microsoft had it's first mobile device in 1996, Apple in 2007 and Android in 2008. Google then bought Android.

Okay basically, if this is the UI or function, this has to be windows and if this is windows, the UI or functions have to be this. Is this what you mean?

OEMs can't customize Windows Phones coz its not an Open Source software like Android. They have to be limited in what Microsoft offers. The same case is with Windows PC. You get the same features on every PC.

If it is true, soon going to buy mi4 in replacement for my 730

Would be nice to boot w10 on it and keep the play store haha. We can dream

You could keep the play store but you can't use the apps you got from it

Since it is Windows 10, you can run Blue Stacks' Android emulator and run droid apps.

Blue Stacks isn't compiled to run on ARM

Blue stacks runs on x86 architecture and arm doesn't support it.

So Surface phone potentially can support Blue Stacks?

Well bluestacks does have permissions limitations (eg. access to real world bt devices, etc) aswell from what I hear so if it'll ever work it'll need to be compiled from the ground up

Only if blue stacks become a Universal App

How many of this devices are in the market?

Definitely more than lumias

More than 10M. Not bad. I wonder how many of them will even know this possibility exists. Still is an interesting experiment though. If they are able to put this option on new devices... that would rock

More than 50m Mi4s??? You're dreaming lol. Maybe Xiaomi sells more phones than Microsoft, but there are not 50m Mi4s.

There are quite a few of these Mi4s mate...its a huge hit in countries like India and China...sells pretty cheap and gets a hefty discount whenever there is a sale...i would easily bet that its at least between around 10-15 million not including its Indian variant...they are the 3rd largest phone seller in the world after all...

Say hello to hacking and viruses

You don't know anything about programing do you?

Don't think anybody will be interested in switching to Windows using an android phone!!!!
If it supports continuum than it will be good... Posted via moto x play

Some will who are bored with crappy os, no updates and lags and want something new to try.. ;)

It depends heavily on which Android phones you're talking about. Nexus, HTC, Motorola, One Plus, Sony are all excellent. My LG V10 here is still under testing but it has been pretty good to me thus far. Many others such as Samsung are terrible though. Posted via the Windows Central App for Android

They will if they love windows ,cause Android phones are of midrange price with high-end specs there we have different choice and any phone with 10000(Rupees) have at least 2Gb ram with 8- 13 MP camera if we use custom ROM we get better experience in less cost (sorry I'm a little money minded guy)

I've been using Android since the Samsung Galaxy(1) and also windows since the 920 and now preorder the950XL. Much more cleaner UI

Prolly won't make it to the states...

Maybe thru ms store possibly if a deal can be stuck to sell them pre customized with mw10 preloaded

when is w10 mobile officially releasing to lumias for non insiders?? Xaiomi gets it first??? This is not cool

It's obviously not 'official' on the Xiaomi either. Not like carriers will be pushing out a rom to flash to windows! It's an enthusiast thing. In a way it's for insiders using the Xiaomi

ROM = manufacturer drivers

ROM file is a Read-Only Memory file, which is installed to the devices' firmware

December. The new OS had always come out on the new devices before the older ones, iOS and Android do the same thing

Waiting for a oneplus rom

I second this! Won't mind an Xperia ROM also ;)

Need Moto X Style ROM here.....

I would buy a Xiaomi Mi 4 just to test this out. It's a GSM phone, so no worries running it on AT&T.

But is it pcs hspa compatible?(something you may need later on att)

Yep it is. Supports almost all 2G and 3G bands. 4G bands as well but not as many as OnePlus.

Wonder if the rom will support the dual variant

They should make a galaxy variant as well since the galaxy devices are popular among android users.

Possible as long as it has a Qualcomm snapdragon soc & the boatloader is unlocked

Ativ SE....loool Samsung wouldn't support that phone. Why would they invest in a Windows Rom for their already popular Galaxy series? Posted via the Windows Central App for Android

Well they've seem to have lost their innovation on Android & tizen bada are to little to late

I don't have anything to say....but Xiaomi is going to release a smartwatch and I want that to be compatible with Windows 10 that's all.....

Now you are asking for too much.. :p

Have A Mi Pad . want to flash Windows Rom replacing the buggy Android Posted via the Windows Central App for Android

Well sadly its running tegra so you have to find a linux arm rom thats compatible

Will it have Play Store or Windowsphone Store...? ROM means just kind of launcher right..?

You need to educate yourself on ROM ... ROM is not a launcher... Ask cortana for more info ;)

Cyanogen is custom rom on android platform and it works very well. Android lovers love that rom very much then any android oems skin. That's y one plus one shows good demand from their fans.

I wqould definitely consider this as a replacement for my Lumia 830 if it's actually supported going forward. The only thing that I care about that's likely to be worse is the camera.

If to buy a 950 or mi4? XD

Does anyone know which, or where to find, exactly which version this ROM is for? I did a search on eBay and there were a few different models using different processors, etc.? I would like to buy one of these phones to try this out.

I'm an owner of a Xiaomi Mi4. Though it say that it can run LTE, the fastest data speed I've reached is H+. Apparently, it is global LTE compatible only. My carrier is AT&T. Other than that, it is a solid phone with a solid camera worthy of Windows Phone reputation. Posted via the Windows Central App for Android

At least it'll be ready when att turns out the lights for gsm(edge)

Does this mean whoever has Xiaomi Mi4 can flash it with Windows when the ROM is out?

Hopefully they will release it to other mi phones. That's one of the reason I have bought a Mi phone so that I can flash a windows rom in future. Actually I wanted to buy a windows 10 phone around 25k which supports continum. But that hypothetical "850" doesn't exist so I just bought a budget Android to just go on about an year and so and when Continum phones will be cheaper I will switch to Windows.

Lol would be nice to pickup the dual sim variant

The 4G bands of mi4 are the wrong ones for my country so I'm not interested.

No one has said Android Astoria is really dead. But it doesn't matter because islandwood is progressing fine. IOS apps would be more than enough to food the store with ported apps. There are few droid apps that were not already in the iOS app store. Also 16million win32 apps may eventually make their way onto windows 10 mobile.

Why Astoria when you can Islandwood? Do you see my point? Why waste money and time to develop two program that would tackle one problem? Money and effort used to develop Astoria could be used to focus develop Islandwood..

Android Apps are flooded with malwares anyway..

There are mi4, mi4i, and mi4c. Only mi4i is been sold outside of china. If the rom is not for mi4i, it is no use for me.

Mi4 and Mi4i are being sold outside china. Only Mi4c is exclusive to china.

will those harrdware buttons stay the way they are? with the back button on the right and no search key? This worries me... they really should be standardized.

Great! better hardware for 250$ with windows 10 ? I will postpone my 640xl purchase and continue to sail on my 920

Would be great to do this to the Zenfone 2.

Dear all. Can this ROM be flashed on Xiaomi Redmi Note 4G (Qualcomm Snapdragon 400 MSM8928, Quad-core 1.6GHz processor, Adreno 305)??? Am keen to know. Any information would be of great help. Thanks. deep