Windows 10 Mobile's Touch menu settings now have the new user interface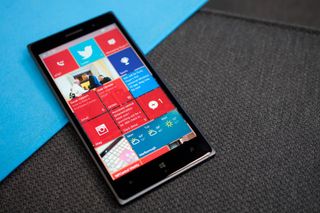 Windows 10 Mobile users will see a new update for the OS that has a small but interesting change. The Touch menu settings for the OS have now been revamped so that they look like the new user interface for the OS, rather than the old UI used in Windows Phone 8.1
You can see the changes in the screenshot above, which shows both the old and new looks. Oddly, this change seems to be just for Windows 10 Mobile, and not for Windows Phone 8.1. Again, this shows Microsoft is still changing things around in the OS before its official public over-the-air public launch, which is scheduled for December.
Thanks to everyone who tipped us!
Windows Central Newsletter
Get the best of Windows Central in your inbox, every day!
Somebody help my phone is trapped in boot loop and ! is not coming by pressing volume down
What to do ?

Happened to me as well while updating my 1020... had to flash 8.1 back on using the device manager tool then update to build X.11. Which did the trick.

reinstal 8.1 through app if you cant get it to reset.

You can read more about that known bug here : https://blogs.windows.com/windowsexperience/2015/11/18/announcing-windows-10-mobile-insider-preview-build-10586 I used the hardware key combination it wiped all my data and my phone boots successfully.

Use windows phone recorvery tol to reinstal windows os

I second that. I can't wait it to be finished and released officially. I still don't consider 10586 as finished.

Windows 10 will never been finished. Just continual improvement. But 10586 is a good starting point for most users.

Good excuse to always release half baked features

they are just being honest and Insiders appreciate that, i see YOU dont, all OSes get bugs get updates, its just that they dont announce that there is a BUG, like galaxy s6 had memory management issue witch samsung never said was issue but still sent updates to improve, there were bugs in IOS 9 when relesed, no one created fuss on that,. after all the updates my Lumia 1520 seems to have the best OS, i dont care if i dont have snapchat :P

That isn't true for mobile. They can't NOT have a complete OS for mobile. Reason is simple - they don't have the lavish luxury to push updates and patches on mobile. So if they push out builds with real bugs, they will have to push out phone updates for the whole OS, not a patch. This may be easy for small issues, but not if something as serious as battery drain or memory management - they way Cortana went wild a couple of builds back.

Its just that MS have to work on their timeliness and developer ecosystem. Once apps keeps coming, windows 10 is awesome. People don't care about work around. They care whether official apps are there or not. Let alone explaining them. They aren't loyal hardcore fans of WP to listen. They are just consumers.

Agreed. Official apps eliminate the need of workarounds though.

Sadly, existing official apps are either not updated or receive updates once in a decade. Doesn't matter if u hold best hardware or whatever. What matters is the apps and the appcomparison confirmed this. Project Astoria or islandwood is far from being reality. They may talk about Cortana helping people to find water in mars while google works on the basic things of letting users about the price of water can near by store. Ain't complaining. I m a Lumia fan, not MS fan though. Miss you Nokia, only you can save Wp

yeh apps is a issue for some people but it scertainly isnt for others, theres 100 million windows phones users that would rather use windows with its slight lack in apps(gbig in terms of games) than use android or iphone that itself speaks volumes.

This isn't the right Thread yo. And stop commenting on my post.

I've gotten used to it and I agree. But from a mobile UI standpoint, the larger fonts and controls in WP8.1 were easier to use. Clearly that didn't matter to consumers, though. :/

'Gotten used to it!' Yes, this is what lets every WP user in high spirit including me to keep using windows phone. I accept this.

I like what they did to people app, kept the pivoting and text but just made the text smaller and stuff, that loooks better than say groove without pivoting.

Remember when every commentor on Windows Central were complaining that the Windows 10 Mobile design was ugly and Windows Phone 8's design was miles better? That Microsoft had no idea what they were doing? This just shows those people didn't understand the meaning of beta software and thought it had to look good on alpha builds.

It wasn't because of the development status, it was clear that it was a beta. The commenters, including myself, where complaining about the UX changes. I still believe 8.1 gestures must be brought back but I can see the benefits: More free space on the desktop version, bt mouse and kb support and I'm happy that they put edge navigation bar at the bottom

Sorry but it still looks like ass. Just more consistent across the OS but still garbage.

Android icons and iOS toggles. Way better than 8.1... not

While that may be true, I hate that they moved the toggles towards the left side of the screen. For a right-handed person like myself, this seemingly unnecessary change baffles me.

I'm still fond of the square toggles, but does look nice in w10

Little more uniformly streamlined.....

Is it ok on daily driver.. Lumia 720

It is unless you are ready to sacrifice data loss that may occur on installation. Random crash of apps plus battery stabilization that may take upto 24hours and some to many lags.

Experienced no such thing on my 640. Battery life actually improved significantly since installing the RTM build. Didn't even need to reset my phone this time for W10 to work properly with my setting in tact.

Bro, is Cortana responding you(voice) if you ask like weather? Also how's your word flow works since it's not the same on 8.1 like sometimes I can't swipe it thru store app and also i can't type fast thru numbers unlike before. Appreciate if you can share what's yours. Thnx

Cortana is pretty good. It's pretty good at recognizing context in your questions and adjusting search results and/or responses accordingly. For example, I tried to ask where the nearest best buy was but accidentally said "Best Buys." I still got results for Best Buy, even though there were a few results for other stores sprinkled in. As for word flow, it's still kinda spotty, slow, and sometimes downright annoying. Voice assisted typing also needs work, as you have to speak slow and clearly enunciate your words at times for it to accurately type what you're saying. Word flow doesn't work in Windows store. Overall, it's alright, but there is much room for improvement.

I'm using it in L735 without any issues, guess I would say yes.

If you upgrade now, you probably have to flash ur device when the official release happens

Mine freezing up time to time.

I would say a no .!! I used it for a while on my720 as daily driver it is slow in app launch and my screen used to freeze had to hard reset many a times so better wait for a little while more .!! If u eager to try then go for it.! Just have some patience on app launch .!!! :)

I also wouldn't recommend it. On my 720 I get the freezing/hard reset issue which I have narrowed down to when you are looking through your mail in outlook, and try to swap back to the start screen using the back button. Happens about 50% of the time. Also everything is MUCH slower to load, the camera takes a good chunk of time to load if it ever does, and near impossible to take photos. A lot of patience is needed.

You filed feedback, yeah? :D

Same in my case also. I have installed the latest build in my Lumia 720. App opening is too slow and sometimes screen freezes , need to do soft reset to work again. It's not fit for 512mb ram devices yet. Wait for the OS optimization..

Really stable and faster than wp8.1 in some cases.

Ram would be the issue on 720 for windows10 mobile. I guess it might still have loading and resuming issues.

I put it onto my 1520 daily driver on Friday. It's been great so far with only one lock up.

in my Lumia 520, so sad in my case, when running some apps it takes time to load like in the previous Build if we compare in 8.1. I observe also some loading issue when you going to Setting's and delay by tapping. I hope MS, if they will release the final build, they will give us an option to stay in 8.1. Features and performance in Windows 10 mobile is good specially in higher ram. But in my 520, it's a meh.

I would say the same thing. Lumia 520 with 512MB RAM is not really going to be the best fit with Windows 10. One never knows how much debugging/reporting is inside a beta Windows Mobile build and what overheads that places before a release version. Windows 10 still works on a Lumia 520, but you'd need a bit of patience. Something most of the "Me now" generation don't have... and some of us older guys too.

I hope they add equalizer to all phones with the audio update.

Be nice to use in BT mode and not have to plug in headphones to adjust settings and also be able to listen to the oem radio without headphones.

I don't have the complete list in my mind, but I don't think any phone allows you to listen to FM radio without connecting wired headphones. The headphones act as the lead / antenna

Old Nokias, and some other mobile dumbphones, you know..

Only absolute low end dumb phones as far as I know. No Nokia smartphone could play radio without headphones. And low end dumb phones could because they had minimal other antennae

You forgot Nokia expressradio. It worked.... Radio without antenna. And yes! It wasn't a smartphone.

I have Nokia X2 which has an inbuilt antenna.

The equalization in Bluetooth PROBABALY won't happen because of the way it is handled. The equalization is applied to the signal coming from the headphone jack, not to the raw audio in the mixer. Basically it is part of the output device driver and not the audio stack (that's why it doesn't affect the sound from the phone's speaker either). Using the radio without headphones absolutely won't happen, it can't. It depends on the headphone cable to act as an antenna. No antenna, no radio.

Well, my old samsung champ can play fm radio without the earphones...

Yeah I remember the headphones act as an antenna but was wonder if they could find a way around that. I mostly use bt headphones and speakers is why, maybe in the future I guess.

No, It's just can't work that way. You need an antenna to recive radio signals. Either as headphones or as a build in antenna. The only way listening to radio without a antenna would be if you are listening to internet radio.

You can listen to the radio without headphones by plugging in an aux cable or small earbuds to act as the antenna and then turn on the speaker by pressing the ellipsis menu and choosing "switch to speaker".

Headphones are required for the Radio app because the phone uses the headphones as the antenna.

Windows Phone 8.1 looks so much better

Every "refreshing design" becomes boring at a point.

Nope. W10M look much more mature and more polished then WP8.1.

True on most part but its not as user friendly, esp if you, like I do, uses the 8.1 interface with one handed (thumb)
W10M gives more options, so I'm cool with it... let it roll on...

Nice. There is also a part in updating, or booting the phone for the first time, when it asks if uou want to join Lumia improvement program or something similar , it's also od 8.1 style. Probably they'll fix it in newer build which encourages me that 10586 won't be released as OTA official, but they've done it with 950....

I like how Windows 10 Mobile is shaping up to be a really good upgrade. Anyway, I was wondering. Is build 10586.11 good for use as a daily driver?

Yes. If it's good on my 735, if you have 930/1520 it'll be much better. But I think it's faster even on 920/925...

On 1520 performance it's out of this world but so is the battery drain.

go to settings>privacy>background apps go through the list and turn some of the apps off, things like photos or people app don't need to be running in background. Also its now easy to uninstall system apps like Rate us, Devices Hub, Nokia Account etc. I uninstalled a lot of them and just left the essential ones like access point, touch, glance screen, network, and display.

Yeah, it's okay on my 920... But there are a lot of "loading", "resuming", and delay in launching apps.

It's working great on my 950, but that's not the best indicator for older devices.

Can you activate "double tap to wake" on the L950?

Yes the double tap feature is available and is working for me. Lumia 720 here.

Been researching that...read that double tap to wake is not on the 950 yet but supposedly coming. Didn't realize how much I use it till I didn't have it.

I don't think so. It's not on default, but I honestly haven't dug through the settings to see if it's an option. I used it a lot with my 925.

If you're willing to risk data corruption during the upgrade then yes Posted via the Windows Central App for Android

I had all my data already backed up on an SD card. So before actually upgrading my Lumia 730 to Windows 10 mobile build 10586.11, I removed the SD card, downloaded Windows Insider, selected Insider Fast and then upgraded. After upgrading, I reset the device and started fresh.

I'm using it on my 640XL and I've had very few issues. One or two minor bugs but nothing that stops me doing anything. It runs very well and the OS is smooth and fast. I'm very happy with it.

So Andy, are you saying that you have updated all your apps to date including the touch setting?

It works great on my 1520, but surprisingly not so well on my 950! I get random reboots and weird pixel discoloration in the corners. But it's buttery smooth on my 1520.

How is the battery on 1520?

I'm using it on 735 and it's great! I had earlyer builds, but every time had to reflash 8.1 due unstability. Latest build is great!

I get resuming and loading screen's from time to time on my Lumia 630. But that probably just because of the 512MB RAM.

Is the official launch really on December? Hopefully!

It is. Else I m giving up my 640Xl and joining android.

Uhm.. What ?
Why ? Posted via the Windows Central App for Android

Well, MS just made sure that I return back to android and confirmed android users to stick to android with their Appcomparison initiative and innovative app.

Because, obviously, Androids run Windows 10?

Yeah... error 0x803F8006 when I try to update...

Same uggggh, no idea what's wrong

This is now the third app I can't update.

I can help you troubleshoot that issue step-by-step, sir. First, is the phone turned on?

Lumia 640 like 10+ apps give the same 0x803F8006 error. I tried going to storage and changing where the apps are installed to back to system and then pressed apply. Then pressed X on all the windows store apps that where not working and then pressed check for updates and still the same error.

Pretty sure the guys just messing with you, That code is a server side issue and nothing you do will fix it. Just wait and they will start downloading once the issues are fixed.

that's an issue on the Stores server side, it happened to my 925 the day I updated it to the latest build and did a reset. None of the Nokia System apps wanted to download. about 2 days later they just updated by themselves lol

Check if this app is on your SD card. If so, move it to the phone and retry. If the error persists, try to log out from the store and insert your credentials again.

I did a hard reset due to loop error, that upgrade issue from 581 to 586. I guess we have to wait that server errors to get fixed.

I was not able to update it, just like the other 10 Microsoft apps that show errors while updating

Mine updated on the 950, but my touch menu doesn't have the additional toggles just the turn on or off the key vibration.

But does the 950 now have double tap to wake after this update?

I have 6 apps in the queue that need updating , but have the error message: MixRadio, Extras & info, Network services, touch and 2 "phantom apps" without an icon.

I have 10 :(
3 don't even show a name or any detail. Canceling is not possible because the store crashes immediately

Uninstall Sysapp Pusher if you have it. It's calling up old 8.1 settings. Downloaded the new Touch setting and it has a funny blue square in the bottom right hand corner.

10586 is not an official build....

That's the build that came on my very official Lumia 950...

Your 950 is using an old, outdated build. Check the about page on settings. Your 950 has Build 10586.0. Insiders arunning the more polished build 10586.11. The latest builds fixes many bugs experienced by 950 users.

so if i put a 950 on windows insiders it will have the double tap?

Actually it is. It is shipping on the 950

950 is running an older, more buggier build than the Insider preview builds. Many of the bugs in 950 are fixed in the latest build insiders are running.

WP8.1 has much better design, Big titles, easy to use, RIP and icons in settings are not stolen from android

No !! That's why it didn't worked for all.! To make the platform popular .!! Change is permanent in nature and the change ain't that bad :)

Unfortunately a good UI doesn't translate to sales and MS decided to dump what was unique about WP for the dumb idea that looking more like iOS and Android will fix their problems. Dumbasses.

No call+sms filter on my 735 so I can't unblock automated SMS from unknown numbers like Facebook authentication or block numbers.

They will keep bullying you

Why "oddly"? Isn't it to be expected that they wouldn't deliver this update to devices with the old UI?

Yep, was thinking the same thing...

That was the first thing that jumped in my eyes. Why is it oddly that this is for the W10M only. Why should the W8.1 OS has an W10M Interface???

Was thinking exactly the same...How would WP8.1 receive a Win10 interface thingy... Now THAT would be odd... ;)

0x803F8006 error and can't install, neither this update nor Extras&Info. Lumia 1020, latest W10M Insider Fast Preview.

It still sucks! Just look at it. Even a non designer can say it doesn't look good. Why are they androidifying their OS? these settings on and off switch is taken from iOS. See the send icon in msgs app. The UI is really not ready. News app icon was soo clean and crisp in 8.1 now they have just made it curved for no reason. Why cant they keep the old design elements?
The design langauage of 8.1 and 8 was the only thing in windows that was well appreciated. I understand in order to make universal apps they had to change it but they could have keep the iconography better atleast and cleaner!

I disagree with everything you wrote. So there's that.

Some people just hate change.

Lets agree to disagree sugamanand .!! If that would have worked platform would have been a popular one.! But it ain't so accept the new :)

Your check from MS is in the mail.

Long live WP and Metro, a truly innovative, original OS (compared to the android/ios copy&paste job of W10M).

Yeah, W10M is out for severals years and They've just released Android and iOS and copied W10!

You are the most dumb man on the earth. CONGRATULATIONS

Yep because the Ui you liked was really popular and it caught on and people had zero learning curves when switching to WP and people and devs really liked the innovative Ui... /s
Truth is it didn't gain traction, no matter how innovative it was, people hated it, people found it hard to switch, it didn't gain attraction from devs, apps are scarce, and you can't say they gave up on the design early coz they tried it with wp7, then wp8, then 8.1 for like 5 years and hardly anyone has caught on. So I think it's time for a design philosophy change which is more inline with android and iOS so people find it easier to switch and so that it is easier for devs to port apps, and so that people don't have to relearn Ui basics. The average consumer is just that: An average consumer. They don't care if it's innovative or intuitive. They care about what they're used to and what is intuitive to them. They don't like change. Now why would you expect MS to keep the old Ui for the sake of metro fans which make up 3% market share? MS wants people to switch. It wants to increase that 3%. Not maintain it.

Dan said in his 950 AMA that 950 doesn't support double tap to wake up. The option is clearly available in Windows 10 so is this a hardware limitation. Is it because of OLED? Because my 730 with OLED too doesn't play nice with double tap to wake up. Or I misunderstood AMA. This is sad though. I prefer double tap to wake over the power/lock key.

Dude, even I use a Lumia 730 and it does act wonky when I double tap it sometimes. Sometimes that function doesn't work at all.

Not so much a hardware limitation (although it could be) but rather issue with drivers/APIs and getting it to work. my guess is since this is the first QHD AMOLED display, they have a few things to work on and optimize. It's not clear that double-tap won't ever come to the 950, just rather it is coming.

I hope they get this to work as this will be a very big deal breaker for me when it comes to buying a 950 XL later this year or early 2016. A few things I refuse to give up - Glance, Double Tap to Wake, and built in wireless charging!

Glance and built in wireless charging are great, but I find that the "Double Tap to Wake" feature is more of a battery draining annoyance than anything.

I thought the double tap to wake would be a deal breaker for me too, but the power button on the side makes it okay (was using the M8). I wouldn't mind having it and hope they bring it back, but the 950 is okay with out it, for me

Do you think Glance "Peek" will also come back? Glance seems way less useful without it.

Was "peek" the option when you pull it out of you pocket the glance screen turns on? Because the 950 does this by default on mine, with out having anything in the options.

Yes, that's the one. It was reported that it was removed as an option in Glance settings. I don't have a 950 to see for myself how it works now.

One of the settings apps that can't be updated on the Icon, yet.

Using 10586 on my 930. Only one problem so far, I am having a bit problem while typing...

Hmm, at least its consistent. I still feel the new OS is less pleasant to use, but I'm afraid that train passed a long time ago. To me it feels like android more than windows phone.

That's a good thing. As much as I use a Windows Phone (been using it as my only phone for years), I always HATED the Windows Phone UI. It's black and white and a little accent color here an there. The UI looks like it's from the 80's because it only shows 3 colors! Like literally, most default UI on Windows Phone is black with white text, like the terminel of the 80s. W10M is much better.

So W10 made you come out of the Android closet?

Dr Sp, look at the pics again. It's right there.

They should make the UI consistent and update every thing they want to keep and by the way anyone has the glance screen app i don't have it on my lumia 920

They will and it will take time

What happened to the "Touch sensitivity" option? It is gone in the new settings...

It's there they just changed the wording
It now says "use screen with most gloves" Posted via the Windows Central App for Android

They changed it to 'use the touch screen with most type of gloves'

It's not. It is "renamed" in "Use touch with most types of gloves" means high sensitive

It's there ..
It's been Replaced by
" Use the touch screen with most type of Gloves"

It's gone on mine too. But now I see a new option that enables using my phone with most types of gloves. Driving gloves: Check
Skiing gloves: Check
Cycling gloves: Check
Latex-free examination gloves (pre-exam): Check.
Boxing gloves: I had a hard time even holding the phone... Hey, Cortana...
Oven mitts: Fail. Not gloves.

Looks really nice! However, i feel like the straight-edge/boxy look of the old UI was very unique to windows phone. This new one seems like android

No. it looks like on Windows 10

It's funny because every time I show off W10M to the average non tech person the first comment they make is "That's Windows? It looks so 'Androidy'."

Lol, some of them really do expect icons and a task bar don't they? Lol

Where is the touch sensitivity ??

Read what's on the screen and you'll figure it out Posted via the Windows Central App for Android

It's there ..
It's been Replaced by
" Use the touch screen with most type of Gloves "

Hey everyone ! How's ur battery backup on window 10 mobile?

What about using the forums?

http://www.reddit.com/comments/3rbkqf/_/cwmtbpt?context=3

No mention of the sweet new blue square it adds in the bottom right corner of the screen? It's pretty awesome.

Haha, I thought that was just my 950 messing up again!

It is definitely the best part of this update.

I noticed that too on my 925. This alone was worth the update. My kids now behave. I'm completely out of debt. And now I can go all night, if you know what I mean. The functionality the update brings is nothing sort of awesome! (Individual results may vary. Consult your physician before installing, to see if the update is right for you.)

Haha agreed! It should change colour with the accent colour. Maybe in the next update...

On my Lumia 950 the update didn't change anything...odd.

None either, except an odd looking square in the bottom right corner. I don't think it's right.

Oh, good you have blue square too...I was worried my 950 was having an issue!

I pressed it a few times... nothing happened. I thought it was a Easter egg or something!!! Haha

So when is the OTA carrier approved RTM W10 Mobile update coming? Installed the recent build on my spare 920 and starting to like it but Glance needs an update to catch up with 8.1 features, and Settings keeps crashing ever time I try to change my Quick Actions in notifications+actions.

Another update stuck in my store list :( It started with Motion Data, then Here Maps, then Extras & info and now Touch!!!! (plus the Photos Plug-In that's always showing up as Update Available no matter how many times I download it...) what's wrong with these updates?? anyone know how to fix that?

I read somewhere that it needs to be sorted out on a per phone basis I was having issues with motion data but it has now cleared. This one installed without issue. Using a 1520.3. I expect they are server side errors.

I have the exact same ones error'ing on my 640.

My lumia 535 had glance screen?

Yep. Another download error. I know Gabe tweeted they are going to fix this. I hope soon (Lumia Icon on 10586).

No download error on 930. Just a continuos update needed for Microsoft Photos plug-in everytime I tap Check for Updates. I know I know it's a different phone but hey

Excellent, I was never happy for all the settings, apps and everywhere huuuuuge titles (sometimes even 1/3 for the screen). Finally this is over now. Hopefully all the apps that have this problem, update also the gui.

Yea they needed to change that huge titles

"Oddly, this change seems to be just for Windows 10 Mobile, and not for Windows Phone 8.1. " Oddly? I mean, do you want a WM10-ish interface over WP8.1 settings? Didn't follow you here, really.

And has it added Super Sensitive Touch or double-tap to wake to the 950 phones?

unable to update..error code 0x803F8006...any help please

Yes that is what I wanted for settings. A consistent ui

I don't know what is going on with my 950. Touch upgraded but only gives me the option for vibrate on navigation keys with a blue square in the bottom right and is nothing like what is listed above. Also Advanced Info is hung up with in install error.

Exaxt same issues on my Lumia 950... they will update and fix....

So this must solve the Lumia 950 reviews bragging about not double tap to wake up feature!!

Hey,anyone using latest build on Lumia 730??,, what about GPS problem in 730 with 8.1, is it solved??

Gps problem? What problem are u facing? Can u elaborate please.

My phone is not showing correct location and I am unable to use any GPS app...almost all Lumia 730 handsets r having these issues,u can find on internet. Tried each and every so called solution provided by each n everyone,but none worked

My L730 is connecting to any pc..says USB device not recognised..so can't even go back to 8.1..I don't know what to do now..

Audio, motion data, display etc. Also need this modern ui

From the last two builds, while connecting to my pc, it says USB device not recognised. And I am pretty sure both my USB cable and USB port are ok..I don't know what to do..Any help???

Try connecting to PC, go to device manager -> and then right click on the unrecognised device and update driver from online. Or install Windows Device recovery tool which should install the drivers as well.

I can update anything under extras on my Nokia Lumia Icon ruining the newest build of Windows 10 mobile. So when people say this is RTM I'M THINKING NO.

Did you get it through Insider? So you can't consider a final one to YOUR phone. Maybe it's a final build for 950. But existing phone could work better with firmware updates, Win10M wasn't released to our phones just yet.

Anyone else get the little blue square in the bottom right on this new touch menu screen?

Store error! :( cant download most of lumia apps

Now if they only provided for (optional) slightly rounded tiles, iFruit style. And also for the right swipe from the homescreen.

UH.. None of these QR codes or web links seem to work.... Like they are for WP 8.1. Not 10. As well cannot find this in the store whatsoever. So... why bother?

Your not gona be able to search it lol. They're hidden. Go to updates in the store and check for updates. If you don't see it then its not available for you. It will show in updates if you don't have it already. Plain and simple.

Store, hamburger menu, Downloads and updates, Check for updates

Store updates does not work for me,always error...

Except that is one of several apps that error upon any attempt to update on both the 635 and 640. Windows 10 Fail again.

Happens to be real with 535 as well.

Dies this finally give the Icon the ability to double tap to wake, like its counterpart, the 930?

Hopefully the final 'official' build will come before Christmas... Posted via the Windows Central App for Android

'em round toggles, though...

Update did nothing but add a blue square in the bottom right corner of my screen. Always some half baked shit. If you're a Software company first Microsoft then be good at it.

This is not letting me install even after prompt that it'll be installed on device not SD. (Lumia 1520- windows 10)

The double touch don't active in my lumia 1520

You have to restart after installing this

Not updating and showing error in my 640. Hurry up and release the kraken aka 950xl

I preferred the "all square" UI... Less calculations for the gpu too ;)

Don't see the update. All other system updates just end in error...

I would download it if I could. It is one of the 11 apps giving me the dreaded 0x803F8006 error.

Error, can not download! All apps are doing this again. Thought this was sorted

Anyone noticed a blue dot at the bottom of the menu though

Lumia 640 with latest insider build. Unfortunately, I am getting the same error messages. I realize this is a preview, but Microsoft should at least acknowledge to the insiders that this update problem exists, and give us an idea what they ate going to address it. It send like more and more apps are taking to update as time goes on. If this is going to go live soon, this problem needs to be remedied.

I have 4 apps now that give me error code when I try to update: touch, Here maps, motion, extras. And there is constant loop with Microsoft photos plug in. I do that update every single day and than it's just appear again. Don't now whay and what it's mean.

Check if the apps are on SD card. If so move them to Device and then update via store. Should update smoothly. This did the trick for me.

Thanks, men, but no. Strange thing. I don't store apps on sd card, but it still shows me 670 mb of apps and games on sd card. When I try to see what they are, it's shows nothing. Confusing.

That's because when you save apps to the SD and reset or add to another windows phone they disappear. They're purposely not recognized by the device so you can't use them. Only fix is through a PC and deleting them. Or formatting the SD through the phone. Even 8.1 does this.

Unfortunately PC doesn't help. They are invisible. So I decided to format sd card, just to be sure. Thanks again.

Lumia 640 with latest insider build. Unfortunately, I am getting the same error messages. I realize this is a preview, but Microsoft should at least acknowledge to the insiders that this update problem exists, and give us an idea what they ate doing to address it. It seems like more and more apps are failing to update as time goes on. If this is going to go live soon, this problem needs to be remedied.

I honestly hadn't noticed this

Good improvements but it's still in black and white Posted via the Windows Central App for Android

Too bad most Lumia models running 10586 will fail trying to get this update like they are for half a dozen other apps. Only the 1520 and 2 or 3 other models seem to be fixed so far by MS.

Well now.... Let's just add this to the list of system apps stuck in my queue of store errors. Thanks 0x803f8006

Is this good enough to put on my daily driver yet? Don't want to brick my 1520

It's "better". My issue is the messaging app seems to be glitchy. Not many seem to mention this... Not sure why. Even after reset. Ill get a text and it will take up to 30 seconds to appear.. After I heard the ringtone for it. Sometimes I don't get texts lol.

http://m.winsupersite.com/windows-10/list-lumias-get-windows-10-mobile-f...
Hahahahahahahahahhahahahaha my superior 1520 I guess Is TOOO GREAT FOR THE INITIAL LINEUP LOLOLOL fml

1520 is older. Simple. If you'd waited a little and got yourself a 930 like me, you wouldn't be complaining... It will come, Soon, Copyright © 2015 Microsoft Corporation

It's ironic that the touch targets are so tiny in the "new and improved" Windows 10 interface. I've largely accepted the styling changes, but I routinely have trouble hitting touch targets, whether it's typing or using Microsoft Edge.

Change it under settings > ease of access > more options > text scaling

Hey guys, I'm having a slight problem. I've installed the latest build of W10 for phone but it won't update any of the system apps (Touch, network, extras and info etc etc). How can I overcome this? Any help would be much appreciated! Thanks :)

It would be great if it also worked, when I change the "Vibrate when I tap... " option it asks to restart and hangs...

Anyone else getting error 0x803f8006

And after the update there is a nice little blue dot in the bottom right corner of the touch app. Anyone else seeing this?

Concentrating on trivial changes rather than the real changes that users real want like those un editable contact labels, call duration and many more

Add another program that I am unable to download. Bringing the total to 19, since the crap stain AKA 10586 was released.

For the first time since getting my 950 Friday, I had to soft reboot it. The wifi could not connect when I walk into my house. 10 is not fully baked yet.

Anyone getting am error when updating touch and Extras and info? Pls help, not installing - says error 803F8006

I don,t tuch sensivity!L535.

and i also found out my motion data finally got updated since yeterday, even though just got my band 2, but 'll keep that for fitbit.

Great, now they just need to update the other 9 apps with the new UI.

It's crazy how much more polished and modern the Windows 10 style is looking now. As much as I loved the original Metro style, it certainly is showing it's age five years later. There's still some issues overall with the W10 style, but they're fixing them fairly rapidly (I know we moan, but this stuff looks a lot different to how it did a few months ago) and hopefully will keep refining it at the same pace.

They should add a feature where the touch navigation keys time out when the lights are not used just like on phones Android.

is gestures back, you know where i can place the phone down on a table and speakerphone comes on?

Now it looks waaay better. =) OT, I always get Microsoft Photos plug-in update when I click Check for Update in the Store. Every single time. It downloads successfully though. Any fix on this?

Whole article for this ...wow... Posted via the Windows Central App for Android

Im unable to download this update.please help me out friends

error 0x803F8006? Add your support here http://answers.microsoft.com/en-us/insider/forum/insider_apps-insider_ot...

I hope Microsoft has resolved common issues of lumia 930 such as microphone not working issue & heating issue in the latest build.

My problem is that some system apps are not getting updated in the store. I always keep getting errors.

Can't update, Showing error see details.

The latest build is perfecton my lumia 532. And it looks good also..

They are only restyling 8.1 settings still available in W10, there's still quite a few. Eventually all big looking settings in Extras will get W10 look. No need to change anything in 8.1.

I can't download it..giving error. while clicking on details it starts downloading it again

Me too any solution guy..also my network services and rate us app giving me error

I can't download its giving me error

"Oddly, this change seems to be just for Windows 10 Mobile, and not for Windows Phone 8.1". Why is it odd that they would update the UI to look like the rest of W10M in W10M and leave it looking like the rest of WP8.1 in WP8.1? The new UI would look out of place in WP8.1.

Guys, after this update, I have a small blue square at the bottom right of screen (only in the touch settings screen). What is that?

Anyone notice a little "blue square" in the bottom right of your screen on a Lumia 950 when in the touch settings area? It's almost like Microsoft messed up the double tab to wake feature, or they are testing it. If you double tap that blue square it locks your phone....odd

After reseting my Lumia 540, I can't find "TOUCH" in setting. I can also try to download it from store but it show me that- "touch is currently not available". What can I do for this?