Windows 10 is now on more than 14 million devices just 24 hours after launch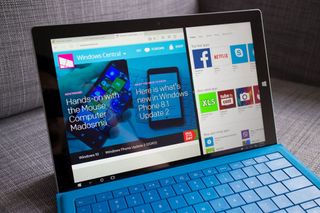 Microsoft took to a blog post this evening to talk a little bit about the first 24 hours of the Windows 10 rollout, noting that the OS is now on 14 million machines, and reiterating some support channels through which users can ask questions about their upgrade if you run into issues. From Microsoft:
That's quite the impressive number for just the first 24 hours, and it will be interesting to see how widespread adoption becomes in the coming weeks.
Microsoft also took the opportunity to highlight the positive reaction that Windows 10 has enjoyed from reviewers so far, and showed off some of the company's favorite pictures from launch events that took place around the world. If you'd like to reminisce over the past 24 hours and look into the support channels that Microsoft has set up for the launch, you can read the full blog post at the source link below.
More: Read our Windows 10 Review
Source: Microsoft
Windows Central Newsletter
Get the best of Windows Central in in your inbox, every day!
Dan Thorp-Lancaster is the former Editor-in-Chief of Windows Central. He began working with Windows Central, Android Central, and iMore as a news writer in 2014 and is obsessed with tech of all sorts. You can follow Dan on Twitter @DthorpL and Instagram @heyitsdtl.
Wow indeed assuming that there are many people who have upgrade problems!

I had none.. Except had to enable administrator account and manually install Graphics driver Given my system is of vista era.. It's acceptable.

I had to manually trigger the update yesterday on 5 machines, so i wonder how many people are behind now. 50 million+? :p but 14 is impressive. Posted via the Windows Central App for Android.

Seriously, I just updated my last PC tonight, and it still didn't have the notification! I had to do it via the ISO. There have to be a ton of people sitting there waiting because they don't know that they can force it.

Ah vista what scandal that was whql testers were paid off by OEMs to get hp rating instead of basic

Only dumb people would face problems

@Madan Gopal, looks like your just speaking about yourself :P.

The only issue I came across when upgrading both my Surface 3 and laptop was that iTunes didn't recognize that the device had previously been authorized to play my music. All I had to do was reauthorize my devices, which was not really that big of a deal when you consider what could have gone wrong and didn't.

I just get error code 80240020 after download, and right after it runs through preparing to install, I've tried everything to fix it. But no such luck.

Have u tried enabling administrator account?? And then trying

https://www.reddit.com/r/windows/comments/3eyrre/fix_for_the_80240020_er...
-
-
Worked for me on my stream 7.

And on my Stream 8, though graphics could be better but that isn't necessarly Microsoft's fault.

I had this error too. If you run a disk clean up and delete temporary Windows Update files (this is only an option if you select Clean Up System Files), then try to force the upgrade again it should work.

Yeah I was getting the Windows 10 failed error when using the reserved option on my Surface Pro 3. I went to the Microsoft web site and grabbed the tool to create a USB media. I attempted to install Win10 from that opening screen but it also didn't work, so I created the USB and ran setup. All good.

*Irish accent* Did you try turning it off and on again? Are you sure it is plugged in?

*note on desk*
Just fix it, I don't want to talk to you.

I am also getting the same error while installation.
U may try to install the windows through media creation tool available to MS website.may be it works
I have not tried but will do it soon

I had the same problem. I finally downloaded the install tool. It's designed to make a USB install drive. However, you can chose to just install on the current machine. This worked perfectly. Here is the link. https://www.windowscentral.com/e?link=https2F%2Fclick.linksynergy.co...

900 + Million to go according to their Target.

No prob here created the USB version alls good here upgrading my wife's desktop now, our Surface 3's are on 10 mine had 1 issue!! Keyboard didn't work both on screen and manual on desktop as well as type cover, restarted Surface and while restarting it said updating. When it came back up all is good. Next up my Toshiba tablet, I'll have to download and install? Because no USB's only USB/power port and no adaptor from micro to full size. Very happy now full win 10, but enjoyed being a Win insider giving feedback and still am.

Windows 8 was growing at about 20 million per MONTH in the beginning, I believe... so 14 million in a day seems quite impressive.

Yeah, and if it were to sustain that rate for a full month, it would be at 420 million. I doubt it would sustain it for an entire month, but there are still many reservations that will need to be handled. It will probably keep it up for a week or so at least, then drop off a bit but continue to grow.

I wonder how many out of that 24M were people who got impatient and did a force install. I know I did with the registry change

Microsoft is taking over ze world!!! Mwah ha ha ha ha!!!!

Windows 10 isn't Skynet. The learning machines and software supporting Cortana is. :) She is everywhere and soon on iPhones and Android.

Android crashes too much to be skynet.

LOL
then Skynet approaches Apple, and they began the deal!

they already took over it like 12 years ago

Waiting for the apps to flood the store

Wait for project project Astoria.. And if numbers continue to rise.. Developers won't be able to ignore our platform any longer :D

This guy deserves a truck of cookies. :)

These installs are primarily on PCs, not on mobile phones. On a handful of tablets too. Lets hope that Windows 10 removes alot of the problems with the present OS on the phones.Slowly the adoption rate will rise. The big apps aren't coming soon though.So far MS are doing things right this time.

Update yesterday to my 1020 made the phone slower. :(

Well.. Win10 aims to bring universal apps and MS is aiming to get developers by getting current user base to Windows 10.
So developers will make app .. For desktop as well as mobile.. Thnx to universal app.
Android and iOS apps are today for smaller and bigger screens. So with porting (project Astoria for android) existing apps will be built for desktop, tablets and mobile. So with growing user base.. Lets hope developers come on board like savan in India is coming next month.

@Daneshd1:
How about the LOOOOONG promised new Windows Central app? Looking at you, Jay T. Bennett.

They said it will be released in August. It's still July 31st, a little patience is not bad.

Whoa!! Never see that cumin! Haha

It's probably behind the ginger.

Now... The apps! Hoping to match those! Haha!

Windows 10 world domination!

That's over 42 petabytes worth of downloads. Holy s***

Only ~500gb/sec , still ramping up :)

Yeah, but a lot have downloaded without installing or activating, so it was higher than that.

Meanwhile I can't even get 1 gbps internet.

nor even 100Mbps internet on my region.

They must have some pretty good servers :P

They are using Teir 1 CDN networks to cache the files worldwide to reduce server and bandwidth loads.

How is Windows 10 on an i5/4gig ram/500mb laptop??

On Core 2 Duo.. Its running great so far.. So newer generation will rock! Only problem is buggy synaptic driver.. That has been plaguing my system since Windows 8.. Causes cursor freeze up.

dude I used to have this prolem but when I updated the Lenovo system interface all is good now and now I have windows 10 gestures.

Not sure but the Celeron 4GB ram laptop I upgraded runs better than it ever has.. There was an obviously quite old laptop at work and I got curious ;)

runs absolutly wonderful on my sp3 with i5 and 4gb

Surface Pro 2 i5, 4GB RAM 256GB SSD runs W10 like a champ.

I have a surface on 3rd Gen i5 4 megs of ram. It runs great!

4 megs? I don't think Windows 10 would run well on 4 megabytes of RAM lol

I've already had it on 4gb Core 2 Duo systems for work and 4 works good. Even my Venue 8 Pro works pretty ok with 2gb of ram and an atom processor. Granted it's not going o do any high rend gaming but it's at least as fast as Windows 8 and both have been fast than 7. Posted via the Windows Central App for Android

On my touchscreen Acer with exactly those specs (assuming you meant 500GB HDD), I've had no problems. Everything runs smoothly!

7 year old laptop here, came with Windows Vista. I bought Windows 8 Pro for it and now i'm enjoying 10 Pro. And damn that thing is running fast! I did a factory reset though after the update. I recommend but there are a few bugs in the OS like Edge who crashes rarely and the action center who is sometimes slow to respond. For a daily driver, go ahead! Posted via the Windows Central App for Android.

I installed it on my mom's asus t100 with atom z3745 and 2gb ram and it runs flawlessly, zero issues so far. Asus has already made the windows 10 drivers tho..

Works very good on my hp pavilion PC with Pentium D 3.0Ghz, 4 GB DDR2 Ram and 2GB NVIDIA GT 520 graphics card and 17 inch monitor :D So yours should run great.

whoa, so even the Pentium D can get the great benefit? That's great!

I even have it in a 2009 netbook with an Atom and 2GB RAM and it doesn't fly (obviously) but works reasonably well, I'd say that somewhat better than the 8.1 it had before and certainly WAY better than the 7 Starter it had originally! Basically, hardware requirements for Windows haven't changed since Vista. But the set of requirements that was monstruous in 2007 is piece of cake nowadays.

Windows 10 runs smoothly on most machines, even the ones from the XP era. It has little issues with drivers compatibility. So, with your PC config, it'll be super smooth. Enjoy.

I have it running over a month on Insider and now 10240 on an old Toshiba Satellite Core Duo, with 4GB ram and 256 HDD. I use the laptop for internet, DLg, movie and music playback. It has been fine.

Installed it right away and absolutely LOVE it!!! What a beautiful OS! Now all that remains for me to buy is the Surface Pro 4 and a high end Lumia phone!

That's the right idea! Will definitely be getting both!

Add Band 2, XB1 (want a 2nd 1) and a Elite Controller for me.

loving windows 10 got it on lumia to

Still waiting on my update.

That's still a LOOOONG way from 1 billion. Just sayin'

A million a day for three years. No problem;)

Or 10 million a day for under 4 months. ;)

Certainly don't expect that, but if MS sustains 10 million a day for a decent period, developers will certainly notice.

I've read comments about people declaring W10M DoA, but there's something seriously wrong with devs if they don't take advantage of the universal app model and use same app on phone as on PC. So yeah, let's hope devs take notice!

I was thinking the same thing, I thought it would be way more already. I'll be shocked if they even get up to 250 million in a year.

Seeing XP is on steady decline, Windows 7 is popular for its Start menu and 8 was declared a fail by many, I wouldn't bet on MS not being able to reach 250 million in a year.. free is free for an enormous group of people.

Yeah, but this number only includes downloads...
There is no PC sales, Phone, XBOX, IOT, Wearables, HL.... Although, I'm sure MS means 2 billion users from W10PC, there's still more adoption to ramp up on just the PC side... Think about it.. If MS just opened the gates a little on updates, and the market isn't yet flooded with W10 machines, then what number will they be at after a year of free downloads, retail, and enterprise customers are running W10?.. The goal is 1billion by the end of 2016... That would be a record for an OS..

Windows 10 in PC,mobile ,Xbox , tabs ,IoT will be considered for that

And, that hasn't even started yet, so the numbers are going to be record breaking...

What I really want to see is the Steam numbers for Windows 10 after August. Will be interesting.

That's huge. Given that they provided upgrades to only insiders one the first. That's like huge huge. Humungous.

And this is only the people they chose to let in. They could have let though many many more based on the bandwidth they reserved.

Can't wait to see the desktop OS stats for August... At this rate W10 will overtake Linux desktop share in the first month and Mac share before this year is out :)

Well there is now one less user of Vista.... Don't care that I am on the insiders program to get the Windows 10 upgrade from Vista but it so worth it. My 8ur old PC feels like new again and I can now check out new features before they hit my main PC. I think we will see Windows 10 numbers sky rocket when people realize how easy the update is.

Well the upgrade has been super smooth for me and I'm loving it!

The rising Era of Microsoft.

I think so.... When your FB friends are talking about W10..... Something has definitely changed, and MS is cool again...... Literally overnight.

I still don't have it!! And I tried the force trick too. On my Asus K55. Argh!!!!!

You can force via the new Microsoft tool to create a usb installer, it asks you if you want to update the underlying system too :)

But it wipes out all programs right?

No it doesnt, i updated mine by downloading the tool, selected upgrade, save it as an ISO, post download, mounted the ISO upgraded my W8.1 Pro and all is well, still have all the programs i have installed earlier.

microsoft.com/en-us/software-download/windows10

All you have to do is download the media creation tool and create a install USB. I upgraded 3 pc's with it.

Considering that it is releasing in possible slow waves, this is a decent amount of upgraded devices, well done Microsoft

I knew it, 100 million before the year is over

That's extremely conservative...

I couldn't upgrade via wu but used the download tool. Upgraded then clean install with 10

Just download the ISO and still can upgrade your pc without losing files and apps.

I was in insider program, did a clean install when they dropped the ISO to get out of insider. Now my OS wont activate on a SP3. Do I need to go 8 to 10, activate, then clean install?

i had insider program install but went back to 8.1 to get the upgrade thought windows update then did a clean install

Yes, you have to perform a upgrade (8-10) to the new licensing system reserve your license, after that you can clean install.

That's 1 million people happier than I am...

I love Windows 10 :) .It only took 7 hrs to download & install, it's more faster than it was on 7.

Your internet connection.... Thumbs down.

its terrible. It's 1.5 Mbps up/down

Waiting the mobile version now.

Will try to get my daughter's laptop on it over the weekend. My moms Pc's went tits up because of generic Intel graphic drivers, so I'll wait a bit for hers.

Do a clean install its always best, lets be honest and then any bad software will go too

Just go to device manager and update it . No need to search for the specific driver.

Device manager rarely ever works that way, it either says I have the best driver version or that it cannot find the correct driver.

Yes!! I hope that they can quickly take care of any bugs/issues and keep everyone's upgrade experience as smooth as possible! I want millions upon millions of happy and satisfied users,because we need it,and Microsoft and Windows deserve it. They've worked very hard. Kudos...

Got to keep in mind that 5 million of those were insiders and that only 9 million upgraded. Still, that's a lot for 48 hours (it released at midnight yesterday, so I have no idea why the title says 24 hours. It's been at least 42 for the entire planet and over 48 for most of them). At this rate, I expect Windows 10 to have a bigger install base than OS X by the end of next month.

It says 24 hours because that's what he was commenting on, not the first 48.

I don't get what you mean. The linked article talks about the first 24 hours after the launch, but the 14 miillion number is talking about right now (or roughly now).

Just wait one hour the count will be 14 million plus one... Lol

Oh that's why my key hasn't been activated yet -.-"

You can activate it by downloading keyfinder

Keyfinder? What does it do?

I'm happy to be included in that number. Didn't reserve my copy with the system tray icon until yesterday, and it installed this morning on my win 7 pro machine. No trouble at all.

Strange...i reserved first day available and I got nothing yet... That's frustrating...

Download the ISO tool and upgrade it, its much easier.

7 errors and counting... None of my three Win 8.1 devices are on Win 10 yet :(

And still many people around me doesn't even know Windows 10 has launched.

Alot of people don't update their computers. They see PC updates as a nuisance. Those people will never get the desktop icon to upgrade and probly won't care.

Waiting on NVIDIA to update their drivers for my geforce430, so I can upgrade to win10

Check their website. There have been windows 10 drivers available for months.

I'm impressed how it upgraded on my tablet with only about 9 gig of space available. It was slow but it made it. Win 8 required that I delete office and a lot of stuff first.

If Windows Ten wasn't free, that would be minimum 1.4 billion dollars for Microsoft!!!!

No actually just 140 mil $ , coz the upgrades used to be priced at 10$ for new laptops

Loving it so far, just waiting for them to release that Insider build to enable Cortana in Australia (currently have the region set to UK to use Cortana).

This is f***ing awesomeeeeeeee.

Well done Microsoft. Well done.

mine just says " your PC is almost ready" We will notify you.

Yeah 14 million but not on any of mine

You're not one of those lucky 14 millions :)

I am one of the lucky ones, updated my SP3 on day one. It was easy, smooth and flawless. This is a truly beautiful OS :)

Download ISO and upgrade it, its much easier

Almost nearing 15 million... 25... 50... 1 billion!!! :D That's gonna happen for sure.... Long live MS!

.015% to 100%? Lol not anytime soon

Randym7 said 0.015%, which is 0.00015.

It would be on 2 more if the upgrade worked better..

4 computers here in my house are already on Windows 10. Two more tablets will be upgraded soon.

Please someone should tell me if Windows 10 would be able to run on Mini Laptops

If the specs are 1ghz and 1 gb ram on 32 bit with a decent hd I don't see why not

Yes, works on my hp mini 110 netbook with Intel atom 2nd gen and 2 Gb ram

I've been waiting since launch day and still have nothing here.

You are better off downloading yourself. It's an easy process using an USB flash drive, that way you can download it to many other devices. Go to the Windows 10 download page and download the tool. Again, very easy process. Enjoy Windows 10.

I have the "Get Windows 10" app on my desktop,but can't actually download the software.

I used download tool from Microsoft site... https://www.windowscentral.com/e?link=https2F%2Fclick.linksynergy.co... since wu wasnt working right on all 4 pc here..

14 million successful installs, and 28 million people complaining about upgrade problems in the forums. At least it seemed like that many.

Downloaded the ISO and installed on 3 of my domain PCs no problem...

I hope that translates to 14 MILLION HANDSETS running W10M. How awesome would that be?! :D for now Windows10 OS is a slap in the face of OS X and Chrome OS! 14 million times! Lol

Because Windows 10 is awesome. install went perfect, zero issues. love it. Good job MS.

As usual Hong Kong always late

Got my windows 10 shipped badge. Massive rollout action with a Smooth upgrade to each of my devices. Now I'm just waiting for the next mobile build to hit, i have a feeling the version will be alot stable then the current. They must have been able to pack a monster of bug fixes and improvements given the length of time since the last release.

Forgive me, because I'm an MS fan, with 3 PCs and 3 WP's. But my experience on my trial PC has been a nightmare and absolutely nothing works like it should. Support has been non-existent and Edge is utterly pathetic My desktop reads "Asus" instead of "Dell." Nothing has gone right - a total unmitigated disaster.

You all are better off downloading yourselves. It's an easy process using an USB flash drive, that way you can download it to many other devices. Go to the Windows 10 download page and download the tool. Again, very easy process. Enjoy Windows 10.

14 million sounds impressive! Now the next obvious thing to do is to compare that number with previous Windows releases and competitor OS update adoptions. Apple is always bragging about it.

Works great on Dell Optiplex 755 from 2006!

So that is 1.000.000.000 - 14.000.000 = 986.000.000 devices to go before July 29th 2018 :P That's about 901.280 devices per day left :P

Sweet, New Zealand was one of the first places to get it so I installed it right away on my Surface Pro 3. Surprised at how easy, quick and smooth it went!

Can't get it to install on a hp dv6

-1 Just went back to 8.1 on SP2

I was about to give back to the shop my new s3 4gb ram as that new atom was as slow as the predecessor and then w10 came out and....now is so fast that I am.very happy to keep it. Well done Microsoft well done. You should tell to every surface user...I am so happy!

Well, thats 1.4% of the 1 billion goal. So I guess we are off to a good start.

Installed 29th on my SP3 and absolutely no issues. It is a stunningly beautiful OS and they have done an amazing job making it work for tablets, PC running with touch, pen, mouse and keyboard as well as precision keypads. Works perfectly for a daily driver. Only issue on use is the pen does not always work on selecting apps on toolbar. Yes, improvements will be made but it's fully operational and awesomely covers the many user scenarios.

Hope to see it surpass OS X within a month.

Forced it on three tonight. Loving Windows 10!!! Posted via.........deez nutz!!!!!!

I reverted my wife's tablet back to 8.1, the issue with OneDrive was a killer for us. We have to much data on OneDrive and not enough space on the tablet. And we use the files on OneDrive daily.

What issue with OneDrive?

That it wants to download all files to the tablet.

Where are those "Windows 10 is a Mess" posters? Where are you guys? You running Win10 now and smiling?

Whenever I open the store, I says server stumbled and the store crashes.
Any fix?

Finally got Windows 10 on my tablet. The start screen is crap!

Added myself to the list.......loving WindowsX on my touchscreen Dell laptop and plan to upgrade all 8 desktops in my office within the next month......well done MS.

Does the update require WiFi or it can also use Data connection?,and the size.

Yesterday I was discussing my first native Android app with two seasoned developers. And, hell, how Windows is much easier to code for. We've got almost everything covered and don't even bother about performance issues, because good coding is enough and OS is fast and smooth. I mean, if you're a programmer with a passion to a beautiful code without unexpected issues, going fully native Windows development is the most awesome opportunity to level up.

People, don't forget that the 2 billion goal includes windows 10 on other form factors such as Xbox one, phones, hololens, and internet of things. That would help out with the numbers a little bit :)

I'll be one of them later :D

I don't think 14 million in 24 hrs is impressive at all. It's free for God's sake, in contrast the iPhone 6 which wasn't free SOLD over 4 million, ...SOLD, not given away in 24 hrs. 14 millions - meh...

14 million is considerable when u remember that it wasn't available for everyone outside the insider program; only some. That means millions had to find a way to force the install which leaves hundreds of millions of average consumers who don't bother with tech stuff to wait for the "easy" way to download. They want over a billion devices in 3 years. I imagine they're well on their way.

It's a staggered release. It could have been MUCH higher but in order to make sure things run smoothly and they don't create too much traffic they a rolling it out in stages. They've reserved 40TB/s but are only using 10. They should increase the roll out soon.

According to Paul Thurrott and Mary Jo Foley (two of most reliable Windows journalists), the number of people who reserved Windows 10 was "in the high tens of millions". 14 million is just what they could get out in a day. Concern troll harder, please.

I've already installed it on 6 devices and have more I'll most likely set up. Glad to add to the numbers.

Reality check: Is that downloads, attempted installations (including failed ones) or only successfully running installations? There are many reports,for example, of people with laptops being foiled by MS insisting on installing the latest Nvidia driver, and just getting a black screen and mouse pointer. They have verified this issue. There are also conflicts, not surprisingly with Aeroglass, which has to be uninstalled before upgrading, else a similar thing happens. My experience, from 8.1 Pro, after 3.5 hours, was black screen, sometimes with a blue line down the right side and bottom, a scrolling white screen periodically, and by using CTRL ALT DEL I got an unusable task man window. I managed to get a password prompt (also reported by many - see tenforums) by CTRL ALT DEL from the black screen. But Win 10 failed to boot to normal or safe modes. Oh, and instead of 24Gb free I was left with 1Gb on C: - not to mention I had a hangover- from Win 8.1- my Win 8.1 Pro Safe Mode boot option I'd added to the boot menu was still there alongside 'Win 10'... I'll wait a few months...

Successfully running installations

We'll still have to wait a few months before we have a better view of the adoption rate, I hope windows 10 grows really fast

interesting how microsoft has all these neat little easter eggs referring back to the number 10 from windows 10. I just calculted that if microsoft wants to get to one billion users at 14000000 consistent downloads per day they will hit one billion users by the 4 th of september which calculates to round about 10 weeks! See the number 10 again. I also read somewhere that they're throttling downloads of windows 10 to 10% of capacity to not make the internet crash. "10" everywhere!

Windows 10 still needs more update ., actually more critical update ,, startup for win 8.1 faster than win8

The experience of downloading Windows 10 has been great! You all are better off downloading yourselves. I was impatient and did it myself. It's an easy process using an USB flash drive, that way you can download it to many other devices. Go to the Windows 10 download page and download the tool. Again, very easy process. Enjoy Windows 10.

could be way more im just at 1/3 thanks to the preview progamm

On my third attempt now. Have to drive 20k each time to get some free wifi. Real pain having to leave PC overnight each time. Making some progress now I think. It said Something Happened did not install win 10. Frustrating.

Dnt have ne product key ?? How -alph

Ignore that developers!!!! I'm especially talking to you, Snapchat!!

Why would Snapchat care about desktop and laptop users?

Any Update on how many downloads? I was one of the 14 Million on the 29th (pretty smooth on my Surface Pro 2). Have 3 more Dell laptops to go.....

I can't update! I'm in Mexico, you know if there's a chance to update here?
Windows Central Newsletter
Thank you for signing up to Windows Central. You will receive a verification email shortly.
There was a problem. Please refresh the page and try again.