Windows Phone reportedly grabs 104% Year-over-Year increase for 2013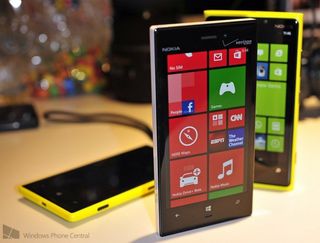 There's no question about it really, Windows Phone is the mobile operating system in third place. Ahead of it are Android and iOS. Android is at the top, with most analysts agreeing that it holds north of 70% of the global mobile market share.
A new report from ABI Research reaffirms market share research from the past few quarters and gives us insight into how Windows Phone is doing globally.
What's the latest for mobile smartphone operating systems? In Q4 of 2013 it's no surprise that Android dominated, in both number of handsets shipped and market share percentage. Android also saw tremendous growth, but not how you'd expect.
It wasn't pure Android that saw 137% year-over-year growth in Q4 2013. Instead, it was AOSP devices that went up from 30.0 million units shipped in Q4 2012 to 71.1 million in Q4 2013. That's the version of Android that manufacturer's 'fork' for their own purpose, like the Android that runs on Amazon's Kindle. That means it's not running Google core services and El Goog isn't getting the advertising dollars it could be getting. Death of Android? Far from it, but it serves to give Google an incentive to reel Android back in a bit and gain more control.
According to the report from ABI Research, Windows Phone actually fared pretty well. It grew 104% year-over-year for Q4, which means a year ago it shipped just 5.3 million devices and this past year it did 10.9 million in the same quarter. Not bad, but still not close to the 51.0 million iOS devices shipped by Apple in the same quarter or Android's 221.5 million (150.4 million for Android and 71.1 million for AOSP devices).
Still, the research does back up the claim from Microsoft that they sold twice as many phones in this past holiday period. Most current estimates put the total number of Windows Phone handsets at around 50 million. That breaks down to 12 million running Windows Phone 7.x and 38 million running Windows Phone 8. Those are for devices in actual use, not sold to retail channels.
Growth is still growth and we're glad to see Windows Phone pick up steam this past year. Here's to hoping that the merger of Nokia's hardware team with the Windows Phone team produces more progress for the platform. That shouldn't be too surprising since Lumia devices amounted to nearly 90% of all Windows Phone devices in Q4.
Source: ABI Research
Get the Windows Central Newsletter
All the latest news, reviews, and guides for Windows and Xbox diehards.