Windows Phone 7 - 2 Million Shipped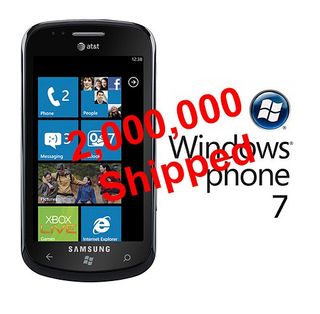 Microsoft is reporting that two million Windows Phone 7 units shipped last quarter. This isn't too far from the early indications that 1.5 million phones sold in the first six weeks after release.
All this comes to light through a Bloomberg interview with Greg Sullivan, a Microsoft senior product manager. Sullivan also stated that customer satisfaction for Windows Phone 7 is at 93% and brand awareness is increasing, up 22 points to 66%. The bump in awareness shouldn't be that surprising with the half-a-billion dollars that was made available for marketing the new Windows Phone.
No argument with customer satisfaction either. While there is room for growth with Windows Phone 7, Microsoft has laid a nice foundation to build upon. So how would you rate customer satisfaction? Is Microsoft on the mark or being too optimistic?
Source: Bloomberg Via: LiveSide
Thanks to Philipp for the tip!
Get the Windows Central Newsletter
All the latest news, reviews, and guides for Windows and Xbox diehards.
George is the Reviews Editor at Windows Central, concentrating on Windows 10 PC and Mobile apps. He's been a supporter of the platform since the days of Windows CE and uses his current Windows 10 Mobile phone daily to keep up with life and enjoy a game during down time.
I did my customer satisfaction survey right after I got my phone and I was so hype about how different it was. Let me redo my survey now after the hype has worn off, and I tell you it would be much different.

The brand awareness is pretty incredible. When I told my, very rural, very low class, cousin I had just gotten a new Windows Phone, he immediately recognized the name, and started quoting the commercials. If they have that kind of penetration into a market I doubt they are targeting, I imagine that it must be similar in their target markets.@1jaxstate1 That is surprising. I am very happy with the phone. I switch back to my iPhone 4 once a week or so, but after that one day, I come running back to the Windows Phone. I know it is different for everyone, but still... I'm surprised.

Wow iamnabil, did you just say "I told my, very rural, very low class, cousin"LOL

I have had the iPhone 3G, 3GS, and also the 4. I also had a Nexus One with Android 2.2.Gave up on the iPhone 4 - to many problems with the antenna issue. Android on the Nexus One - so buggy and getting emails to work properly was a nightmare (and never worked consistently).And now I have a Samsung Focus Windows Phone.I am 99% satisified with both the device and the OS.Took a few minutes to set it up and it works flawlessly.So quick and smooth and the interface is simply amazing.Looking back at the iPhone and Android vs Windows Phone - it's like comparing DOS to Windows. Could never go back to those interfaces after experiencing the Windows Phone interface.Finally I am free from Apple !

"Is Microsoft on the mark or being too optimistic?"Those are real #s from survey's, correct? If so, then they are on the mark. It jives with my family and friends who I've recommended WP7 to. 2 million isn't earth shattering...but as you said, it is good foundation to build on.

Love my focus ... Ballmer and MSoft should be embarrassed that to sync my Outlook Calendar entries to my WP7 phone calendar I need to use GoogleCalendarSync ...But the device and the OS are great ... looking fwd to updates to plug the gaps.

Why aren't you using the Live Hotmail connector for Outlook? Works like a champ.

Love my Focus!! A few tweaks will make it the best phone on the market...in my humble opinion! :)

Where is that half a billion going? I see countless Droid commercials and iPhone and iPad commercials, but rarely see a Windows Phone 7 commercial.

I've seen quite a few, with AT&T so maybe not directly from MS, but they've all come during NFL games so they're pretty targeted atm it seems.

I've owned an iPhone (1st gen), then switched to a Black Berry 9700, and now have the Samsung Focus. I absolutely love the Samsung Focus, and am very pleased with WP7. I was cautious about switching to WP7, but have found the issues that other have mentioned in its reviews to be minuscule. I really love this phone - my satisfaction level is high.

I have the HD7 and love it. I have dropped it on the treadmill twice and it didn't even phase it -- well, once the battery flew across the room. The UI is amazing -- especially for someone with fat fingers like me. The battery isn't exceptional, but it is satisfactory. In all, I am extremely pleased with the device.I am anxious for them to get this first update out, and not because I need it for any reason. If the update does work as preached then I will call Windows Phone a success. The biggest selling point against Android is timely updating. I love the interface, but if you can't get updates to the phone then that will not be enough to choose WP7 over Android.Long story short, count me as 93% satisfied. When I see that update come across the wire and my HD7 boots up, move the needle to 100%.

"well, once the battery flew across the room" ROTFL

Well, my satisfaction with WP7 was way better on the first week, but I soon realized that I live in a country where there's no official WP7 and because of this I am unable to spend my money with Apps and Games, I am becoming more frustrated every day.No Copy/Paste? I can live with this.No Custom Ringtone? Too.No Screen Capture? Well, too bad for Microsoft, because everytime I tweet something and shows "via Twitter for Windows Phone" as "stamp", someone reply asking how WP7 is, how determined App looks like on WP7 et al. People wanna know and see how WP7 is, and I simple couldn't help MS promote their flagship mobile OS because some stupid excuse about "Copyright".But despite this screen capture issue and one or another minor flaws typical of a v1.0 software (and before I buy, I was expecting a lot more of bugs), the only thing that makes me really pissed off is this Marketplace issue for the rest of the World outside North America and Europe.

For me it is amazing how many people are happy with their phones. I own a LG optimus 7 since november and I am not happy with a lot of things, like the windows phone 7 interface and the options of windows phone 7. Most of the times I switch back to my "old" Nokia e72, with it's dated symbian interface but gives good battery life, easy access to VOIP, free navigation, internet radio and chat. Now after 4 weeks of taking dust I just started using the LG again and trying to like it, but it just isnt anything special to me. So I really hope the update will bring something good, as I think it will otherwise end up very soon in the drawer together with my old phones. Curious if there are people who have the same experience.

Multiple countries, multiple carriers and multiple OEM's and they only managed 2 million? I would say thats far from something to be happy about, rather MS should be thinking of how they can make the platform so attractive people are falling over themselves to get one. But I forgot, they dont know how to advertise, have given control to the carriers so basically what we have is a Windows Mobile-type situation but with a prettier interface. Fan-bloody-tastic! Oh, and while typing this and browsing on my WP7 IE froze the whole device! Time to start fixing bugs and stop crowing about meaningless numbers.

I'm not really sure where all of this hate is coming from. I've never had IE freeze on my HD7. And to say the WP7 is in any way shape or form like Windows Mobile with a pretty interface is just retarded! WP7 isn't perfect, but it's a pretty amazing OS. Yes, there are a couple of bugs here and there but this is a pretty darn solid for first version. I'm happy to hear any good news about WP7 because I want it to thrive and survive. I have my issues with the OS but I know the fixes are coming. If you hate WP7 so much then go on and switch to one of those boring phone with their tired grid of apps. In the meantime, go WP7! And for God sakes get those updates out to us.

I never had any problem with IE Mobile on my Optimus 7 too. Actually I prefer the IE Mobile over the Safari Mobile.Those frequently crashes on the "Marketplace" is the only bug which annoys me.

Thats interesting news. I can't lavish enough praise for my user experience. I stopped short of the iPhone 4, but owned all of the other generations. Don't get me wrong, the competition is stiff, but they are very different experiences. There are only a few things I miss... I'm hoping the update addresses some of them. The others are simply app related. It seems some big name tech and financial people are waiting for the product mature more... Mint (already switched to PageOnce and LOVE IT), Chase, BoA, LinkedIn, Yelp (with Check-In feature), Pandora, etc. I bought a WP7 for my mother and its done wonders for her tech-challenged'ness. LOL She can "Facebook", email and text and it seems seemless to her.

To understimate the value of the 2 million or any million mark as far as WP7 is concerned is short sighted. Apple has had one eco-system which has taken hold, arguably Android is not but a clone of the Apple system. The uphill battle for Microsoft to come in after Windows Mobile to re-introduce itself as Windows Phone in an age where mind space is limited and often already overwhelmed is no short task. Within certain restrains those WP7 sold are WP7 believers and pioneers all over again. Take for example that many customers are in contracts and its as they end the contract that they get a new one. Which phone to chose well why not Apple its all over the news? Well sir this is T-Mobile and we don't carry Apple phones but how about this nice Android Apple Clone(thinking about it they should have been called Clones not Droids) ? How about this Windows Phone, no sir i wouldn't recommend it don't know that much about it? So I think its important for everybody to understand that comparing a V.1 to a V.3 or 4 is not playing nice and unfair. To say that MS is an underdog with a long way to go sure, but like there are of those that believed in Apple when Apple used to be in financial near death and MS invested in them, there are those that believe in Android, and are there of those that believe in Microsoft and Windows Phone.

Pretty happy with the HD7. Already converted one of my coworkers from iPhone once he got to try my WP7. =)

I would say I'm around 85% satisfied. My satisfaction is slowly dropping the longer it takes for them to push the update out. I'm willing to excuse MS for being slightly behind on their 1st gen, but they need to show that they are dedicated to getting WP7 up to date as quickly as possible.

I'm still kinda on the fence about it. It's actually very buggy and needs a serious update. The phone is lacking so much it's not even funny. No copy/paste, no custom ringtones, no video mms, etc. I'm probably gonna switch back to iphone or android soon. The updates are just taking way to long to drop.

Hang in there, tre-nitty! You waited this long, so give it one more month. At least until the first update. It should be coming in February.

Waiting for my contract to expire with verizon, so me and my wife can jump on the samsung focus... I can't stand verizons love affair with droid and now they are going to two time them by having an affair with the lame iphone. Bye-bye verizon. I sent them an e-mail asking when they plan on putting a windows phone out on the market, because we are very,very,very temted to jump their ship and get a focus. In closing i told them that someone at that company should go to an AT&T store and play with the focus. I received a phone call from them and the guy said that February was sgoing to be Iphone month but after that they have plans, but he couldn't comment on it. He also said that they do monitor the competition and he agreed with me thaqt Verizon missed the boat with the Iphone. They did this move a year too late.

Actually the statement was that they had sold 2 million "licenses" to OEMs. That doesn't necessarily translate to shipped product. I wonder if even half that many have have made it into the hands of consumers.

In that light, can we really believe the "sales" numbers from Apple and Google? I think not.Sure, they happily report total number of activations. For Apple that conveniently includes iPad. For both the numbers conveniently include all activations since day one of version 1.0.

This is getting a little old! George - check your facts! Two million WP7 phones have not been shipped. Microsoft has sold 2 million licenses for WP7 to manufacturers. The number of WP7 phones actually produced, shipped, much less activated (the only really important number) is obviously lower, possibly much lower. To put the stats in perspective, the number of iPhones being activated per month is in the neighborhood of four million.George - It's doesn't help Microsoft's or WP7's cause to post misleading and and factually inaccurate articles. Do your homework!