Windows Phone 7.8 features confirmed in leaked Nokia presentation slide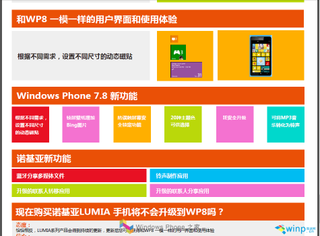 A presentation slide, reportedly from Nokia training material, has been leaked containing details of some features included in the upcoming Windows Phone 7.8 update. Microosft has promised to those who own Windows Phone 7.x handsets that more features are on the way to keep the experience current. While features highlighted are already known, it's good to see official confirmation through said material.
The new start screen is mentioned, as well as the three Live Tile sizes that users can manipulate to create unique and personal experiences. More themes are included (20 in total) to match what's available in Windows Phone 8. Internet Explorer is patched with security upgrades, and the system supports the editing of MP3 files for ringtone creation.
Windows Phone 8 also enables owners to customise their lock screen with Bing wallpapers to be displayed instead of a single photo - this is also highlighted in the Windows Phone 7.8 Nokia presentation slide. We expect to see more closer to the time of release. Microsoft is expected to include more goodies for consumers who will remain on legacy hardware on top of what's already been mentioned above.
So who's still looking forward to the Windows Phone 7.8 update?
Source: Winp.cn; thanks, hengxiang32401, for the tip!
Rich Edmonds is Senior Editor of PC hardware at Windows Central, covering everything related to PC components and NAS. He's been involved in technology for more than a decade and knows a thing or two about the magic inside a PC chassis. You can follow him over on Twitter at @RichEdmonds.
Heck, I'm looking forward to it. By the time the Yellow Lumia 920 is generally available, I might be on 7.8!!

I had to cancel the order for the yellow, ATT is on back order so I got the black one. I am looking forward to this update for me wife's 900.


To be honest, since i upgraded to windows phone 7.8 BETA rom that got leaked on my Samsung Focus i have been very content with my phone! Everything works great and all the bugs are fixed in this version and the new startscreen is just pure awesome! I have been using it for more than a month now... i think and wow i don't even feel the need to upgrade to a WP8 device eventhough i want the Lumia 920 so bad because of the camera!!!

But the official windows phone 7.8 update will be good if they release it soon. But i don't see a need for it now because i have everything i need! :D


The 7.8 ROM for the Focus really is nice. From what I just read its better than the official 7.8 update will be given all of the extras it includes. I did upgrade to a 920 but only because I was able to get no cost early upgrade from AT&T.
I'll miss that Focus actually. It was a great phone for me.

How risky is putting that 7.8 ROM? I have the Focus.

If anyone wants to see how the new Start screen and the live tile sizes will look on their screen, they can just go to the Picture hub and look at their pictures. Four pictures is a medium tile and 8 pictures is a big tile.

Since you've got a Focus with 7.8 already, I've got a question for you: In 7.8 on the Focus, can you manually change the MMS settings? I have a Focus, but recently made the switch to Straight Talk for my service. I can use the Focus, but MMS doesn't work, since I cannot (without hacking, something I'm not fully comfortable with) change the MMS data settings. I've been using my Infuse, but would really like to spend more time on my Focus and get to know the WinPhone system better.

LOL so true. I'm giving ATT 1 more week for my yellow 920 then I'm just going to keep my 900 and my $450.


This is good news. Although I did already get a Windows Phone 8 device because I hate waiting about as much as I hate not having the most current software/hardware when it comes to phones.

Which is alot of people, myself included (though I am keeping my L900) which is probably why they waited to release 7.8, so people would buy 8...

that didn't hurt but it was probably more about resources
they had developers working on WP8 until the last second and still didn't get everythng in, spending too much time on 7.8 would mean even more features wouldn't make it on time
as soon as they shipped WP8 they could afford to spend some time on getting 7.8 ready
also, don't forget new 7.x devices are still being released (the Lumia 510 is one, there's also a chinese model that will be sold in china and Microsoft expects millions of those to sell)

I'm getting the Lumia or ATIV S if I don't win the current contest(wink wink), but I can't wait to see the update on my Titan 2

Nothing to see here, move along.

The contest ended.
Like a week ago.
You didn't win.

There is a new one that ends on the 19th

I think upupandawol is referring to the contest that ends on Monday.
http://www.wpcentral.com/mobile-nations-passport-contest-win-ultimate-wi...

Im sorry,
Ur right. I couldve sworn there was a contest that started two days ago, called Mobile Nations Passport Contest and ends next monday, November 19th at noon. **kicks rocks**
...guess I didn't win.

I think Koki was making a joke so Montpbm wouldn't enter the contest. I *think* that was his angle.

Nope, I missed the new contest haha!

HAHAH. i can't afford to miss out on free stuff man! Good Luck when and If you enter!

I am really excited about the 7.8 update. Jellybean caught my eye (especially since you can get a quality phone for so cheap off-contract). So I put my Lumia 900 in a draw for the past several months. The latest rendition of Android is great in many respects. However, there are some apsects from WP (and the Lumia 900) that I miss. I am ready to go back to the Lumia when 7.8 comes out. In the meantime, I eagerly await 4.2.

Have a nexus 7 and htc titan. Both android and wp haave som great thing. Mix them together would be great

My Nexus 7 just updated to 4.2 yesterday. I love the new dual drop down menus and other tweeks.
Looking forward to my Lumia 920 to replace my 900. Maybe all the current problems will be rectified by the time it's delivered.
I'd kill for Microsoft to add deeper integration of Google Voice to the dialer. No, seriously-- just tell me who. ;-)

No rendition of Android is great in any aspects......the OS is garbage, plain and simple.
If my windows phone is not cutting it (or I just want to use something else for awhile) I'll switch to my BB device. Heck, I'd use an iPhone before going Android. In fact, I'm eagerly awaiting the BB10 reveal to see if I'd like to pick one up to go alongside my Lumia 920.

Well, if you actually like BB10 then you don't have much credibility!

Other than the UI, BB10 is turning out to be very, very good. My friend has one and I've seen it work in person.

How the f*ck did you spin Android into this post? Be gone, troll!!

Troll? I guess it was because I was inflammatory to WP. Rich wants to know who is looking forward to 7.8. I am, so much so that I will dust off my Lumia 900.

Maybe my venue pro is meant for windows phone 8. USB port is on the bottom center for any docks! I wish someone make portrait slider soon =/

Even though I already jumped the gun and got my 920 I'll keep my 900 around as my back up phone in the event that anything happens to the 920. So it'll be nice that even though running on the older kernal and perhaps not as feature rich that the experience will be near identical to the blind eye.

Wish the bing wallpaper feature worked on my 920 :P

It is working on mine. Just updated a little while ago to today's pic.

Mine always seems to be a day behind with the picture...

i am waiting for 7.8. I hope it comes before i switch to a wp8

It's exactly what I was thinking about:D but I'm trying to convince myself that I will keep my Titan till second generation WP8 because I like the phones with big screens and right now there is nothing like this on the market:|
Nice to see that WP 7.8 is not just a start screen.

i agree. i was hoping HTC would shove a crazy large screened brick like device out, but iw as hgihly disappointed.

I'll take whatever they can give me - I'll be on my Lumia 900 at least 6 more months.

I'm waiting for 7.8, old toy need some attention too.

Can you please post a running list of WP 7.8 features?

Yeah here it is:

-New start screen

-New theme colors

Don't expect much more than that....

Those were available on WP7.

I want the equalizer the 920 has..

You mean the software Nokia adds themselves.

Ability to edit MP3's and create ringtones.

I'm looking forward to it, but about time they release it, I'll be ready for upgrade...always have to wait long for everything with windows phone..

Can't wait to update my 900 w the 7.8 software as I am not due for an upgrade. However it seems weird that I can upgrade to an iPhone 5 per the AT&T rep??? WTF really???? Can someone explain that one to me??

I just bought a submarine and I'm going to sit at the bottom of the ocean until 7.8 comes out for my Lumia 900. I bought a submarine with the money i'm saving being on straight talk because I'm tired of being teased with 7.8 update updates! So I'll just wait for 7.8 underwater until I run out of air. Hopefully it'll come out soon so I can surface and breathe again!

srsly? go see a shrink dude ...

Surface phone reference? I see what you did there.

That was an entertaining comment.

I'm waiting to see if 7.8 will include the WP8 backup features so I can move to a WP8 device without losing my messaging history.

Why do people keep old texts?

I'm not holding my breath with AT&T!! They haven't made any effort to update any WPs for over a year!! I think they'll not put out the update so that we'll all buy new WP hardware. I would buy a Nokia 920 but my early upgrade isn't till June 13'. So, here's hoping I'm wrong!!

This update is bypassing carriers. What is so hard to understand about this?

I thought only WP8 did OTA updates.

It could still be an update available via tethering though....

It's difficult to understand because AT&T finds ways to sh*t on updates, OTA or not.

I'm waiting for it because I'm still on contract with my HTC Arrive.

When will this be?? I have a Lumia 800

Will all wp7 devices get the update at the same time or will "nokia" get another "nokia exclusive" for weeks ??

It was said that 7.8 would bypass the carriers. It was also said that trolls existed and are being hunted in private too. I hate all parties involved in this fiasco.

If it has Kids Corner, it's worth it to me.

DVP, shock the world again please!

I'm keeping my Lumia 900 until FM radio comes to WP8, so heck yes I'm looking forward to it! I can't freaking wait!
And here's to hoping 7.8 will hold me off until the next top-of-the-line Lumia comes out :)

Hm. I think i read somewhere that WP8 doesn't support FM Radio and if i'm correct it will never come.

FM radio? Seriously? Can you not afford to just buy a standalone AM/FM Radio from your corner drugstore? The latter of which will provide better reception anyway.

Removed. Some idiot on the Windows Phone team remove a stalwart feature from the Zune days. Dumbasses.

What about the Bluetooth ftp feature??

This depends upon the Bluetooth profiles on the device.. Much of hardware related..

As an early adopter for windows phone i am happy to see improvements coming for pioneer devices like my htc mozart.

As an early adopter for windows phone i am happy to see improvements coming to pioneer devices like my htc mozart.

It depends on how soon it comes out. The closer I get to being eligible to upgrade the less useful this 7.8 update becomes. I probably won't even go through the hassle if it's too late.

Different sized Live Tiles Bing wallpapers on the lock screen New feature to prevent accidental touches to the screen Choice of 20 accent colors Internet Explorer security upgrades Ability to convert MP3 as ringtones Sharing of media via Bluetooth Ringtone creation app Upgraded contacts transfer app Upgraded contacts sharing app got that from Liveside.net

Yes, but the last three are being offered by Nokia for Lumia devices only.

That's a nice set of features! I'll be getting a Lumia 920 after the weekend, but I will definitely update my HTC HD7 to WP7.8 if I haven't sold it by then :)

I would like Xbox music and video and background API for Maps. I'll be set

My contract isn't up until July of 2014 so I'm on the Lumia 900 for the long haul. Unless they discontinue the 900 and my phone breaks and insurance upgrades me to the 920. But that's a lot of ifs. So I'm still very interested in 7.8. The nice thing is based on the rate of improvement, by the time I'm ready to upgrade we'll be in god phone territory.

Is it too much to ask for Windows Phone 8 style emoticons on the keyboard guys?

Microosft? Lol but in all honesty can't wait for the update.

I will use 7.8 until Verizon finally gets the Lumia 920/922.

That's not a bad decision.

7.8 will hold me off until MS releases the surface phone. Besides, my L900 is still on contract for sometime

Hopefully we'll see something by CES or Mobile World Congress in the upcoming months.

Loooks great. Can't wait !

I have to say I am really disappointed. I really hoped the invest more in dictation. Not expecting Siri like stuff but expanding dictation to the general keyboard and adding in more complex dictation skills should be state of the art.. :-(

Does WP 8 come with a ringtone creation app? I haven't seen that yet. Could someone tell me how to get there? Transferring in an MP3 of Genre Ringtone doesn't seem to work in 8 like it did in 7.5. I have a ringtone that worked great on my Titan 2, but wouldn't show up as a custom ringtone on my Lumia 920. I used a sample app I found on the Net to push a ringtone in the custom ringtone section.

haha I already have ordered my HTC 8X. Should come this week. I don't need the update anymore but it is good to see that Microsoft is working on it ;P

Can we add multiple word/excel files on an email in 7.8 or wp8? Anyone?

I love the physical design of my 900 much better, but I do wish to have the new integrated Skype and independent Notes app for quick access. Can wp7 have those app updates as well?

Doubtful, but it would be nice.

I'm glad to see that you can set your wallpaper to the Bing picture of the day. But I wonder if this will be all that we will get. Anyways looking forward to it. :)

When will it be released????

Lol I will will for 7.8 has I know wp 8 will drop prices more next year. Than that's time get wp8 phone

Me me me!! I already had the custom rom with 7.8 and resizing tiles is very nice! Hopefully this will be an Xmas present!

Can't wait to get it on my phone as well as on my sister's too... Hope it allows playback of flash videos (or whatever they're called), has bluetooth file transfer ability and fixes some stuff... Maybe some other fancy surprize too... And make it come before Christmas, please... :)

I have another year left on my Lumia 800 contract so a year with 7.5 and then another with 7.8 will feel like a small upgrade and I will be ready for whatever is next the following autumn :D

waiting on 7.8 wp8 didnt really get a lot of the things people wanted , like X to close apps in multi-task , back button in browser, things that make the phone easier to use...





I have little doubt in my mind that AT&T will never release it.

"Microosft promised us..."? Might want to fix that.

Great News ! Hope it gets released Soon.

I have a feeling MS should have released 7.8 by now but haven't as they want existing owners to buy into new hardware.

Of course that's why, I'll be surprised if it's before Christmas.

I contacted Nokia Care live chat a few minutes ago. Still no news about the release date. Guess we'll have to wait until 2013.

Looking forward to this. It'll help the wait for my Cyan 920.

I can't wait to upgrade to wp7.8. I need it badly

One thing I deeply care about more than the start screen is giving us proper backup tools just like the ones available in WP8.

I am eagerly waiting for the 7.8 update. Why can't nokia and Microsoft provide a bluetooth option as well. Comeon developers ! . Inspite of several hardships(poor internet sharing,Browser issues) i am still loving my Lumia 610.
I also feel that lumia 610 or 710 is the standard brick for the Windows phone success.
Windows Central Newsletter
Get the best of Windows Central in in your inbox, every day!
Thank you for signing up to Windows Central. You will receive a verification email shortly.
There was a problem. Please refresh the page and try again.