New Windows Phone 8 OS builds & WXGA display resolution spotted in the wild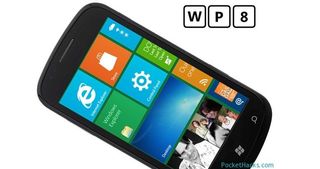 Windows Phone 8 concept
In mid June, Microsoft is expected to start revealing info on the much anticipated Windows Phone 8 OS (aka Apollo) but until that day, we have just crumbs of data to work with. One of those sources comes from peeping OS builds that various developers "see" when looking at their app data usage.
Such an example is illustrated by Marios Karagiannis (aka Karios) developer of the popular (and Windows Phone Central favorite) MonsterUp. In a recent blog post on his site, the developer listed some new OS builds that apparently come from Windows Phone 8 devices:
8.0.9698.0 69
8.0.9697.0 35
8.0.9696.0 4
8.0.10101.0 4
8.0.9691.0 4
8.0.9695.0 2
8.0.9699.0 1
Likewise, our own Rogue Code, who makes Ffffound as well as Pocket Meme, has also seen similar numbers in his apps including 8.0.9673, 8.0.9644, 8.0.9627 and 8.0.9699.
We assume by this point that Microsoft has to be testing Windows Phone 8 and seeing OS builds floating around probably should not be too surprising. Unfortunately, more info cannot be gleaned from such build numbers making this observation more entertaining than revealing.
Turning to our own Google Analytics for this site, we can discern some interesting tidbits as well. Specifically under our "mobile visits" we now have 768x1280 resolution devices running Internet Explorer 10 making rare but occasional stops to our site. Display colors were set at 24-bit (a bump from 16-bit that we usually see) and many pings originate from Redmond, WA.
Google Analytic data from WPCentral.com showing supposed WP8 devices (click to enlarge)
Furthermore, we can officially confirm with other independent sources that 768x1280 will be a supported resolution in Windows Phone 8 in addition to three others including 480x640, 480x800 (current WP7 resolution) and 720x1280.
While a WXGA resolution may seem a bit odd, in Jul 2011 Samsung were reportedly working on a mobile phone running that exact screen resolution, albeit sporting Android. To put such a resolution in perspective, as Phone Arena notes "...on a 4.5 inch screen, the pixels per inch would come in at 332, topping the 326ppi reading of the Retina Display on the Apple iPhone 4". No doubt an impressive statistic.
Of course we'll just have to wait and see what Microsoft officially tells us in the coming months. Until then, the above info should be treated as rumor/speculation as things like emulators (versus actual hardware) may be playing a role.
Still, we think the info presented above is accurate and will be the path for Windows Phone 8.
Windows Central Newsletter
Get the best of Windows Central in in your inbox, every day!
Daniel Rubino is the Editor-in-chief of Windows Central, head reviewer, podcast co-host, and analyst. He has been covering Microsoft since 2007 when this site was called WMExperts (and later Windows Phone Central). His interests include Windows, laptops, next-gen computing, and for some reason, watches. Before all this tech stuff, he worked on a Ph.D. in linguistics, watched people sleep (for medical purposes!), and ran the projectors at movie theaters because it was fun.
I hope Nokia makes a tablet.

480x640 is interesting. Blackberry type devices?

It'll be more like the Palm Pixi with it's elolgated screen than a Blackberry if I'm reading the screen resolution correctly (screen is taller than it is wider).

On most devices the screen is taller than it is wide.

However, Blackberry's are wider than they are taller.

On the keyboard Blackberrys thats true.
I like the idea of a lower resolution and the idea of a smaller handset.
My GF is in the market for a new mobile phone, and 3.7 inch touchscreens still seem too big to her. (Even though she is doing fine on a Blackberry Torch) Says she wants something more pocket friendly.

Technology moves so fast heh.

WXGA is the same aspect ratio as WVGA.

UGGRADEABILITY THAT IS ALL I CARE ABOUT

Important to me as well. It'd be a shame if they didn't show current customers some love...

thats what i have been saying as well ive invested two years on this platform as well as promoted simply because i thought its an awesome platform but if they dont update the phones that i convinced my friends to get that would deffinately be a slap in the face to them because they enjoy it and an even bigger slap to me for wasting my time. i love my windows phone currently no regrets about getting a lumia 900 but if they dont this will unfortunately be my last wp i cannot afford to get a new device every 4 months or even 6 months.

Why would you have to buy a new phone every 4 to 6 months? Is there something that says your current phone that you're apparently happy with will suddenly stop working when the new OS comes out? Wouldn't it also stand to reason that our current phones will likely not run as well with what we expect to be a beefier OS? That or it will be a dumbed down version for the old devices, similar to what Apple does. Either way, I fail to see why this is such a huge issue to so many people.


Nonsense. WP is no better or worse than other platforms.
Many iPhone updates only got back 1 hardware rev.
Blackberry phones don't often get the latest version due to the carriers, and hardware.
Android, geesh, 7% only on ICS. Fragmentation (and privacy) puts me off of Android.

All WP 7.0 phones, got upgraded to 7.5.

Really after 2 years if we are "offered" a new v 8.0 phone, new sexy hardware, higher screen resolution, better CPU, dual core, more gaming GPU performance. Well, I'd just buy one.
I got a Lumia 710 as a replacement phone as I broke my LG.
I _didn't_ get the Lumia 800 or 900 as I didn't know if it was going to be upgraded. There has never been certainty over that, and we all knew that.
Nothing to get flamey about.

Yeah that's what I'm talking about!

I cant wait for apollo already

exciting, hopefully we'll see actual protoypes in late June.

I have to stop checking this site because it gets me too anxious for Apollo and my next handset. I wish Microsoft could speed things up... :(

They already have the OS RTM about a month or two "ahead of schedule" isn't that a lot?

We are in the same boat on that one lol

Yep exactly your thoughts too, 4months till my contract is up and all I can think about is the next device...

8.0.10101.0 4 -
.x1xxx = developer build?

I think this would fit in with an article i saw many months ago. Of course I can't find it now, but I remember it was a WP timeline. IT said windows was targeting low to mid range phones with WP& to build a base of users and would go high-end to compete with android and iPone with WP8

That sounds quite reasonable and makes for interesting strategy. The feedback from techies/early adopters would help create a much more solid experience for the average user. We tend to abuse the devices much more than the average person would.

Looks good, though I do rather like the space on the right of the home page on WP7. Gives a less cluttered look.

This is not a prototype shot of WP8, not even a concept. That shot is for illustrative purposes only. Don't even get to wondering. Lol...

Hopefully my Lumia 900 will get this update.

I have a question regarding the IE10 browser on WP8... Given that IE10 on Metro mode will support limited flash (e.g. a designated list of approved websites)...what is the likelihood of that capability being brought to IE10 on WP8?

I checked to see if there was Flash compatibility detected and the answer was negative. That's not definitive but it's the best I can tell you at this point.

Not disappointed, just thought flash on IE10 would be an interesting addition to WP8. Being able to access cable tv streaming portals would help mitigate the need for apps...especially for us in Canada.

WPCentral will have to be whitelisted by Microsoft for Flash to work on it.

Odd.. it replied to the wrong one, and no option to delete :(

My guess is that the code exists, however it's turned off. The problem is that Flash has always been designed around the presence of a mouse and keyboard, and there's no good way to emulate that with touch.

heh, another verge commenter...this time, it's one I get along with...

Isn't the real problem adapting Flash to all ARM based processors though?

Anybody tell me wp8 support in samsung omnia7

no one knowns yet :( we should know by the end of june ( hopefulyl)

What's the resolution for wp7 as of now?

SWEEt man i cant wait for the end of june!!!! come on WP8 news!!!!
then an other 6months of waiting,, lol :(

I'm ready for the future, bring it

Are these screenshots actual images of what the OS may look like, or is that a phtoshopped one like before? I pray the image above is how it would look, but not keeping my fingers crossed :(

Glad that's only concept as I much prefer the tiles the way they are now....

The anticipation is great!

You mention nothing of the picture that is posted in this article. Are we to assume it's a mock-up?

333 ppi makes me happy! Can't wait for a high resolution screen!

No, because the W before XGA is just a wider version of XGA, which has always been 768 pixels high and 1024 pixels wide. WXGA is 1280x768.

Yes... WXGA includes the following...1280x720, 1280x768, 1280x800, 1360x768, & 1366x768.
http://en.wikipedia.org/wiki/Graphic_display_resolutions#WXGA_.281280.C3.97768.29

Ah I see, didn't realize it was technically more than 1 resolution in a group like that.

It's the start... bring on the Apollo news!!! I NEED to see some Apollo devices so that I can at least know what I'm getting excited about. :D

Hopefully the device I'm holding (HTC titan) will be upgraded, that'd make me the most excited about wp8!! It would be a pity for ms to "forget" their current user base!!

I expect Sprint is busy developing WXGA displays that can be snapped into the Arrive along with the WP8 upgrade.

Unlikely. HTC will be making WP8 devices based on its current generation Android hardware; one series, evo, ECT. The US market demands LTE which means we will all be getting qualcom S4 powered WP8 devices. Even Samsung will just be slapping WP8 into its US Galaxy SIII hardware.

Isn't this more likely to be a windows 8 tablet?

No. They have different OS identifiers.

ahhhh, please stop with that picture... I know it's just the W8 Dev Preview plastered onto WP, but it looks so awful I don't even want that to be in consideration for WP8. what I want (and hope) from WP8 is bringing W8 features to WP while mostly maintaining, and slightly enhancing, the UI. don't fix what ain't broke!

Your stupid troll what talking about the UI looks awesome. Stop pretending we All know your an iPhone or Android lovedr. Get out of this blog. Go play with your boring dead iPhone or android UI.

WTF?!? I love WP and W8 (been using the previews since day 1 on a PC and a tablet)... I said nothing bad about either! All I said is I really hope (and am pretty sure) that WP8 isn't W8 UI scaled-down to phone-size as its shown in the image. I love the WP7 UI and don't want it to get steamrolled over with W8 UI. I think MSFT is real smart to draw the line between phone vs. tablet/pc OS (unlike apple which is phone/tablet vs. pc). they're both great, but have their place. WP8 should retain WP7s rockin' UI and just get enhanced, not replaced. that's all, thanks.

I agree too! I know this is only a mockup, but I would hate to have that interface. I enjoy the minimalist design of the current interface, that mockup just looks too cluttered. Besides that, I would rather scroll up/down instead of side/side to access my other tiles.

can't. Wait when windows phone 8 comes. I heard sprint will have windows phone 8 phones. Look at the UI beautiful has always. IPhone or android UI will be same boring dead icons look LoL

Got a Dell Venue Pro a year ago really want a Nokia Lumia 900,but I want to see what happens with WP8 in four months before I upgrade.

Lumia 900 is great phone. The drawback I see in lumia 900 is battery can't be removed. I rather still stick to my wp 7.5 HTC arrive has battery can be removed and with 16gig storage, 512 ram same has lumia 900 but best is having query keyboard which lumia 900 don't have

you can swap out the internal sd card for a 32gb card... I love the huge storage in my arrive, lots of space for music

I did the same thing before I turned my Dell on for the first time put a 32 GB card in.As for the query I rarely us it.

In the same boat. Got mine last January and now I want to see what's going to be availible as of October 24th (TMo-US early upgrade day). I'm hoping Nokia does something special with Apollo ON TMOBILE, but if they dont, I can only hope that the subsidy for Apollo phones are going be just as ridiculous as they are now.

Hell, I would even go back to Sprint if they had a good WP8 device or if a Jelly Bean device blows me out of the water.

Daniel,
Do you know if other phones such as the lumia 900 will be able to take advantage of higher resolutions or colors? Or is this something that is bound to hardware and impossible to improve?

It's hardware. 900 resolution won't change with an update.

Resolution is fixed by the hardware.

I know some people may think that this was a dumb question, but trust me it's a valid one to ask. When the iPhone 4 came out, there were people at my old job asking if they could upgrade their 3GS to a get a retina display.

A lot of people seem to think that an upgrade can give you more resolution options. I've seen upscaling options from updates (for set top boxes especially) but never on a phone.

That photo is ridiculous...I have my Windows 8 PC setup in a manner similar to my Windows Phone only where the phone tile would be I put the desktop tile. I would assume that a desktop on the phone would be ludicrous, so I would hazard that it should be a phone tile on windows phone 8 right?

I can't wait Dan its gonna be big Microsoft will make history as they always do

I just hope one device manufacturer will finally put an end to all this plastic black phones as seen from Samsung and HTC. I know nokia is better at this but I want a really solid phone this time. 4.5 to 5 inches. Best in class speakers and the 808 pureview camera. All coupled with WP8 goodness. Imagine the panorama pictures taken with photosynth with a 41mp camera:D:D:D drooling....

Why do people want big phone. I rather get 3.7 to 4 inch phone. It's will fit in pockets and look normal holding it to there ears. Looking at a 4.5 or 5 inch phone will look so awkward in your pocket if it can fit hahhaha or holding it on your ear. Maybe use it has a paper weight lol

Yes true its really big, but as long as its thin it can slide into my pockets easily. Nowadays with the current trend holding a 5" device onto your ear is still awkward but not if you use the headphones and hide the phone whilst on a call:P

This is all Very exciting!!
My contract is up at the end of August, can I want to see what WP will bring to the party?. Cant see me settling for a Lumia 900 by then, even though its WAY better than my HD7.
What to do?...... Im tempted to the DARK SIDE by the Galaxy S3 and othe Android goodies, but have no love for the OS at all.

Most people look fine holding phones up to about 4.8in, but so far the phablets over 5in look stupid unless you are the size of shaq .... Personally I think displays at roughly 4.5in are ideal.

Come on XDA get us a Leaked build !!!!!!!! I wana Play !!!

OMG this is what Microsoft should done in the first place thn It would been in the first place in the mobil race. and still time to do it so go for it


Here's a stupid question: Can the Nokia 900 handle higher resolutions? If WP8 comes to it, will we be able to take advantage of better resolution?

Yes, it will become the quad core with full hd resoltuion, however, display will also expand from 4.3 to 9.7 inch, so better stay with WP7

Nope, not unless Nokia put in a higher resolution screen and just had the firmware display it as 480x800 by grouping pixels into a larger pixels. But I doubt that because it's not cost effective. Same with cores, they can have a dual-core or even quad put in and all but one core are disabled, but not cost effective or whatever they call it. And this is speaking from x86 architecture and not ARM so what I said maybe irrelevant, cuz I don't know much about ARM architecture.

Well, thats it. I have been itchin' for one of the new Nokias but since I presently have a Titan, I clearly don't need one. If some of this news is real, then I think a little patience is warranted on my part. Maybe by the time one of these concepts come to commercial fruition I'll have an upgrade available. Still I would prefer a higher resolution though not entirely sure about screen size. The Titan is plenty big, but since its so easy to get what I need and I no longer spend any significant amount of time staring at my screen, I think I'd prefer the convenience of a smaller handset. Choices!

All i can say is bravo to MS for keeping info about wp8 as tight lipped as possible. Otw the copycatters will be busy. implementing some of the features in their mobile os too....I'm looking at u iOS camera view finder.

Awesome! I have been waiting to see some screen shots even if they were not legit. But this is great news. I am hoping for WP8 phones to come out in August per the rumors so I can get one! So excited for Windows 8 and WP8.

Here's hoping present devices get some wp8 love

Bring it on baby, I don't care if my HTC HD7 gets WP8. I'll get a new hardware with Nokia. I'm done with HTC!

To upgrade in July or not to upgrade in July...that is the question I'm pondering the most right now.... Love my Focus, just getting WP8 envy (along with Nokia Lumia 900 envy ;))

I'm having trouble deciding whether to get a lumia 900 when its released here in Aus in the next few weeks or hang out for wp8 to come out, want to know how much delay there'll be from US release until Aus, because I can't wait until like February next year for one :-P

I hope there would be an upgrade for lumia 610

Nokia needs to sort out their abomination called lumia 800, before making a tablet.

Maybe MS should decide first if tablets are supposed to run Windows 8 or Windows 8 Phone in the future.
"Hey I have a windows tablet now too!!!!" - "Cool, did you already install xyz? It's such a cool app!" - "Eh, wait, let me see.... no, ... uh I cannot find xyz on the marketplace..." - "Hm, let's have a look. Oh.... you only run Windows Phone 8 on your tablet! xyz is only available for Windows 8!" "Argh....!!!??!"


So many speculations dunno when it's actually coming out !

Kinda nervous about it. Hopefully they don't change it to much, because I love it the way it is now. Minor upgrades here and there will suffice.

Agree just needs a few tweaks.

If you look at the resolutions that are written in the article, there is specified the 480x800, so the 1st, 2nd and newer devices should be upgradeable.. In my opinion of course, but we must look at the hardware aspect also.. IMO again, I don't think that the devices with current hardware are too weak to run the OS.

There better be some big changes coming.......& not that 500 new feature crap like with mango that no one can see

I want to be able to change tile sizes and get previews of messages on each live tile.WP8 isn't going to be like the Mango update.WP8 just my guess its going to be just a minor tweak to Mango.

Just downlowded the Windows 8 Preview on my laptop and it is absolutely beautiful, can not wait until WP8, wow just great GUI's, and even apps are colorful and rich, damn, damn so good
Windows Central Newsletter
Thank you for signing up to Windows Central. You will receive a verification email shortly.
There was a problem. Please refresh the page and try again.