Windows Phone 8.1 Preview updated to version 12393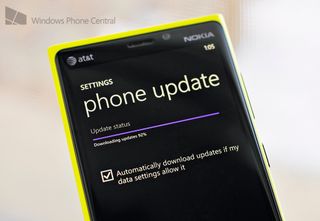 It's just after 1PM ET, and Microsoft's servers are blazing with a hot new update for Windows Phone 8.1. The update will bump the OS to version 8.10.12393.890 and it's about 21 MB in size, though what changes the update includes is currently not known. This is the second update to come out for Windows Phone 8.1. The first update for Windows Phone 8.1 came in mid-May and introduced battery improvements.
Want to grab the update? Head into Settings > Phone Update > Check for updates to get the latest.
We'll update this article as more information comes in!
Update: For some, the Windows Phone boot screen has now changed from left to right (as seen above) for some users, which matches the Lumia 630. Other previously had the boot screen on the right, so may not be new for some of you.
Thanks, everyone for the tips!
Windows Central Newsletter
Get the best of Windows Central in your inbox, every day!
Daniel Rubino is the Editor-in-chief of Windows Central, head reviewer, podcast co-host, and analyst. He has been covering Microsoft since 2007 when this site was called WMExperts (and later Windows Phone Central). His interests include Windows, laptops, next-gen computing, and for some reason, watches. Before all this tech stuff, he worked on a Ph.D. in linguistics, watched people sleep (for medical purposes!), and ran the projectors at movie theaters because it was fun.
Sweet, downloading and installing now.

C'mon...''IT SEEMS FASTER" is no a terminology everybody uses....becoming a common term with no meaning here nowadays...smh

That's the joke. Everything "seems faster" whenever anything is released anymore. Even if they tell us they intentionally slowed an application down for whatever reason it may be, the WPCentral community must claim that it's faster with every update. So, that said... it seems faster ;)

It's never even been a funny "joke".

grow a sense of humor, it is funny.

Maybe the first 1000 times. Now it is just an anticipated and unoriginal annoyance.

It, indeed, was funny at first. Then it wasn't. Now it's freakin hilarious due to the reaction it gets. Humor is funny that way.

+925 Spot on. The original would have gone away ages ago if people wouldn't have reacted. Now it's almost sport to see how many "it isn't funny anymore" posts an article will get.

Yes it does seem faster LOL

Grow some maturity, it's stupid and old.

I think it's pretty funny :) It's defiantly more humorous than family guy.

Just like your mother!!!! #getWrecked

Wait till your girl friend tells you this.

Agree. It's old and fucking retarded.

I'm with you on this, it never was funny, now it's just stupid.

Nah, snappier is the lingo. Yeah, it's snappier, lol.

I believe the preferred nomenclature is "buttery smooth."

And who doesn't like butter?

So we have the real butter and Android can't believe its not butter.

ahahahahah you damn right

I agree. All this "faster" BS has to stop. I have noticed that my 1520 is quicker, though. :-)

This as a whole was probably one of the dumbest conversations I have seen in a while.

Half way through the update, seems smarter. On a serious note, I love how these updates are coming at a fast rate. Wish they would do this with regular OS updates too. But I could see how the average person would get annoyed by the time it takes.

I just love the fact that we don't have to reconfigure out lock and start screens after each update. Love my start screen with 8.1.

Yep, I love MS. Everything just works. Even using pre-release software, I've never even really had more than a small problem. LOVE IT

Don't you mean "snappier"?

actually slower, and lags a lot

Quiet hours is now global and isn't Cortana restricted

update, its not outside Cortana. :'(

Where do you find the setting?

Wow
Much helpful So settings

Many quiet hours wow

The moment when i first saw the comment i see it as code indentation

How do u get the update iam not able to get the update please help me iam using Lumia 525...

It shows in Settings, but says need to have Cortana in ON and Battery saver is OFF.

yeah, its not outside cortana. :(

It was global in the second update. Nothing new.

Screenshot from the first update of 8.1. https://onedrive.live.com/redir?resid=FC6BC9E562379BCA!129907&authkey=!A...

You do realize US Local settings aren't considered global? Global in term of the rest of the world...

Oh. I thought they meant that the link was never in the settings app.

LOL. Only America exists right? What? there are other countries!?!!

I loved the "Windows logo only" bootscreen. The new one ain't so cool

I just updated my Lumia 925 & it still has the teal Windows logo only, maybe its a region specific thing?

I don't have it on my ATIV S either, maybe a factory reset would change that

I'm experiencing this too on my Lumia 920. In the US

925 owner here as well, I still have Windows Desktop's loading screen.

I hope so. I like the teal logo only screen.

Actually, you're thinking of worldwide... =P

Are you sure? I cant find it.

Really? i guess i missed it then. Thanks for the fix mate

I don't see it in the 2nd update either

Same here in Mexico... no changes about that...

on mine, still tells me to turn cortana on :( And, my startscreen still the single windows logo.
so those changes aint for all

Yeah nothing new for me on my ATT 1020

No, It is Not on unbranded 8X. Still "not available in this region"

There's a good news for lumia 1520 owners.. Finally the drivers for the video card have been updated(i think so) games run very smooth with high frame rates... Before it is to hang like lagdroid now its super fast.... daniel plz update the article with this changelog.... Now am going to install asphalt 8 !!! yipeee UPDATE
other changes include
* Calender opens very fast, before it used to take like 1-2 sec to open.
* The performance has increased beyond my expectaction. Before apps used to take 1-2 sec now its very zippy...
* still quite hours doesnt show up unless cortana is on Definately microsoft is working really hard... am very happy thank you microsoft and thank you wpcentral for updating us... it was worth 21mb and was worth the while!!!!!

1. i feel the screen response is better now, 2. 1520 became a little hot during the update process. 3. Whatsapp doesnt have the message now when you open the app.

Yup the screen response has been better now but my 1520 dint get hot during update and i used 3g data pack to download... and what message you used to get in whatsapp?? i dint get any previously

Posting link posted by others earlier for Whatsapp message. i got this everytime i opened whatsapp. ============ http://www.wpcentral.com/whatsapp-returns-windows-phone-new-features Ridhwan Ismail says: Doesn't work with 8.1 for me?
EDIT: nvm, it works fine now. It was just a warning message. COMES WITH BACKGROUNDS :D ==============

Good. I was worried it would have mines. Mines are bad - especially land mines. Although, I wouldnt mind a gold mine.

I noticed that battery doesn't get hot anymore while playng games on my 928

Mine is still getting super hot!

Modern Combat 4 is still as laggy for me. Granted, I have an old 920, but I read that even the Snapdragon in this is capable of reaching frame rates like that of the 4s. Part of these type of improvements will have to come from Gameloft getting off their butt and quit lazy porting, but Direct X improvements are important as well.

If you change the background color to light than the numbers disappear in the calendar (week view)

What about the phantom taps? Is it gone now?

Same for the Lumia Icon! No more lag when playing games! Subway Surfers, Asphalt 8 and many others are quite smooth.

This description fits my L928 before AND after the update.

Same here, I never hag lag on any games

+1 Whatever has changed on the GFX end has made the games lag-free. I can finally play FIFA14 without any lag whatsoever. Loving this. Bring it on.

@GURU_1520 I have a 1520 myself, recently upgraded with AT&T here in the USA from my former Lumia 920. I've installed the developers preview and have all the recent updates installed on my 1520. Have you noticed any "flakey" behavior in your 1520 relating to network connectivity? I used to connect to my employer's GUEST wireless network, and no matter where in the building I took my 920, it would keep the wireless connection open. Now with my 1520, I've noticed that once I connect to that same network with my 1520, it will drop the connection at times, whether I have Wi-Fi Sense on or off. It's not a big deal, but I don't like having to worry about whether I'm using my 4G data connection or using the Wi-Fi. Your experience?

you right about the video card update,the games are no longer laggy. thanks

Am I the only one haveing a slow experience with the last update? Random freese ups. As if the phone isn't working and then buttons stop working and then screen fully frezzes up. So i hold down on power and volume controlls to do a reboot? I hope this update fixes this issue... I hope it seams faster... edit - nokia lumia 1020

Had this happen once last week, UK. Hoping just a one off.

I've had this problem alot here the past week for some reason on my 1520 (ATT). Maybe this update will get it lined out.

I have seen it multiple times on my Icon. When it does happen, my Icon gets pretty warm, like there is a hung process and then the battery power drops like a rock. Usually I just hold the power button in until it shuts off. Leave it off for awhile, turn it back on and the issues subsides. It happens almost daily.

Guys its a beta ... When you get the Cyan official update with the firmare updates then
you have the full update. We dont have the piece from nokia yet so intil we all do there may be a few quirks. Heres a easy explanation and its true for all platforms. Beta- is bleeding edge release version - leading edge couple of patches later -really quite stable Just pick the spot you can live with and be happy.

Good point Mark, but we are on Windows Phone partially because it is a rock-solid stable piece of software. We have got to keep them on their toes. I'm more than happy to gripe about it here with others to make sure that we keep that fire lit under MS's behind by inspiring each other to gripe about it directly to Microsoft. Not to mention developers. We complain to each other but seriously, use feedback to complain and request updates every once in awhile. Use other services, whatever it takes. But yeah, its beta/preview and we know that but they need to know where the problems lie so they can fix them.

I have to say that I have not had any problems so far since the update on my 928. I actually feel like the battery life is better than it has been since the original 8.1 update. It had originally dropped off significantly and now it's getting back up. I'll of course have to monitor this for longer than a day but we'll see how it goes.

swizzlerz, i recently had the same experience. Randomly I'd get little lockups like that but it was very rarely. Only within the last month or so though. Which is odd since nothing but app updates have been released until today.

I've had my 928 freeze up on me as I am swyping more than once. Anyone else experience this ?

My phone freezes every morning and i am really sick of it. Only way to fix this is reboot. I am using ativ s, and if this isnt getting fixed, it will be no different to android...

I solved this by turning of wi-fi-sense

I get the same thing. Happens every morning. Only started to happen like a week ago or so. Are you charging your phone wirelessly or plugged in?

ATIV S user - mine works fine. Have you tried a hard reset?

My 1020 was almost unusable after the last "update". Unresponsive, constant freezing up , could not pull down notification bar and frequent need to reboot. On the positive side, my battery lasted longer because I could barely use the phone. Hope this update fixes it.

Update did nothing to fix my issues with my 1020. After sitting idle awhile the notification bar does not resond. Can't slide down. Everything is slow and will just freeze up. Have to reset to get it moving. Eventually it just reverts back to my unresponsive 1020.

Same here ,from Guyana, South America

No quiet hours in Sweden either.

definitely not when updates around +1020

Have they brought back hubs yet?

Don't hold your breath on that one...

Ok here's one change i see in the update.. Hitting back from calendar doesn't close the app.. It just goes in the background..

Just tried that and you're right, odd....

It was like that since the update to 8.1. Certain apps only get suspended by the back button until you press the X.

Never happened with mine.. Even fb is suspended.. Apart from calendar, fb and settings page is showing the same behavior.. Have to hold "back" to show that they are suspended.. Positive thing is that the opens faster the 2nd time.. But not sure how it affects memory and battery

Closing of apps have become smoother. Now with a little downwards push the apps get closed.Unlike before.

Just did.....now whatsapp seems buggy

For me too little bit, watsapp needs more ux update.

Maybe preparing for these 8.1 updates/releases is part of why the app was pulled for a few days?

Yah notifications are all over the place

Did you do a restart? I had trouble with Xbox music as well until I restarted the phone

No issue with me on 1520, didn't get the warning message... Seems to work fine for me.

Whatsapp always was buggy in here

Not available in India? :(

I'm guessing, if you have the dev preview, you can get this.

available to india also downloaded and now installing

its available already installed its around 21-30mb

It says my phone is upto date :/

If you've recently reset your phone (for any reason) go back into the Dev Preview App and set it to recieve updates again. More than likely that's the reason it isn't showing up.

Thanks, even I forgot about that

Yes.. I understood that when I didn't see preview app on my phone. Instaling 24%..

Yeah I had that same problem with the last update. I forgot to go re-activate my developer preview.

available in India just updated lumia 630

Any remarkable changes on video or cam pics...

Available in India now. Downloading.

Nice, now we even get OS updates every month :D. Well done MS .

MS is calling these Dev preview releases but, in reality, they're pretty stable. I'm guessing that's what all those Android rollouts were as well, but they were only called them full releases?

That's exactly what I was thinking. I have had a Android based phone ever since the beginning, and even though they call them full releases, in all reality, they are only bug fixes, and there sure have been a lot of them. Sure new features are added, but then they are full of bugs, so a new version is released and so on and so on, etc... Now if MM, or MS, would fix the touch screen issues on my 1520, it would be PERFECT!

I have to second that. Love my 1520, but the sensitivity is all the way down and I still have the issue.

I am not getting the update..it is showing..error..

I got an error the first time I tried to update, on the second try it appears to be working fine. It's currently migrating my data.

Available in india....just updated... Nothing newer yet....bud fixes i guess....tip me if you guys find something new!!

Lol cool, for a change...

Go Microsoft Go !! Really glad to receive updates in such a short span.

is quiet hours available on your phone without changing region means after update Quiet hours is available for you as global settings as region set to india

Hey quiet hours available in India also?????
Haven't checked it

No... no quiet hours in India... its just a false news.

Just got it now downloading

Please tell me you are making fun of Shingy.

I hope this fixes everything the last update broke on my 1020. Initial release: smooth as silk. First update, lost text messages galore and terrible battery life. I can forgive bad battery life, no tolerance for lost text messages that then randomly get sent out at 2:00 in the morning when my phone gets plugged in. Just say no to spamming friends with an afternoon's worth of texts at the crack of dawn.

Crazy. I havent had any of that on my 1020. I've had a few random hangs and long app resumes, but nothing that crazy. Good luck.

The long app resume times are ridiculous on my wife's 1520.

I got to playing with the settings, with double tap to wake off, the touch was more responsive, but I got the lag you mention, with it on, the lag was almost gone, but the touch would open up any app I had my finger even near.

Opposite of you. When I got Windows Phone 8.1 my battery life reduced to only 4 hours. After the first update it's even better than Windows Phone 8 at 2 days!

well strange my battery life was about 12 hours only after winows phone 8.1 after update 1 it reached to about 20 hours or 22 hours. lumia 520 here

What settings do you use? My Lumia 520 runs out of battery in just 7-8 hours.(even after the battery improvement update) :(

Man you need to hard reset your phone and everything will be just fine.

When you say to do a hard reset, do you mean reset, then do the restore with the auto backups, or reset then start from scratch? I wondered if restoring everything like it was would re-introduce some of the problems.

You can try restoring with auto backups and if that doesn't help you can always use Nokia Software Recovery Tool. It will wipe all data on your Lumia and install latest firmware and OS.

doing a reset and then restoring with my auto backup worked perfectly for me. i had to do it after the 8.1 initial release and again after the first update. after both updates it ruined battery life but after the resets and the auto restore it was fantastic.

"no tolerance for lost text messages that then randomly get sent out at 2:00 in the morning when my phone gets plugged in" This sounds like a combination of a couple of problems - first that you have your text messages being sent via data connection (perhaps because it's a group text and you're using MMS?), second that you have Battery Saver enabled, and when your battery gets low, it's stopping these MMS texts from being sent to conserve battery life?

My 920 was good with all of them but my 620 went to crap. I went back to WP8 on my 620. Plus it has the XBOX Music hub which is what I use it for anyway. I'll probably keep it as is for the life of the device.

Is your 620 from Aio? Does it have the Black update? Aio only has amber on the 620 and battery was horrible with 8.1. I flashed a Black rom and it now works great.... there are instructions in the forums.

my 1020 was randomly freezeing up with the last update.. sometimes in the middle of night sometimes in the morning. just would lock its self up and die. i would do a forced reboot. power and 2 volume controls. only way to make it work again. no i didn't refresh my device. I am unsure if it was an app. i was just atempting to figure out what may be causeing the problem when this new update was released. i hope it fixes it.. :D:D:D

Mine was doing the exact same thing after the WP8.1 update and continued after the last update. I couldn't find anyone else posting anywhere that had the same problems, though. I couldn't understand it. It would happen in the middle of the night and, of course my alarm wouldn't wake me up. Even while charging, if it locked up the battery wouldn't take a charge until it was reset. Sometimes it would lock up during the day just sitting on my desk while I wasn't using it or charging it. I hope this update fixes it. I wish there was a way to find an error log and send it to Microsoft so they could figure out what was the cause, but unlike apps, there's nothing I found to do that.

Exactly the same thing happened to me several times. Just freezes up, dies, nothing works, not even trying to hold the power button to turn the phone on, have to soft reset by using the volume keys and lick button simultaneously. I thought it was just me having the problem. I use the wireless charging plate, I might try the cable to see if it makes a difference. I had a few buggy apps and thought they might be causing a stuck process so I uninstalled then to see if anything changes. Hope this update fixes the problem, I got quote worried

I have a 1020 that randomly freezes as well. Last night while charging with cord. After second update I have to soft reset twice to make it boot to launch screen (power + volume down)

The same with my 1020. I only had 3, 4 reboots in 6 months of usage. Just the same day that the last update was released, I didn't installed it, and I noticed the phone was dead, no response switch off and no. I didn't remember how it was done the hard reset. I tried the soft reset, and no response, after some combinations, finally wake up. I notcied the date was changed automatically to one month before, from 2 of june to 2 of may, and appeared several notifications of sms, calls and so on the notification center. I changed the date, reset the basics, and at home, I updated the phone to the released 8.1 version. I cross my fingers, the phone during these six months worked perfectly!!

After last update I had lots of issues, hope that this fix them !

Just checked no update yet?

Make sure the Dev Preview App is set to receive updates on your phone. If you reset your phone it isn't setup anymore and has to be redone...

Also check if it didn't auto update. It did for me. I checked the About page.

Getting error message :'(

Installing now on my Lumia Icon

Thank you Microsoft! Can't wait for Joe to tweet the change log ;)

I will bravely predict the change log, even before I download the update: Performance improvents; and General bugfixes. (Luckily for the world, I've sworn to use my psychic powers only for good )

I am a dark type Pokémon :P your powers will have no effect over me ;-)

Or as Cortana says, "Don't try to frighten us with your sorcerer's ways, Lord Vader."

installing...... love it.....

Downloading. Bet there'll be no visible changes!

installing on my 1520... funny I got this notification as I was watching wwdc iOS 8 intro...hilarious timing

that is damn hilarious +1020

It's about time for the WP8.1 RTM.

My NL925 & 920 were perfect after the last update so I'm expecting nothing less. I'm hoping this update solves my friend's NL1520 WiFi issues as I made him ditch Android recently. Great job Microsoft !!!

What WIFI issues? I had an issue where I would lose connection all the time however changing the frequency on my network solved solved that issue. Most likely related to firmware and drivers.

Perhaps it's about the annormal battery consumption while connected to a WiFi hot-spot. I mean, I have this problem.

Yep, same on my 1520. WIFI would lose connection for no apparent reason, I have to turn it off and on. And there's this problem that sometimes my 1520 wont connect to my home router, it says "routername did not respond", but all of the other devices connect just fine. I hope this update will fix it.

My 1520 does that too ALL the time, well, at least 4-5 times a day. The bars just go to no signal and it's done. Turn off, and on like you fixes it for awhile. Same thing, every other device in the house is fine.

Change the frequency on your home network. I had issues with a specific frequency on 2.4 GHz network. Changed it to another frequency and that solved that issue. I also moved to 5 GHz which solved a lot of other things :-)

I have the same issue as well with my 1520 and I'm looking into your suggestion. cheers!

It is wrong better, not somehow not quite 100%. Recently I was toggling the switch on off and reset my router thinking it had something wrong. As if now hasn't yet dropped the WiFi connection but its been only 7hrs since its updated...,we'll just have to see.

I'm leaving it until cyan as it seem very battery hungry on my 920, shame really because I do like the preview builds

Did you grab the last update that was supposed to help? My 920 seemed to get way better.* *based entirely on my own experience with possibly few apps shared inbetween to affect actual performance.

Same here. My battery did improve tremendously.

Yes thanks, i tried the first update and didn't notice much difference but I might give it another go

UPDATE: I have tried wp8.1 again and since this update the battery is lasting for over a day so I am now getting what I got before

I´ve had some issues with my 920 overheating. Hope it fixes this.

I'm beginning to believe the Lumia 928 is immune to the issues most 920 owners have complained about. Every update seems to go smooth and without a hitch as far as my 928 is concerned. I get more than 24 hours with Cortana turned. The 8.1 preview for developers drained the battery pretty quick, however, after the first update it was smooth sailing. What confuses me is that I was under the impression that the 920 and 928 were fairly identically.

Your story is very much the norm... which should kinda make you wonder about other people's story a bit. Just sayin'.

Or you know, just like with any update, there will be a percentage of people experiencing bugs and issues, which is very much the norm as well and shouldn't really make you wonder about their story.....whatever that means. Mine works just fine btw

I wasn't clear in my comment above. The overheating issue has been there for 2 days and the phone won't cool down. It means my battery gets drained to zero within 3 hours

With my 928 I can't get more than 4 hours of battery with data on being used.. is it normal?

I don't think 4 hours is normal for any phone.

That is not even close to normal - my 928 had about 12% when I plugged it in yesterday after forty hours. I was asleep for about eight of those, but had wi-fi, bluetooth, data, Cortana on, battery saver off, and did my normal web surfing, took several pictures, and even made a half-hour Skype call. If you're really getting four hours, I think it's probably time for a reset.

I bought it less than a month ago... and the same happened with my L620! I mean 4 hous heavily using cellular data -like streaming radio, web surfing and checking twitter. It might have something to do with crappy cellular network in my country? I'll check when I'm in USA...

<p>I had the same problem on my L920 after upgrading OS to 8.1. Culprit was my Nokia (ovi dot com) email account. Simple fix, removed account and re-added it and the massive battery drain stopped. Would imagine any external email account ie gmail etc. may well be the same. Hope this helps</p>

I've had several freezes on my 928 (T-Mobile) and none on my 920 (ATT). I'm blaming carrier specific customizations, lol.

It is probably carrier specific. Lol

I agree, I haven't had any of these problems others speak of, sometimes I wonder if they're all true.

The 928 is just a better built phone, imo. I'm looking forward to the 930 to see how it performs.

First you had the wrong impression, second, you are correct on L928, many L928 users. have similar experiences including myself. Lets hear from those who beg to differ.

Had this for quite a while...hope it eventually fixes it as well! +920

Fingers crossed!
Switched 3 HTC 8X and 2 Lumia 920 because of this even when i was on WP8.0
With WP8.1 became even worse so i hope this update will fix the overheating/massive battery consumption issues!
It's a shame for MS to make a so beautifull OS that no begun to evolve more rapidly and have major issues like these!

Same here I was blaming one app but it has been a little more widespread. Sorry about that but glad it is not just me.

920 is known for getting hot near the camera area especially when it's under some load or caught in a memory leak. It's the only thing I hate about the model

Same issue here, so far, so good. Doesn't look like the battery is tanking for no damn reason.

I have problems with my L920 overheating since day 1. And unfortunately, every update gets worse. Before it was only while charging and playing games at the same time, after the 8.1 update only using it for a while would make it super hot, sometimes making the phone to restart all continously.... Hope this time they get it right. It's really embaracing to give the phone to someone to look at a picture or whatever and people mention how hot it is... Besides the fact that I have to stop using it cuz of how hot it gets.

Make sure your Dev Preview App is set to recieve new updates...

IS IT FOR LUMIA 630 DUAL SIM ALSO? AS I AM CHECKING BUT NO GETTING ANY RESPONSE

CAN YOU REPEAT I CANT READ U, PLEASE WRITE LOUDER

Turn caps off! It's harder to read!

NO IT IS JUST FOR THE DEVELOPER PREVIEW. See how annoying all caps can be!!!!!

KNOCK IT OFF IN THERE, YOU KIDS! DON'T MAKE ME COME IN THERE!

will 630 receive the update??

Just install Dep Preview on your 630 and you'll get it.

Which won't happen as the 630 ships with WP8.1 pre installed.

No, I think you can still developer unlock a 630 with WP 8.1 preinstalled. If you've installed the Visual Studio RC2 update with WP 8.1 SDK, you'll have an application 'Windows Phone Developer Registration 8.1' in the SDK. With that you can unlock your 630. Make sure you're not using the 'Windows Phone Developer Registration' in the WP 8 SDK. After you've unlocked your phone, install the 'Preview for Developers' app, and check for updates.

Was the date below the time before in the notification center? It is now

Yes it was there even bofore this update.

Do you have preview for developers app installed? If no then download and install it. Then sign in to your Microsoft account and enable developers preview.

Preparing to install 53% Didn't take long to download, not expecting much

I got it and installing now

Just to p*ss off Apple they should release the final version as Windows Phone 9 ;)

I think he is saying we should get windows phone 9 before getting cyan update. :P

"Almost done.......and it will be worth the wait." Did it always say that when migrating data?

Yes, it has done since the initial release, can't remember if WP8 had it as well.

I've started update process and hope Cortana availability for UK region.

I know what's it , I bet it's for Cortana !!!!!!

If you read the info that's out there, Cortana doesn't need local updates. It's all back-end. Updates can be done without contacting your device.

Not completely, there are some parts of Cortana that need to be updated on the phone. For example, last month her tone with some of the witty responses got updated with the voice actress's voice, but when you ask her to text someone, it is still the voice of Microsoft TellMe.

I know , I just thought because there is nothing to be updated ! :/

seems OS getting ready for win 8.1 official update.. :) :) :)

repair and enhance my wireless connection ability, please... Lumia 929 icon

I would concur with this. Seems my WiFi (but only at work) has been less reliable since the last update. Hope this resolves that issue. On a 928.

Yup, wireless on Icon is really buggy. Hope it gets fixed soon!

Updating now on 920 and 520 (UK EE & Vodafone)

Funny, I just checked for an update after installing the dev preview on this phone for the first time since my hard reset a while ago, and I didn't expect it to find an update and thought it was an error at first... wonder if there are any noticeable changes. Crossing my fingers that it'll fix the poor WiFi range on the Icon. :p

I'm sick of hearing about the review, I want the Cyan update!

Well do when I get home. Need to update the 920 also. Posted via Windows Phone Central App

Got an update on Lumia 920 Germany. The thing I've noticed right away: People News feed doesn't show it includes Twitter updates (though it does - just no notice about Twitter as a source on the top)

On my 920 after today's update I still see Twitter listed as a source at the top of the What's New section. US user here.

Reboot the device - Twitter is back :)

Yeah, mine shows Facebook and Twitter like before. So that's not it... keep looking. :)

Installing now. What's new?

WTH, no update over here at all.

Make sure you have the Dev Preview Update and that it is set to recieve updates on your phone. If you reset your phone recently - you need to set that app up again.

Thanks, I did a hard reset a week or so ago because all my Xbox LIVE activity stopped!

Same way as you did it before, download the DP app if you haven't got it already. Log in with your MS account, tick the check box and you are done. Check for update...

I'm for more popular apps to be announced. I'm not that excited about os updates, unless its adding new features. I want glide, ESPN score center updated, watch ESPN, etc...

Good point ESPN needs to be updated asap

I'm almost done. Hope this update solves some problems :)

i wish this could be an update for the lock screen app :)

That's what I think too lol.

The phone doesn't have to be on battery saver!

I hope it fixes my ativ s

My Lumia 820 is getting hot right now when installing the update!, I hope the update brings bug fixes and something new

Is what's app giving problems???

Reinstalling will fix it. (No I did not face it , but that's what I read on reddit www.reddit.com/r/windowsphone/comments/274mww/windows_phone_81_preview_u... )

in that case when they pulled it out and were working on it forever did they not check enough. Please dont complain they will pullit out again...

Yeah says data sense is in restricted mode even when it isn't. It does state when it's first installed on 8.1 that it does have problems with it though.

Hoping it further improves battery life

Migrating Data Looked like the Windows 8.1 Logo faded into view rather than just appearing on first boot

OOohhh, neat. I will check it out when I update my phone :o

Hope they've fixed the badly broken background tasks, still plaguing this OS after 3 years.

Never had any problem with background tasks, what are you referring to?

Since the first 8.1 DP, background tasks (and the so-called "live" tiles, the main marketing BS of the wp8 product) started to work indeed, even if the phone is not connected in any way to the internet (no 3G and no wifi). For me, that was the biggest issue since january 2013, and it SEEMS to have been fixed. Unfortunately as I became extremely skeptic about EVERYTHING microsoft is announcing in their changelog since the wp8 / win8 release, I no longer believe anything the joe belfiores, the larry hrybs, the panos panayis or any other corporate puppet figures say. I only trust to my own eyes and experiences, and if something is still broken, something is still not up to my expectations, I will try to spread the truth on all available channels. I dont trust any single word that belfiore guy tweets.

just watching the iOS review and I see answer calls to your phone on a mac, I have been waiting for windows to do this.

thats pretty nice...windows is now still missing features again - especially actionable notifications....

Except that, all other features announced for Siri are already present in Cortana, even before the final release...

Sure. So get an iphone and leave us alone. Thank you.

Who cares? Stop spamming. Post on imore next time. Thank you.

Who I spamming(that requires multiple posts) the shared phone its a feature I would like to see on my windows phone

Spam is even a single post. It's not about WP8.1 DP update. So more appropriate on imore. Thank you.

Kinda moody aren't u? This is about a windows update and I saw a feature that be nice. Might wanna relax a bit. I am a huge Ms fan with no iequipment. Geez, dont work with people much huh?

Nope. I come to WPCentral for a reason. If someone cares about a specific other OS feauture, he/she will go to the other OS site and read it. Makes sense now?

Stop trolling dude. Guy made a good point. Now get on with your life.

Ok.... Just updated and I can confirm that the much requested feature of "hands free" Cortana, is still not present... How was that?

How? In that I don't care if it's not in WP8.1 DP update. Pretty simple. And even when; Siri and Cortana are not even available in the Dutch language. So even dutch people with those phones do not have it. You know, we get a lot of tech info. If we would read all the info next to our day job, how much time would there be left for real life?

It's called Skype bro. Look it up.

Migrating my data now on my 920, sure hope this fixes the headphone issue!

Headphone issue?? i own a 920, not facing any issues..

Right ear bud still cuts out, very disappointed.

Have you checked your headphones cable?

That's happened to me twice. It destroyed two pairs of really good headphones, so now I'm just not gonna get new ones until I get a new phone, because I think it'll keep on ruining them.

What about Quiet Hours? It's now global?

No. Not for me in The Netherlands! (HTC 8X)

Its just 21mb.. But Microsoft didn't mention the update details clearly to the users... Just downloading blindly

Is whatsapp working fine??? After the update???

Mine wouldn't start.. Had to uninstall and then reinstall WhatsApp for it to start working again

It's only 21mb update Daniel

Still waiting for the official update Lumia Cyan

Any news when is it due for?

I hope fix loading start screen lumia 1520

It looks like it eventually fixed on my Icon

So far I'm not seeing any resuming screens and whatsapp seems snappier.

Change: When tapping on the notification for app updates in the notifications center, you get directly to the apps to update and not to the store start page

it was not always like this . it's really a change

Not for me...it always went to the main store page, then I'd have to swipe over to history to see what App was updated...very annoying.

It's a change.. and a good one.. but new store is bit slow compare to the older one..

Always took me straight to downloads.

It was buggy.. For me sometimes it took me to the download and at times to the the home page.. After the update the first time i tried it took me directly to the the download page.. Will have to check once or twice again to see if it's really updated

Started update then failed to update, error code 800705b4. Went to Dev Center to sign in; it just goes and goes and goes with no sign in. using 1520

After the last process, migrating data etc, i did soft reset
it said failed to update.
However OS version has changed to latest Anyone got the same error

Well, I'm now stuck in a very windows 8 like looking error screen. "PROCESS1_INITIALIZATION_FAILED" Lovely... https://onedrive.live.com/?cid=05f15e85d78777e0&id=5F15E85D78777E0%21140...

I have exactly the same, have you fixed it?

Just fixed it by resetting (volume down+power button)

Resetting worked for me as well. The update is now done.

Same here. But phone seems to work just phone. Lumia 928.

Ah, the Blue Screen of death...Now on Windows Phone....gota love MS :)

"You phone is up to date "

Check your Preview for Developers app to reactivate it ;). It was the case for me.

Check your Preview for Developers app to reactivate it ;)

WP and iOS war of attrition continues...

i hope quiet hours works with every app, like having someone on the inner circle and all they can get through is a normal call, no skype/fb or whatever

I will give it a day to see any other improvements, but momentarily, it looks like time lag in unlocking screen on ICON looks fixed for me

Downloading.... India :) Lets see ! thank you guys

is quiet hours available on your phone without changing region means after update Quiet hours is available for you as global settings as region set to india

Hi, I'm also from India. I've updated my phone. I didn't see' quiet hours' any where. While checking in Bing search,I got it. But, Cortana says its not available in our country. What to do..?

Same here.. Asking me to turn on Cortana, which of course is not available in India

Nope, it is still tied to Cortana. It makes no sense at all, which is usual for Microsoft, I guess.

Apple just announced many Windows Phone features into the their OS's, including word suggestions

Can you provide listing of the features in new iOS ?

http://www.theverge.com/2014/6/2/5772600/ios-8-features-and-release-date And wait till Apple updates : https://www.windowscentral.com/e?link=https2F2Fc%2F2...

Here is full overview, we're still ahead with Windows 8.1 however on WP8.1 based on this we'll be falling behind slightly so will Android: http://www.theverge.com/2014/6/2/5765048/apple-wwdc-2014-os-x-yosemite-ios-8-and-all-the-news-you-need-to-know

When I read now they're showing a live feedback of what Siri is understading, I thought "Cortana ripoff". Apple is losing whatever edge people still thought they had after the demise of Jobs. It's been happening for some time, but you know, their fans are really hardcore.

That hardcore fan thing might be in dangerous situation one day like GM :D

And interactive notifications... See kids? That is why leaks are bad for business...

Agree, leaks are bad however they can be good for keeping people onboard until new changes come. Anyway as whole Windows 8.1 Update 1 is still much more advance however must admit that Apple's continuity is very impressive and at Microsoft we're only just getting started.

Built in Facebook interrogation in messaging on ios 8.We use to have it, what a shame. ios is moving forward and WP is moving backwards.

Do you have to re unlock your phone of you do a hard reset. The update is still not showing up.

If it is a factory unlock, you never need to unlock again.

Check your Preview for Developers app to reactivate it ;). You must dowload the app and active it by sign-in in it :-)

Can someone confirm if this fixed the right ear of the headphone going dead after a notification? I am tired of restarting my phone everytime to fix this

Facing same problem too, in my 925....

Same on 820... And after sometime.. Both ears will stop.. Only restarting fixes the issue

Me too.. Haven't tried it yet.. Somehow after the update my battery percentage has gone crash.. It was showing 24% for like forever.. I restarted and it showed 65%, which i think was the actual percentage..

Yay! The update introduced lag to my previously perfect Start Screen on L928... :(

Dont really see anything new...but it seems like the notification shade speed is much improved .

Yes, you are right. I can see that too

What do you mean by notification shade speed?

i assume they sped up the animation. I never really had the issue which I believe some said was fixed in the last release where if you had a ton of notifications that it would lag...but the shad seems snappier to open and close.

Noticed the numbers next to OS version changed...

I am installing updates on My luma 820

dammit, using 1020, spinning gears for about 10+ minutes now. bar hasn't changed. uh oh.

No worries, that part of the process depends on the amount of stuff your phone needs to migrate. I have a 1020 as well and it took about 20 min. That first part of the migration just sits without moving then it flies through the rest.

Hang in there... I had this scare too... Patiently waited for more than twenty minutes and then it progressed... NL 920 Posted via Windows Phone Central App

It took 35 minutes in my phone 920

Your battery needs to be charged before you start updates, Lumia 820, India

Have you noticed any changes??

I got the same.... Kicked off again at 20% ;)

did soft-reset and it is downloading, now installing

Guys, please let me know about WhatsApp. Is it buggy after updating your OS to 2nd update? Thank yoi!

Just updated to this update and my whatsapp is fine, just used it.

Had spinning gears for 20 mins+ and bar not moved. Anyone else have this problem?

Yeah its migrating your data , just open your phone and you'll see

Notifications pull-down: Did it always show the date and battery % in numbers along with Provider info in small text under the icons ?

Then I have no idea what the changes are lol

Yeah, it's always done that.

Been got that update on my Lumia 920.

Just installed the update and restarted the phone again (to hopefully cool the devices down). Any chance of a change log, or is this bug fixing voodoo?

For a complete change log, just write down every behavior of the phone before and after updating, and diff the two files.

Thanks for the heads up :D Downloading my lumia 1320 install 98%


Getting error: (800722e2)...any clue!...

migrating your data step 13 of 19 :)

hoppefully it fixes the problem with skype, it crashes everytime since i got wp 8.1 preview

After the last update, I saw 2 major issues on my 1020: 01. Cortana cannot understand my English well - I have to repeat my question 2-3 times with different variations (just like iOS). Before last update, Cortana was good. 02. Search does not fuction. Cannot search my contacts anymore. Hope this update fixes both. Updating now.

So when is the actual windows phone 8.1 going to be released?

ok, regarding the search button on a 1020, it works well it can find contacts, and also (what i find weird) i can find some very old facebook conversations from the people hub

Well spotted, didn't notice that. I haven't seen anything else though :'(

I have the new update now. But these two issues are not yet fixed.

Any one noticed any new changes?? Please reply if you noticed it

Calendar app looks different

In fact it hasnt changed.

I have neither of those changes

Great that 8.1 (PD) gets more updates! :)

Its on 29% for last 20 min.Is it normal?

Yes, the more files and apps you have on your phone, the longer it takes.

I can't find any something new. Do you find it guys

My lock and lock sounds are not working now. Tried a soft reset. Didn't solve it. L920

OMG! It added the Cortana Hologram feature. Just press the search button and stare at the screen, it will pop out. BTW, it seems faster (For the Fans)

Cortana always pulsed... I think? Doesn't seem different.

Yes, it did that already. But Not yet anything new for Cortana. The time we see Cortana as a hologram, We have to wait for another billion years before that happens..

Multi tasking has become faster and smoother after update

I noticed that too. I've had issues with apps reloading slowly before, now it's all smooth again. Lowly 529 here.

Yup, seeing that as well. The 'resuming' delay is almost gone or unnoticeable now

Now I have the left picture as startup after WP8.1 preview, will it turn back to right one? Phfffffffffffffffftttttttttttttt.........

"We're getting there...and it will be worth the wait. Migrating your date (step 1 of 15) 0%" then zipped to 7 of now 9 of...

Help please. Can't get any update. Says my phone is up to date

Did u check the OS version your phone runs on? It might be already updated. Like it did for me. Auto update feature, remember ;)

After update i feel my Phone (1520) so slow.

Opposite. My phone and battery seem to be awesome now :)

Im in the UK and mine has finished the update fine

Downloading... My WiFi's down, what the heck it's just 21MB. Downloading...using cellular data

9 of, 29% then zipped to 46%

OH COMMON !!i loved the previous blue logo only boot screen!!!

as if i cant see!!moreover i said logo only,be more matured in your comments....

Who on earth do you think you are talking down to?

i think i m talking to someone who never noticed the battery% and date and time under the notification pull down!!!am i right??what a shame buddy!!use a phone and then come back!!

I like the new one better, it's easier on the eyes

The very old one with the blue background was a killer during the night...

I wish it was the blue Windows icon but with the lines fixed (the lines were too thin compared to the actual logo). Also which it animated (like spin or something) or at least slide in like WP7 did.

Well Cortana still cannot access (play) local music files if streaming feature is turned off in the Music App.

mine eas for the att 920, it 19mb and it from att

Really? I have streaming turned off, I tell her to play a local song and she plays it just fine, even before this update.

Well Doctor. It appears that there is an Xbox Music file in my local device that I've downloaded (not purchased) that she cannot play. Maybe I have to re-download it.

I preferred the previous boot screen. It was more Windows 8-ish.

Guys, I've updated my NL1020 and they have improved to the wizard's voice in Spanish. Not only this PHONE but also this MESSAGES, NOTES and SEARCHES.

Adobe Reader no longer crashing on start. But no quiet hours in settings. L820 Czech

I had quiet hours even before today's update. Did anything change on that feature today?

its not scanning my card after the update..help please

I had this too, sorted itself out after 15 mins

15 of 15 and wala! Update successful 8.10.12393.890

Not seeing any "Quiet Hours" setting in the settings menu. [Region: South Africa | Device: Lumia 1520]

Same in UK, no new start up image either

Me neither. (Region - USA)
(HTC 8x)

It's integrated into Cortana. So you have to open Cortana.

WTF!!! Why isn't the update showing up?

Reactivate your dev preview app

The Windows Phone messaging app is buggy and slow. Sometimes it will send the message, other times it hangs and freezes the UI.

They need to work on fixing the gears screen. A simple update should not keep spinning the gears for close to an hour. For those stuck on the gears, try removing your SIM before updating. Works sometimes to speed up the gears.

Umm... if it's migrating a lot of data, it's going to take some time. If you truly want it to go faster, move all your files off your phone onto a your desktop or an SD card and then install the update and move the files back when you're done.

My phone asked for 638MB not 21 ;< HAd to remove some apps.

Same here!!, I almost thought I was the only one, had to send some apps to the SD card.

IT SEEMS FASTER THAN OFFICIAL 8.1 UPDATE! Microsoft, WE already missed applications by other OS!

All is well in Softieland, once again...for now.

Fingers crossed for battery improvements...

I agree on that, I went from at least 9-10 hours to maybe 2-3 hours on my second device Lumia 520. I have two Lumia 520s one with 8.1 and one without. The one without runs all day no problem.

Guys, I've updated my NL1020 and they have improved to the wizard's voice in Spanish. Not only this PHONE but also this MESSAGES, NOTES and SEARCHES. (Update: Spanish in Spain)


Nope, no dice ... Just updated my 8X & still can't access Quiet Hours ... The option is not in the settings page. When I launch it via a Bing Search, I get a Cortana pop up says "I'm Afraid I'm Not Available In Your Region To Help" smh

Having exactly the same problem with the same phone here. I hopes that this will be the update that brings cortana to the UK, but nah .. I think its yet to come.

Nope, also in German region she tells me that this feature is not available.

I preferred the use of the Microsoft Imperial Seal better. It matched the Windows one.
And here I was thinking the plan was to bring Windows, Windows RT and WP closer together...

The popping in the video is away!

Srsly? NICE. (How about the noise between music tracks?)

Video "pop" is still there for me, sadly.

Nope still the same , not fixed

The popping when when changing to different times in the videos seems to be gone for me as well. L920

Definitely still there. FAIL.

In my gf's iSh!t I hate updates, but I love it when WP have updates

i'm neither able to find quiet hours, nor did the boot logo change for me.
using lumia 925 in india.

After the update I can't go to the display function.
Did anybody is suffering from the same?
Please notice me why this has done to me...?

Battery life horrible after update, and visual voicemail is messed up big time.

mine works fine. try restarting the phone.

Just did and voicemail is back working, but the battery life is worse after this update.

The update has only been out an hour or less ago!! How can you quantify the battery life in the latest version in such a short time of using your phone with the latest version???? Give it a day or two - or better yet have it fully charged and use it as normally as you would before the update - THEN you can say it did worse (or not)...

Exactly what I wanted to say..

From 70% to 50% in a hour with normal use.Yeah! It's a problem.One step forward and two steps back with this update.

That means 20% per hour --> that means 5 hour per full charge. Thats what I have when I use IE over wifi to browse web and watch some youtube videos, since january 2013 when I bought my 920.

Because you agreed the terms and conditions that being a proud member of a software program means sometimes the weather is not sunny and shiny, but rather cloudy windy and rainy (translation: you are installing dogfood beta software on your device, you have to live with what MS give you)

Nice, glad to see Windows pushing out updates to improve Windows Phone 8.1. Can't wait for the official release. On my second Lumia 520 WP8.1 caused the worst network and battery problems. Hopefully by the official release those things will be fixed on older devices.

"Hopefully by the official release those things will be fixed on older devices." Or not, so you are force again to throw away your 1-1,5 yr old device to buy a brand new one. Hey, that is what keeps the economy not (yet) collapsing. So be a good obedient consumer, and consume!

Anyone notice that Skype video calling isn't recognized when you call someone now? Checked under settings, and it says I have no video calling apps installed, even though I have Skype.

That "new" boot screen has been on my 1520 prior. I just bought the phone over the weekend and put the DP on it. Just updated the newest today. I noticed my 1520 wasn't Blue like my 1020 before the update. I haven't updated my 1020 yet to see I it changed.

Fixed it by reinstalling Skype.

you have to link the skype contacts and your outlook contacts tgt on the phone for it to work

I think I used to have the boot screen on the right and now I have the left one after the update. Posted via Windows Phone Central App

updated mine Quiet Hours isn't global and you need cortana if you want to use it logo remain the same without text

Hopefully SD writing is faster

Tiles are not blanking out after this update..

can u provide more details??on what phone you are??blanking out really means?? i suppose u r using a 512 mb ram device and referring to live tiles not loading timely and showing background pic for few milliseconds before becoming lively!!am i right or is it anything else??

Yes exactly, i'm using a Lumia 520.
Yes I'm referring to live tiles not loading.
This problem is not happening now.

I've noticed my WHAT'S NEW section for ME in the people hub is updating fully again. It kept missing loads of posts off prior to update.

My Lumia 920 is now recognized over USB on my Windows 7 PC. Will try Windows 8.1 when I get home. I have had no success getting any of my Windows Phone 8.1 devices to be recognized by my PC's, even after a hard reset, so this is great.

Any idea when 8.1 will be released to the public? I don't mean the dev-version. Thanks :)

It already has been released to public. Lumia 630 is already available. For older devices, the rollout will start soon, probably at the end of this month.

The lumia 630 is running the april 4th version of the wp8.1 dp, so you are wrong. An owner posted a screenshot as proof last week. There is no such thing as RTM wp 8.1 anywhere on the planet currently. Its still not ready yet.

All I can think of every update comes is the good old days of what the is was (gdr 1) and how it became..
And I'm proud ;)

Cortana seems to launch much, much faster now.

Odd, I had both of those boot screens. Windows logo first then the WP one.

Hi guys, I have bug in WP8.1. Sometimes when I have opened keyboard in adress bar in IE. And simply swipe down by display to back key my Ativ S freezes and starts to rebooting. Is it only me, or do you have same issue? Thanks.

Seems fixed, now. But it was kinda randoom, so we will see. :)

I have 620 and no that doesn't happen with me

I got that bug too on my Atvi S. Hope this update fix that...lets see

Hey! I thought that I am the only one. Seems fixed to me, how about you?

How long does it take to update on Lumia 520, any idea somebody?

20 min.. But I have some apps... XD

Verry nice the last update. I have Nokia Lumia 1320 . First changes I see on the cortana settings "quite hour by calendar , many quite hours . Nice WP8 , I live this OS.

I got the update, but still have the old lock screen on the left. Lumia 920

Facebook integration is working for me again.
Kept getting error messages when I tried to upload a photo from outside Facebook app.

Hopefully its for HTC 8S and 8X user in Europe where the USA language isn't in the ROM so we can finally try Cortana. (No, it doesn't do it when you change your region and the language to English USA because there isn't a option for that last one, just Canada and England)

No change of boot logo :( same as before the update :( whyyy:-\

Nice! whatsapp is fucked up again! Good job microsoft

With the notifications issue? Got that prob on my 520 Posted via Windows Phone Central App

WhatsApp doesn't support 8.1 yet. The last update for WhatsApp was for 8.0 GDR3.

Tnx for that man! Seems i had it wrong all along. Posted via Windows Phone Central App

so Whatsapp will be fixed for 8.1 a year from now ?

maybe when the next WP OS rolls out haha

Downloaded the update but I still have the old start screen (large blue Windows logo) and Quiet Hours is no where to be seen in the settings.

That is the new logo, there old logo was a blue screen that said Windows phone

Nop, the previous logo was the bootlogo we see in Windows 8 and 8.1, the new bootscren features a grey/black version of the bootscreen your referencing too.

since the first update to 8.1 i have quiet hours on my settings menu, but in order to use it I need to turn on Cortana. seriously did anybody have Quiet Hours without using Cortana?

Only thing I noticed after the update was that every app that wad installed on my SD card was greyed out and said installing under it. It finally did finish though, had to uninstall and reinstall simple calendar, but that's about it so far

cant use swipe keyboard when update

Got it. But the boot up screen remains the same, not as shown on this post. I like it though. It gives me a feeling of Windows 8.1 environment, same as my laptop.

yes yes u got me!!same here!!

I didn't found quiet hours!

Another English speaking update - too bad when your not in the inner circle :-(

I prefer the boot screen with the blue Windows logo. Almost don't wanna update now :)

1- The Nokia Camera Beta seems to launch faster 2- When you touch the screen to lock focus pressing the shutter will take the photo instantly while before it would have refocused before taking the shot resulting sometimes in motion blur if you even move your hands slightly. Has anyone else noticed these changes? @jjnapoleon

My HTC 8x seems to be booting up alot faster now. But i didn't get the new boot screen or quite hours tho.

I have an 8X as well, and I got none of the mentioned features.

Yeah, I'm getting that too on my 925; no logo change, but it now shows for like three seconds (Win logo) and boom, the phone is ready.

Indeed, boot time is a little faster. The Windows Logo shows for a little time (2-3 sec.) meanwhile HTC logo shows 2 times. I have a HTC 8X.

Is whatsapp not working properly???

Mine isnt. Still have notification issues on L520 Posted via Windows Phone Central App

Lumia 1520, UK - No sign of Quiet Hours, but all my apps are working fine, including What's App.

Nothing here either. Even loading splash is the same.

So where is the quiet hours setting without Cortana?

When 8.1 will,be available in Singapore region can anyone update please

The same happens in Brasil

Downloaded and installed! Looking for changes and see none... though my 1020 does seem a little smoother. Less lag returning to the Start screen in some situations... it actually does "seem faster"! :D

My L920 is faster and smoother since the update :)

do you use whatsapp? if so, does it still work?

It's working fine for me (925).

Installed smoothly on my 920. Can't see any changes yet, although apps may be opening a bit faster (might just be from restarting it, though). I've always had the 'left' boot screen, and still do. Being in the U.S., I can't tell any difference in Cortana or Quiet Hours. And no, I don't use WhatsApp.

Found nothing new. ( India )
Even Quiet hours is missing.

In this tempo they could've kept hubs.

Cortana seems to launch much, much faster now. The boot screen still looks like before - right side but light blue background.

There is something wrong with the SMS inbox. It won't put the newest conversation on top when getting an SMS. :-\ Update: damn, sometimes the messages are gone to inside the conversation. Even the ones I send. Lumia 920.

Check if the date and time are correct. If they are wrong the messages disappear.

why did they on first hand changed the boot screen when they had to revert to the original one with change of color!!dont want to update...daniel save me!!

I noticed a lot faster boot time and less lag overall - HTC 8S BTW no boot icon change

I think the new bootscreen is depending on the resolution of your screen, had the Wndows Phone one before this update!

No quiet hours using french on my lumia 1520 here! C'mon Microsoft!!!

Ok, I notice one improvement, a nice one and looks like my prayers were answered, the text messages quick notification on top of the screen now is fast, and I mean fast.
Before when somebody used to send me (just today) several text it was a painful delay to show the next one, now it shows one after another really quick.
Hopefully I have explained well. ;)

I actually liked the blue windows logo when booting but not a big deal

Am I the only one still not getting whatsapp notifications? ...Lumia 520... Posted via Windows Phone Central App

Really nice from the quiet hours change. I already thought, why is cortana needed for this little feature that can benefit everyone already? Really glad they changed that. Also like the new bootscreen :) Posted via the WPC App for Android!

My 1520 is running 8.1 SO flawlessly I am almost afraid to update. I may wait and see who has issues and what they are before doing this update. Don't mess with perfection....

What does it mean using quit hours without Cortana? I never used quit hour with Cortana and it worked great

I have hust installed the Update and the phone is running quicker and more smooth but still no Cortana and definately no quiet hours out of cortana so that is just rubbish. What was the update for as things are faster but nothing to wait 30 megs for. Dave

Umm... 30mb is the entire OS update package. Just because they are mostly performance improvements doesnt it'll be a small file. They have to replace larger system files for that.

Boot screen is the same for mw but where do i find quiet hours? I don't find it, only if i go on US region

Will it fix the screen I shattered on my 1020 this past weekend? :p

when will the windows phone 8.1 update releases in india.please answer.

Installed the Update and i can't see any changes even the screen boot is the same and still can't get quiet hours...UK

My boot screen didn't change, its still single blue windows logo....!

Something I noticed from this update Per my Lumia 920 is the music store. Songs play quicker. Before it took forever to start to play a song not in collection. (I have Xbox Music) Plus, I dont hear a pop sound after each song. But, I still get hickups or quick stop starts with Video Podcasts longer than 23 or so mins. That bugs the crap out of me. MS really needs to fix their Podcast app. This bug was in WP7.8 on my Samsung Focus and gone on Nokia Lumia 900 WP7.8. Cant get reliable help either. Every person at MS said we are working on that and then gives to next tech level up. Sorry in advance for long rant......I just want to watch my Window Weekly Podcasts and other long video podcasts without interuptions.....

No quiet hours on my 1520

My Nokia Maps and Games tiles briefly went blank after the update so that could be a clue.

With this update it's faster and I really mean it's faster !! , quiet hours still need Cortana for me

Dammit....every single update I keep HOPING that obnoxious facebook logo will finally disappear from my people tile.

Glance option in setting dont work anymore. It say "glance can't be opened. An app update may be avaliable in the store" LOL anyone got a link to the app.

Ohh woooww, my phone...it feels...the same.

When pulling down the notification screen, locking my phone with the power button and then quickly turn on the phone again the notification screen will be stuck on my lock screen for about a second then suddenly disappearing. This happens since this update. Lumia 1520

i was seeing this since the last update (edit: on my L925)

Hope my daily morning phone crashes gets fixed.

Where do you find the quiet hours setting

All my apps now just say 'installing' and I cant open anything... Perhaps it was due to an unexpected call during the upgrade

Changes I have noticed: Cortana understands my English accent ALOT better and is a lot less laggier (

+925
My 925 32GB feels snappier, Boots remarkably faster and Quiet Hours are in place @ the Settings menu...
Also my device is hotter, I'm writing this message and the back of my 925 is *hot* :/ perhaps snappier comes at a price(?)

Are your apps still installing in the background after the update? Mine did this for quite a while after the update and my phone stayed hot during that time then chilled out after the installs were competed.

Fix witch i found: - Sound on here drive+ works again on my lunia 1520 (dutch). This did not work at all on preview version, after this update it finally works again! - screen sensitivity looks normal at last on 1520 :)

It's most likely just very minor updates and lots of performance improvements.

No changes here. Downloaded, still old loading splash.

Spinning cogs again !! Wish I could change that animation ! Does it go clockwise ? Or counter clockwise ? Im confused !

Cortana understands my English accent a lot better now, maybe they're getting up for a UK release?

I've noticed an improvement in my Lumia 1520 screen sensitivity. I thought it would be a firmware issue but I'm not experiencing the accidental selecting of the wrong item because of over-sensitivity. Well done!

- Action Centre swipe down is smoother - Cortana launches faster

No change in boot screen (925, India)

Since this hasn't yet been commented: Bluetooth 4.0 has been restored to "functioning" status on Lumia icon. The last update broke the 4.0 profile (3.0 remained functioning) Hooray for 2.1 soundbars with passive subwoofers! (and bluetooth of course)...

Really?? Icon here and very annoyed I haven't been able to stream to my soundbar. This alone makes this update awesome.

You say stream but it seems like there is more involved. Some bluetooth seems to use a connection with no preprocessing. My prior vehicle (2013 Hyundai Sonata) used a connection which sounded like doodoo in a can. On the reverse end, my soundbar (a Philips 3133b) seems to have a level of clarity believably enchanted. If I were to guess, I'd say the soundbar demuxes the stream, processes, re-encodes, and outputs in near real-time. Noticably clearer than the car, and I don't think it has anything to do with the profile version. But who can say for sure? But yeah, the update restores the 4.0 profile used on most newer soundbars... Jam on bro

Nice. I had great sound playing from my phone before, so hopefully it'll be the same. Makes my day!

Anyone have an issue with the 1520 after restarting where it says "need to scan SD card for errors?" Also, every morning my phone locks and I have to restart. Haven't done today's 8.1 update but have the previous one. Hope new update fixes this.

I just updated my Lumia 925 on T-Mobile USA, and I lost data service on 4G and LTE. 2G works fine. Not sure if this is related to the update but the problem started immediately after. I'm in Seattle, WA.

Lumia 920 freezes at ~4-5% when the gear wheels appeared for about 10 minutes, but jumoed to ~80%

Boot screen is the same and np quiet hours here in Ireland on 1020. So I presume its only certain countries along with bug fixes.

Seems warmer... ( after install )

Mary Jo Foley said on twitter that is update is just fixes with no new changes

You can see most recent game you played in game hub.

mmmmmm, No videocall by netowrk implemented, plz...videocall by the network plzzz


Cortana is not working for me

Interesting. What I noticed/didn't notice: Camera works just fine (same)
Swype is fine
Boot screen is the same
Quiet hours was turned on after reboot
Said something was wrong with my SD card (?)
Double tap to wake it's still but sensitive enough to wake up the first try

The incoming SMS displays fully on the screen. That is what I have noticed so far.

i miss viberation option for quiet hours

Not sure if my previous comment was posted, so I'm trying again. I applied the update to my Lumia 925 on T-Mobile USA, and right after that, my phone can no longer get data on 4G or LTE, but 2G seems to be working fine. Not sure if it related, but it happened right after the update. Anybody having the same issue? I'm in Seattle, WA.

Sensitivity issues (swipes registering as pressing) seems to be fixed on my 1520! Yesssss!

No changes on the boot screen logo for me nor the quiet hours (maybe US only?). Boot speed has increased considerably though.

I noticed an nearly instant "back button"

What I noticed after update; Faster opening apps Beter touch responce Notification center open less smoothly. On Lumia 1520

The store is much faster on my 1520 arter the update.

I love the old" blue windows logo" boot screen. I hope my bootscreen doesn't change to the new one

I hope they improved stability. My 1020 gets daily lockups and I'm talking about the hard-reset required kind because power hold won't work. Either WP 8.1 is really half baked even in this 2nd update or micro-nokia needs to at leats put out a preview firmware to squash the bugs. It's a great OS and without the proper firmware, I give them the benefit of the doubt. But as they now control nokia and all its software, it doesn't seem unreasonable for them to release the firmware update for program participants.

Cortana asks to search web on some searches Tile lag gone No new boot screen I have asked Joe Belfiore for changelog and the Windows Phone Dev Team will update soon

anyone having issues with INTERNET SHARING? My Samsung Galaxy Tab Pro 8.4 keeps on disconnecting after the update

False alarm: the region of my 8X is non-US => no Cortana + no Quiet Hours.
Damn! I don't need Cortana but I'd like Quiet Hours. Also: splash screen => still only the Windows logo, without the text.

Y'all need Tu fix Cortana she is not talking

She only speaks if you speak to her. Typed queries give silent responses - this is normal behaviour.

Podcasts app resume time is much improved.

QUIET HOURS NOT AVAILABLE... It says "Cortana not available for your region"

i still got the bug of loosing the ringtone and returning to the default "over the horizon" with every restart or even in random times! samsung ativ s

Same for me, automatic apn settings still missing in the Ativ S also

i also got a huge bug on the camera flash. it works totaly in random and after some tryies it crashes the camera completely with a need to restart the phone to make the camera work.

since the first update from 8 to 8.1 i have quiet hours on my settings menu, but in order to use it I need to turn on Cortana. seriously did anybody have Quiet Hours without using Cortana?? Because if not, everybody is just mixing information here.

Downloaded & installed but no changes encountered on my Lumia 625

MSFT is so smart! When the peanut gallery really starts getting bored and all bitching and whining slows down they push an OS update to herd everybody back to the farm. :)

Lumia 620 owner here. Everything is much faster now. No, seriously, not a joke :) I had a pretty bad experience lately, waiting for a start screen to appear for a full two minutes after hitting the button, to name but the worst. :/ Everything is much snappier now.

The update process drained my battery from 100% to 45%

Here's what I've seen so far in the update: - Updated blue "Windows" icon boot screen (before the blue Windows icon was over-sized and the lines were too thin, now it's nicely-sized and the lines are thicker, making it more accurate to the actual icon)
- Notification centre slides down smoother
- Cortana launches faster

I've got the old bootscreen

I am unable to download the update, it couldn't be opened. I get the error: 8007000d. Somebody please help

I'm also getting the dreaded 8007000d error as well on my L920. I've tried clearing space and a soft reset, but fear I might be stuck. I don't really want to do a hard reset or complete firmware restore from the Nokia Software Updater as I don't think many apps/games currently support backup of their data and settings. However, unless anyone has any better ideas, I think I might be stuck (either forced to go the full reset route, or just wait until the 930 comes out and upgrade!) Anyone any other ideas?

My Boot screen hasn't changed!!!!!!!

I downloaded the update.. Phone restarted after clicling install now.. and now it is stuck at charging screen... :(

Email sent to Joe. Awaiting response.

No quiet hours here in the netherlands. No new bootscreen. Lumia 1320... What a bummer. Really hoped for quiet hours...

Anyone have the issue with 1520 that you have to soft reset device every morning because it's locked up? Also, often when I restart, it says SD card may have errors and it needs to be checked. It never finds errors but you can't use phone until SD card is scanned. Hopefully this update will fix these issues for me. Been using previous 8.1 update.

yep me 2,but not on scanning SD (only freeze). Do you havea wireless charger, if so try to charge it by USB instead and see if it still locks in the morning. Mine 1520 did not freezeanymore after charging USB only, gonna try tonight (i updated to this version) if freeze problem is fixed...

The boot logo didn't change for me. I like the Windows logo more though

My 820 keeps rebooting while not completing the update cycle. What can I do?

Wi-Fi still not fixed for me....

I still have the blue windows as my loading screen

Can anyone confirm if it fixes the problem of IE11 crashing all the time while using YouTube?? I'm using Lumia 920. It used to crash everytime I tried using YouTube.

It made me reinstall all my apps that were installed to my SD card and it took a very long time

Is it just me or does the inertial scrolling in my Lumia 620 feel so damn slow? It's not laggy. Just rather slower than I'm used to - it just doesn't fly why I flick my finger up or down anymore. My 1520 doesn't seem to have the same issue and it seems to be most apparent on the start screen. Is anyone out there noticing this?

Quite hours is still depended on cortana. Changed my region settings back to Germany, can't access quite hours anymore :(

Boot time seems faster. Cortana "getting things ready" is definitely faster: 1 second vs. 5-10 seconds.

does anyone know in general what this update has in it????

General fixes and improvements

General fixes and improvements

I noticed youtube videos are now better handled in IE.

Wait a couple of days, until google energineers analyze the new IE11 beta running on wp8.1 beta, so they can adapt the youtube mobile version, so it will start crashing again. Sounds unrealistic? I even expect more uglier and sneakier responses from the company called google.

Jajajajaja, efectivamente, mucho más veloz!!!

Strange. My 920 restarts each time while it attempts its 'preparing to install' stage at around 80% or so.

deleted- didn't mean for this to be a reply. Carry on...

I had high hopes that this would fix my issue where I can't perform a backup. When I look at my Apps + Settings in the backup tab, it says that I've last been backed up about a month ago. If I force one now, it stalls and then eventually quits at 96% saying "There was a problem backing up your settings. Try again later." :(

Me too. That's the other problem I have. Uggh.

I always feel like my phone is run by the Spaceballs... Prepare to download the update! Preparing to download the update, Sir! Download the update! Downloading, Sir! Prepare to install the update! Preparing to install, Sir! Install the update! Installing, Sir! What's with all the preparing...just go!

All the way to Ludicrous Speed?

Is it normal to have to manually turn on the phone to finish the updates?...

No quite hours in Poland. ;/

IE11 still cannot play some website's videos, it just displays an "Invalid Source" error over the vids placeholder. IE10 had no such problem with the same sites videos by the way and using a different browser gives the same error so assume it is an 8.1 bug.

Almost all my apps are stuck on Installing...awesome.

The boot windows logo didn't change here 520.
=(

Using the 1520. The phone's mike doesn't seem to be picking up sound very well, and I have to use a Bluetooth headset. It use to work, but at some point it stopped. I thought the update would fix this issue, but I guess not. I hope this is not a phone issue. I really don't want to have to get another phone. Anyone else have this issue? I can only use Cortona with Bluetooth.

Just checked, says I'm up to date

No Cortana or quiet hours in UK yet.

just updated, and the first thing that popped up that I noticed was that the Bing Food app had more integration with Windows. Could just be coincidence

The update just changed my screen from IPS to AMOLED. wow..

Wi-fi still buggy. Was REALLY hoping this was the fix for that. Oh well.

Just updated and there's no hands free Cortana... Feeling left out again.......

My whole country is. Even on those phones it does not understand our language. Be glad yours at least does that ;)

I am noticing lighting fast app resume times for tombstoned apps. Wechat, Kik and others wake up basically immediately. That was certainly not the case prior to this update. Using a Lumia Icon.

If debugging was turned on with a previous release and then turned off with this release, then I can see this why it responds so quickly. :)

Still no fix for glace screen and screen rotation issue, are not working, +920

Its got rid of the swipe keyboard! Nokia 820

come on micro we want otg!

My Lumia Icon showed the black and white logo with "Windows Phone" before the update. It stayed the same after the update. My Lumia 822 had the blue logo before and after the update. It seems that the boot screen may be device specific, at least for now. As far as Quiet Hours, it was displayed in settings on the Icon before and after the update. I didn't check the 822 before but after, Quiet Hours now appears in the settings. I was getting periodic heating of my phone while it was not being used and had tried to turn off as many background tasks (updates, feedback, Cortana, etc.) as I could.

it didnt change my logo of boot screen , lumia 520 here

Updating when I get home. Does this fix the camera problem on the 1520?

Aw, I liked the solitary logo... Was more like a computer =[

Update Is not available in bahrain

Any idea whether this update installs files app along with it ? Since I downloaded the app already I don't know

My Lumia 521 was having an issue picking up my work wifi network - after this update it is fully visible and has no issue connecting!

I ran multibench, a benchmark app, on phone after the update. It showed slight improvement in performance.

My boot screen is still like the one on the left..... ??

Not sure if it was the update or if it is a problem with the Xbox Music app, but on my 1520, XBox Music doesn't open anymore. Green screen, then the black launch screen and after about two minutes, it just goes back to the home screen...

Still no fix for Error Code 86000c29 on Exchange email on the 1520 :-(

mine still the left one ..

Still didnt fix crackling noises when fast forwarding a video?? Zzzz
Apart from that, didn't spot any differences :) 1020

Update notification. Downloaded. Restart. Then notification of unread test message, followed by error (not sure what) saying update not completed. Soft reset, followed by the same. And again. And again. Then message saying outlook.com required my attention. Entered password. Another reset (just to be sure) then all seems well. Now I will see if I can see what's changed. Another step closer to the official release rather than developer preview? (Startup logo unchanged) (Nokia Lumia 925, Vodafone UK)

I don't see new boot animation... System starts faster and I noticed new backgrounds

Quiet hours not available on my Lumia 1320, no new boot screen.

Lock screen looks different somehow.

The colour of the loading dots that is running in the upper side of the screen are not going with the accent colour anymore ...

Sucks...I can not run the desktop version for some websites as facebook. Some videos which needs adobe flash reader are not able to run on YouTube, in the past when I was using the desktop version those videos was playing but not now. So bad. Please fix that.

Seems to be fixed for me too... Thank god

When I do some in and out on here maps, it looks that the touch sensitivity is not good as before.

Yay no new start and no quiet hours. As said before US is not global

No changes for me on 820. Everything still the same. Quite hours boot screen n all.

My GPS is spotty now. I went for a jog and it keep loosing signal. Its never done that. I use the same route everyday.

Well I am unable to find quiet hours and the boot logo is de same just the 4 squares no "Windows phone".... really want quiet hours =/ (lumia 920 in México)

No quiet hours in Portugal either.

Lets hope this update has fixed my 1020 from shutting off randomly and having to manually switch it back on through the soft reset. Its not very reliable for my alarm for work anymore.

After this update on UK 1020 I have about 30 apps which won't open, beside them it says installing

After installing this update, most of my apps have a status of "installing"

Run the update and after watching a you tube video the phone froze and screen was a pixelated mass of random colours. Had to hard reset it. Lumia 1020 happened twice before update as well. Phone seemed to respond in background but unable to see anything due to pixel mess.

Hey, did anyone else notice that Cortana can turn Wifi on/off, Quiet Hours on/off, and bluetooth on/off?

Phone is ready to operate faster when you switch it on,apps also seems they open in less time.

Touch sensitivity has changed after the update.. Feels smooth but kinda slow compared to previous experience.. Not sure whether its good or bad :P

No quit hours and still no Cortana (even in English)
L920 Germany

The re are some problems with my start screen. While pressing the back button the minimised start screen is shown as my background screen without the small icons. Then when pressing the Home button the icons take more than before to refresh their images (whatever image my apps have as the default). Not cool this update. NL 620 DP wp8.1

Same logo Nokia Lumia 810¬_¬

Hopefully it makes it so my 920 freezes less and requires fewer reboots. That'd be nice.

Still no fix for the major audio issues. My volume controls just say headphones even when no headphones are plugged in and can't listen to msuic unless I put headphones in. Also used to have to take a call through headphones but now even with headphones it doesn't work and have to use bluetooth. It's a mess.

I'm experiencing some unwanted reboots when trying to use OneDrive to attach a video in mail app!

Where's Starbucks?! Oh and it seems faster. Haha!

Nope, quiet hours still requires Cortana.

I've noticed it said in the latest update for Nokia camera Beta that the live living images will work when the cyan update comes!! BUT my 1520's pictures are live!! Its so badass!! I'm loving this new feature!! ANYONE ELSE seeing this!!!??

I've noticed it said in the latest update for Nokia camera Beta that the live living images will work when the cyan update comes!! BUT my 1520's pictures are live!! Its so badass!! I'm loving this new feature!! ANYONE ELSE seeing this!!!?? :)

Sadly, no living images on my Icon, even though it does mention the Icon, 930, and 1520 as having some "limitations in functionality" with the Amber update or later.

Sorry everyone for the multiple post! :/ lol

I was experiencing Syncing problems...everytime I updated a contact detail it would save but when I sync, it wont sync the recent contact i updated, nor would it update the e-mail associated with my Microsoft Account. I reported this through they diagnostics app, so I thought this update might resolve it but it hasn't and it's frustrating and I can't find a solution. -__-

man there are some moody people on here when you make a suggestion for a cool feature..some people need to just relax.

Since this last update I'm experiencing some unwanted reboots when using OneDrive app to attach video to email.

Living images working on 1520 without cyan update!! :)

dwlnd in Atlanta GA 700pm. no problems...it does seam snappier... reboots, faster..i did notice this

I now see the network provider, battery percentage and date in the notificstion center. But the 920 being now my second phone(lg g2, contract was up in january, 1520 wasnt even announced in luxembourg, only came in march. Much the same way i'm waiting the 930 to come in august or at least July) Posted via Windows Phone Central App

After the update my Wi-Fi connection problem seems to have improved.

Just had some strange color change on my home screen. All tiles went from yellow to a dark orange. That never happened before the update.

I wish that they would allow Quiet Hours to be setup based on location as well. This would be ideal for certain places that a user goes or frequents.

pls, i do like to know is this update for everyone using windows 8??

I didn't get the new boot screen. I'm using an unlocked Nokia Lumia 920 from Philippines.

May have found something that was fixed. The "Turn WiFi back on: Near My Favorite Places" actually worked for me today after the update. Will try again to make sure it wasn't a fluke. Also, i might be dreaming but is the font in the text messaging input window a bit bigger?

Just finished update. No Quiet Hours in UK region.

Ok, so I totally hate when people say that "it seems faster," but I honestly have to say that it seems faster than 8.1 was before today's update. It also seems to have broken the Facebook and Facebook Beta apps (even more than they already were). I am not able to actually open up any notifications. After pressing the notifications icon and then trying to open up any of my actual notifications, it takes me to a blank screen and tells me "We're having trouble getting data" in a red banner across the top. Not sure if it matters, but I am running this on a Lumia 920.

Update: It seems to only have the problem with the blank screen and the data message when clicking on notifications related to videos on Facebook. It doesn't have a problem with other notifications. However, once the data message in the red banner displays, it does not go away until you exit and re-enter the app.

Glance settings can't be opened. It says maybe an update is available in the store.

We need an update to fix the camera's bug on Samsung Ativ S !! The camera freezes on windows phone 8.1 !!

A whole bunch of my apps are in the "installing" state ... Never noticed that before ... Normal ?

Can't find the update. When I do settings-> phone update-> check for updates My phone says " your phone is already up to date. Last checked two seconds ago" But my phone version is stop 12382. I am from India, could this be a problem?? Btw I really liked the just the Windows phone logo rather than the big line saying windows phone at the startup like it was in wp8. It would be a good distinction between the wp8 and 8.1 and the startup. Still waiting for wpcentral to throw in the elaborate details of this update.

Hey.... We are not getting the updates in India...........

Update is available in INDIA. I updated today!

dude i just updated my lumia 925 ..check again for the updates it will be there

Not sure if it's directly connected, but Here Drive+ crashed on me 4 times on the way home tonight (after the update - L920). It made for an annoying commute. Anyone else running into this?

Just got it... Downloading it .... But I don't think that something is new other than bug fixes and battery improvements....

Not available for Nokia Lumia 920 in bahrain

I have had that (right) image since I received the Icon and installed 8.1, which was a few weeks ago. So, that image is now avail to all phones.

i have got updated image to left one with intial release of WP8.1DP, still on same after 2nd Dev update

WiFi seems much stronger on my 822 and my wife's 928 after this update

Wifi on L820 connected with 150Mbps :D, i have never seen it before :P

With the first 8.1 update, my phone screen stopped turning off on the lock screen unless I pressed the lock button manually. It works normally again.

I'm in Australia, no new Logo and no Quiet Hours. Perhaps WPCentral should re-update their article with the correct information? Cause I was kinda excited for Quiet Hours reading the article, only to be let down once again. Why tie a simple feature that everyone wants to a service only available to U.S. customers only. Really dumb Microsoft!

One noticable change I see is when I dial someone. The "skype" button added with 8.1 preview is now replaced with "video" button. Hitting this is integrating with the Video Calling App. If there is no signed-in Video Calling application selected on your phone through Settings -> Applications -> Phone, you will be redirected to Windows Store to help you select one of the available Video App. And, it shows only Skype at this moment. :-)

Mine still shows the Skype name on the button.

Still didn't get my phone update

There is no update over here

Am I the only one who didn't notice any change after update? No changes boot screen and Cortana still needs GPS etc to turn on quiet hours.

What the f**k is this no update for Lumia 920

There is one change I could notice. Check my message above. Its with respect to Video Calling. I believe, there are more minor tweaks of that sort.

The touch click in my 1520 although still there a bit seems to have been reduced to quite an extent.

Cortana should work without touching..

Its not available in our country yet

No difference on my Lumia 920 in Australia :(

I did the update. But didn't get it yet that for what and which improvement the updates is.??

Any one know that for what this update was released??
Yoyo

it seem faster! there's no ".....RESUMING......." again! gogogo official update 8.1!


Updated...now the screen on my Lumia 1520 gets dim...and comes back to normal...dim...normal...seems to cycle endlessly.Wicked annoying!

It broke my phone's ability to search contracts. This stinks. Okay MS, a little help here.

Just updated. The only visible change so far is that I seem to have lost the handy links to set reminders on dates/times in messages :(

Okay. I dunno if this is because of the update or what but after installing the update, I was not able to connect to our office wifi. Our home wifi is doing just fine. I'm pretty sure our IT people didn't do anything stupid with the policies/certificates. Do any of you experienced the same after the update? Thanks. [Edit]:
Oh yeah, after the update my 8X's start up logo is still the same (like the windows 8 logo) and no quiet hours.

I was afraid to speak too soon, but it looks like this update has fixed my Lumia Icon. Before, I was experiencing the well documented power button delay, along with some general hitches and hiccups in apps and the os. Everything is smooth as butter so far :D

Friends is really QUITE HOURS available for you all , without cortona...
I haven't got it so....
I made Bing search also..
But not available..
[ Lumia 520 - Region INDIA ]

Nothing changed on my Lumia 720 Not even quite hours

I don't know about everyone else but with the HTC 8x after the first update to 8.1 (not 8.1 initial release) I was having phone reboots continuously and sim card errors. Been going with latest updates for half the day now and no reboots. I would see the goodbye screen sometimes after hitting power just to wake my phone but mostly shutdowns when it was in my pocket for no reason. I did not experience this after 8.1 initially. Hope whatever it was is fixed and it seems to be. Did not notice anything "new" with this update otherwise but I'm enjoying the stability I once I had with 8.1 vanilla and prior.

Both of my HTC 8x phones started a seemingly unfixable endless boot cycle a few days after installing the developer preview. All I see is the initial HTC screen for a few seconds, and then it reboots. It will not turn on without being plugged in, and it immediatly starts the boot cycle as soon as it is plugged in.

I've Nokia Lumia 1320, internal memory 8GB and external memory 64GB.
When i update this version my all apps which was installed in eternal memory card are again reinstalling.:(
It's means when next update will come out gonna happened again :(

My Glance screen is now upside down. Any tips on how to fix.

Its to do with using the Remote Desktop app apparently... soft boot for now

quiet hours is still bound to cortana.. -_-

Not in apps' list, check in settings menu.

Quiet hours was already in the settings menu before the update.. -_-

I still see the blue Windows logo, which i love it more! What does this actually means? Why is it different? Not updating?

Did anyone get an additional language support update(3 mb) after the new update(22 mb). what is it for?

The Windows Logo nothing Changes

calendar now view the weather degree using your location

The Boot Screen is Not Change

Does anybody else's keyboard got too sensitive after the update?

I noticed something new in this update: The notification icon in the WP store that tells you that there is an application update..

It was there before the update

Glance screen option doesn't work

I don't see Quite Hours in my phone even after updating the phone

I think the games icon showed up again in the app list after the update.

WhatsApp again buggy . 820 does not scroll easy as it used to b after update ?

Idem. Nou can't scroll to older messages undifenitely like before update and isn't as snappy as it got after whatsapp update... Should'nt have done it, cause I see no improvement anywhere else

Seems faster on my 925. Dynomite!!;;;

Updated but there is no such thing as quiet hours in India. Search on Phone gives message about cortana requirement. No boot image change either.

Did not see much difference performance wise. It was always blazing fast on my Lumia 1520. Will have to monitor the battery performance. After the previous update, it is burning at almost 2% an hour. However after installing the update my date and time were wrong. I had to set them manually again. My settings before update was to have automatic date and time. Will play with it later in the evening and post if I see any significant changes / improvements / issues Vinod

Just updated my 1020...same regular blue widows icon for me, which I like. Can't tell what changed just yet

Games hub is fast after update

I've done alot on my L920 flash diff. fw, falsh back, updates etc, first time happened to me after downloading and installing this update after restart under the "phone update" it shows "unable to complete update" something like that. (can't remember exactly) when trying to access the phone update it restarts same as any other apps, this renders my phone useless,keeps on restarting after sometime. I've tried vol down + pwr no effect also. No choice but to do a "reset your phone" after doing so (and still on the latest 8.1 version) fixed the issue. (restored everything via back-up) Just want to share.. no need to fret.. Shit happens :)

No QuietHours on a German phone. Too bad, felt excited after reading the updated part in this article

"KEEP WIFI ON/OFF WHEN SECREEN GOES OUT"
Why this option is not available in developers preview for lumia handsets while it's available for HTC 8S.

Fast loading menu, change pepole out calling best changed...
Checking guys...

I can't believe they haven't fixed the text box issue in whatsapp.. :-S
You still can't scroll to the top of your message if you type more than three or four sentences. Urgh!!

After the update i cant open touch on the settings it says check the store for update could someone help me?

I am on Lumia 925, still getting the old boot screen displayed on the left

I installed the latest version in Finland yesterday but got no Quiet Hours as mentioned in the news.
Nokia Lumia 920

For touch settings, I had to reboot/power cycle my Lumia 928 and it works now. Noticed that Facebook is faster and responds quickly when I click on notification icon in Facebook app. Glance and other functions are running fine. Definite improvement in touch response and no more putting my lock screen password twice as before it would miss the character of the password.

Updated it India.. On my Lumia 920.. Works the same.. Battery life is the same.. Kinda feel there is more animations of app switch and stuff.. In the ie11 swipe from left to go back works better.. And if you pin a web page to start screen it shows the site logo rather than a preview of the webpage that was pinned..
But the only problem I had was.. Around 8 apps were ready for update on my store as I turned off auto upload when I traveled.. But after this .890 update.. Only 3 apps are shown needed update on the store.. One of the update that went missing was subway surfers.. So I opened the game and it didn't update nor showed an update in the store.. But other than that I have no issues..

No such changes have been seen yet...
Someone here are saying that QUITE HOURS are available for each & everyone irrespective of Cortana..
I haven't seen any thing like that and this update may be minor one which fixes bugs...
And also I haven't seen a change in windows logo too..
It's still the same BLUE one.. [ LUMIA 520 - INDIAN region ]

Wow....Microsoft give us one feature quite hours..

If you turn of location default Bing turns back on instead of Cortana and Bing vision is back to the bottom of the screen. Faster than loading the Bing vision lens in camera....

After the update, My battery life has become uncalibrated. I have been on 5% for the last 20 minutes with a stress test running.

I can't see the quiet hours. Probably still not meant for India. But it responses much better than before.

The progress bar in the store while you download an app has been shortened .. don't you think? -lumia 720

My start screen doesn't change....

How much free space required for this update??

Seems games does a quick update ..loads then a further update

My quiet hours had disappeared from setting

My Data Sense data got reset after installing this update. Not sure why.

Neither start screen logo has changed nor quite hour is showing in start screen.
Why don't Microsoft reveal changes in 2nd update ?

Hey... I can't see any changes in my boy screen... Is there some problem with my device????

As far as I know, the boot screen on the right was only for full HD phones. The one on the left were for other phones.

Maybe the update is all about adding more flexibility on the "Ease of access" option, i guess.

Very slow update 35 mins for a 21mb ??? and still loading.

I installed it I noticed something new now I can download apps apps and games more than 20 MB more new features searching

Wat an amazing whatsapp update.... :p

Official release of windows phone 8.1 will be on June 24th... Can't wait

I found a major change in yesterday's update, Now, you can check the upload status of the photos in your album.

Seems a lot faster and now emails own up properly, instead of having the downloading message at the bottom of the email. No lag

Finally it has come to Windows phone.ICICI bank's official application has arrived on windows store.yeahhhhhh......

great news......seems people are giving value to WPians.......

I got the update didn't notice anything. I think this is just a preparation for the next big major update. Do u agree?

Hope they do something with music and syncing with PC. It is TERRIBLE now.

Am getting an error message after the final restart which says there is a temporary problem !!

Has anyone noticed that the phone charges to a certain point but the percentage doesn't change. I have been at 15% all day even when on a call and on the web

Lock and unlock sounds are not working anymore. Tried a soft reset. Didn't solve it . L920

cortana not available after the update even in US region mode!!! what the HELL!!

Cortana still available for me, in South Africa on US mode.

Looks like there are changes in mail. Allows copy /paste while replying and forwarding mails (don't seem to remember having this earlier).

Found the change.
1 processes are smoother than before and leads less.
2 the numbers in the OS have changed.
3 my screen used to light up a few seconds after pressing the power button(this started happening a few weeks ago) now it is normal
Lumia 520 India

For whatever reason, after the update my 1520 no longer has a way to use the front-facing camera?! The icon disappeared. I used that damn thing to check my hair all the time!

My 1520 still has the icon. Let me check if it still works... Yep! Damn I look good!!

no change is logo. but operating and other apps launching is definitely more fluid and smooth. no other changes noted. cortana is still working. (partially as i have changed back regional settings to India.)

Battery life is fucked up again... And so WhatsApp.. Shows connectivity error and tells to restart every now and then..

Got it from Indonesia, and nothing change anything. I can't use Quiet Hours when Cortana is turn off. Boot screen still same.

Hi there I have a L620 with WP 8.1 Update 1 installed but my battery life seems to be usually 1 day 9 hours, it was 1 day 22 hours on WP 8 , and I also did not saw any battery improvements after WP 8.1 update 1 , should I do a hard reset , have any other L620 owners experienced problems after a hard reset with WP 8.1 installed?? please reply...

So who was it that got my hopes up by claiming that quiet hours is now global and not cortana dependent? Not cool.

Plss bro,g bbm instead of updates

My boot screen still looked the same

Screen response is absolutely better! Glad :)

with my 1520 more faster than before..

My 1520 is faster, too. That's all I've noticed, but it's great!

New &Fast animation on Cortana.

Maybe a stupid question: I did a reset of my L1520 a few days ago. I didn't install the Developer Preview App after that. Is this still needed to receive updates? My phone doesn't find updates at the moment. It's still at 8.10.12382.878. My two L920 updated fine.

The 630 has the old (one on the left) logo when booting up.

Recognized an update to the integrated Flash-player. It's now better to use with touch. At least on my Lumia 925...

Whoa. Is there a Flash Player on my Lumia 920 with the latest 8.1 installed? I always get a message saying flash content can't be played on my device.

nothing changed. no quiet hours. LIES!!!

Daniel, Please update your review update, it is incorrect:

Users are now reporting that Quiet Hours are now global and do not require Cortana.

Wrong, nothing has changed here - if you are not US region you will not get quiet hours, I still think this is a very poor show by MS, there is no excuse for not implementing quiet hours for non US customers, it has nothing to do with language.

Likewise, the Windows Phone boot screen has now changed from left to right (as seen above) for some users, which matches the Lumia 630.

I have a 630, dual sim, and the boot logo is the single icon, no text - maybe the single sim 630 is different.....

There is no change is startup screen in my Lumia 520

Downloading the update on my Lumia 1520. hope it will be snappier! :-)

Performance is not really upto the mark after the last update, phone's response time was not good. I received the update this morning, found nothing special but I can see some improvement in performance esp. the action center swiped smoothly. My System memory sky rocketed to 3.4GB after the previous update, I tried Hard Reset, after I got today's update. Now phone is Super fast, Action Center scrolled down faster, everything's just fine. Even my System memory reduced to 2.17GB. No quiet Hours yet. Model: L520, India

hd videos in xbox videos app now playing sweetly which wasnt when i first installed winp 8.1

Anybody got startup screen changes... All are talking fastness but this update meant for battery life plz tell me update

In my notification centre settings I have an option now for 'backup', which never used to be there, and i have all the backup settings turned off.

No quiet hours here, UK, Lumia 620

Tnx for the update. The phone becomes FASTER,
But my phone boot screen has not changed as it reported.
But still please solve the Cortana's problem on HTC phones.

As for iOS 8. Remember we are on WP 8 devices on Wp 8.1. They are waiting for iPhone 6. By this time next year we'll be using WP 9.

it seems that autocorrect even includes emoticons now, haven't seen it before (when typing lol and then a space, an emoticon appears in the suggestions, it doesn't replace the word lol when clicked however) . regarding quiet hours, it's still bound to cortana, which is a terrible decision imo

I've had this from the first Dev preview... The emo autocorrect.

System memory increased to 3.39GB, battery life got reduced by 1/3rd or 1/4th, Screen looked better (may be only with me), lagging of tiles ended (the best one), a few bug fixes as currently working more smoother and faster.
What more I want is interactive notification, handwriting and speech keyboard support, without touch activation of CORTANA and attachment of mails to calendar.

I am not sure how it was in the last month, but when you slide down notification center, you dont have to go all the way down to access action center. Someone that didnt update yet, please confirm or infirm this guess.

Donot know how but after the update the what's app notification comes even in data saver mode, earlier it was not like that.

I find the volume of songs, ringtones al became very less. Anyone facing this issue?? Mine is Lumia 620

Any one found any new thing on this update?

after installation of update, i didnt see any change on my "Welcome Screen". i try to update my phone one more time, but its is showing your phone is up to date.. please suggest! thank you!

Seems they updated IE to, 9gag loads faster for me on my 920.

I still have the old boot screen. Interesting.

Wish I can use voice command to play music without Cortana or network required

My Alarms are not loud at all anymore.

Don't really see any changes here.. I still have the same launch screen and I already had quiet hours... anything else I should be looking for?

Quiet hours not working on non US region!

Boot screen does not changed

Well the scrolling on my L1020 is smoother, as is the accuracy of the digitizer. They both deteriorated noticeably with 8.1 . I had expected it would be fixed with the device specific firmware but its back to normal now :)