Windows Phone 8.1's separate volume controls exposed in new screenshot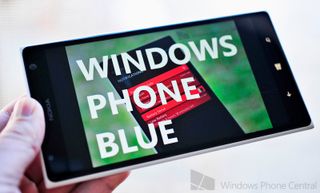 As we get closer to Build in April, it's probably not too shocking that more leaks of Windows Phone 8.1 will begin to drip out. Today, we have a simple screen capture revealing separate volume controls.
While the text in the image is in Chinese, we can explain better what exactly is shown in the screenshot.
Confirmed 8.1 volume controls
The first slider is for 'Ringer + notifications' while the second slider is for 'Media + apps'. Heading to the bottom, the left icon is a toggle for Silent mode, and then on the right we can find cog icon that takes you to the sound settings page. We're also told that this controller won't appear every time you want to alter the volume, but rather it is context dependent. For example, if you're in an app, changing the app volume (as opposed to ringer volume) takes priority.
The source of the image is WPbar, based in China. We have been able to confirm with people familiar with Windows Phone 8.1 that it is indeed, authentic.
Separate volume controls is one of those seemingly simple additions to the OS that will go a long way in improving the user experience. Currently, Windows Phone 8 only has one 'master' volume control, which will change levels for notifications, games and music in one fell swoop (users can also set it to vibrate or none).
As we discussed on yesterday's podcast, Windows Phone 8.1 will have a few big features, like 'Cortana' and a notification center, but the OS will also have improvements on every other aspect, including the keyboard, backups, VPN and more.
While separate volume controls are in and of itself not groundbreaking (we've reported on their inclusion numerous times), it's great to get a peek at the dropdown menu coming in 8.1.
Windows Phone 8.1 is expected to be revealed in April during Build, with new hardware landing in June, give or take a few weeks.
Source: WPbar.cn; via WMPU
Windows Central Newsletter
Get the best of Windows Central in in your inbox, every day!
Daniel Rubino is the Editor-in-chief of Windows Central, head reviewer, podcast co-host, and analyst. He has been covering Microsoft since 2007 when this site was called WMExperts (and later Windows Phone Central). His interests include Windows, laptops, next-gen computing, and for some reason, watches. Before all this tech stuff, he worked on a Ph.D. in linguistics, watched people sleep (for medical purposes!), and ran the projectors at movie theaters because it was fun.
Now for swype :) (only thing I miss from my week with Droid)

And symbian had swype too D:

Yes, I love swype!!! It almost feels old school, dinosaur-ish to have to actually type on a phone or tablet after using swype!

What's the big deal with swype? I find it had do believe that its possible to type faster that way.

Well. Swype isn't exactly about being faster than traditional tapping. But it does make typing faster and easier only using a thumb. I'd like a functionality like that. Maybe Microsoft should buy Nuance before Google, Apple or Amazon does.

It's not a big deal but it most a deal...it makes easier and faster to type + a lot of features...

The windows predictive text is the best in the world i have had other phones but this is one fo the best features that i have never previously used becasue it was so hit and miss.It would be nice to have swype to play around with but it is not necessary at all.

@CX1...PTL...you in the church?

But, where's the music controls❔❔❔❔❔

They are probably not playing any music.

Right.. I forgot that it doesn't show any controls when music isn't playing... I always have music playing,, so I never see them. Lol❕

Thank the lord and the baby Jebus, about bloody time!!!

Swype please! It is awesome.

Swype is a hoax. It's not that much faster, or more precise.

Awesome... Could it be that MSFT is starting to listen?? Lol

They've always listened. They're just slow. There's a difference

And slows not always a bad thing, could mean their polishing the features to be released

Yup. but MSFT should come out with something superior than other platforms .no more catch up game!!

You do realize that each new release goes through a ton of testing before carriers approve it, right? It's not remotely sane to try and do that every few weeks. Not to mention it's barely been over a year since the last major release, and only a few months since GDR3. What would you do differently if you were in charge?

I agree with both of you to an extent... I can see the regular steps/updates responding to the peoples wants/needs, but I think Microsoft needs to take a leap instead of steps now (like Nokias 41mp camera) which gets the whole world saying "WOW!" ...Not in every update, just one... and soon.

It doesn't matter that it's been only a year since a major release, it means nothing until there is feature parity and it is taking WAY to long just for that. We should be getting excited for new features not getting closer to what iOS and Android already offer or have offered for quite some time.

It will have been 18 months when 8.1 comes out...

You do realize it's not just about the number of updates, but also how comprehensive they are? 3rd update got us orientation lock, it took 3 updates since the OS update/refresh/release to get a basic feature and we will have to wait to 8.1 to get separate volume profiles and other basics. How do you expect a platform to compete when there is a wide basic feature gap. The only way you can close that gap is by improving more often than your competition, so either increase the frequency of the udpates or make each update larger in scope.

This man speaks the truth!

I think he was not just mentioning about windows phone 8. He was mentioning about the phone OS developed by Microsoft started from the first 'smart phone' released which was pocket PC (dead), Windows Mobile (dead), Microsoft Kin (dead), Next windows phone? How many years does Microsoft involve in the mobile industry? Yep, from 2000 with the first release of pocket PC smart phone. It has been 14 years they are in this industry compared to the other major competitors like lagdroid and icraps.

And I've yet to receive GDR3...so fucking stupid. Why can't these guys be like apple, full control over the updates?

I hope they reconsider the extra tiles for smaller screen devices!

For small screens make it a option so the user can pick if they like it or not. Microsoft would make more people happy that way.

Now with alarms can we finally edit snooze time? I mean come on basic stuff.

This man speaks the truth!

Yes I want that too. ATM I have to set several alarms to wake me up ._. A changeable snooze time would be the cure :P

Never! Only 5 minutes. Microsoft doesn't want you to miss your big meeting. You can thank them here: @Microsoft #ProtestantWorkEthic

Seriously. That was an awkward number.

I wrote an alarm clock app for WP and I looked into this. Turns out it's because of the inaccuracy of early mechanical alarm clocks. Because of the gearing, the engineers had to choose between a little more than 9 minutes or a little more than 10 minutes. They chose 9 minutes and it's been a de facto standard since. Of course, you can customize the length in my app: http://www.windowsphone.com/en-us/store/app/1alarm/d78b754c-b76f-496c-83... ; )

Yeah, I noticed that because I set both my regular alarm clock and my phone. When I hit snooze on both at the same time, they both go off at the exact same time. Weird. Lol.

Probably because the alarm automatically goes into snooze mode after ringing for 1 minute, so combine with a 9 minute snooze it becomes 10.

So, It's a wrong programming.

Probably that they hooked up the button to the same piece of code that runs when the alarm has timed out, rather than another section of code that actually calculates 10 minutes when you hit snooze. Simple fix.

It's weird seeing your entire name as a display name unless that's your alias. Ever worry about Identity Theft???

There are plenty of people who use their full name online for all profiles. I am quite privacy-concious and refrain from posting truly personal data. But my full name is ok. Your name is your brand, so you may as well use it! :)

I work at a bank and all I need now is his date of birth to retrieve additional personal information. I mean to each his own Nik but I would never put myself at risk like that.

Well I never put my date of birth online, for one. To be fair, allowing access with just the date of birth is pretty low security for a bank. If I want access to my bank account over the phone I have to provide my full name, date of birth, selected digits from my password, details about my recent online banking logins and transactions, and sometimes details of other services I have with the bank. These details are hidden to the CSR so they can't see anything either unless I provide the correct information. If I can't verify then they will stonewall phone access to my account until I visit the bank and provide multiple forms of photo ID.

Are you telling me that poor security on the part of your bank is ok? Or that I'm incorrect in my knowledge of the levels of security my bank has?

All I'm saying is that identity theft doesn't just involve your current bank accounts or the level of security of your bank. (Some of) Your information can be easily be compromised by typing your name in any computer that contains your information. Whether it be medical, financial or social you can then be narrowly found by your date of birth. If you honestly think that I can't find you especially if you bank with us then you are mistaken. Am I right???

sure thing Darwin Henriquez, i see you are incredibly concious of this too. It's just a name, you can't get my bank information from this.

I think what he's saying is that because he works at a bank, if you banked with them and he had your full name and date of birth that's all he needs to see all your personal info (I'm guessing so they can then ask questions to verify your identity). Which in my opinion is a terrible level of security; that means I have to not only trust the bank but also all its employees if I'm to use that company.
No CSR should ever have easier access to my info than I do. The access system should be automated and randomised so that the system asks the CSR random questions that they need to then get me to answer to unlock access (things such as 'what is the 3rd and 8th letter of your password', 'when was your last transaction and how much was it for', etc). That's *basic* security for banks in New Zealand, and I would never use the services of a company that is as insecure as the banking system Darwin uses.

Not just a bank Nik but any business you have an account with. Obviously there's consequences for tampering with anyone's information & I for one wouldn't risk it. All I said it was weird seeing someone using their entire name as a display name but to each his own. What a creeper exposing my name like that but I'm not upset.

Agreed, and that's why I will only use a company I'm secure with, and I will leave any that I have found to be using bad practices (a few have come to light recently that I have closed my accounts with and requested destruction of my data). I get what you mean, but there are plenty of others using their first and last names on the internet, many of whom are likely more attractive targets than I am. All the authors of this site, for example. As I see it my name is my brand. When you have an online presence, especially when you write a blog or wish to be influential in your area (programming is mine), you need to think about your brand and how it comes across to people. A real name is very genuine and welcoming, whereas a username is closed (and in my industry, usually used by hackers). If you want to become known in your field you need a brand (in my case my name), and when you commit to a brand you need to represent it well. For me that means using it everywhere, making sure I conduct myself well whenever in public, and also being careful about which services I use and who has the significant 'keys' to unlock my private data. The only exception to my 'use your one brand' rule is when I develop software, as I launch it under my label so I can also build that brand. However I always make sure my name is prominent in the 'about' section and any supporting documentation or online material. In terms of 'exposing your name', you can't really complain about that because your Twitter profile is the first result in a Bing search for your username, and your first and last names are at the beginning of the page title.

I am. I have a form of identity theft protection which won't guarantee prevention of fraud but at least I'll know when it happens. I see you don't have my middle name lol

Ok, I still want a longer snooze.

Yeah, I could do that on my old Symbian Nokia E71 back in, what, 2007?

One of the things I like about WP is the fact that I can fine tune the ringer volume with 30 steps. Having only 10 steps would be a downgrade :(.

That is a really good point; this is specifically important for music.

Only problem is step 1 is ridiculously loud for the lowest volume.

Yeah, this is true, it feels like there's no real difference in the bottom handful of volume options.

Look at the image... media and app volume are still 30 steps. Call volume has always been 10 steps, ever since WP7. The change is that Ringer and Notification volume now also appears to use a 10 step scale. IMHO that makes perfect sense.

I gotta gree with Ringer and Notifications being the same level. That way you can have media playing quietly while your ringer still alerts you to new calls.

The only other independent volume control is the one when connected through Bluetooth audio. Once unpaired your phone returns to whatever setting it had prior. Would be nice to kill text notifications when connected to Bluetooth audio though. Hate having a song interrupted by "message from 40404"

Can't you turn that off in settings? I'm pretty sure you can ignore texts and calls from the driving mode which in theory should act the same for any Bluetooth device.

You're a damn genius sir...ma'am.....ShadowShataan. Found it in driving mode.

This is gonna be amazing :)

While this is great and long awaited, how about a fix for the voicemail volume when being checked via visual voicemail. I can't stand how I have to crank the volume pretty much all the way up just to hear the message then immediately turn the volume all the way down to appropriate levels.

That's probably on your carriers end.

This has really been my only complaint on volume controls. Hope there is a seperate control for visual voicemail. I hate having to turn the volume all the way up just to hear these messages. I usually just end up calling my voicemail number and listen to them there instead.

I hate that I can't skip or skip back on the voicemail. Sometimes I just want to skip to the most important part (like phone number or address). Hopefully they address that.

Doesn't sound like a Windows Phone problem...

It is...the visual voicemail uses the "master" volume control. So if I have my volume set to 0/30, and I try to listen to my visual voicemail (through the earpiece, not speakers), I won't be able to hear it, unless I crank up the volume.

Yep, I hate this. Just make the visual voicemail the same as the in call volume. It seems so obvious.

About time! Very happy to hear this :)

Too bad none of this coming anytime soon.

Coming in April with WP8.1... How much sooner did you expect it?

AT&T will have it in September then?

I don't know if they are still doing it, but do the free developer unlock through the app studio and hopefully get to take advantage of the upgrade in April. No need to wait on the carrier. Nokia specific changes may have to wait on the carrier but I've been on GDR3 for months and it didn't take ATT that long to push out Black.

It's being announced then. Most people won't actually have it on their phones until likely end of the year.

April is only 3 months away

Yeah, and when did GDR3/Lumia Black first start rolling out? Yet I only just received it yesterday, some people still haven't.

Get the developer preview app and you'll be able to download the updates as soon as they are released by Microsoft, bypassing your carrier.

Lol, first time I've seen a rumour with 10/10 .

I was going to say the same thing. Normally anything about a 7 is gospel. 10/10 is crazy! I think it should be posted as news at that point

Love the "roasting hot rumor" banner. Ha

The only feature I desperately want from WP in regards to audio stuff is gapless playback

NEVER going to happen. Sorry.

Why, does apple have a patent for gapless playback on mobile?

They have their own audio format that you need to use to get gapless. It's a flaw of the MP3 format that you can actually never achieve true gapless playback without a cross fade.

Oh, never heard that explanation but kinda makes sense. I would think Microsoft software engineering can bypass it thought. Comeoooooon Microsoft research

Yeah they could at least provide crossfade. But it requires the app to be changed and allow two audio files to be mixed rather than just one. Same thing for gapless MP3; MP3s always have gaps at the start (it's to do with metadata being at the start that causes gaps that can't be removed) so it get rid of this the app needs to start the next track while the previous one is still playing and analyse the audio to find the best switch point. So 2 streams at once. And even then it's hard to find the right point if the audio is quite soft at the time.

Interesting. You sound like an expert on the topic. What do you do for a living? Or just a hobby?

I wouldn't say an expert, but I'm the kind of person who when coming across something like that studies it out of curiosity and an insatiable desire to know how things work :)
I originally came across it when WinAmp was big and there was a plugin that was overcoming the same issues. And then much more recently when I was lead developer on a web-based game that needed looping gapless audio, and I had to study and report on the viable audio formats.
In my day job I'm a web developer (mainly server-side because I hate browser-side incompatibilities), and after hours I'm a mobile/tablet apps developer in the Windows ecosystem (lots of half-finished projects, few actually released though :) )

May I ask what sort of apps do you make?

What? I have gapless playback on my old 80gb iPod classic, and the music is encoded in mp3. It's done via software in iTunes. Also, the open source Rockbox software enables it, that you can load onto most Sandisk and old iPod models.

Yes they have it, but it's technically very difficult and not actually 100% accurate. In the case of the iPod, iTunes scans all the tracks and identifies the switching point and in advance and stores the metadata in the track database that goes to the device.

iTunes uses padding information stored in the track metadata, which is 100% accurate and reliable as it's put there by the encoder which has perfect knowledge of how the track is encoded. Only if that information is missing will iTunes scan the track itself for padding. This will generally only be the case for tracks that were created by a very old encoder. Reputable encoders have stored the gap information in the track metadata for quite a few years now.

AAC is not Apple's "own audio format". AAC, like MP3, is an international industry standard open for licensing by anybody. It just happens that Apple is the only major music retailer that decided to use AAC rather than MP3. Being a newer format than MP3 and thus able to use more advanced coding techniques, it was deemed to provide better audio quality than MP3 at a given bitrate. Neither AAC nor MP3 is inherently gapless. Like most lossy audio compression methods, they leave a small amount of silent padding at the beginning and/or end of the track. The is one reason why you get a gap between tracks: naive playback software simply plays the entire compressed audio file, including that silent padding between tracks. To address this problem, encoders started to record within the AAC/MP3 file information on the exact location and length of the silent padding. Less naive playback software reads this information and uses it to play back only the actual audio data and skip the silent padding. Apple went a step further than this. iTunes can do gapless playback even of files that do not contain gap information (this is often the case for really old MP3s). When it loads an audio file without gap information, iTunes itself will analyze the file to determine the size of the gap. I don't personally know of any other players that do this. Like other modern operating systems, Windows Phone (and Windows 8) provides audio playback services to applications. If an application wants to play an MP3, it no longer has to understand all the complexities of decoding an MP3 file: these days the OS knows how to do that. Basically, the application can just say to the OS "play this audio file for me" and then forget about it. The problem here is that Microsoft's OS audio playback service is crap. It doesn't use the gap information to skip the silent padding, but the real problem is much worse than that: even if the files being played are themselves perfectly gapless (WMA Lossless, for example) the playback service itself *always introduces a gap between each individual file handed to it*. Android used to have this same problem. In Android 4.1 they added a new feature called audio chaining to the OS playback service, allowing audio files to be chained together without a gap. Any music applications that has been updated to use the audio chaining feature can now offer gapless playback on recent versions of Android. These Apple and Android examples prove that it's perfectly possible to offer gapless music playback. The problem is that Microsoft just doesn't care. In 28 years of Windows they've never once written a music player that does gapless playback, and there's no reason to believe they'll start now. This is the single biggest reason why I sold my Lumia and bought an iPhone.

I agree with tanglewood's "NEVER going to happen" - at least, it's never going to happen in Microsoft's code. After waiting many, many, MANY years for them to get their music playback act together I've finally given up. The only way Windows Phone is going to get gapless playback before hell freezes over is if someone writes a music player that does its own audio decoding. This is a hugely more complex and difficult task than writing a music player that uses the OS playback services.

"including backups"... Please Daniel, game saving backups???? A made a list with things that I didnt anyone (almost) speaking about with things that I hope to become in WP 8.1:
1. Ghost Notifications
This is just a rumor but would be great to be able to directly pass some notifications to the Notification Center.
2. Picture Password Just Like Windows 8. 3. Manual check for Updates / Automactly Install Updates Option
Jut Like Windows 8. 4. Start Screen Sincronization The position of the tiles. Between WPs and also restared via a previous backup. 5. Saved Games Backup 6. Share/Search Settings An option too choose wich apps I can use to share/search. Just like Windows 8 does. 7. More Quick Notifications Currently the limit is up to 5 apps. Would be great to have more quick settings, and you could acess them just just rolling this area with quick notifications. 8. Silence Notifications Just like Windows 8: options to choose a spectime time to not recieve notifications/push notifications and also a period (1h, 2h etc) to do that to. 9. Battery Sense Something like Data Sense. But for Battery. Android has that. 10. Settings Page Complete Reorganization I think the Settings Page just need a complete rewrite. There is not a logical organization right now. And is a mess. 11 Edit a number before calling

A number of these are already on Windows Phone 8 in a limited sense, just sort of hidden

"10. Settings Page Complete Reorganization I think the Settings Page just need a complete rewrite. There is not a logical organization right now. And is a mess." Actually the settings menus is very logical. It's layed out based on the things you (MOST people ) will want to access the most. Now you may not agree with the layout, but it is logical. The only other way would be to put it in alphabetical order.... but then you'd just find out how many people don't know their ABC's.

I agree. For me, putting the menu in alphabetical order would be extremely irritating, mainly because I'd constantly be scrolling to the bottom to access Wifi. The fact that Wifi (on my phone) sits comfortably at the bottom of the screen without the need for scrolling is very pleasing!

It can be organised into sections.
Connectivity (WiFi, cellular)
Personalisation (theme, ringtones)
Features (driving mode, kid's corner, OEM stuff)
System (storage, about)

...And have quick settings that can be accessed from anywhere on the screen.

I agree, Settings page needs a re-write specially when phone manufacturers keep adding items to the bottom of that list.. Aslo I hope the Settings gear icon we see in the dual volume screenshot goes to main Settings (and not Audio Settings)

or allow them to be selected and grouped with App Folder?

We're probably going to get quick settings, but if not, they should be pinnable as toggles. Then have an official folder implementation where you can select any existing tile to be placed into folders that act like they do on other platforms – as part of the start screen, not launching a separate app which contains shortcuts to the apps. App Folder is a disgrace. It's Nokia saying that its users want a pretty basic feature in folders, but Microsoft hasn't done it, so Nokia has to release this embarrassing hack.

It's a temporary solution.. obviously, and it works like an app that lists your other apps. Hopefully MS will have something integrated in the OS in the next update.

hey guys.i have a fantastic LUMIA 620 and Windows Phone , does Windows Phone 8.1 available for my LUMIA 620? thx

Yes WP8.1 will be available To every WP8 device. Including the 620 :)

No !! Lumia 620 will get Windows Phone 9 directly

Lol. Probably another rumour from WMPowerUser.

Also it will feature Cortana's baby !

will "flight mode" really work and make my phone fly around ?!
or it still need WP9.1 update ?

Waiting for the "Flight of Fantasy mode" for that

Give us a dev preview in March, Thanks

That's what I hope for too.

so is this bar going to pop up every time i'm hitting the volume up/down?

It's msft. I'm sure it will.

@borasar, no it won't. If in an app and you hit the volume key, only the app volume is changed. Ringer on Start screen, etc. It's context dependent.

Great! Thanks for clarifying Daniel

Would there be an arrow or similar to expand the dropdown to the full deal? People might want to turn down app volume before opening the app, for instance.

What happens when you're listening to music and you're on the start screen

You'll get one master volume control lol

Hi daniel, i know this is completely off topic, but i just wanted to know your opinion on the quality of the audio output (headphone jack) of the samsung ativ s. Cnet says it's pretty decent, but i've also read on other site that it lacks bass and its very low quality. So it would be great to have a third opinion. I will have to decide between the ativ s and the lumia 928 and good sound quality is of major importance to me. I've been a fan of this site for a year now. I think you guys do an amazing job here. Keep it up.

And so the drooling begins.

Vibration while ringing is an other basic feature that's missing...

What do you mean? WP8 already has that (called "ring + vibrate"). Just turn on Vibrate under Settings >> Ringtones+Sounds.

I think he means that the phone stops vibrating as soon as the ringer comes on.

Hurray for sliders xP Now only a slider for Brightness.

dose windows phone 8.1 support VPN SSTP port ?
and one bad bug in wp 8 was setting option all of setting options in wp8 don't have any sort !!! wp8.1 should have sorted setting option with alphabet (smt like people option that you can find your contact Quickly)

Can we get some high-red imagery for that Rumor Meter? I'm on a Lumia 1520 here, and my eyes are bleeding.

Does 8.1 come out in April? Or is it just being offically annouced in April?

Though it would be amazing if that happened, im afraid its announcement, then released on new devices while carriers test it for older devices

April for developers. May for others.

Which means no guarantee for any of us...

Is it too late to apply for dev account. I don't think i could wait much after build for this to reach my device.

If it's the same system as gdr3 you don't really have to apply - you just download the developer preview app :)

you can sign up for a developer account anytime you want, :P just head to dev.winowsphone.com and register :)

+1020 guys. Thanks for that info.

If they could just add an Equalizer to control Bluetooth headphones I would be extremely happy! My headphones sound like there in a tunnel.

I hope WP 8.1 will bring a better Email and Calendar apps as well. At least at the same level of what we had with WM 6.5.

I wonder what would happen with music playback controls, surely that bar wouldn't get even longer?

this is kinda ugly and huge. that plus the now playing icon that shows what your listeneing to? i dont want this shit to take up my whole screen. i hope i dont have to see all this everytime i change the volume.

Its zoomed in and cropped silly

It also won't show like that all the time, it's context dependent.

This is just rediciously awesome !!

Heh. WPCentral is sourcing WMPU.

Correction: We're sourcing WPBar. WMPU is simply 'via'. Big difference.

Volume controls and stuff are of no much importance to me. The features I'm dying to get in Windows 8.1 is a proper File system, installation of apps and games on SD card and a system cleaner to clear out all the junk files that are no longer of any use. Has anyone got any confirmation regarding the file system and SD card installation? I can bet if these features are added in Windows Phone 8.1, it would beat out iOS in 2014 and give Android a tough competition.

"I can bet if these features are added in Windows Phone 8.1, it would beat out iOS in 2014 and give Android a tough competition." Really? The amount of people that base their purchasing decision on these features is miniscule. Installation onto SD Card would be nice, and might convince someone. The others? Nobody cares. Really.

I keep telling people this, and nobody listens. :-/

I have couple of friends who are Android users and keep saying WP8 doesn't even have a file system. Couple of times people who wanna get themselves a new phone ask me does W8 have a file system? And sadly I gotta say no. Also if you check out the Windows phone user voice, it the highest votes. Check out the link below : https://windowsphone.uservoice.com/forums/101801-feature-suggestions So you might not really care but million others do. It definitely is a convincing feature. Wake up.....

I totally agree with you and it feels frustrating when many people on this site can't see the need of a file manager.My Nokia 3110 classic which was released in 2007 (that's 7 years back) can do this but my Lumia 520 can't.It seems idiotic that I receive a video via bluetooth but I have to find it in the photos hub & I cannot move it to the music+videos hub.To do that I have to connect it to a PC.Why can't my phone be able to do that.It should be capable enough.I cannot even see which file is individually taking how much space on my phone. If I could do something about this problem or even add up a million votes on WP uservoice for this feature,I would have immediately done that.I know many android users who would switch to WP if it had a file manager.They are already impressed by the performance of my phone,but cannot imagine using their smartphone without a file manager.

Exactly my thoughts. All Nokia symbian devices had this to begin with. It's like WP8 is taking us to ancient ages. Many Apps also suck due to this wierd and extremely restricted implementation of WP8 apart from the problem mentioned my "ronty". eg. WhatsApp audio attachments are saved dunno where, security app (such as photolock) are difficult to code and use(import photos/videos, then delete from gallery, then lock..so stupid way), impossible to attach any other file (eg. zip) to mail, can't see/open files stored in subfolders, restrictions on PDF readers to export/attach files etc. Also lack of USB OTG which was first invented and made available by Nokia. Hm. Hope Nokia switches to andriod son. Windows is ony better for PCs/Laptops only, I feel.

I feel the same.If I don't get this important feature in WP 8.1 then I will definitely choose Android for my next phone.And I know many more will do that too.I'm already quite impressed with the Moto G and the only problems with it are: 1.external storage not available.(I think so) 2.its future is uncertain since Lenovo has purchased Motorola and no one knos what's going to happen. I seriously want MS to win,but what they are doing is that they are fighting Android while trying to be iOS , and they are not successful even at that.It would be a sad day for me when I'll leave WP,but I can't live with an OS which does not have many features which my 7 year old featurephone has. I'm not someone who needs many apps,but I want an OS which is feature complete in itself.

The rumors are saying that the skydrive(onedrive) app will have file management in it so theres that and another rumor says there will be SD card installation.

When you say a "proper file system" what exactly do you mean? I've seen that a lot and for the life of me I just can't find an actual *need* for it on WP.

Moving files from one folder to another, creating a new folder, renaming files etc. - all these directly on the phone. That is what the rest of us mean by a file management system. Was pretty useful on Symbian.

That is exactly what I meant. :)

So basically a file explorer not file system :p. No os will be able to operate without a file system.

I am calling out pedantry. :P

Now that's a nice little feature to have def

They should be praised for working so hard on a feature for years and years to make sure it's right before release. This is probably the most difficult feature Microsoft will have to implement. Thanks Microsoft. Can't wait to try it in 2 years when I get it.

But then, unlike in Apple's case, no one will give credit to MSFT for having invented it.

I can't figure out for the life of me why in the world do people need a file explorer on a PHONE? I just don't get it?

Never felt the need to move some embarrassing/naughty pictures from your Camera Roll to some other personal folder?

Or manually find what is eating your storage - other storage. A friend of mine from Netherlands (Holland) has his other still sitting at 16gb on his 920... Bloody insane. Also remove temp files which MS have put in with update 3... Is abit dull witted and slow. I left it running before i went to sleep and it was still running when i woke up in the morning. So I cancel it, to find nothing was removed, use Nokia storage - bam - gone - 1 gb free space lol..... Oh btw kids have access to the camera roll in kids corner :p, glaring oversight which needs to be addressed. Me personally i do property inspections for maintenance so my phone is just full of property pictures. As i mainly use it for work.

this is becoming more and more android. one of the things that made WP stand out, for me, was its simplicity...any idiot could use it. but it's now headed towards the complex side...drop down menus, pull up menus, 25000 gestures, swipe here, swipe there....hmmm

My thoughts a few years ago but you know what, it can retain its simple UI while giving us loads of options. Options are what people want... Not to be walled in

What people REALLY want is apps. Everything else is secondary.

You forgot to add " IMO"....

yeah i know and i agree, i am not against it....just hoping it doesn't become a maze that an ordinary guy gets lost in.

For idiots there are always dumb phones. Why on earth will an idiot use a 'smart' phone?

i don't know, you tell me why you use a smart phone!

That's besides the point. The point is that separate volume controls is the most requested feature on uservoice. So just get with the program because it's coming.

I pretty much agree with this. The one thing MS cannot do is cater to the crybabies. They claim to want things based on the "app"/OS envy they have for what they see other devices do while never giving real thought to whether or not those things are really 'features'.
Now that file explorers are the new thing to bitch about I can't figure out why it's even necessary on WP. I used it on Windows Mobile, and while it had it's usefulness there it also made things far more complex than they should have been. WP doesn't need that crap. MS should be a little more like apple and say, this is what we are selling... and you'll like it! (eventually).

Well Sean you might not use it, but others will. I can give you two examples off the top my head - moving files from to and from the sd card without the use of the relevant hub, or have the ability to attach whatever you want via email. I shudder to think what limitation they will put on us, given you can only attach on document at a time from the office hub, have no access to the office hub via an email account - defaults to the camera roll. Options are nice to have, but living in a confined walled garden is not so nice :p. I have been using my lumia 920 since november 2012 daily for work. There are alot of little things ms needs to address. Of course there are work arounds but not so tech savy people will find them.

And a File Explorer? (yes, I like to dream)

It's calles OneDrive, a.k.a SkyDrive.

Not everybody is interested to have their data somewhere in space....

Yup, like most i prefer local storage... Ill back it up to the cloud if i want to not because i have to... Right now that is the case for the contact list. The back up system on wp8 needs a total overhaul. I loved being able to schedule pimbackup on my wm 6.x devices to my sd card. Every week i would move them to dedicated usb. Said usb has been repurposed now as a live usb.

When it will be available to us... And which are the new features of this OS 8.1 ... Which devices will get this updates... Please let us know that also...

They're announcing it at Build in April and they will most likely release a developer build of it then. All phones are expected to get the update

Hope to get as 1320 with 8.1.

What I find most interesting in that image is that the controls seem to have changed: those vertical bars are MUCH bigger and bolder in wp8, they seem to have been made smaller and more subdued for wp8.1. Interesting - and a good design choice.

Please don't tell me they are reducing the ringer to 10. 30 is barely loud enough. If they are reducing it to 10, than this is a step backward if anything.

Ringer has always been 10 when on a call.

I think you're refering to "in-call volume", not ringer volume. The ringer has always been 1-30 and tied in with the media volume.

It's a relative scale. 10 == loudest. Other places 30 == loudest. Hoping that the volume scale elsewhere doesn't drop down to a 10 point scale. Phone calls are already set on that scale but it wouldn't be enough granularity for music and such.

Wow, who has their ringer set on 30??? :P. WP 8 is louuud on 10. Anything higher than 18 is insane for your hearing if you are using in -ear headphones. Speak from experience - everyone of my audiophile friends are now partially deaf - mid 20s and being almost deaf not soo good lol.

It would be great if they oriented these controls vertically so as to make them easier to... control. I'm seriously considering a phablet as my next WP purchase and having these settings placed horizontally at the top of the screen is going to be a pain in the ass.

I just hope that the 2-3 different volume meters don't ALWAYS pop up when you bring down the volume/music thing. I think having a smaller, less involved volume thing would be good, and personally changing separate volumes would do just fine from the settings menu rather than from the drop down thing.

but the OS will also have improvements on every other aspect, including the KEYBOARD You mean Swype or similar?

Possibly an option to choose your default keyboard (opening the store to keyboard apps) like we can do now with the default action for the camera key.

No, I think, better prediction capabilities, and maybe, some extra keys, shortcuts in the stock keyboard.

I'm more interested in the fact that the background doesn't look completely black, just a super dark gray.

Duh? The volume control drop down has always been gray.

LoL its funny that I didn't notice that until now.

Its probably the screenshot quality.. In other pics the background is still black sadly.
I think that there is no real reason there is no background, windows 8 and 8.1 are good examples that the background can't interfere with the live tile. ( they can even make it a little blurry to keep the live tiles pop)

Vibrate better be one tap away this release.

Wish April was two days away from now ..
Good news, hope we will see more leaks.

Oh man, WP8.1 really got my full attention! Can't wait for the update! I feel like a kid waiting for Santa! :P

Really need a configurable quiet time. At night I dont want to hear anything other than the phone ringing. These days I have to just disable all notification sounds except phone when I go to sleep then try to remember that I need to re-enable them in the morning.

I miss this from Windows Mobile as well. There was an add on that did it, but it was pretty convenient to not have e-mails sounding all night long when they weren't necessarily important. :)

Windows 8.1 has quiet time, so the 'concept' is certainly not lost on the Windows Phone dev team.

It just puzzled me that Windows Mobile has most of the necessary stuff that everyone is asking and they left that off when they built Windows Phone 7 and 8. Do you have any idea why?


Could always use the 'Quiet Hours' App in the WP Store in the meantime. It essentially turns the volume to zero on a schedule (with the paid version) Seems to work fine, although haven't tested how that affects the Phone Ringer, it doesn't affect Alarms though.

To be able to turn off the buil in jpeg processing would be the most innovative update they would include in the next update.

Looks like they finally took their time to polish the OS, this might be a great release and a turning point for Windows Phone. Anyway, localization has started. Guess we'll see a lot more Windows Phone 8.1 from now on.

Its the call volume and the main volume. Other than the fact that they are seen on the same screen whats new about this?

It's not... It's the ringer + notifications volume and the media + app volume shown on the same screen. They've just given the ringer + notification volume 10 increments

now everyone is crying on how ugly that bar looks .amazing.

Frustrating, isn't it...?

This is so bad. iOS's method, of intelligently adjusting whatever volume is currently relevant to you, is much more elegant than having multiple sliders to adjust. Right now, there are 2 volume controls in WP, not 1: One is for in-call volume, and one is for everything else. What there should be is 1 for in-call volume, 1 for plugged-in-earphone volume, and one for speaker volume. The same way that while you're in a call the volume button knows to adjust the in-call volume, it should be smart enough to adjust different "profiles" whether the earphones are plugged in or not. THAT was lacking more than being able to separately control my ringtone and media volume.

@followSol, with all due respect, you're reading waaay too much into one screenshot. Tip: If you used iOS and know how it works, but have NOT used this, why so quick to come to conclusions? Because I can tell you, regarding "volume that is currently relevant to you"...you're jumping the gun. You folks need to learn discretion when commenting on things you have not actually seen.

You're right. http://knowyourmeme.com/photos/353279

One of the my main frustrations with ios is it's contextual volume. Too often I've opened an app and had the music play loudly or pressed a video and had the volume on loud when i didn't want to because i can't access the media volume before. It's a pain having to remember to open the music app first to turn off the volume

About time they brought back this feature from Windows Mobile days. I really miss the ability to set phone calls to ring but e-mail alerts to vibrate and turn off sounds/music for other things. That was helpful for times when I needed to be alerted for phone calls, but not e-mails (especially when not on call but still getting those 2am alerts).

There are so many things I miss from WM....

Holy crap I've never seen a 10/10

I really wish they would just use Windows RT as the new Window Phone, I love the interface and the swipe actions, plus with screens getting bigger, snap feature would be awesome..... Why not?

I agree.Windows RT looks much more developed than WP(except the apps).Besides It has the two most important features(for me),i.e. a file manager & you can install your apps on a custom location using a registry hack,thus making it possible to install apps in external storage and you can run fine without having much inbuilt storage capacity.

I still consider Windows Phone incomplete until they add duration to call history.

Looks bad. The slider goes all the way to the right edge of the screen, the whole thing isn't aligned. Also those two tiny little buttons at the bottom seem hard to tap. Too small.

Calm down , the picture was cropped .

@cuwe is right its cropped. Plus no one said that this was the final look

lets hope they FINALLY put in a built in alarm/timer app. 3rd party solutions become innacturate the longer the time period is set =/

Yes! I don't know why stopwatch and countdown timers aren't included in the alarms app.

If new hardware dont come till June, does it mean the current hardware wont get upset until after that like they have always done? So even though it is a spring announcement, it will be a summer update? :(

Now, can i quickly go from Sound + vibrate -> sound only -> vibrate only -> completely silent? Sure hope so.

I hope that we will not have to wait , when update 8.1 arrives . Please bypass the carrier .

Finally! MS is really really slow on the develoments!!!

Wow, only took them like 10 yrs to implement something so simple.

I love the new rum'o'meter logo! Could be higher res, btw.

Loving the improved aesthetic. I hate all the big thick borders around all the sliders and drop downs currently.

So which bar will get adjusted when using the volume buttons? I don't like limiting the ringer and notifications sound to only 10 volume options. I think the settings cog and silence buttons should be in circles to make them consistent with buttons elsewhere in the UI.

Any word on audio profiles that work with NFC yet? :) cuz at the moment NFC on WP8 is nearly useless.

Please upgrade the music player by adding playlist editing

I was really hoping for separate controls for Ringer/Notification
Media/Apps
Bluetooth
Headphones
In-call (I'm assuming this will be separate from ringer/notification, just not shown when not in a call) but, this is good enough, and a mising feature I nearly dropped the OS for.

According to WMPoweruser, many of those are there... just not shown in this cropped screenshot. ;)

Very much needed... Microsoft needs to speed up ... we need these kinda basic features first, we can wait for apps :)

As others have said, it's better than now, so good, but nthing like as useful as other O/S's offer. This will bring the WinPho functionality up to about Android was in late 2008 or so... It's getting better.

I don't know how you can say that with a straight face. I've owned a couple Android phones with Ice Cream Sandwich and Jelly Bean and both were really rough. You needed good hardware to make them feel good. And they would add features but so many of the features were so rough...

The only thing that really pisses me off about my Lumia 1520

I think they should work on fixing the broken Bluetooth first before adding new features. I'm on update 3 and Bluetooth is still broken. Its been over a year since I got a wp8 phone and now on my second phone and still not fixed. Forums show over 77% of users have this problem. Fix it now MS. I am losing patience. BT worked fine on WP7.

Never had a problem myself, so just out of curiousity, which part of BT isn't working?

Bluetooth works like a charm on WP

Bluetooth drops audio in the middle of a call. I have 4 Bluetooth devices including Blueant Q2, Jawbone Era and 2 different Samsung devices. The problem is the same with all of them. I am mobile and need to use Bluetooth to make calls. Losing the Bluetooth audio connection in the middle of a call is very frustrating. The only way to reset the Bluetooth after it has dropped is to power cycle the phone. I have found that it happens more frequently if WiFi had been toggled on or off. Sometimes it will work fine for a few days at a time and at other times I can't even get in a 5 minute call.

Much welcome but not a feature in longing for. There are some other things that I would like to see. Hope we hear about 8.1 in detail soon from Microsoft.

First time I ever see a 10 in the rumor meter here. Wow!

Question : would lower end devices like Lumia 520(not so proud owner) , L620 get the 8.1 update??

Can we update our WP8 devices to 8.1?

Now they just need to add timed profiles for the ringer and it is going to be perfect!

I know I'm in the minority but I'm totally going to miss the master Volume. Its the one thing I hated on Android was the multiple volumes.
I prefer simplicity, which is why I chose WP on the first place. I'm sad that my 920 has a cracked screen otherwise I'd still be using it. Posted via the WPC App for Android!

The master volume will probably still be there for those want it. This is most likely just an option for those who want to separately control their volume. This screenshot obviously cropped to not spoil too much ;)

What I would love, is a manuscrit keyboard, like in w8

I was wondering, to get windows phone 8.1 do we have to purchase a new device? I just got a Lumia 925 and I probably won't be able to get a new phone for quite a while.

No. All WP8 devices will receive 8.1 even the cheap ones like the 520.

Thanks! Can't wait for it then.

All current devices within the support cycle of 36 months will get it, at least that's what we've been hearing.

About time...yet another feature that is "just" 3 years late.

I hope that 'vibrate when ringing' option will come with 8.1 update. Anybody knows?

Yay! Can't wait for WP 8.1! :)

i hope there is an advanced mode too, just like win vista+ had that mixer that controls every app making a sound separately

The design screams android :/

No, you don't post fake news. An unattributed cut of a screenshot is always authentic. No one has ever faked something like that.....

I'm so happy I could cry. This is pretty much the biggest annoyance I have with my phone.

I hope there's an option to set how long the controls stay on-screen for. They disappear so quick currently that a moments distraction sees them gone again before adjustment.

Its mind blowing that we don't already have this 14 months into the os! absolutely ridiculous.

It is a very basic function they should have had it from the very beginning. Now it became a BIG improvement to announce... Gezz... How about to set the ringtones for different people in the phone book? Will it be another improvement again?

Taking ages, but well at least it is coming soon.... I hope.

Thank god! This is one of my biggest problems with this phone! All the time I turn the volume down to zero so I can watch porn videos and they dont make sound....but I forget to turn the volume back up after watching the porn and so I miss phone calls :( this happens daily :( so to see tbis problem being fixed is a big deal to me! I can watch porn and not have to try remember to turn the vol up!!! Finally!!!!

That's too much porn already.

Lets hear it for silent porn!!!

I was just wondering what innovation Nokia would bring to the table with the WP 8.1 update (like the latest Lumia Black)? What will their next update be called?

Finally dreams starting to come true, upnext: File Explorer

Is there any chance of usb tethering? I have desktop so I cannot use internet sharing.

I hated this feature on Android because I'd set the volume on the ringer for quiet then I'd open a game and the volume would come blasting out from the last time I used a game, or some similar situation. If there's no option to keep one volume across the board, I'd consider not even downloading the update. I don't understand the excitement over this feature.

They should make the volume bar go to 100.

This is great news! MS is listening!

can someone clarify... I'm planning on getting the Verizon Lumia Icon (or 929 or whatever they call it)... will that be getting Windows Phone 8.1? Are all WP8 phones getting 8.1?

Yes, all wp8 devices will be upgradable to 8.1

Only thing I really want a fix or an update with notifications is for the phone not to make notification sounds when I'm calling... Seriously annoying when my phone decides to start syncing or getting a good cell connection and starts beeping while I'm either mid phone call or just having the phone ring and a flood of notifications starts making noise. Can't they fix this that when the phone function is active all notifications go silent?

The main thing is notifications volume separate from voice volume, so you don't get deafened by an SMS while you're speaking on the phone. Will they do that?

Nice. If Microsoft launches a "Surface Phone" with Blue in June/July, they can have my money. Can't wait for that notification center!

Now just wait for the information that WP8.1 will need entirely new hardware, ha, ha.

Looking good...! Am looking forward to Build to see the changes in action... Hopefully they'll release 8.1 to devs earler than others.

Please please please give me a button to select 'all' emails at once. Having to select each one individually is just pathetic. A simple thing i know but the one thing that i want most in next update.

Welcome to 2004 Windows Phone! I'm just wondering but I am sure 99% of us who come and visit this site would implement and design this feature in version 0.0.1 from the get go. Are they doing this on purpose so they can brag about it when update comes? This is a complete nonsense if you ask me.

All thats left now is to trash that broken WindowsRT, and move forward with WP.

what i am not happy with is the UI of FM Radio. i hope on 8.1 there are some changes

"Can't Connect" i can't download any maps nor updating them! i'm using wi-fi i guess it's cuz the maps are not available in Iran Please Help Me!

EQUALIZER???? Microsoft, PLEASE! Just 1 simple equalizer

Will WP 8.1 make the hardware of current Lumia devices obselete?
I mean..will I be able to run 8.1 in my device??
Nokia Lumia 920??
What about other Lumia users? What will their fate be?

But what about Bluetooth volume? It's still far too low, even after installing Update 3/Black. If 8.1 doesn't bring a volume control so that Bluetooth is actually useful, I think all hope is lost.

Hope you can slide it up when its down

All we need is better system-app communication...when I open a YouTube or Facebook link I should be able to choose with which app it opens...also make life easier for developers or our beloved os will die...i don't need notifications center. Give me some good reasons to stay on this platform and don't go back to android...also a plea to the developers: make better apps...we want fast,reliable and nice looking apps...viber,Facebook,YouTube etc...please!

Finally, it was getting quite irritating.

Hooray!! It only took just over three and a half years to add a feature that should have been present when I got my HTC WP7 phone in Nov '10. Glad to see WP is FINALLY getting more useful. Look forward to checking it this summer when I get rid of my iPhone 5.

I hope they make separate volume controls for Ringtone, Alarm, SMS alert, and App sounds. I don't yet have a WP, but am thinking of buying one if the 1820 turns out to be as strong as has been leaked. I want to have my phone at my bedside at night. I want it to ring to a call, but I don't want it to sound at night for an SMS text. And ideally, they'd bundle the collection of volume and ringtone settings into sound profiles, as my Nokia phones have been able to do for years.

much like windows 8.1 brother, WP8.1 will be the coming of age update for WP8. CAN'T WAIT for all of the awesomeness! Android killer coming soon to your phone shops nearby.

It tells us that WP is behind android phones about 10 years maybe... haha!

Will that be possible to upgarde existing Win8 edvices like (Lumia 925) tot he latest version of 8.1 post release. As I am planning to purchase 925, if it is psosible then would like to buy it now else wait.

Will it be a free upgrade for existing users? Any hardware requirements. I use Lumia 925.

Will windows phone 8 be upgradable to 8.1 ? (as i am planning to get a windows phone device now....or shall I wait? )

will the 8.1 be for all the lumia phones or is it like they willl ditch the old ones like they did to 7.... -using lumia 720, awesome phone!

But will the ability to lock the screen orientation without having to go into settings come to WP 8.1? That's one of the most important features to me.
Windows Central Newsletter
Thank you for signing up to Windows Central. You will receive a verification email shortly.
There was a problem. Please refresh the page and try again.