The Windows Phone 8.1 store shuts down in December
Windows Phone has been dead for a while, but now its store is shutting down.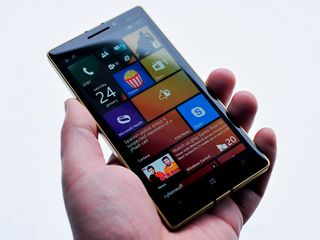 (Image credit: Windows Central)
What you need to know
The Windows Phone 8.1 Store is shutting down on December 16, 2019.
Windows Phone 8.1 support ended on July 11, 2017.
Developers stopped being able to ship updates to Windows Phone 8.x devices on July 1, 2019.
The Windows Phone 8.1 Store is officially shutting down on December 16, 2019 according to an updated Microsoft support document (opens in new tab) (via Softpedia). Following the shutdown, users will not be able to download any new apps to their devices running Windows Phone 8.1. Some Lumia devices can upgrade to Windows 10 Mobile, but Windows 10 Mobile is already out of support in some cases and will be out of support by the end of 2019.
The fact that Windows Phone 8.1 is dead is not news. The operating system is now almost two years out of support. Additionally, developers stopped being able to ship updates to apps on the operating system earlier this year. What is new information is that the Windows Phone 8.1 Store is being shut down. In addition to not being able to download new apps, users will not be able to reinstall apps. Users may also experience degradation of app functionality after December 16, 2019.
If you are still using Windows Phone 8.1, you should make sure to do any phone resets and app installations before this deadline.
Windows Phones have become less useable as we move further away from official support. WhatsApp is no longer available through the store. Of course, after December 16, 2019, no apps will be available through the Windows Phone 8.1 Store as it won't run anymore.
News Writer and apps editor
Sean Endicott brings nearly a decade of experience covering Microsoft and Windows news to Windows Central. He joined our team in 2017 as an app reviewer and now heads up our day-to-day news coverage. If you have a news tip or an app to review, hit him up at sean.endicott@futurenet.com (opens in new tab).
Commence the whining about the 100 apps that remain.

From the 100 people still using WP 8.1.

I loved the Windows phone it's a shame what happened to the platform ☹️

Finally moved on from Windows phone and just replaced my Lumia 950XL with iPhone 11 yesterday. Whats app will stop working from December and it was getting slow for the browsing. Will keep using as music player :) Downloaded all Microsoft apps, will miss the main screen UI.

Windows Phone 7 OS Platform buries the competition. https://youtu.be/Icng5MHp7T4?t=683

Surface Duo... The main thing that worries me about switching from the Note9 to the Surface Duo is losing my Spen.. Man, that thing comes in handy. That, and I'm concerned about the Camera on the SD. 🤔🤔🤔

How is it an Android feature? What indicators do we have that the Surface pen will be able to initiate a picture, or control music??...
.....
Plus, where are we going to store the Surface pen????? Still looking for this device to be pocketable

The s pen and surface pen are VERY different devices, the surface pen is more like a writing tool, whereas the s pen actually incorporates into the OS more and is more of a way to interact with the device, they have very different uses.

They are different, but not worlds different... But, I agree. I would rather have an S pen like device with a mobile device. The size is perfect.

I'm with you about the concern of having no digital pen support, however I think MSFT intentionally planted this seed a year early to see what traction is gained, that will give them time to refine the product before they release it. For example, they didn't mention much about the camera. I can assure you the Surface team is looking at how to improve the camera attributes. I can't imagine having a foldable device without the ability for digital ink, especially with MSFT having great technology using it.

I better scour to see if there are any apps I still need. :)
Long live Windows Phone 8.1! The second best version next to 7.X!

I really liked 7.6. I remember it was so weird to get loaded onto my HTC phone - was that when they used Zune for transferring data? anyway it was pretty. 8.1 was very practical though, and for me, less buggy than 10. Yup, I used 7.5, 7.6, 8.0, 8.1, and 10.

Still have my Lumia 950 XL. However, seeing how well we are treated by Microsoft I went with a Samsung Galaxy S10. Hoping Samsung will be more kind to its customers.

Not going back, but it's only a shame because my Lumia 920 was the best phone I ever had. I'm only annoyed that for the love of money, I can't buy a better phone.

We should start a competition who can keep their 8.1 running the longest. Maybe in the forums... :-)

I'd join a competition like that! I still have a like-new HTC 8X, the most beautiful phone ever made. Maybe we can make the prize be a Zune music pass :)

My Nokia 920 stopped working a long time ago. But I'm still sad about it. It was an amazing phone OS. The best I've ever used. I switched to Android and iPhone after that and it works fine, but the magic and joy of Windows Phone was special.

Windows Phone is lack of popular apps. Why would you stay in it?

I only clicked here cuz of the thumbnail; damn, what a beautiful sight, just magnificent, and if you ever held a 930-icon you know its still one of the best feelings ever

Yeah, I started drooling over that phone too. Best looking phone ever.

I moved on 2 years ago but looking at that picture in the article reminds me of that ex that broke my heart... 😢 Lol

I still have a working Samsung ativ-s lots of great games and Apps . Here drive and Here maps still work .my wife had the yellow 920 when I got the Ativ-s, it's in a box now with a broken screen. I've been using it on wifi as my camera and music player..
It's been working fine all this time, it should be good some years longer

Not a big surprise, though that said I wasn't aware that the WP7 store had been closed (it was certainly active a year ago) - if it hasn't gone then clearly it will also be gone by December 16th. That said, when HP shutdown the WebOS store it was over 3 years after they effectively abandoned the OS (August 2011 and January 2015). A bit more warning (3-5 months) for this shutdown would have been appreciated though I understand the why it's happening at all. It also gives us a good timeframe for the W10M store. Microsoft are pretty consistent with shutdown timings - assuming the 18 month window for WP8 is held for W10M then we can assume that summer 2021 will be the cutoff for the store on W10M.

I switched to Android for a few months to get popular apps.

my only WP 8.1 (925) device is my sweet kindle reader.
using W10 mobile till December

Now that the Windows 10 Mobile store is still open and running, this shouldn't really be a surprise. Despite the fact that Microsoft will stop giving official support for W10M after the end of this year, I see some developers who are still willing to give update to their W10M apps. I'll still be using my current Lumia 950 XL as my daily driver. But shame with the Lumia 1020 though, it was and always will be a forever icon and legend. Wouldn't stop me from buying one of that though...

I think what attracted most people to the Windows phone ecosystem was how different and personal it looked. What kept people on Windows phone was the simplicity of it. I can get an idea of what's going on in the world, what the weather's like, the latest Facebook friend post, email message, and a gambit of other info at a simple glance of the start screen. Beauty is in the eyes of the beholder, and beauty doesn't always equate to efficient, and in the eyes of the mobile market share, Windows phone just wasn't efficient. Like Groove, which was my favorite music app, Windows phone just didn't get the traction that warranted continued financing. I still play with my Alcatel IDOL 4S and Lumia 950XL, but Android at least is incorporating some Windows phone emulators and that is unfortunately the best we have now.

So this means I will have Christmas money for all the app refunds Microsoft is going to give me on my app purchases...

I think Microsoft should give refunds because effectively they would be taking away ownership of the purchased apps as they will no longer available any more to be downloaded. This whole Windows Phone saga does put into question of ownership of purchased apps. They could have easily resolved this by just leaving access to the user app library via the store and disabling store search.

I still have my 1st smartphone the Lumia 520, not too fancy, but it did cover all my needs. Switched to iPhone due to the lack of useful apps. Even the apps from my workplace weren't available to WP. R.I.P. W.P.

if you're still using windows phone 8 you have plenty more problems than your phone
Windows Central Newsletter
Get the best of Windows Central in in your inbox, every day!
Thank you for signing up to Windows Central. You will receive a verification email shortly.
There was a problem. Please refresh the page and try again.