Windows Phone App Review: Dance Central 2 Dance*Cam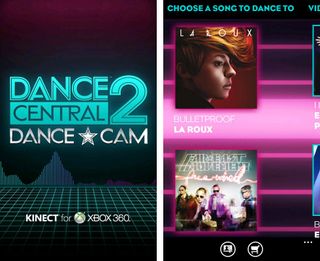 The potential of connectivity between Windows Phone and the Xbox 360 console is vast. We've seen mobile Xbox Live games function as companions to their console counterparts (Full House Poker, Kinectimals, and Fusion: Sentient) and a couple of apps that connect with the console (Halo Waypoint, Xbox Companion App). The Dance Central 2 Dance*Cam, which WPCentral first discovered in December, falls in the latter category... Unfortunately, the app comes from a developer called AKQA rather than Harmonix, and they don't seem to understand what Dance Central fans would actually want from an app like this.
Kinected experience
First off, the Dance*Cam can technically be used with or without owning Dance Central 2 itself. The idea is that users can create fun, short music videos to some of the game's songs and then share them with their friends. As such, there is no direct connectivity between the 'Cam and Dance Central 2. Also, the app isn't grouped with Xbox Live games like Halo Waypoint. Instead, it shows up in the phone's main app list (ala Ubisoft's YourShape app) and under the Music + Videos hub's app list.
Strange design
The Dance*Cam's initial screen is a bit worrying. You can swipe left and right between four screens: Choose a Song, Perform It, Break it Down, and Battle. These pages look like they should activate the function they describe, but they're actually just a tutorial. To start using the app itself, you need to tap Start Dancing at the bottom of the screen. It sort of adheres to the Metro design, but forgets about being intuitive.
Seven songs to stretch your legs to
Dance Central 2 has 45 songs on-disc. Dance*Cam lets you select from seven of those songs to make a video. Seven. The included songs:
'Electric Valentine' by Body to Body
'Reach' by Armanni Reign
'Fire Burning' by Sean Kingston
'I Like It' by Enrique Iglesias featuring Pitbull
'Bulletproof' by La Roux
'Like a G6' by Far East Movement
'This is How We Do It' by Montell Jordan
After picking a song on the Cam app, the player then selects the same song on the Xbox 360... The app really should connect with the console via Wi-Fi like the Xbox Companion App and pick the song for you seamlessly, but it doesn't. Of course, that also means you have to freedom to just dance along to nothing if you like. The Dance*Cam will not condemn you.Once the song begins on the system, one person starts dancing while another films with the app. There is an automatic five-second timer that could conceivably allow for solo video creation, but that's cutting it close.
Lights, camera, action
Just after I had started dancing to 'Fire Burning,' the app informed my partner that the video was complete. What? As it turns out, the videos Dance*Cam makes are only 15 seconds in length. The app doesn't even warn you of the paltry shooting length ahead of time; I was sorely disappointed when I couldn't record the whole song's dance routine.
Share if you dare
Once you've blinked and finished shooting, the video still needs to be processed. It's hard to know how long processing takes due to the app's poor feedback, but I reloaded the app a few minutes later and my video was done. Dance*Cam videos aren't saved as standard videos so you'll have to view them from within the app itself – terrific, right? They take an excruciating length of time to load, too.
Alternatively, you can upload the video to Facebook. That's the only sharing option. Even if you do so, the video isn't added to your Facebook video library. It's just a wall post that people who visit your page can see. Forget about sending a working URL to your friends so they can check it out or being able to save the video to your PC. I had to use a video extracting app just to get the video for this review. Dance*Cam would be orders of magnitude more useful if it supported uploading videos directly to YouTube or at least saving them as WMV files so that users can do what they want with them.
Watch in horror
Without further ado, check out the video Dance*Cam created for me.
Mixing in game visuals and such is an interesting idea, but it's basically just turning a short video of the user into a commercial for the game.
Dance Battles
I couldn't get the Dance Battles feature of the app to work, but presumably it creates a challenge for your friends on Facebook. I doubt they can respond in a meaningful way considering that the Dance*Cam app doesn't actually connect or exchange data with the Dance Central 2 game. My money says it's just a way to spam your wall with another Dance Central advertisement, something I know we're all dying to do.
Break It Down
Dance*Cam's final substantial feature is a collection of Break It Down videos. See, in the game Break It Down mode allows players to practice and learn a song's dance steps at their own pace and without consequence. The app simply provides videos of a cartoon dancer performing the seven supported songs' routines. This feature could at least be a way for players to observe said routines on the go, memorizing how they look. Problem one: you can't select the difficulty of the song. Every Dance Central song varies in complexity depending on difficulty level, but Dance*Cam just shows a single routine. To top it off, the Break It Down videos don't even show the whole song. They're just tiny snippets, and as such, useless.
Other features
Hate the app, not the game (pictured above).
An About the Game page includes a basic description of the console game and some screenshots. It also links to the Zune store page for each of the app's songs, just in case you want to buy them and jam out on your own. Finally, you can view a list of online retailers that sell Dance Central 2.
Overall Impression
Dance*Cam had the potential to be a fun companion for an awesome dancing game. Unfortunately, it's nothing more than a cheap advertising gimmick. The videos the app creates are just short commercials for users to plaster on their Facebook walls. Why would anyone bother when you can use your phone's real camera to shoot a full-length video and share it however you like? I'm surprised that an innovative and brilliant developer like Harmonix would attach both their name and the Dance Central brand to such a letdown of an app, even if somebody else handled development duties. Let's chalk it up to inexperience in the mobile arena. I'll keep on playing Dance Central, but I sure won't be using this app while I dance.
The Dance Central 2 Dance*Cam is a free download. If you must, get it here on the Marketplace.
Get the Windows Central Newsletter
All the latest news, reviews, and guides for Windows and Xbox diehards.
Paul Acevedo is the Games Editor at Windows Central. A lifelong gamer, he has written about videogames for over 15 years and reviewed over 350 games for our site. Follow him on Twitter @PaulRAcevedo. Don't hate. Appreciate!