Windows Phone App Review: Nokia's ESPN App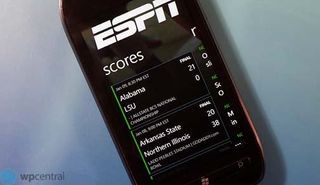 Nokia will be offering several exclusive apps for their Lumia Windows Phone lineup. One such app is the ESPN App. We mentioned it in the Lumia 710 review and now we'll take a closer look at things.
The app is broken down into three panoramic pages that cover scores, videos, news and ESPN social feeds for all your favorite sports leagues. A fifth page is present to allow you switch between sports leagues and covers the NBA, NFL, MLB, NHL, NCAA Basketball and Football, Soccer, Formula 1, Cricket and Rugby.
When you first start the app, it will display general sports information that crosses all leagues. When you choose a specific league or sport, the pages then reflect information specific for that sport. In addition, where applicable, you will see a teams page appear that will allow you to access ESPN's website page for that particular team. When you're ready to switch sports, just hit the back button to return to the main or primary pages of the app.
It appears that if there is a team page present, the video page disappears. For example, the Formula One pages lack a team page but does have the video page. The NCAA Basketball pages have a team page but no video page.
From the three dot menu, you have options to refresh the data, view the About Screen and when viewing a particular sport you can create a live tile specific for that sport. The good thing about this option is that it sends you directly to that sport. The bad thing is that you can't back out and access the main pages to go to another sport. To do so, you will have to exit the app and launch the primary version of the app.
All in all, the Nokia ESPN app is a very nice sports information app. One that I really wish was available to all Windows Phones. It gives you a quick glance at scores, news and other information on your favorite sports without having to dig for it. If you want more information just tap on the scores, news items, or social feeds and the app takes you to the ESPN website for more information. The app ran smoothly but I did experience a few data errors in loading the Social Pages. Videos loaded nicely but every now and then I would get a "this video won't play on this device" error.
If you have a Lumia Windows Phone that doesn't have the ESPN app pre-loaded, you can find the ESPN app in the Nokia Collection portion of the Windows Phone Marketplace on your phone. It is our understanding that the Nokia ESPN app is globally available on all Lumia Windows Phones. I'm not sure if the ESPN will tip the scales in favor of a Nokia Windows Phone but it will make for a nice bonus.
George is the Reviews Editor at Windows Central, concentrating on Windows 10 PC and Mobile apps. He's been a supporter of the platform since the days of Windows CE and uses his current Windows 10 Mobile phone daily to keep up with life and enjoy a game during down time.
It's basically the ESPN Scorecenter app but more metro, pinnable live tiles and less options

To me ESPN Scorecenter is not much of an app. It uses their website far too much.

I agree. I used it for a bit and was flabbergasted at how awful it was. Apparently, this one uses the site some too, which I am not too opposed to, but I would like to see some more native UI compoments throughout. The pinning of teams and sports is really nice. For game feeds, I still think the Sports Now apps appear to be much better.

Huge soccer fan here and player too. I follow Italian, EPL, Spanish, German, etc and I can't wait long enough for the Goal.com official app. I wish Sports Now supports Soccer. I was looking forward to ESPN goal app but I don't live on the other side of the ocean and we all know how huge soccer is in America and how Americans only watch soccer if they're in it /s. I'm even surprised ESPN shows 1 game on wknds.
Yes, I use Score Mobile apps (2) and other ones out there but it's not enough. Navigation isn't the easiest on SM but it's ok
I follow NBA cuz that's the only thing on tv these days besides American Football which I only watch only during Super Bowl.
This is about the only app i'm waiting for rightnow besides Skype that'll make me happy.
Patience ......patience...patience.. I wanted to by the 710 but I I can't go back to 8GB (5.5GB) usable from an HD7 - 16gb. It'll be like taking 2 steps backward for me. Had the 710 came in 16gb, I would buy instantly. For now, I'll play the waiting game for the 900 and see if it works on Tmob 3g radio if now, I'll wait.

If thats the case. This isn't much of an app either. There's not much that this app can do that the scorecenter app can't besides pin live tiles. It also has less options. The only thing it has going for it is the metro UI

Live tiles is a HUGE PLUS I cant wait to get this still waiting

Can you have it notify you when games start for teams you're interested in or when the score changes? What makes this better than the ESPN app that's already available for everyone?

I did not see any notification options. And the comparison with ScoreCenter is a good one. I don't know if it's better but rather a scaled down, easier to use, down and dirty version.

It's wierd that the Nokia ESPN app doesn't have the myTeams option that ScoreCenter has, like they couldn't combine the best of both apps.

Most WP7 apps havent even been updated yet SMH

Thanks again guys for tackling this exclusive app as I painfully mentioned the lack thereof in the original review. If anything, this app is a step in the right direction. Pinning sports pages to the start screen is indeed a plus but at least the videos will work some time. The ESPN app we have available now does not play videos AT ALL and it seems to me that the developers are either oblivious to this or just don't care.

I can't wait for this app... I want to know whatever happened to that NBA Game Time APP?
Windows Central Newsletter
Thank you for signing up to Windows Central. You will receive a verification email shortly.
There was a problem. Please refresh the page and try again.