Windows Phone Review: T-Mobile Nokia Lumia 710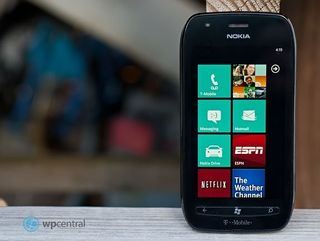 Nokia has had a good amount of success with the European launch of the Nokia Lumia 800 and has hopes that success continues as the company begins its push into the North American market. The first Nokia Windows Phone for the U.S. Market is the Nokia Lumia 710, that is now available over at T-Mobile.
The Lumia 710 is a compact, entry level Windows Phone that sports a 3.7" screen that is protected by Corning's Gorilla Glass. The latest Windows Phone feels solidly built and comfortable in the hand.
As with other second generation Windows Phones, the Lumia 710 is designed more for a specific audience and may not appeal to everyone. Some will find the 8gb of storage limiting and the missing front-facing camera disappointing. It may not suit your fancy but the Nokia Lumia 710 is a very good Windows Phone and a nice entry level model. It represents Nokia very well as their first U.S. Windows Phone.
Swipe to scroll horizontally
Design:
The best way to describe the Lumia 710's design is with one word. Compact. The only negative with the design may be the rocker button that controls the Back, Start, and Search functions on the face of the Windows Phone. It is a little firm to the press and takes some getting used to.
Feel:
While light weight (only 4.4 ounces), the Lumia 710 has a very solid feel to it. The Nokia Windows Phone feels comfortable in the hand and with the curved corners and sides, the Lumia 710 is very pocketable.
Performance:
Very few complaints on the Lumia 710's performance. Phone quality, cpu performance, screen quality and overall Windows Phone performance was good. The most noticeable weakness has to be the camera. Image quality came across a little flat.
Quality:
Overall, the T-Mobile Lumia 710 is a quality Windows Phone. It follows suit with the other second generation Windows Phones in that it may not appeal to everyone but does what it is designed to do well. There's room for improvement but Nokia has done a nice job with the 710.
Swipe to scroll horizontally
The Nokia Lumia 710 is a compact, entry level Windows Phone that feels solid in the hands. It sports a very nice 3.7" screen (with Gorilla Glass) and healthy suite of pre-loaded apps.
The biggest disappointment given Nokia's reputation for quality cameras is the Lumia 710's camera. Image quality is a little lacking (more contrast/saturation) but luckily it appears that the camera issues can be resolved with a software tweak.
As will be mentioned throughout this review, the Lumia 710 may not appeal to everyone but keep in mind this is an entry level Windows Phone. The Lumia 710 is a good Windows Phone within its own right but some may see the smaller memory capacity and physical size to be limiting. The 710 meets the minimum hardware specs, has a lower pricing point and isn't a bad choice for the entry or casual Windows Phone user. T-Mobile customers will have a tough choice choosing between the Lumia 710 and HTC Radar. Looking at the positive, neither is a clear cut, bad choice.
Design
The Nokia Lumia 710 definitely qualifies as a compact, pocketable Windows Phone. Measuring in at 4.69 x 2.46 x .49 inches the Lumia 710 is fractions of an inch smaller than the T-Mobile HTC Radar (4.7x2.4x.43 inches). The Lumia is also lighter than the HTC Radar, tipping the scales at 4.4 ounces compared to the Radar's 4.8 ounces. The Lumia 710 is also similar in size to the Samsung Focus Flash (4.57x2.31x.27 inches, 4.1 ounces) but with the curved corners and sides, the 710 feels a little better in the hand.
Working around the Lumia 710, the left side is bare while the right side holds the volume rocker and camera button. Up top you'll find the power button, 3.5mm headphone jack, and micro USB port. The volume and camera buttons are incorporated into the battery cover. As is, the buttons function nicely but I couldn't help but think if they both were slightly larger (longer and wider) they would function a lot better. I found myself hunting for them a little too often.
To the back of the phone is your 5mp camera and LED light. The front buttons on the Lumia 710 are beneath a single, physical button. The single button is more of a rocker styled button as opposed to the physical button on the Samsung Focus Flash. And, unlike the Focus Flash, the Lumia 710's button will not wake up the phone.
It took some time to get used to the design of the front button. It's not really three separate physical buttons but more so a single button that pivots and controls all three. The Nokia's button has a completely different feel to it than the Start button on the Samsung Focus Flash and while I've gotten used to it, I just can't sell myself on it. The button does prevent accidentally presses but it just felt too cumbersome and stiff. I think three separate buttons would have worked better.
Cosmetically, the Lumia 710 looks nice and conservative. There are two versions of the Lumia 710 available on T-Mobile. You have an all black model and a white faced model that has a black backing. As you can tell our review unit is the all black version. You can add a splash of color to the Lumia 710 with interchangeable back covers. At the time of review, it wasn't clear when these colored covers would be available.
Speaking of which, the back battery cover on both models has a matte black, rubbery finish. It pries off from left to right to reveal the 1300mah battery and micro-SIM card slot. The cover snaps back into place securely but you do need to make sure all the little snap tabs click into place to have the cover seat correctly.
I was a little disappointed on how much finger grease shows up on both the back and screen of the Lumia 710. I probably wiped the phone clean in between every photo and still couldn't get all the dust and fingerprints off the phone. I don't think this is a deal breaker but you will find yourself wiping the Lumia 710 on your shirt, pants, neck tie and other places with regularity.
Overall, if you like compact Windows Phones the Lumia 710 will have a good amount of appeal (even with the odd little button on the front). The fit and feel of the Lumia is comfortable and overall build quality is equally as nice. With the rounded corners and curved sides the 710 fits in your hand nicely and is very pocketable.
Screen
The Lumia sports a 3.7" 480x800 screen that is protected by Corning Gorilla Glass. Colors come across crisp and screen brightness is nice, even with the auto-brightness setting turned on. Corning's Gorilla Glass is finding its way onto more and more Windows Phone and is a great feature. It gives users a little peace of mind that their screen won't scratch as easily as other phones. Plus you don't have to deal with those pesky screen protectors.
Some may not like the smaller screen but with respect to image quality, the 710's 3.7" screen can hold it's own. You may need bi-focals to read things but you won't be complaining on the quality of the screen's display. Outdoor performance was on par with other Windows Phones and the screen was responsive to the touch.
It's really hard to find anything critical to offer on the 710's screen.
Under the Hood
Under the Lumia 710's hood you'll find 512mb of RAM, 8GB of storage, a 1300mah battery, and a 1.4ghz processor. The Lumia 710 also has a compass, accelerometer but no gyroscope.
While the Lumia 710 starts out with 8GB of storage, after you load Windows Phone 7.5 and all the pre-loaded apps out of the box the 710 only has 5.93GB remaining. I am hesitant to call this a downside to the Lumia 710 because the storage needs of one person may be different than another.
The 1.4ghz processor moves things along nicely and the 1300mah battery performs equally as nice. Under moderate use (calls, email, web browsing, gaming) the 710 made it through the day and into the early evening without needing a charge. Granted, everyone uses their Windows Phones a little differently but battery life shouldn't be an issue for most.
As an entry level Windows Phone, the Lumia 710 looks good and performs nicely under the hood. While some may find the storage space limiting and others may miss the gyroscope, the Nokia Lumia 710 performed really well within its own right.
Software
It's not often we discuss software with Windows Phones because most of what comes with the phone is fairly standard. Bloatware has been essentially reduced to Carrier oriented apps such as the AT&T MyWireless apps or the manufacturer apps such as the HTC Hub.
Nokia seems to take this a small step further by adding some rather useful in-house and third-party apps. We have learned from the 2012 International Consumer Electronics Show (CES) that Nokia will be offering exclusive software titles to their Nokia line. It's not sure how much of this will be pre-loaded or simply available through the Windows Phone Marketplace. Currently, the pre-loaded apps include:
Nokia Drive: Nokia's navigation app that has user selected downloadable maps.
We Care: A thoughtful message from Nokia letting users know the company respects their privacy. Any information collected about the phone is used to improve Nokia products and isn't shared with third parties without your consent.
ESPN App: ESPN is an exclusive app to Nokia devices that delivers scores, news, and videos from all your favorite sports. It also includes social feeds from ESPN. I really liked the ESPN app because it gives you a quick glance at all your sports information without having to dig for it.
App Highlights: This is an interesting app that resembles the main pages of the Windows Phone Marketplace app. App Highlights sends you important notifications on your apps (updates), recommends apps by a wide range of categories and tips on new apps.
Contacts Transfer: A utility app that allows your Lumia 710 to receive contacts from your old mobile phone via Bluetooth.
You also have TeleNav GPS Navigation, The Weather Channel, Slacker Radio, and Netflix pre-loaded.
Settings are fairly standard for a Windows Phone. There is a setting to send feedback to Nokia as well as Microsoft. Which is a nice touch and shows the level of interest Nokia has on consumer input. You also have the inclusion of Nokia Blue in the theme color options but the Nokia ringtone is missing.
For the most part, the pre-loaded software is a collection of useful apps. The nice thing about Windows Phone and pre-loaded software is that what you don't like or need, you can uninstall. While we still have bloatware to deal with, things have improved greatly since our Windows Mobile days.
Camera
The Lumia 710 is fitted with a 5mp camera and a 28mm f2.4 lens. You also have a LED light that sits next to the lens. The 710 lacks a front facing camera, which isn't necessarily a drawback. As with storage needs, the importance of a front facing camera is an individual measure.
With regards to camera software, the Lumia is loaded with your basic Windows Phone camera software. You can choose scenes, focus modes, saturation levels, contrast levels, ISO settings, and all the other features you would find in the core camera app. There's really not much excitement with the software end of the Lumia 710's camera.
With regards to image quality, there's also not much excitement present. I was really surprised with the lack of quality the Lumia 710's camera produced both indoors and out. Images were decent but came out flat in desperate need of a saturation and contrast boost. There is also an oddity with viewing images within the camera app itself. (sample images only resized for publication purposes. No other editing was performed)
When you focus the camera, everything looks nice and in focus. After you take the picture and the saved image appears soft or slightly out of focus when viewed from the camera app. At first I thought camera movement was blurring things but even images taken from a sturdy tripod appeared soft.
When I downloaded the pictures to the computer or viewed them from the Pictures Hub, the image sharpness improved. The images still needed a boost in contrast and saturation but appeared in better focus. I'd lean towards considering this a significant issue in that, from the camera app, you won't be able to gauge the image quality accurately.
Video quality was good. Video clips came out sharp, exposure was nice but saturation and contrast levels still had room for improvement. I had hoped the weather would have cooperated but for an overcast, rainy day the sample clip wasn't too shabby.
All in all, the Lumia 710's camera was decent but given Nokia's reputation for camera quality, the overall performance was a little disappointing. Granted you can boost the saturation and contrast within the camera's settings (or with post-processing software) but the standard image should be of better quality. There's also the issue of the image view within the camera app that will make it difficult to measure the sharpness of the image. Hopefully these issues can be addressed with a software patch.
Phone Quality
No complaints here. Call volume was nice from both the earpiece and back speaker. The microphone picked up my voice nicely and the Lumia 710's vibrate alert wasn't too shabby either.
I did not experience any muffled calls, ringing in the earpiece, volume issues or any other quality issues with regards to using the Lumia 710 as a telephone. The Lumia 710 performs on par with other Windows Phones on the market.
Lumia 710 vs. HTC Radar
Tough call as to which is the better entry level Windows Phone, the Lumia 710 or the HTC Radar. Both can hold their own but the aluminum unibody of the Radar feels just a smidgen better in the hand and might give the HTC a slight advantage.
Screen quality is close enough to call a draw, the Radar has the better camera and Nokia gets the nod with regards to software. The Nokia Drive and ESPN app are really nice.
It's a tough call and I'm glad it's one I don't have to make. The bottom line is that T-Mobile has added another quality Windows Phone to their line up. The Nokia Lumia 710 is a strong option to consider and one that many will find appealing.
Summing it all up
The more I used the Nokia Lumia 710, the more the phone grew on me. Personally, I like a larger screen on my Windows Phone but found the 710 to be a compact, well built, comfortable Windows Phone. I like how Nokia's CEO Stephen Elop described the 710 in a recent interview.
The Lumia 710 is a very nice entry level or transition Windows Phone. I can see it being very appealing to those just starting out with Windows Phones and are looking for a basic device. It won't be appealing to everyone but for those who take a chance on the Nokia they shouldn't be disappointed.
The Lumia 710 is designed nicely and really only has two design areas that gives us pause. The phone has a single, rocker-styled, front button that controls the Back, Start and Search controls. The button is a little stiff and will take some time to get used to. The other issue is that the 710 significantly attracts grease and dust. Probably more than any other Windows Phone I've handled. Neither of these two issues are deal breakers but did stand out in testing the Lumia 710 out.
The 3.7" screen is protected by Gorilla Glass and can hold it's own when compared to other Windows Phones. Colors are crisp, bright and performed well outdoors. Battery life is respectable, call quality nice and the 1.4Ghz processor moves things along nicely.
Camera quality has the most noticeable room for improvement. Images were on the flat side and viewing photos within the camera app made them appear soft or out of focus. Video footage has the edge with regards to image quality and a software update is likely all the still image side needs to improve its quality level. I'm not crushed that the Lumia 710 lacks a front facing camera but can understand where this could be a disappointment to others.
Pre-loaded software includes some decent applications and what you don't want or need, you can uninstall to free up memory. I would consider Nokia Drive and the ESPN app as definite keepers. I don't mind the 8GB storage capacity but understand that some will find this too much a limitation. You do have a compass and accelerometer and most will not realize the Lumia is lacking a gyroscope (unless you read this review).
All in all, the Nokia Lumia 710 is a very good Windows Phone that has a good amount of appeal. You can find the Nokia Lumia 710 at T-Mobile.com (opens in new tab), T-Mobile's authorized retailers, Wal-Mart, Target and Cosco. It is currently running $49.99 after the customary contractual discounts.
Windows Central Newsletter
Get the best of Windows Central in your inbox, every day!
George is the Reviews Editor at Windows Central, concentrating on Windows 10 PC and Mobile apps. He's been a supporter of the platform since the days of Windows CE and uses his current Windows 10 Mobile phone daily to keep up with life and enjoy a game during down time.
Just came back from the wall-mart in Salem NH. they have it's not bad they have a demo working the true black looks much better than that of the radar. the device is fast as fast as my HD7 also the screen looks much better than the HD7 but I can't get use to that small size I didn't like how the button set was as well.... all and all not bad for the kids and not bad for my parents to have where as they are not very heavy users.... a decent entry device. but not for a power user at all. so T-MO really needs to step it up and bring something forward for us who have the HD7 on there network.

Really disapointed with TMo as well. If nothing materializes by the time this new crop of phones is out in the spring I will be forced to leave.

This right now is giving me some hope. If not moving to AT&T is not an option for me.

http://pocketnow.com/windows-phone/nokia-preparing-exclusive-windows-phones-for-each-carrier

Nokia did bring an exclusive device to T-Mobile, the Lumia 710. No other carrier has the device in the U.S. and it is priced appropriately for T-Mobile's user base.

I'd wager that it is going to be a VERY long time before T-Mobile gets another Nokia WP device; probably a long time before they get another WP device!

Reading it says "If you love Windows Phone and Nokia but AT&T isn't the carrier of your choice so that you can go with the Lumia 900 once it will be available, don't worry, Espoo has got you covered. We're not talking about the Lumia 710 which is available as of today" So yes there is some hope....

"The only negative with the design may be the rocker button that controls the Back, Start, and Search functions on the face of the Windows Phone. It is a little firm to the press and takes some getting used to."
In all honesty, I don't consider this necessarily a bad thing. I can't tell you how many times I've accidentally invoked the search feature.

Nice review but yet another review that does not really demonstrate the full functionality of the ESPN app. You just show us that it's an app and that's it. What I would like to see is if the videos actually work because the ESPN Sportcenter app available in the Marketplace lacks the functionality of the video feature. When you click on a video it does nothing. It sucks in that area. So please someone do a review that really shows what the app is capable rather than browsing over it. Other than that, nice phone but I wouldn't choose this over the Radar.

Give me a bit... I'm working on a review of the ESPN app and should have it up shortly. There's only so much time in the day and with CES going on (not to mention my other job), what time is there is in high demand. Look for an Nokia ESPN app review (with video) by tomorrow afternoon at the latest.

Hey I appreciate you reading the comments. I wasn't sure if this aspect was just going to be overlooked but I see you do plan to get into it. Really appreciate it! No rush.

Only 5.9GB of usable storage? Wow that's really quite low for an advertised "8GB"...

i use the htc radar and its a wonderful phone but i must admit when i used my hd7 it was great having the 16 gigs for my music library since i use the zune music pass and i can just download whatever the heck i want. 16 gigs should be standard at this point come on what is it with all the 8 gig models man...

i use the htc radar and its a wonderful phone but i must admit when i used my hd7 it was great having the 16 gigs for my music library since i use the zune music pass and i can just download whatever the heck i want. 16 gigs should be standard at this point come on what is it with all the 8 gig models man...

8 gigs is deffinately not enough for any user i think

I know the Lumia 710 does not support Internet Connection Sharing (WiFi hotspot) if the Radar does this could be a decidig factor for someone.


The HTC Radar does indeed support internet sharing. I would go with the Radar just because it's capable of more(video chat) even if you never use it much. Its all there. Actually, if T-Mobile doesn't release something spectacular by March, I will be getting the Radar 4g myself. I just wish they could give us the 16gb.

Yea, I checked it out at wally world too, not a bad phone but, nothing too special in the world of other smartphones.
One thing I really liked was physical buttons for the main buttons on the face. I have a Trophy and countless times when playing a game my finger goes near those buttons and it ends up hiting them, then I have to wait for resume to kick in to continue playing. Physical buttons would reslove that.